Slab City Rendezvous
Big city artists who were inspired by each other and Maine
By Carl Little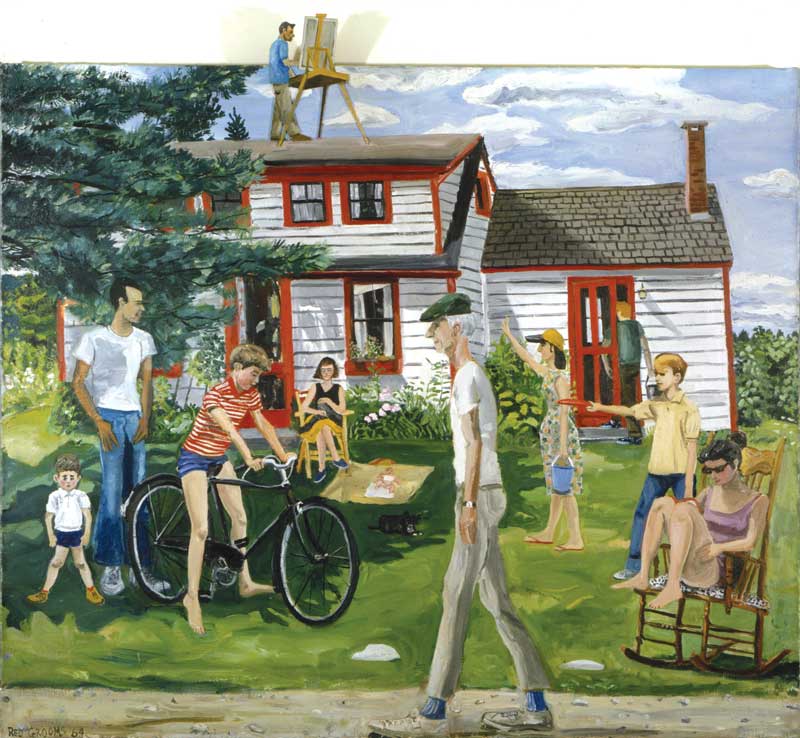 Friends and fellow artists, including Yvonne Jacquette, Rudy Burckhardt and Alex Katz, appear in Red Grooms's painting Slab City Rendezvous, 1964. Oil on canvas with wood and cardboard, 56 ½" x 60". ©1964 Red Grooms/Artist Rights Society (ARS), New York
While it might sound like the name of a punk rock album from the 1970s, "Slab City Rendezvous" is actually a brilliant exhibition at the Farnsworth Art Museum that tells a remarkable tale of artists and comradery in Maine's mid-coast countryside.
Starting in the mid-1950s, a group of formidable New York City- and Philadelphia-based painters, photographers, filmmakers and writers found themselves rubbing elbows, cohabitating, and collaborating to their hearts' delight in and around Lincolnville. They painted and photographed each other and took roles in improvisational films.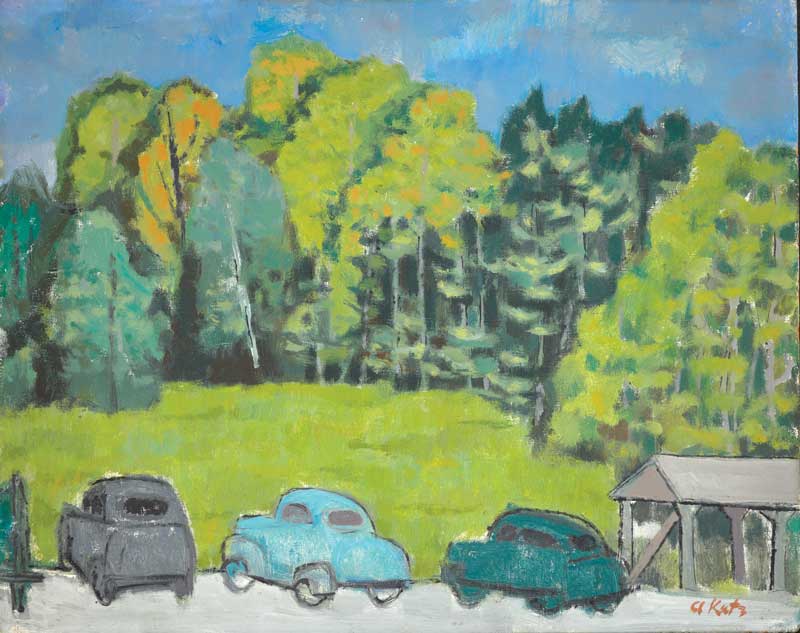 Alex Katz turned his attention to the Maine landscape after attending the Skowhegan School in 1948. He painted Untitled (Landscape with Car) circa 1954. ©2019 Alex Katz/Licensed by VAGA at Artists Rights Society (ARS), NY
The story of how Red Grooms, Lois Dodd, Rackstraw Downes, Yvonne Jacquette, Neil Welliver, Alex Katz, and company came to be living in close proximity every summer is known, but until now it hasn't been properly celebrated for the wonderful piece of American art history it is. To the credit of Farnsworth Chief Curator Michael Komanecky and guest curator Susan Danly, "Slab City Rendezvous" does the trick and then some: In casting a fairly wide net, we now can more fully appreciate the artists involved, their interactions, and the bounty of art they produced.
"Ideas, strategies, and methods pinged back and forth," writes art historian Judith Stein in the catalogue. She quotes Dodd: "You are always influenced by the people around you. How do you find out who you are if not from other people?" Their similar sensibilities and shared aesthetics earned this group of artists the designation "school" more than colony. The Slab City School: it has a ring to it.
Let's back up a bit. Slab City is the name of a section of Lincolnville centered on Slab City Road where Dodd, Katz, and Jean Cohen bought a house together in 1954. Real estate was cheap and the living was easy. According to Komanecky, the slab part of the name might refer to leftover pieces of timber, called slabs, from lumber mills in Ducktrap or to locally quarried hunks of granite that were sold along the road.
Whatever its origin, the word appeared in the titles of several paintings, most notably, Red Grooms's marvelous Slab City Rendezvous, 1964, the touchstone from which the show takes its title. In the painting, Grooms depicts his family and friends in various poses and activities. Photographer/filmmaker/painter Rudy Burckhardt is seated at his easel on the roof of the house while poet and renowned dance critic Edwin Denby strolls past in T-shirt and rumpled khakis. Katz, thumbs in jeans, looks over toward his wife and muse, Ada, who carries a bucket of blueberries; Jacquette holds a cat in her lap while watching over her infant son Tom playing on a blanket—the same Tom Burckhardt who is now a major artist in his own right.
At the time, Grooms was already known for his pioneering installations and site-specific sculpture, hosting happenings and producing wild-and-crazy films like The Big Sneeze (1962). Maine proved an excellent escape from summer in New York City for him and his friends—not just for R & R, but as the site for a variety of creative activities.
Lois Dodd's Six Cows at Lincolnville, 1961, highlights the painter's interest in pattern and her early abstract edge. Oil on canvas, 47 ½" x 63 ¾" . ©2019 Lois Dodd/Licensed by VAGA at Artists Rights Society (ARS), NY, courtesy Alexandre Gallery
Dodd drew cows, drawn to the patterns of their coats (she had studied textile design at Cooper Union), while Jacquette began what would become signature aerial views. Over time she would paint a range of flyover prospects, from Belfast Harbor to the Maine Yankee nuclear power plant in Wiscasset.
Katz had first come to Maine in 1948 to study at the Skowhegan School of Painting and Sculpture, a common way by which artists were introduced to what would become their future seasonal home (see Ashley Bryan, David Driskell, Bill King, and a host of others). The nine Katz pieces in the show include two early group compositions featuring his friends posed stiffly on the rocky ledges of neighbor Irv Ives's field.
A revelation for this viewer are the three Mimi Gross paintings, a pair of night views and a portrait of Katz, all from 1964. Gross, who was married to Red Grooms at the time, had a painterly expressive style. She later explored a range of media, including film, mail art, book design, and sculpture (her father was sculptor Chaim Gross).
Several gelatin-silver photographic prints by Rudy Burckhardt highlight his eye for picking out elements of his surroundings—a cracked pavement, ferns on Deer Isle—while his nude in the woods painted on a wedge of tree fungus exemplifies his innovative use of this natural canvas. Burckhardt teamed up with Grooms to make several films, including Shoot the Moon (1962) and Lurk (1964-1965). These films and others will be screened in the course of the exhibition.
The Slab City contingent included Neil Welliver (1929-2005), who had come to Maine through his friendship with Katz and Dodd. The latter alerted him to a Lincolnville farmhouse, which he bought for $2,500 in 1962. Unlike his fellow artists, Welliver spent part of the winter in Maine, braving the cold to paint the frozen landscape as it had never been painted before.
British-born painter Rackstraw Downes had studied with Welliver and Katz at Yale; he purchased a home and 1,000 acres in Morrill after graduation. Spending time in Maine led him to shift from geometric abstractions to landscapes. His handsome view of the Knox Ridge on Route 137 from 1972 is included in the show.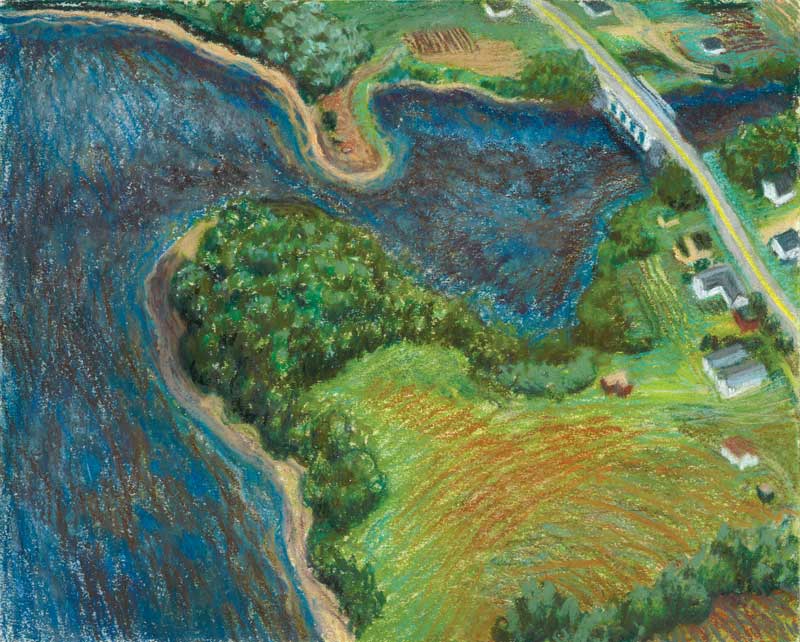 Yvonne Jacquette has painted many Maine coast aerials, including this view of Ducktrap Beach in Lincolnville. Ducktrap Beach, 1974, pastel, 11" x 13 ¾". Collection of the artist
It's not surprising to learn that Susan Danly, former Portland Museum of Art curator of graphics, photography, and contemporary art, played a role in getting "Slab City Rendezvous" rolling. Danly was the driving force behind the 2011 exhibition "Maine Moderns: Art in Seguinland, 1900-1940," which brought to light the vibrant artist community on Georgetown Island.
In her essay for this show, Danly follows other threads of New York-midcoast Maine connections, highlighting the contributions of Charles DuBack, Jean Cohen, "Blackie" Langlais, Joseph Fiore, Nancy Wissemann-Widrig, John Wissemann, and others to the vibrant scene. She describes the "pinging" that was going on among them, such as the influence of Red Grooms on DuBack.
Danly also highlights the Philadelphia connection. Will and Emily Brown came to Maine at the invitation of Welliver and Burckhardt, with whom they had studied at the University of Pennsylvania. They already knew Maine, Emily through summers with her family at Embden Pond and Will through study at Skowhegan, but it was their friendship with Burckhardt and Jacquette that led them to buy property in Dixmont.
"There was a nice give and take," Emily Brown notes, "encouragement and feedback" among the artists. Drawn to the Slab City scene, they eventually moved to Montville where they set about restoring a 19th-century Cape and a big barn. Emily painted surrounding views while Will drew and photographed. Two of his photographs in the show are action shots taken on the set of Burckhardt's The Cowgirl, a "blueberry Western" whose cast included Welliver's son Titus, who would go on to become a well-known Hollywood actor.
Danly gives a shout-out to various art venues that helped forge the midcoast art scene: Maine Coast Artists in Rockport; Caldbeck Gallery in Rockland; Gallery 68, Frick and Artfellows in Belfast; and O'Farrell in Brunswick, among others. And she highlights the ongoing influence of that original Slab City cohort, noting how the "convivial" gathering on Slab City Road "led directly to the many divergent paths that characterize the Maine art scene of today."
That is one extraordinary legacy.  
---
Carl Little's latest book is Philip Frey: Here and Now (Marshall Wilkes).
"Slab City Rendezvous" Exhibit
"Slab City Rendezvous" is on display at the Farnsworth Art Museum (16 Museum St. in Rockland) through February 9, 2020. www.farnsworthmuseum.org
"In the Vanguard" Exhibit
Another group of celebrated artists who studied at a Maine experimental art school is the subject of "In the Vanguard: Haystack Mountain School of Crafts, 1950-1969" at the Portland Museum of Art. On display through September 8, 2019. www.portlandmuseum.org
Share this article:
2023 Maine Boat & Home Show

Join Us for the Maine Boat & Home Show!
Art, Artisans, Food, Fun & Boats, Boats, Boats
August 11 - 13, 2023 | On the waterfront, Rockland, Maine
Click here to pre-order your tickets.
Show is produced by Maine Boats, Homes & Harbors magazine.