Sailing to Canada's St. John River
A delightful cruising destination
By Mark J. Gabrielson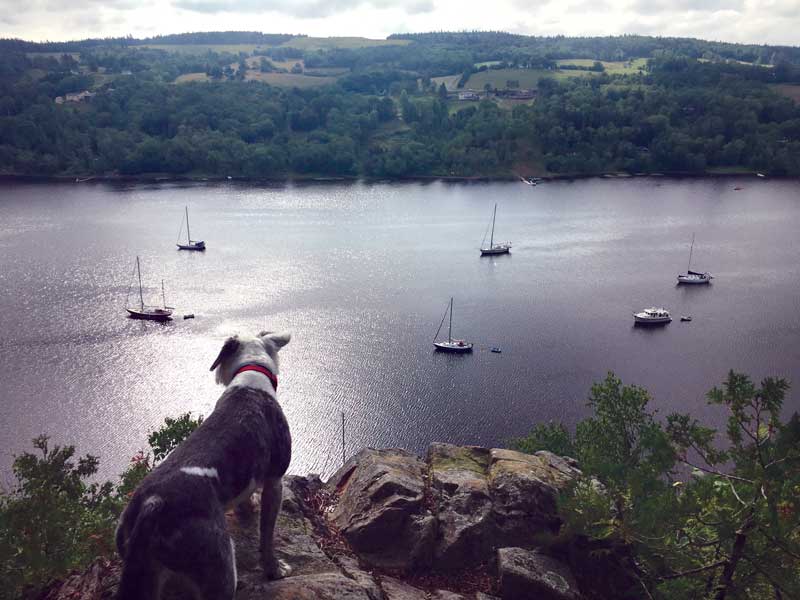 Rosie, cruise mascot and watch dog, surveys the Blue Water Sailing Club fleet from the heights above peaceful Kingston Cove on the Saint John River. Photo by Jack Savage
The Massachusetts-based Blue Water Sailing Club chose the St. John River in New Brunswick, Canada, as a recent long-distance cruise destination. My wife and I signed up not just because we expected a pleasant cruise aboard our classic Hinckley yawl. We also figured the trip might be a good and timely opportunity to fly the Stars and Stripes with a smile in Canada.
The Blue Water Sailing Club is all about cruising in company. We plan a loose itinerary. We stay in contact on a designated VHF channel during the day then meet evenings at an attractive anchorage or ashore at towns like Southwest Harbor. This approach appeals to my wife and me. We have the privacy and freedom of our own boat, the option to explore places not necessarily on the planned itinerary, but we also can enjoy the social benefits of group cruising.
Preparing for a solo or group cruise into the Canadian Maritimes isn't hard. Like anyplace else, the sensible skipper will check weather, tides, and destination details. These things matter a little more in Maritime Canada. The weather (especially fog) is a factor, the tides and tidal currents are more pronounced, and destinations with fuel, groceries, repair services, and laundromats are farther apart. The only significant difference from planning a trip in New England is the need to choose which port to use clearing customs into Canada, and where to do the same when returning to the United States.
Southwest Harbor is a good jumping-off spot for Canada. It has two good marinas (specifically Hinckley Yacht Services and Dysart's Great Harbor Marina), decent air, rental car and bus access for crew changes, and it's not too far from New Brunswick and Nova Scotia. We set sail for Saint John with overnight stops at Roque Island (glorious), followed by Harbour de Lute on Campobello (watch out for fish farms, all clearly marked with yellow buoys). We flew our yellow "Q" flag at Harbour de Lute and stayed aboard because we planned to clear customs into Canada later.
We felt our way into Saint John in a typical Fundy fog and traversed the infamous reversing falls where the Saint John River and ocean water fight for supremacy about four times daily (cross at high or low slack; it's easy). Our club fleet moored at the Royal Kennebecasis Yacht Club five miles up the river from the falls. We then called Canada Customs. They couldn't have been friendlier or more efficient. Our capable cruise leaders had submitted all vessel and passport information earlier, and clearances were "merely a matter of a phone call."
The next day we proceeded up the river on an ambitious 10-day itinerary. After the big passage from Maine, we wanted to see everything. But a surprising thing happened, at least to me and my wife. We were seduced by the river. We shelved the ambitious itinerary, and simply went where the wind, current and scenery seemed most attractive.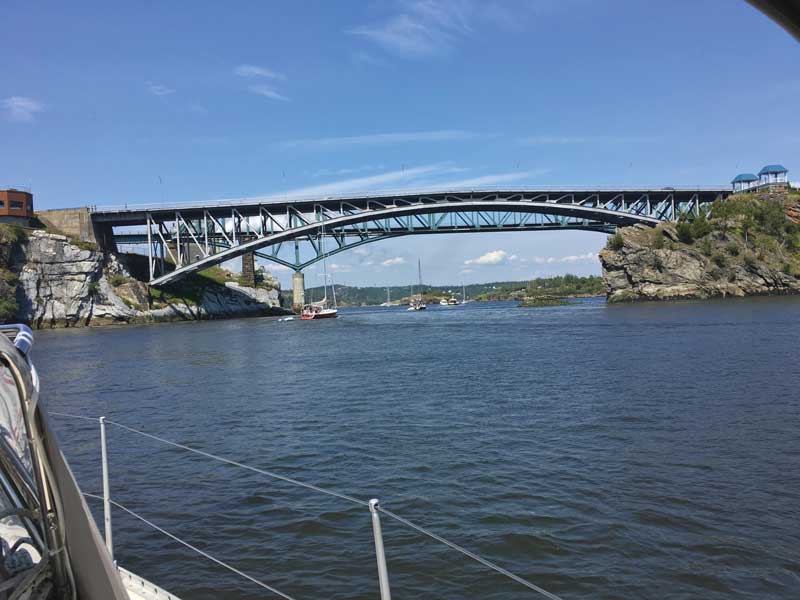 Transiting the infamous reversing falls at the mouth of the Saint John River is a pleasant passage when at slack water. Photo by Jack Savage
To get right to the point, the Saint John River is wonderful, starting with the city of Saint John itself. Cruisers pass it on the way into the river, but, focused on timing the slack water at the falls, they often miss the town's offerings.  Luckily, it's easily reached from the Royal Kennebecasis Yacht Club by taxi or bus. Imagine Portland, Maine, both in scale and tone. The waterfront is mixed industrial with a little recreational scattered here and there. And like Portland, Saint John has a historic center of 19th-
century buildings housing bistros, microbreweries, and funky shops.
Another highlight is the Museum of New Brunswick, located right in the center of the city. One particularly interesting exhibit tells the story of the War of 1812 from the Canadian side, at the time a loyal British colony. One section is devoted to the march of the New Brunswick 104th Regiment, a polyglot force of farmers, fishermen, first-nation Canadians, and loyalists transplanted from Maine. In the harsh winter of 1813 they marched the entire length of the Saint John River, across the top of Maine, up the St. Lawrence and into northern New York while living off the land. Their mission was to intercept an American invasion force from the south. They marched a total of 700 miles in 53 winter days.
Next, the river. For the southern half (the first 30 miles or so), imagine Somes Sound on Mount Desert Island. String a whole series together and connect them with tendrils of deep and narrow river meanders. Then, erase any fog from the scene, and raise the average summer water temperature from 55ºF to 78ºF.  That's the southern Saint John. We hiked, we swam, and we swam some more.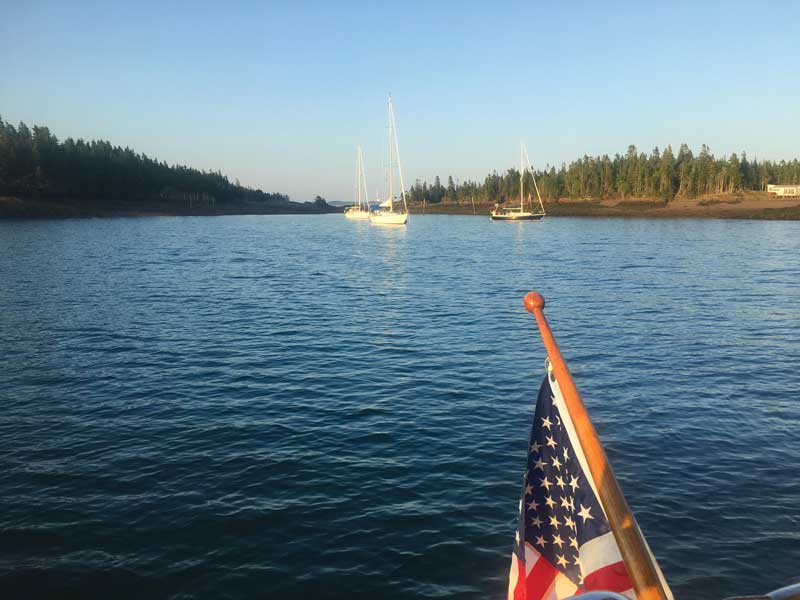 (Above) Transiting the infamous reversing falls at the mouth of the Saint John River is a pleasant passage when at slack water. (Below) There are dozens of peaceful anchorages like this one on the river. Photo by Jack Savage
The northern half (from Evandale to Fredricton) features marshes and lovely farm-front coves with warm, fresh water, cows grazing along the water's edge, bald eagles flying overhead, and loons swimming alongside. Cable ferries carry pickup trucks and campers across the river, their friendly operators always responding nicely to a courtesy hail on VHF 16. You swim some more.
Finally, about the Canadians we met. Early in the War of 1812, Thomas Jefferson quipped that annexing Britain's Canada would be "a mere matter of marching." Canada thought otherwise, and resisted with everything they had. The Americans fought the British to a stalemate in New England and on the high seas, but obviously never conquered Canada.
During our friendly invasion, the Canadians charmed us. Canadian customs were happy to hear from the Blue Water Sailing Club and its members. The Royal Kennebecasis Yacht Club welcomed us with open arms. My wife and I met the town librarian at the bus stop and she insisted on paying our $3 CDN fare into town. Folks offered to drive us to the food store, and (importantly) back again. People came by in their boats to give us anchorage ideas, ask from where we hailed, or did we know so-and-so from Maine. Often, they just waved and yelled "Hello!" We waved, smiled, and yelled "Hello" right back.
We plan to return to the Saint John River someday. It's unique, charming, and peopled by some of the nicest folks you'll ever meet. 
---
Mark Gabrielson is the author of  Deer Isle's Undefeated America's Cup Crews as well as Corinthian Resolve: The Story of the Marion-Bermuda Race, and occasionally teaches a course on fundamental navigation at Harvard. He and his wife Betsy sail coastal New England and Canada aboard their classic yawl Lyra. They live in Boston and have a family home on Deer Isle.
Share this article:
2023 Maine Boat & Home Show

Join Us for the Maine Boat & Home Show!
Art, Artisans, Food, Fun & Boats, Boats, Boats
August 11 - 13, 2023 | On the waterfront, Rockland, Maine
Click here to pre-order your tickets.
Show is produced by Maine Boats, Homes & Harbors magazine.