Meet the Makers
And see their creations at the 2019 Maine Boat & Home Show
By The Editors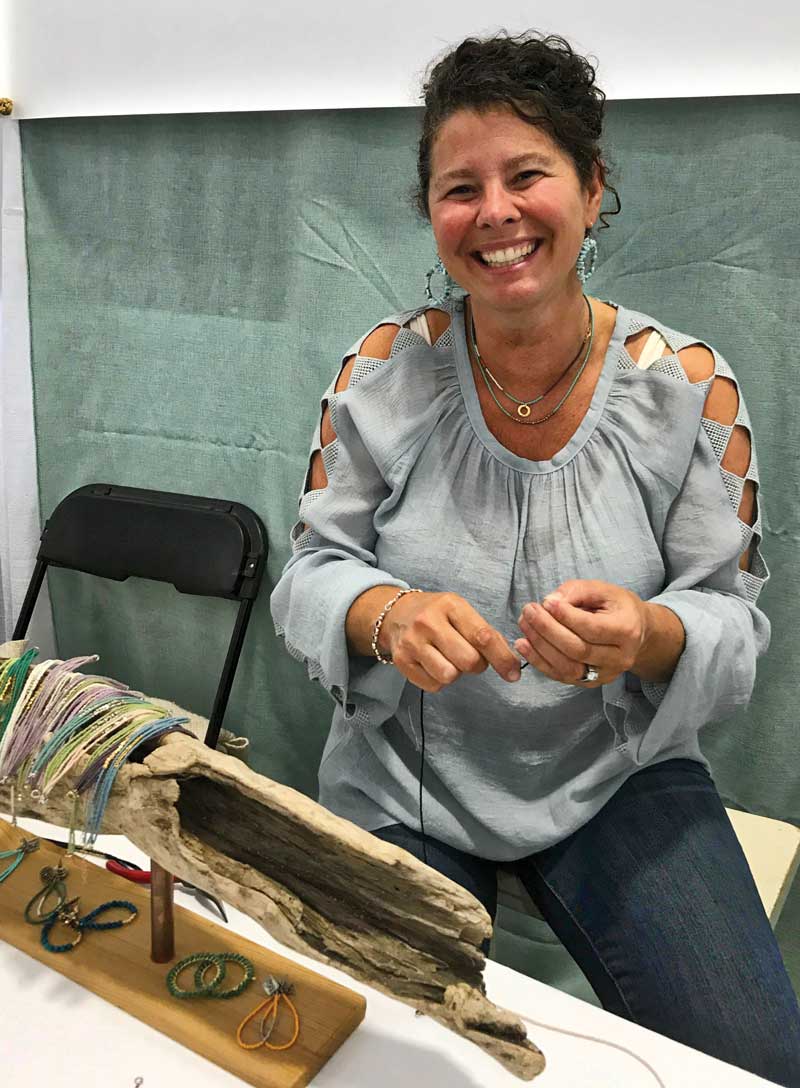 Sarah Crawford Handcrafted Jewelry. Maine has long been known for its visual artists and creative people: Boatbuilders, jewelers, furniture makers, artisans. You can buy their work in galleries and from dealers, or shop in catalogs and online, but why do that when you can meet the makers in person at the Maine Boat & Home Show?
An annual event celebrating the boating life and creativity on the coast of Maine, the 2019 show will take place August 9-11 on the Rockland waterfront. Boats are a focus, but there also will be plenty of special creations for both home and afloat. Exhibitors will run the gamut from boatbuilders, marinas, and marine suppliers to real estate companies, from architects and builders to jewelers, model-makers, and nonprofits—you can even buy vintage maps and books.
The following is just a sampling of some of the makers who will be at the show. The most up-to-date list of exhibitors is available at maineboats.com/boatshow/visitors/exhibitor-list.

Southport Boats 33 DC
Boats, Boats, Boats
This is Maine's only show to feature boats in the water. Last year's event featured about 70 boats on the docks, and another 60 displayed on land. Show organizers expect that many (or more) this year. Some boat models will even be available for test drives.
Maine builders range from one-man operations to big companies. Exhibitors at the show will include all types.
The Hinckley Company set a standard with its jet drive Picnic Boats, and the new PB 34 features lavish woodwork and ample power. The Finnish-designed Axopar line has proven to be a hit for East Coast Yacht Sales (see story on pg. 57). The distinctive plumb-bowed hull features multiple planing strakes; the innovative shape is unfazed by rough conditions. DiMillo's will have a selection of Back Cove and Sabre Yachts powerboats on display.
For those who prefer the more traditional, Gray & Gray will offer a selection of pre-owned classic downeast power cruisers from the likes of BHM, Holland, and similar builders.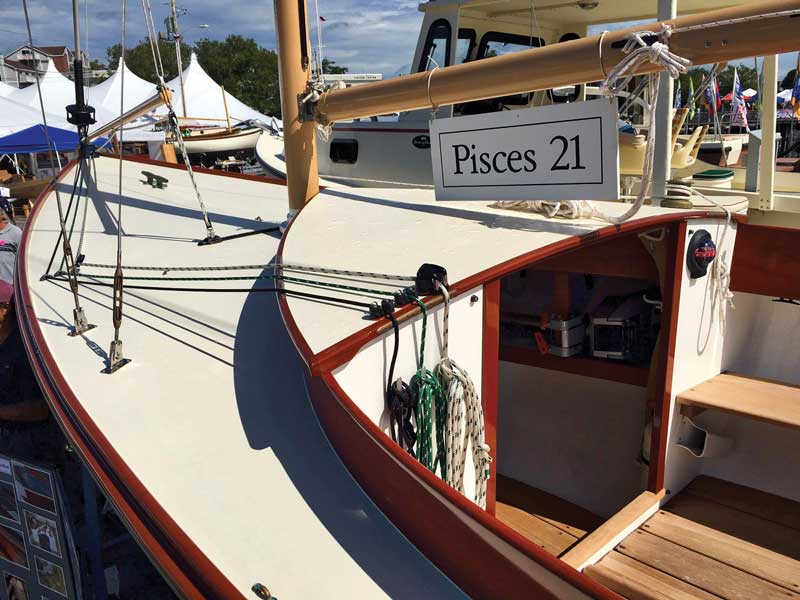 Dual consoles are one of the fastest-growing segments of saltwater fishing boats. Southport Boats will be at the show with its Maine-built 33 DC, which boasts an all-weather cabin upon the proven deep-vee hull of the Southport 33. South Port Marine will feature Cobia's new 280DC, which has a walk-through windshield to access the forward seating/lounging/fishing space. At Yarmouth Boat Yard, Cutwater's new 302 Sport Coupe is built to deliver equal parts fishing utility and family fun, with spacious aft cockpit, convertible forward lounge seats, and accommodations for six in three berths.
Redfern Boats will be on the docks with the Redfern 22, a fiberglass runabout that looks like a wooden one. Palm Beach Motor Yachts will display a Palm Beach 52, which strikes a balance between nautical tradition and modern grandeur.
Lyman-Morse Boatbuilding, which will be represented at the show, is known for quality custom boat construction in both fiberglass and wood.
Of course, not all the boats on display will be big and fancy. Salty Boats from Kittery, Maine, will feature a range of dinghies, rowboats, and utility outboard boats.
Slightly larger, but still the soul of utility, Bamforth Marine of Brunswick, Maine, will display a 23-foot Maritime boat with a special dive door.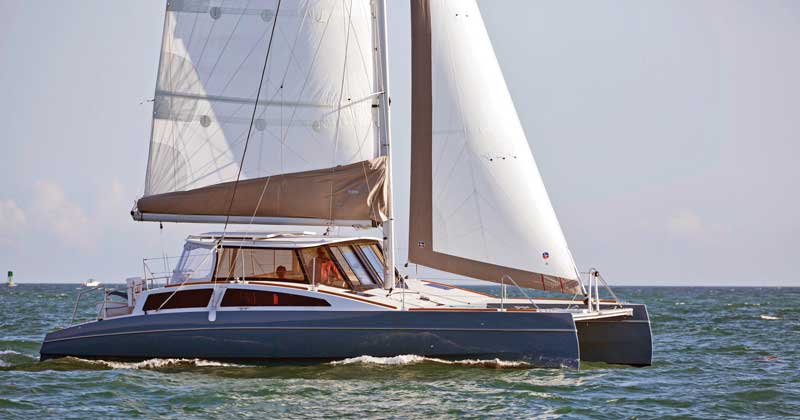 Maine Cat MC 38 LS-E
On the sailing front, Maine Cat, known for its high-performance composite sailing multihulls, has partnered with E-TECH Electric Drives, manufacturer of electric propulsion drives with hydroelectric generation. Maine Cat's MC 38 LS-E can make its own clean electric power while sailing. If you like a more classic look, check out Classic Boat Shop's 21-foot Pisces, based on the Herreshoff Fish Class daysailer.
Speaking of propulsion, don't miss the Maine Ocean School's cordless canoe challenge. MOS students have designed and built a canoe powered by two 18-volt cordless power-tool heads. They intend to challenge other high schools to a competition.
At Home on the Coast
Have you noticed that nautical themes have shown up in many new homes? A number of makers at the show this year find inspiration from the sea.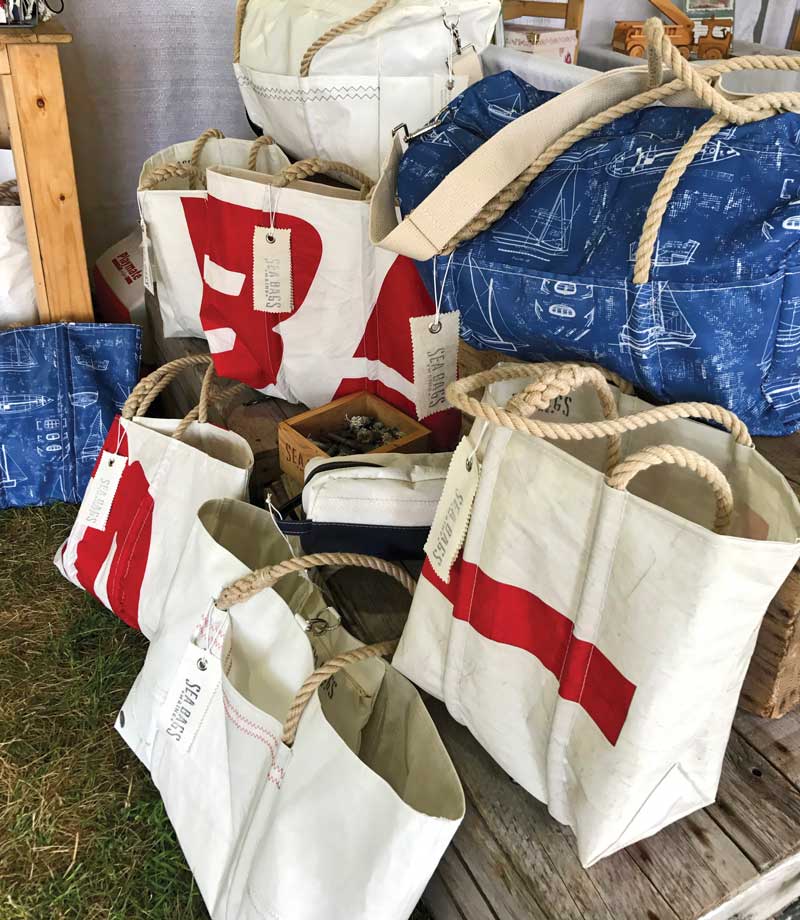 Sea Bags Couture Home + Design brings together three generations of furniture and cabinetmaking craftsmanship on projects that blend wood, metal, stone, and even Maine lobster shells. Legare Cuyler at Cuyler Made will show work that includes unique chairs made from repurposed traditional wooden lobster trap parts sourced from Nova Scotia. Big Ship Salvage will be back with a selection of recycled brass and bronze ship fittings: portlights, lamp fixtures, binnacles, antique engine telegraphs, signal flags, and who-knows-what other intriguing goodies.
Artist Jennie Blue specializes in ceramics. "It all started with pitchforks," said the artist, who started out rendering her sketches of hand implements onto farm-to-table themed plates, bowls, mugs, platters, and pitchers. Before long, her work branched out to horses, sea creatures, and she even does custom dog portraits.
And then there is fishing: FD Kretchman Fly Rod Company makes hand-crafted bamboo rods that stand out for their handcrafted joinery and sublime action.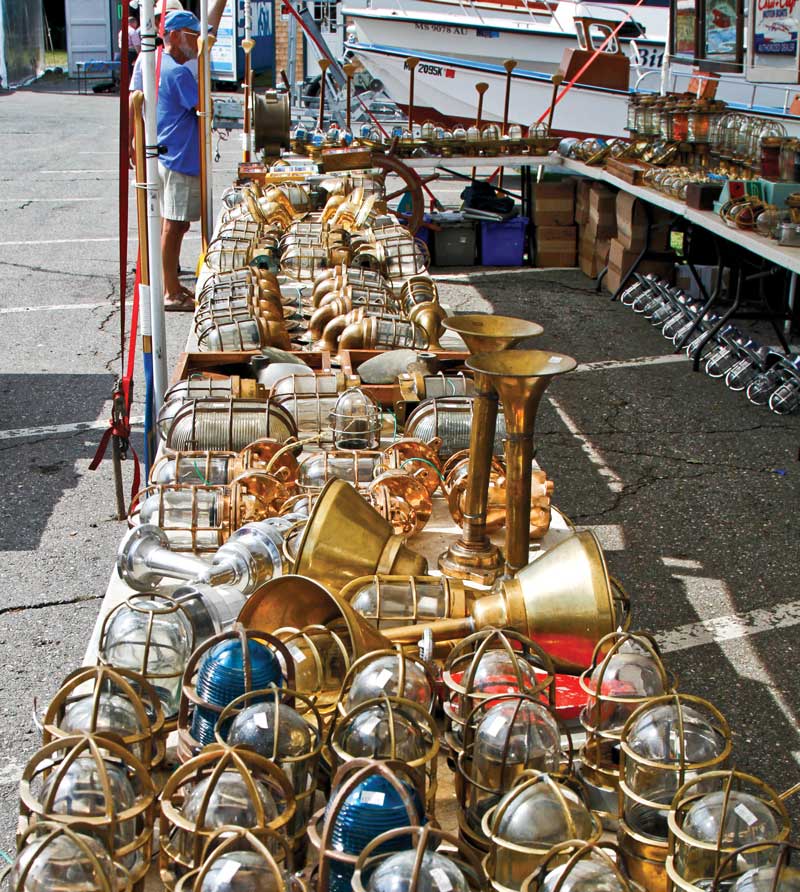 Big Ship Salvage Looking for something for your lake house? Union True Value, a well-known local hardware supplier, will showcase with all manner of things to spice up life on the lake: Floe Docks and Lifts, towable toys, swim rafts, and drive-on boat ports. If a new dock is in the cards, exhibitor Custom Float Services can build any sort of float or dock system to suit.
Even those who don't care for shopping can enjoy this show. Boatbuilders and dealers welcome guests on their vessels; they love to talk about what they do and what makes their boats special. Each day, the Icon Dock will feature a different boat that makes Maine work, including a 59-foot powerboat designed to resemble a 1900s-era Casco Bay steam ferry. Music and tasty food will be on hand to round out a fine day spent on the beautiful coast of Maine.
To learn everything you need to know about the show exhibitors, schedule, and advance tickets to plan your trip go to maineboats.com/boatshow for the latest information.   
---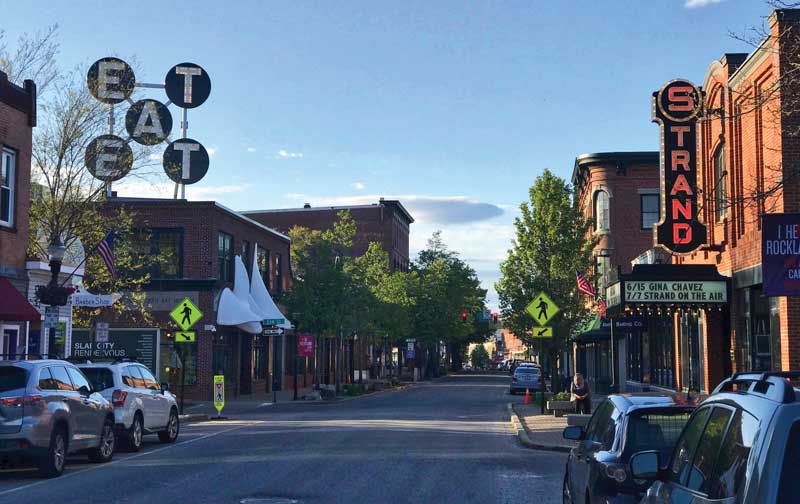 While You're in Rockland
Self-styled as the "Arts Capital of Maine," Rockland has undergone a transformation in recent years, fueled in part by the growth of the arts, including the Farnsworth Art Museum and the new Center for Maine Contemporary Art.
The city features critically acclaimed restaurants, shops, and galleries, mainly clustered along Main Street, yet the working waterfront remains. Fishermen and workboat skippers are still using the wharves off Tillson Avenue, and a variety of marinas cater to recreational craft of all sizes and shapes.
There's plenty to do in town. The one-mile trek along the city's iconic breakwater to the historic lighthouse is likely to whet the appetite. Since Rockland has earned a reputation as a food mecca, that's easy to fix. Less strenuous pursuits include events at the Strand Theatre, harbor tours, visits to the Lighthouse Museum and the Sail Power and Steam Museum, and the nearby Owls Head Transportation Museum.
If You Come By Boat
There are two general anchorages. The one in the northern part of the harbor behind the breakwater offers protection from easterly chop. The other lies in the southern part, and is sometimes affected by seas raised by winds from the northeast. The small-craft anchorage is in the western part.
Boaters should avoid anchoring between the cement silos in the south end of the harbor and the breakwater to leave a path open for cement barges.
There are more than 100 moorings available for rent by the city, Journey's End Marina, Knight Marine Service, The Landings, and Ocean Pursuits. Several marinas offer moorings, hull, engine, and electronic repairs. Both Journey's End and The Landings offer pumpout services.
Boaters who want to come to the Maine Boat & Home Show by water should check with Rockland Harbormaster Matthew Ripley. Ripley can be reached via VHF channels 9, 11, and 16, by phone at 207-594-0312, by cellphone at
207-691-1952, and by email at mripley@rocklandmaine.gov.
The Rockland Yacht Club operates a launch, which can take boaters directly to the show grounds. The club monitors VHF channel 9; the telephone number is 207-233-2800.
For a complete harbor guide, including tips about places to stay and information about local businesses, visit the Rockland Harbor section of usharbors.com: https://www.usharbors.com/harbor/maine/rockland-harbor-me/. The Penobscot Bay Regional Chamber of Commerce also has helpful information at www.mainedreamvacation.com.
If You Come by Car
Secure paid parking ($10/day, from 8 a.m.-closing) is available at the DST lot on Water Street right next to the show grounds. Proceeds benefit local nonprofits.
There is limited all-day parking in Rockland. Handicapped parking near the show is available on Myrtle Street next to Rite Aid (please do not park in the Rite Aid lot).
Share this article:
Digital Edition Available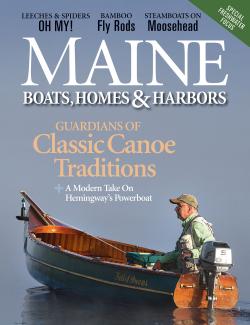 Can't get to the store to buy your magazine? We deliver the stories of Maine's coast right to your inbox. Sign up here for a digital edition.