Maritime lawyers, 3-D printed boats, dock updates & an influx of ducks
By Polly Saltonstall
Tickets to ride
You may recall reading last year about the Maine State Ferry Service and the uproar over its new ticket rate structure for ferries serving six islands (Frenchboro, Islesboro, Matinicus, North Haven, Swans Island, Vinalhaven). The dust still has not settled. Islesboro, which was hit particularly hard by the new structure (a flat rate applied equally to all routes) sued the state Department of Transportation arguing that the proper rate-setting process was not followed. The court agreed and ordered DOT to start the process over again.
DOT had argued the changes were necessary to cover a funding shortfall. Maine's new Department of Transportation Commissioner Bruce Van Note has begun the new process and expected to announce final new rates in September. But in the meantime, he announced yet an increase in the disputed new fares this spring. The proposal now under consideration would push the fare for a car and driver to $35 from $30 and an adult walk-on passenger to $13 from the current $11. The rates would apply to passage to and from all six islands. Needless to say, the new rates have not been well received and residents gave DOT officials an earful at various hearings last spring. "The Maine State Ferry Service should be our Walmart, not our Tiffany's," one resident told DOT officials, according to an account in the Working Waterfront newspaper.
---
Maine Marine Patrol gets a new boat
Maybe some of these angry passengers should try and hitch a ride with the Marine Patrol. The latest addition to their fleet has been christened and is now officially in service. The Sergeant, a 46-foot Wesmac Super Wide will be based in Southwest Harbor and provide Marine Patrol a much-needed platform for offshore details.
"As more lobster fishing activity occurs offshore, we needed a boat that we could use to safely get to and from gear that is as far as 50-60 miles from shore," said Marine Patrol Sergeant Troy Dow.
The name Sergeant is a nod to Stanley "Cappy" Sargent, a commercial fisherman from Milbridge who was well known and liked by the industry, and who collaborated on many projects with DMR science and policy staff.
The Sergeant replaces Challenge, a 46-foot lobsterboat-style vessel that was sold to support the purchase of the newer vessel.
Built by the Surry-based Wesmac Custom Boats, Sergeant is equipped with an 803-horsepower Caterpillar diesel engine, a hydraulic lobster trap hauler, and a cradle for a smaller rigid hull inflatable boat. With a beam of 17 feet 1 inch, it is 3 feet wider than the standard 46-footer. "This is a stable platform with plenty of power that will allow us to work in the rough seas we often encounter offshore," said Dow.
---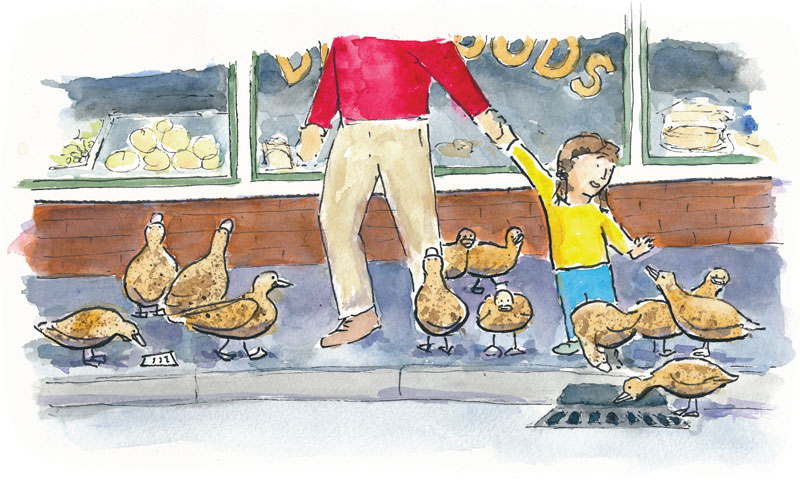 Illustration by Ted Walsh Something in the water
We're beginning to wonder what's up with the Presumscot River and Westbrook, Maine.
Two years ago, the city hissed with rumors about a large creature seen swimming in the river, subsequently dubbed Wessie. The hype began when a resident reported seeing a 10-foot-long snake. Then police officers saw a big snake swimming in the river and eating what appeared to have been a beaver. Later someone found a shedded snakeskin that was identified as coming from a 9-foot green anaconda.
Last winter, the city again made national news when a giant spinning ice disk appeared on the river, much to the delight of locals and visitors. While scientists provided technical explanations for the rare phenomena, others wondered about aliens and space ships.
Now comes word that not long after the snow and ice melted, a lot of ducks emerged from the river and were spotted wandering along downtown streets and sidewalks. Concerned police officers put out an alert asking residents to leave the ducks alone. "This isn't the first time they've gone exploring and it won't be the last," Westbrook police wrote in a post on the department's Facebook page. "If you try to catch them they will just flee and that will actually put them in more danger."
The post generated a lot of comments. "One quacked at me earlier in a very negative tone. I was offended," wrote one person.
The ducks likely were looking for nice spots to nest. And we can assure you that Westbrook is a nice city with lots of cool hangouts for ducks, and people.
---
Little boats that can
Naval architect Mark Fitzgerald is accustomed to designing full-sized yachts for customers who plan to use them for day outings or cruising. A recent project, however, involved designing a small yacht, no longer than five feet, that will sail by itself across big oceans.
The new yacht was tested at the University of Maine's tank testing facility and passed with flying colors. Designed to carry a full array of scientific sensors and to be steered by either an onboard micro-computer with auto-pilot or through satellite communication, O-Solo-Me is part of the fleet of mini-boats launched under the aegis of Educational Passages, a Maine-based nonprofit that for eight years has been working with school children around the world to launch these small boats and track their ocean travels. To date the organization has launched close to 100 of these small wind-powered vessels. Until now, though, the students have not been able to steer the boats. Rather they have been at the mercy of wind and currents.
Fitzgerald's task was to design a model that could sail freely downwind and be propelled solely by the prevailing winds and currents, but that also could be steered remotely.
"Together with our collaborators we came up with an amazing boat design that does all the above," said Educational Passages founder Dick Baldwin. "This design allows us to easily position the keel forward for computer steering, aft if we want it to act as a 'tailfeather' to keep her tracking straight downwind. We can adjust the ballast by varying the ratio of sand to lead shot to adjust stability and balance for different payloads and expected sea conditions."
Doug Pope of Pope Sails made the boat's sails.
---
3D-printed boats?
Technology has transformed many traditional industries, including boatbuilding. Boatbuilders in Maine and elsewhere already use sophisticated 3D computer-controlled printers to make parts and molds for parts. Soon they might be printing out whole boats, or at least whole boat molds, thanks to a new research collaboration between the University of Maine and the Department of Energy's Oak Ridge National Laboratory in Tennessee. A research team that includes people from both labs will work with the forest products industry to produce new bio-based materials that will be conducive to 3D printing a variety of products, such as boat hull molds, shelters, building components, tooling for composites and wind blades. They will also position the industry to print large, structurally demanding systems, such as boats.  
The $20 million effort, funded by the Department of Energy's Advanced Manufacturing Office, links two world-class research centers. Oak Ridge National Lab is a world leader in advanced manufacturing and is DOE's largest science and energy laboratory. UMaine is a world leader in cellulose nano fiber (CNF) technology, including development of nano- and micro-cellulose reinforced thermoplastic composites through its Advanced Structures and Composites Center.
"The University of Maine is doing cutting-edge research related to bio-feedstocks and the application of advanced manufacturing in regional industries. We are thrilled at this opportunity to expand our research base while providing UMaine with access to the leading national capabilities we have developed at ORNL's Manufacturing Demonstration Facility," said Thomas Zacharia, director of Oak Ridge National Laboratory. 
Last fall UMaine's Advanced Structures and Composites Center received $500,000 from the Maine Technology Institute, which was matched by $500,000 from the U.S. Army Natick Soldier Research, Development & Engineering Center to form a technology cluster to help Maine boatbuilders explore how large-scale 3D printing using economical, wood-filled plastics can provide the industry with a competitive advantage. The cluster brought together the expertise of UMaine researchers and marine industry leaders to further develop and commercialize 3D printing, or additive manufacturing, to benefit boatbuilders in the state.
Small to medium boatbuilders are often challenged by the cost and lead time required to create traditional marine tools and boat molds. 3D printing can help reduce the production time needed to fabricate boat molds, by as much as 75 percent, according to researchers at the UMaine Composites Center. However, widespread adoption of large-scale additive manufacturing has been tempered by the high cost of the 3D printers and the cost of feedstock materials.
Scientists from Oak Ridge and UMaine will conduct fundamental research in several key technical areas, including CNF production, drying, functionalization, and compounding with thermoplastics, multiscale modeling and sustainability life-cycle analysis. By placing CNF into plastics, strong, stiff, and recyclable bioderived material systems can be developed that may be 3D printed at deposition rates of hundreds of pounds per hour and up to 50 percent cellulose fiber loading. Printing with 50 percent wood promises to open new markets for the pulp, paper and forest products industries.
 As a forest product, CNF could rival steel properties, and its successful incorporation into plastics shows great promise for a renewable feedstock suitable for additive manufacturing.
---
Electric news at Maine Cat
Maine Cat Catamarans, Maine builder of high-performance composite sailing multihulls, has partnered with E-TECH Electric Drives, manufacturer of electric propulsion drives with hydroelectric generation. Maine Cat will be the North American distributor and service center for E-TECH. The boatbuilding company will also equip their recent catamaran model, MC 38 LS-E, with twin E-TECH 4.3 kW electric drives.
The E-TECH line of electric drives includes pods, steerable outboards, outboards fitted with hydraulic trim and tilt brackets, as well as inboard motors for conventional shaft installations.
Maine Cat's MC 38 LS-E can make its own clean electric power while sailing with E-TECH drives. Charging of the Li-ion battery bank is provided when the electric drives are down and generating up to 2,000 watts per hour while under sail, according to a news release. The electric propulsion system can also be easily lifted out of the water to reduce drag and prevent marine growth and corrosion when not in use. The electric propulsion system includes a 10,240 Whr Li-ion 48-volt battery bank that provides up to 40 nm range at 5 knots. Combined with a light weight diesel genset the MC 38 LS-E in hybrid mode provides a powering range of 500 nm on 20 gallons of fuel.  
---
Grants will fund dock improvements
Lyman-Morse at Wayfarer in Camden and DiMillo's Old Port Marina in Portland each have been awarded $1.5 million in federal grants for infrastructure improvements, including expanded dock systems. The grants were made through the U.S. Fish and Wildlife Service's 2019 Boating Infrastructure Grant program.
Lyman-Morse was awarded funds to construct and install a 120-foot fixed pier, a 334-foot wave-attenuating floating dock, a 579-foot floating dock, and 16 slips for other transient vessels, providing a total of 2,000 linear feet of new dockage for eligible transient boaters. The company has said that these upgrades will help to make Camden a destination for boat repair and service operations and strengthen local employment opportunities.
DiMillo's Old Port Marina will use its grant to rejuvenate the marina with safer, wider, deeper, and sturdier docks, along with expanded conduits for utilities and fuel, a new fuel tank, lines, dispenser and payment pedestal, replacement pilings, 3-phase power and an ADA-compliant ramp. This project will also expand the west side of the marina, providing two additional 75-foot berths and 70 feet of additional lateral dockage.
Lyman-Morse President Drew Lyman said the company has three years to implement the project and is still working out the details with the town of Camden.
---
Funding for marine research
Studying the effects of ocean acidification on lobsters, crabs, clams, mussels and scallops is one of three new marine research projects at the University of Maine at Machias that was awarded funding from the Maine Economic Improvement Fund Small Campus Initiative.
UMM professor of marine ecology Brian Beal will lead the three projects, which were awarded a total of $300,000. The first project will examine effects of ocean acidification on commercially important, calcified marine organisms, such as lobsters, crabs, clams, mussels, scallops—a global problem that has implications for healthy sustainable wild and cultured fisheries in Maine.
A second project will build on previous work to improve genetic lines of American and European oysters for growth in the cold waters of downeast Maine. A third project will examine Atlantic razor clam, typically harvested in the fall and winter in Maine. Researchers will examine culture techniques in the hatchery to produce juveniles for eventual grow-out under field conditions.
---
Front Street will refit Sunbeam
Front Street Shipyard in Belfast, Maine, has been chosen to complete an extensive mid-life refurbishment of Maine Seacoast Mission's steel-hulled outreach boat, Sunbeam V.
Sunbeam Captain Michael Johnson said the goal of the refit work is basically to gain access to the below deck areas. "Steel boats rust from the inside out. A lot of those areas are difficult to access. There's no major hull degradation. But we need to address it now before there is."
The work will involve removing the entire accommodations section of the boat, sand blasting the steel, and painting two coats of marine epoxy on the internal sections—"Every nook and cranny," said Johnson. "Unless you rip out the entire downstairs area you're going to miss something, and that's going to haunt you for years."
When the Sunbeam's insides are removed, Johnson explained, "it's also a great opportunity to cosmetically upgrade the boat." All of Sunbeam's dated equipment and dated cosmetics will be replaced and updated, including the wheelhouse, bunk houses, galley, and salon.
The Sunbeam V, is 75-feet long with a beam of 21 feet and a seven-foot draft. It was built by Washburn and Doughty in East Boothbay, Maine, and launched in 1995. The boat is equipped with state-of-the-art telemedicine equipment and has a salon that serves as a meeting place for fellowship, meals, and meet-ings. The Sunbeam also sometimes hosts weddings and funerals.
"The boat's fundamentally sound and serves us well," said Johnson. The refitting "is the best choice going forward to get another 15 to 25 years out of the Sunbeam," he said. "We're hoping to have the boat back in service by Christmas."
While the Sunbeam is on the hard, Engineer Storey King will captain the Mission's interim boat, Moonbeam.
---
New degree program for sea lawyers
The University of New England and the University of Maine School of Law are partnering on a program that will benefit students who want to pursue a career in maritime law.
Qualifying students could earn an undergraduate degree in marine affairs and a law degree in six years instead of the standard 11, saving students both time and money, UNE President James Herbert said.
UNE is one of only four schools in the country with undergraduate marine affairs programs, and the Maine School of Law is one of only six in the country with a specialized program in marine law, Herbert said.
The new program will cover marine law, policy, and trends, as well as impacts on the environment and institutions that oversee coastal and marine systems.
---
Water powered and from Maine
The Maine-based marine renewable energy company ORPC, Inc. unveiled its first commercial RivGen Power System in May at Midcoast Regional Redevelopment Association's Brunswick Landing, in Brunswick, Maine.
The RivGen device will be shipped to Igiugig, Alaska, for installation and operation in the Kvichak River this summer to provide electricity to the remote community of Igiugig there, offsetting the community's diesel fuel use by up to one-half and moving it closer to using diesel fuel for emergency-backup only. 
"ORPC's RivGen Power System is the future of sustainability for 2 billion people, mostly indigenous people around the world, 700 million of whom currently rely on diesel fuel to power their homes," said ORPC Chairman, Co-founder and CEO, Chris Sauer. "ORPC provides a marine renewable energy solution that combines our patented power systems with smart grid electronics and energy storage to build the no-carbon microgrids of the future."
ORPC President and COO, John Ferland, praised the Maine talent and workmanship that has been integral to all of ORPC's work, noting 280 partners, contractors, and service providers from 14 of the state's 16 counties have participated in helping to create ORPC's innovative technology.
Worldwide, ORPC is the only company to have built, operated and delivered power to a utility grid from a renewable tidal energy project (in Maine), and to a remote community grid from a renewable river project (in Alaska).
---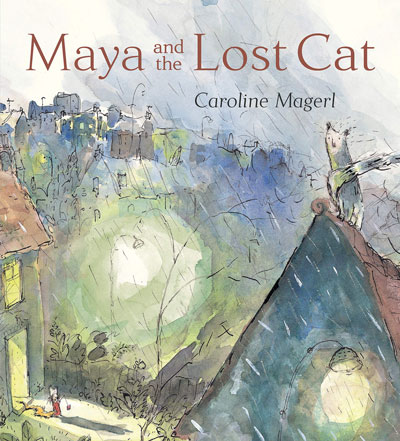 Buy this book!
If you enjoy Caroline Magerl's illustrations for Maine Boats, Homes & Harbors as much as we do, we suggest you check out her newest children's book, Maya and the Lost Cat (Candlewick Press 2019). It features Magerl's wonderfully whimsical watercolors of people and animals, illustrating a very sweet story about a little girl and a cat, who help each other find home.
Author, artist, illustrator and print-maker, Magerl immigrated to Australia as a young girl with her parents from East Germany and spent the majority of her childhood at sea on her parents' yacht, sailing the east coast of Australia. Magerl now lives on the Sunshine Coast of Queensland, Australia, and we are able to share her work easily with our readers thanks to the Internet. Her drawings for MBH&H have won several international magazine awards. 
Share this article:
2023 Maine Boat & Home Show

Join Us for the Maine Boat & Home Show!
Art, Artisans, Food, Fun & Boats, Boats, Boats
August 11 - 13, 2023 | On the waterfront, Rockland, Maine
Click here to pre-order your tickets.
Show is produced by Maine Boats, Homes & Harbors magazine.