Marine Boat Builders: Pumpout Boat
By Laurie Schreiber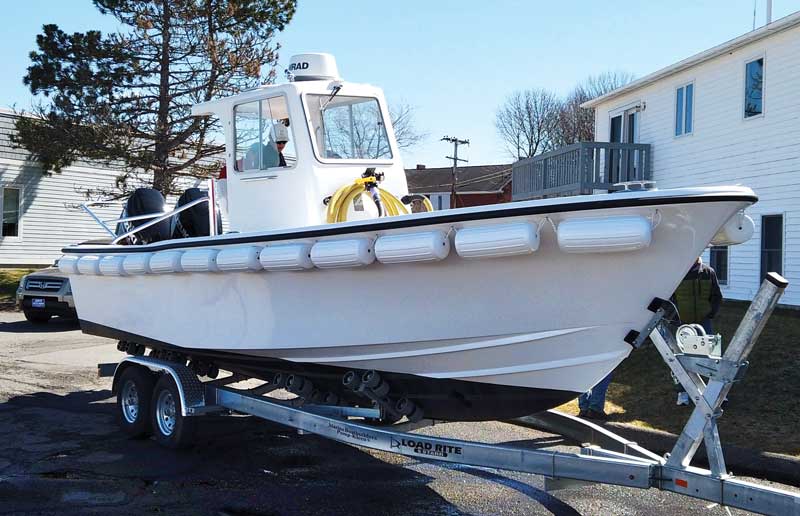 The Friends of Casco Bay say this fast, new pumpout boat can handle three times as much sewage as their last boat and will allow them to expand their services. They held a contest to name the boat. Out of 380 suggestions, the winner was Headmaster. Photo by Jeff Fetterer
Friends of Casco Bay's new 26-foot pumpout boat, launched earlier this year, is designed for a very specific purpose—to transport wastewater from the holding tanks of recreational boats to shore for proper disposal. In the process, the pumpout service helps keep the bay clean.
That's been demonstrated since the organization first started the service in 1995. Over time, its previous boat, a 21-foot Alcar Environmental model named Baykeeper II, has kept more than 200,000 gallons of raw sewage out of Casco Bay.
The new boat, built by Marine Boat Builders of Warwick, Rhode Island, is designed to handle more sewage than ever. Three feet longer than the previous version and carrying more horsepower, its waste tank is also much larger, handling 650 gallons versus 200 gallons. The larger tank means the boat's crew does not need to return to shore as frequently to empty its tanks.
The new boat's design makes it easy to access and maintain the tank, pumps, and related accessories. A bow thruster molded into the hull and fenders all around the boat ease maneuvering to customers' boats. A modified V-hull provides a stable platform for pumpout operations. With twin 250-horsepower Suzuki outboard engines, the boat can accommodate the greater weight of the waste tank when it's full.
The program's coordinator, Jim Splude, pumps out the holding tanks of recreational boats between South Portland and Freeport from June through October. He services 200 to 250 boats each season, many of them multiple times during the season.
Splude grew up in Portland. He recalled what the bay was like before the pumpout service was established.
"Back in the day, I remember Back Bay at low tide—the smell was awful," he said. "The health of the bay has gotten a lot better."
The bay is a watershed for 42 municipalities, including Portland, Maine's largest city. Many idyllic anchorages are sheltered, calm, and shallow. Those qualities make them especially vulnerable to sewage pollution. Thirty years ago, the bay was suffering from murky water, surface film and scum, odors, and floating debris. Raw sewage contaminated shellfish beds, spurred nuisance algae, and lowered oxygen levels in the water, making it difficult for fish and other marine animals to survive. Many boaters simply weren't accustomed to using pumpouts.
Splude acts as an ambassador to educate boaters about the impact of raw sewage. These days, more than 5,000 boats cruise the bay. The cleaner water has allowed other activities, like swimming, kayaking, and windsurfing, to take root, he said.
"You have to make pumpout accessible and convenient," said Friends of Casco Bay's associate director, Mary Cerullo. "But we needed a new workhorse."
Over the years, the program has spurred local marinas to install their own shoreside pumpout stations. Today, there are 21 stations around the bay, supported by funding from the Department of Environmental Protection through the Clean Vessels Act. Thanks in part to these services, the Environmental Protection Agency designated Casco Bay as the first federal "no discharge area" in Maine, protecting it from cruise ship pollution.
"I think as people have become more aware of the environmental damage of raw sewage, they've become much more responsible," Cerullo said. "Demand is huge and people are better educated." 
---
MBH&H Contributing Editor Laurie Schreiber is also a Mainebiz staff writer and has covered topics in Maine for more than 25 years.
Casco Bay Pumpout Boat
LOA:  26'
Beam: 9' 11"
Draft: 19"
Draft with full load:  24"
Weight: 4,800 lbs.
9,800 lbs. full load
Power: Twin 250-hp Suzuki engines 
Builder:
Marine Boat Builders Co., Warwick, RI
Operator:
Friends of Casco Bay
43 Slocum Drive, South Portland, ME
207-799-8574
Share this article:
2023 Maine Boat & Home Show

Join Us for the Maine Boat & Home Show!
Art, Artisans, Food, Fun & Boats, Boats, Boats
August 11 - 13, 2023 | On the waterfront, Rockland, Maine
Click here to pre-order your tickets.
Show is produced by Maine Boats, Homes & Harbors magazine.