East Coast Yacht Sales: Axopar
By John K. Hanson, Jr.

East Coast Yacht Sales has a partnership with Great Island Boat Yard to install outboards, steering, and electronics on new Axopars. Here, a trio of the boats with their distinctive plumb bows sit at the docks awaiting their owners. Image by John K. Hanson Jr
All my high school friends laughed when I drove up in my used (but new to me) 1965 Saab. It was narrow, hump-backed, and decidedly different. Then I took them for a ride. They couldn't believe what a front-wheel-drive car could do, as it pulled hard through a corner like it was on rails. The Saab design team came out of the Swedish aerospace industry. This was key to the distinctive shape and engineering, and lent truth to one of the great marketing slogans in auto history: "Born from jets."
I was reminded of that moment—now 50 years in the past—at the 2018 Maine Boat & Home Show, when East Coast Yacht Sales debuted their new Axopar line of decidedly different-looking outboard-powered boats. The immediate response was much like the response to my first car: What is that?
The Axopar boats are narrow. They have multiple planing strakes on the bottom, and a cabin that might have come off an airplane. They have a plumb bow and the sides seem to go straight from the bow back to the transom. It didn't surprise me to learn that Axopar is Finnish designed; the boat screams Scandinavia. I wondered if its performance would change those immediate first impressions, just as my car had done those many years ago.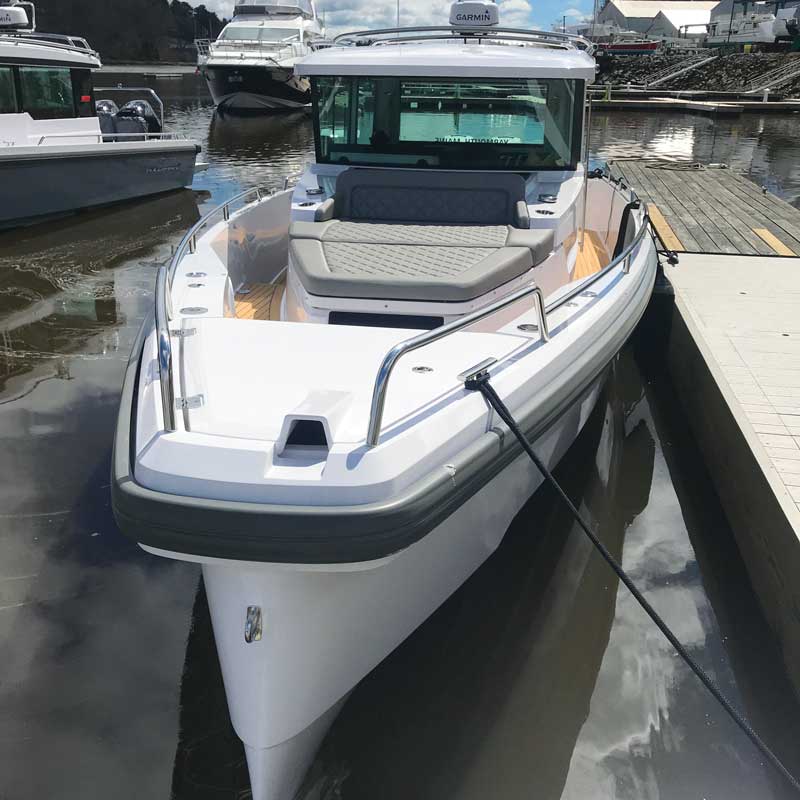 This view shows the narrow hull shape of the Axopar 37. Image by John K. Hanson Jr The trouble was finding one to test drive. Jon Knowles, owner of East Coast Yacht Sales, has sold more than 30 of the Axopar 28- and 37-foot hulls in the first year, so it was not until mid-April that there was a boat available to test drive.
My wife, Polly, and I met Jon on the docks in front of his offices on the Royal River in Yarmouth. Although the river was still pretty empty, there was another guy on the dock fitting out his new Axopar 28: Win Fowler, former owner of Maine Sailing Partners. Knowles and Fowler, two of the winningest sailboat skippers along the coast of Maine, both now own one of these Finnish outboard boats. That told me a lot—there might be something to these boats. Knowles owns a 37-foot cabin model named Finnish Touch.
The weather was overcast and chilly. Not to worry, Knowles said, "I've turned on the cabin heater." The boat is powered by twin Mercury 350 outboards. These engines were perfectly matched to the boat. Powerful and light, they are marvels of modern marine technology. The Axopars are also light; Finnish Touch weighs in at about 8,000 pounds without the engines. The light hull and a sophisticated bottom design that lets the boat run on a mix of air and water, coupled with the power of those big Mercury engines, pushes the Axopar 37 at speeds up to 50 knots. Knowles likes to cruise at around 30 knots at an efficient 1.3 miles per gallon.
He backed us out from the docks without using the bow thrusters. I was impressed with the low-speed throttle lock that comes standard with the engines of this size. As we gathered speed, we chatted in the cabin. When Knowles throttled up, Finnish Touch easily came onto a plane. We continued to chat. Knowles throttled up more. We were now doing 30 knots plus. We still continued to chat, at normal tones, doing 30 knots! Granted we were inside a snug cabin, but we had 700 horses doing their thing right outside the door. I liked the quiet.
This is a new concept of boat: a sports cruiser. It has speed, good handling, and a cabin with all the amenities. The well-thought-out interior, with sinks under settees and refrigerators in the cockpit, reminded me of a VW van combined with the elegance and fun of a glamping tent. Knowles and his family are avid skiers and hope to take Finnish Touch up the coast to Camden next winter to ski at the Snow Bowl. "That's how they are used in the Scandinavia," he said.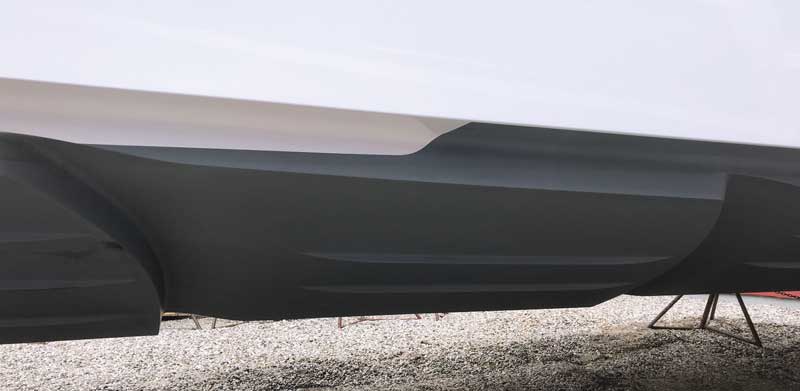 The planing strakes and stepped hull gives the boat great stability and efficiency under way. Image by John K. Hanson Jr
Once we were out of the river, I was handed the helm as we headed up Quahog Bay toward Great Island Boat Yard. The steering was smooth; the boat went through curves with the same sure-footedness that I had experienced in that old Saab. It was a joy to drive. Knowles was disappointed that we didn't have rougher conditions, because, he said, the boat really shines then. I can believe it.
When we got abreast of Great Island Boat Yard, we could see the bows of several Axopars tied up alongside. Great Island Boat Yard rigs the boats for East Coast Yacht Sales. They install the outboards, steering systems, and electronics that the owners have specified. It has proven to be a wonderful partnership.
Maine and Finland share long winters and a seafaring heritage, but the designers and builders of the Axopars have responded to the challenges of the sea in different ways than we Mainers with our downeaster-style boats. While very different, both in their own way are very right.  
---
John K. Hanson Jr. is publisher of this magazine.
Axopar 37 Cabin Model
LOA: 36' 9"
Draft:  2' 9'
Beam:  10' 10"
Fuel:  203 gallons

Builder: 
Axopar Boats, Helsinki, Finland

Commissioning: 
Great Island Boat Yard

Dealer: 
East Coast Yacht Sales
Lower Falls Landing, Yarmouth, ME
207-846-4545; www.ecys.com
Share this article:
2023 Maine Boat & Home Show

Join Us for the Maine Boat & Home Show!
Art, Artisans, Food, Fun & Boats, Boats, Boats
August 11 - 13, 2023 | On the waterfront, Rockland, Maine
Click here to pre-order your tickets.
Show is produced by Maine Boats, Homes & Harbors magazine.