An Early Call to the Sea
Remembering the thrill of that first Whaler
By Rodney Lane
The yellowing old photograph shows me some 50 years ago, a 12-year-old with knobby knees standing on a Barnegat Light, New Jersey, dock with my prized 13-foot Boston Whaler.
When I was about 10 years old I fell in love with boats. On annual summer vacations to New Jersey's barrier islands, I spent my time at the bayside boat ramp while my family went to the beach. I helped people launch their boats and hoped I might be offered a ride.
The boats I loved and desired above all were Boston Whalers. I knew everything there was to know about them. I could recite length, beam, draft, and the horsepower recommendation for every model. When I dragged my family to the annual winter boat show, I collected all of the boat catalogs available, but I really only wanted to see the Whalers.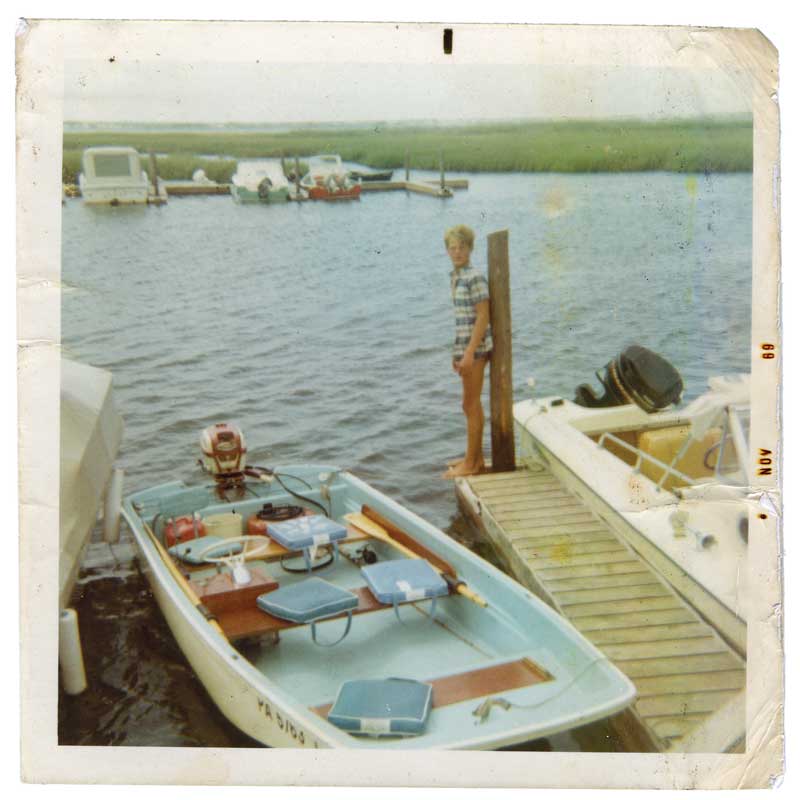 The author with his beloved 13-foot Boston Whaler in 1969. "That boat was my pride and joy," he said. Photo courtesy the author
As only a little kid can do, I sent a letter off to Boston Whaler proclaiming my love for their boats, and sharing that I was saving my pennies for the boat of my dreams, a 13-foot Boston Whaler Sport. Two weeks later a letter arrived in the mail from Richard Fisher, the founder and president of Fisher-Pierce (Boston Whaler), thanking me and offering words of encouragement.
A few months later, a second letter arrived from Mr. Fisher that began, "We have this boat…" It was a used 13-foot Boston Whaler Sport that they offered to sell for $350. The price of a new Sport back then was $710. My mother talked my father, who couldn't swim and knew nothing about boats, into buying the boat.
Money earmarked for a basement renovation that my mother wanted became my boat, a used 1958 18-hp Johnson motor, and a trailer. When it was time, the boat was appropriately named Betty's Basement.
It just so happened that in two weeks we were headed to a vacation on the Jersey Shore. Mr. Fisher took a boat off a shipment headed to the closest Whaler dealer so I could have my boat in time.
On the maiden voyage I ran it onto a sandbar, lost the prop, and we had to row home. We needed those oars, as that old Johnson was temperamental. I had to clean and gap the magneto points frequently or it would not run on both cylinders.
I loved that boat; it was my pride and joy. The exhilaration I felt as it slid off the trailer into the water was like that of a child on Christmas morning. The boat was always spotless and in top running order. I ran it all over the back bays of New Jersey and then Cotuit Bay on Cape Cod. When it was repowered with a 40-hp Johnson motor it became a ski boat, too.
What a sad day it was when I sold her to help pay the last of my college tuition. I wish I still had that Whaler!
How my mother ever convinced my hard-nosed father to buy a boat for his young son remains a mystery. But her spirit lives on. My mother's nickname was "The Mer," and all of my boats since that first Whaler have been named La Mer.  Some may think I speak French when they see my boat, but it's really a lasting nautical tribute to my mom.
Fast forward to May one year ago. Now a snowbird, I was returning to Maine from my winter home in Texas. At a gas stop on the Merritt Parkway, a 13-foot Whaler, not unlike mine, was sitting on a trailer behind a U-Haul pick-up truck. There was no engine, but she was in great shape and looked ready for the water. I couldn't pump my gas fast enough, wanting a closer look.
A young 30-something guy appeared and was about to get into the U-Haul. "What year's the hull?" I asked. "1972," he replied. I couldn't hold back, and shared the story of my first Whaler. He told me he found the boat online somewhere down south, and that the Whaler is something he and his 12-year-old son would enjoy together. He couldn't wait to get home with the boat.
I smiled as I climbed back into my truck. Wow, I thought, life flows in an enriching and wonderful cycle. Oh, the adventures that await that young new Whaler captain.
Pulling back onto the highway I began to think about catching the first striper of the season. I couldn't wait to get back to Maine and out on the waters of Casco Bay.
I always get a rush of excitement when I walk down the dock to my boat. It's like I'm still that little kid with his first Whaler. 
---
Rodney Lane summers on Wolfe's Neck in Freeport, and spends many days chasing striped bass on Casco Bay. His current boat, not a Whaler, becomes very jealous anytime he looks longingly at another boat, especially a Whaler.
Share this article:
Digital Edition Available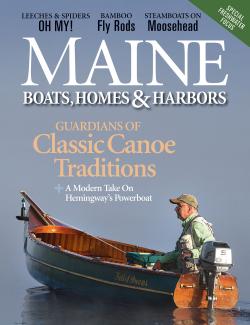 Can't get to the store to buy your magazine? We deliver the stories of Maine's coast right to your inbox. Sign up here for a digital edition.