Dirigo Custom Boatworks: Big Jack 24 Grand Laker
By Laurie Schreiber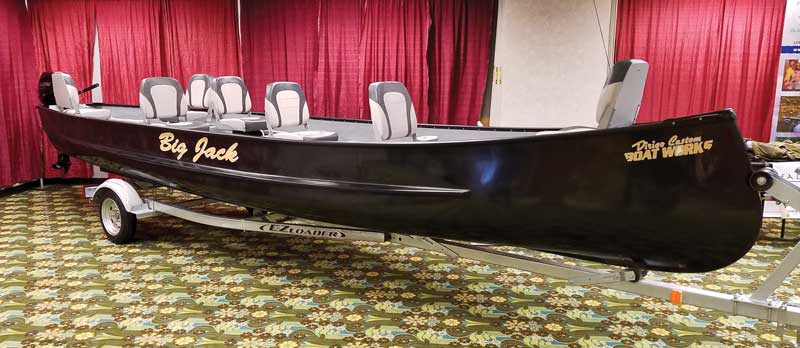 Dirigo Custom Boatworks in Steuben built the Big Jack 24 Grand Laker, a canoe specially designed by Gold Star Outfitters, Inc. Photo courtesy Dirigo Custom Boatworks
Being on the water can be therapeutic for injured veterans, but getting there is not always so easy. Dirigo Custom Boatworks in Steuben has come up with a solution: a specially designed canoe.
Named the Big Jack 24 Grand Laker, the design started as a rough drawing by retired Colonel Jack Mosher, a registered Maine Guide and the owner of Gold Star Outfitters, Inc., a nonprofit on China Lake that provides pro bono guide and outfitting services for veteran support nonprofits such as the Travis Mills Foundation Veterans Retreat, House in the Woods, and Project Healing Waters Fly Fishing. The organization specializes in adaptive outdoor experiences for those with limited mobility or missing limbs, and those surviving traumatic brain injury and post-traumatic stress disorder. Injured veterans have special needs when it comes to adaptive outdoor recreation, Mosher said. He found that modern fishing boats are unsuitable for the mobility-challenged veterans that his nonprofit company brings fly-fishing.
"We needed a specialized fly-fishing canoe for our veterans to complete their recoveries in the Maine outdoors," he said.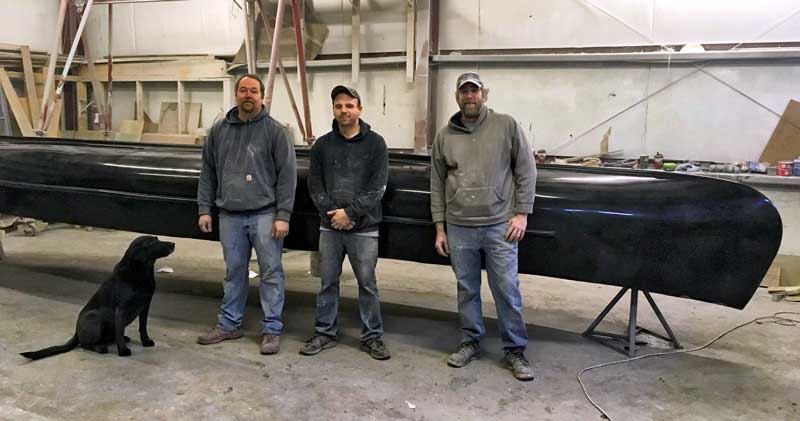 Dirigo Custom Boatworks owner Nate Faulkingham and his crew with the Big Jack 24 Grand Laker at his shop in Steuben. Photo courtesy Gold Star Outfitters
Mosher, a Maine native, is a U.S. Army officer who served 30 years and retired in 2015. As a witness to the terrible injuries and difficult recoveries suffered by young veterans, he started Gold Star Outfitters to bring disabled veterans into nature's healing environment.
But the logistics were daunting. Most lake boats don't have the stability to accommodate safe boarding, or the space for prosthetics and other equipment and caretakers.
"Often they have caregivers or family members with them," Mosher said. "So I'm not just taking one person at a time. They often go in buddy teams for that security they feel."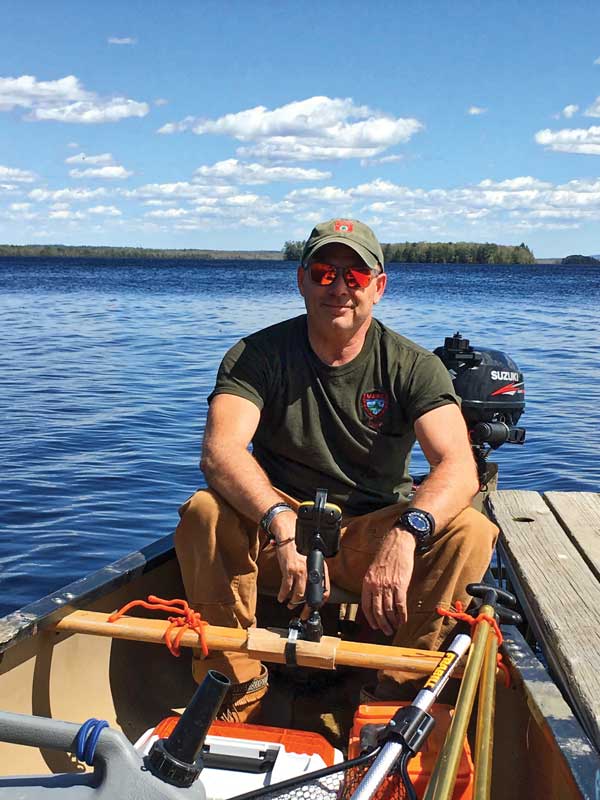 Colonel Jack Mosher founded Gold Star Outfitters Inc., a nonprofit in China Lake, to offer adaptive outdoor experiences to injured veterans. Photo courtesy Gold Star Outfitters What he needed was a "behemoth" canoe with specific features. So he designed one, based on the Grand Laker canoes common to Maine's lakes district, and asked Dirigo Custom Boatworks of Steuben to build the beamy vessel.
Dirigo had recently completed several canoes in the Grand Laker style.
"I really liked the quality, attention to detail, and innovation of their work," said Mosher.
After a short phone conversation with owner Nate Faulkingham, Mosher traveled to the shop to meet in person with only a hand-drawn sketch to show for his plans. Faulkingham and his crew were intrigued.
"They asked a ton of questions," Mosher recalled. "Then they said, 'We can build that.' It was music to my ears."
Then came the tricky part. Mosher aimed to have it ready for the annual Maine Sportsman's Show in Augusta—just 90 days away.
Faulkingham took the challenge.
"Nate was working on it until 10 o'clock the night before the show started," said Mosher.
The Big Jack is 24 feet long and 58 inches wide. It features benches with backs and optional chest harnesses. The seats can be easily released, and float with the top up in the event of a capsizing. The boat is easy for Mosher to launch, recover, and load on a trailer by himself. A short draft of three to four inches allows poking around in the shallows. It can be powered by a small engine on the stern.
Faulkingham has been in the boatbuilding business for about 20 years, at a number of shops around Maine. He started Dirigo in October 2018 with two models on offer. The 21-foot Maine Laker is the largest boat allowed on the Allagash waterway. The 18-foot Tunk Laker is a shorter, narrower version. Both are fiberglass with built-in seats and spray rails and customizable finishes that include ash rails.
Faulkingham modeled Mosher's 24-foot Grand Laker on the 21-footer, lengthening and widening it in sections.
Now that the first 24 has launched, he plans to take a mold from it. Mosher has already ordered two more.
"It's a great canoe," said Mosher. Instead of one or two people, he can now take six or seven.
"It's not even so much about the fishing," Mosher said. "It's about getting people outside into the fresh air—what I call the healing sanctuary." 
---
MBH&H Contributing Editor Laurie Schreiber is also a Mainebiz staff writer and has covered topics in Maine for more than 25 years.
Big Jack 24 Grand Laker
LOA:  24'
Beam:  58"
Material: Fiberglass
Features: Adapted for injured veterans
Builder:
Dirigo Custom Boatworks
830 Unionville Road, Steuben, ME
207-598-7060
www.dirigoboats.com
Operator:
Gold Star Outfitters, Inc. 
China Lake, ME
207-660-5922
www.goldstaroutfitters.org
Share this article:
2023 Maine Boat & Home Show

Join Us for the Maine Boat & Home Show!
Art, Artisans, Food, Fun & Boats, Boats, Boats
August 11 - 13, 2023 | On the waterfront, Rockland, Maine
Click here to pre-order your tickets.
Show is produced by Maine Boats, Homes & Harbors magazine.