A Boat with Purpose
Grand Manan Dory: a special boat designed for a special task
By Kelli Park
Photographs by Kelli Park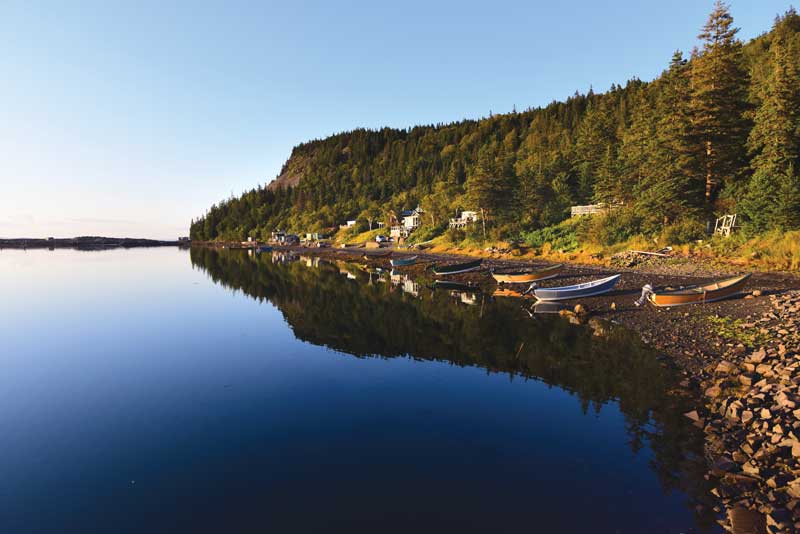 The steep cliffs on the western side of the island tower over Dark Harbor with its natural sea wall. The beach, which provides the only access to these off-the-grid homes, disappears at high tide. Dark Harbor residents must literally plan around Bay of Fundy tides, which are the highest in the world.
Islands have distinct local characteristics and unique identities. Take the island of Grand Manan in Canada's Bay of Fundy, with its sheer cliffs, rolling meadows, expansive beaches, untouched forests, and small fishing villages. Islanders harvest close to a million pounds of dulse seaweed every year, making Grand Manan the "dulse capital of the world." It only makes sense that the dulse harvesters rely on a boat built specifically for their island.
The Grand Manan dory is descended from dories used by Newfoundland fishermen on the Grand Banks back in the 1800s. Narrow, flat-bottomed, slab-sided boats with a narrow transom, Grand Banks dories could be built inexpensively and quickly. They were stacked easily aboard large fishing schooners and launched overboard for hand-lining codfish. Although dories are no longer used in commercial cod fishing, they are still being built in Nova Scotia, in Amesbury, Massachusetts, and on Grand Manan, where local boatbuilder Tom Wetzel has kept the tradition alive with a version adapted to the local dulse industry.
The Whistle, as it is known by locals, is a steep, rocky beach on the west side of the island. Harvesters often run down these rocky, uneven shores with their dories, jumping aboard at the last second. The winch system, seen in the background, is used to haul out the boats when they're loaded with hundreds of pounds of dulse.
The length of the floor on one of Wetzel's Grand Manan dories runs about 14 feet on average, although the boats are closer to 19 feet long overall. The beam is no more than 5'6". Wetzel began building dories with white pine planking but has since switched to Okoume. He has altered the design over the years to accommodate an increase in power from a 5-horsepower to 20-horsepower outboard motor.
The dory has a rocker bottom, which means only three to four feet of the boat make contact at one time with beaches and rocks. This allows harvesters to easily turn and spin the 300- to 400-pound boat on rocky surfaces. Protecting the bottom is a quarter-inch piece of white Teflon that has to be replaced every two to three years because of wear and tear. Harvesters push the boat down steep, rocky beaches and jump into the moving boat as they launch. When the boats return, filled with as much as 2,000 pounds of dulse, they are dragged up the beach by winch systems.
"These are work boats. They have to be built strong and they have to be safe. People's lives depend on your ability to make this thing hold together," explained Wetzel. He has built over half of the dories on the island, which are primarily used on the rugged back side where conditions are optimal for dulse harvesting. Cold water temperatures, rocky shores, and steep cliffs on this western side provide shade for most of the day, which prevents dulse from getting burned by the sun. Dulse grows on the rocky bottom and can only be harvested at low tide, after which the seaweed is spread on the ground to dry before being bundled and distributed to local sellers.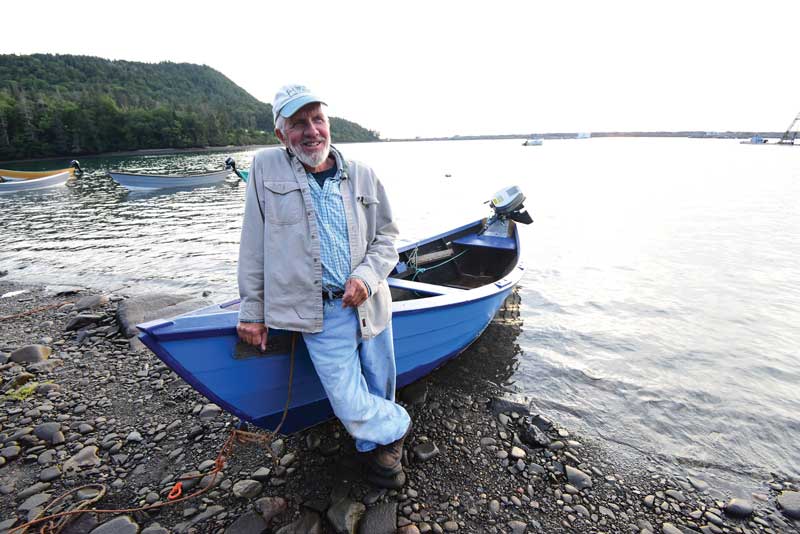 Tom Wetzel and his family moved to Grand Manan three decades ago. He has built dozens of harvesting dories, most of which are still in use today.
Harvesting dulse is "very dangerous. You're on your own, back there in the middle of nowhere," said Wetzel. "Some of these guys go by themselves at 3 or 4 in the morning, on the back of the island in the complete darkness. They take a lot of chances."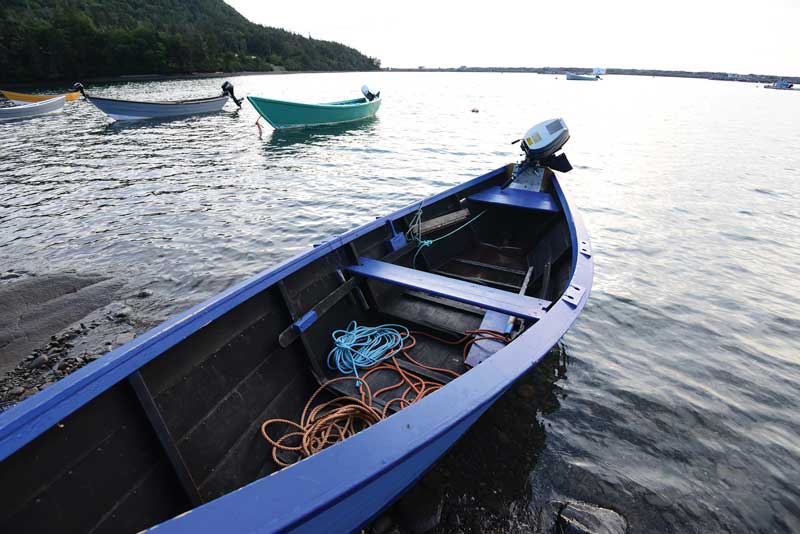 Zoso is owned by fourth-generation dulse harvester, Elton Greene. He is one of only two local harvesters who work alone, which is why Zoso at 12' is smaller than many of the other island dories.
After growing up on the water in Long Island, New York, Wetzel worked on tugboats and learned wooden boatbuilding from Jim Day (of Brooklin, Maine) at New Brunswick Community College in Canada in the 1980s. Wetzel moved to Grand Manan in 1987, and was employed as a shipwright finishing fiberglass hulls before starting his own boatbuilding business in the 1990s. In the beginning, he focused on rebuilding and repairing wooden boats, in particular work boats.
"The idea of strip plank kayaks and everything else, it's a hard sell here," he said. Grand Manan is "not the greatest place in the world to have a pleasure boat."
He owned an 18-foot catboat but sold it because, "it wasn't enough boat for where we live." The Bay of Fundy is home to the highest tides in the world, extremely cold water temperatures, and wide open exposure to the ocean.
As Wetzel builds more and more boats, he has continued to learn and improve his skills while striving to create a functional, quality product for islanders.
"I just go in the shop, light a fire, turn on the radio, and what I get done, I get done," he said. "Over the years, I think I've built up a pretty good name. People have told me that I build a good dory." 
---
Kelli Park is a writer and photographer who lives in Harpswell. She is especially interested in telling the stories of the working waterfront and exploring our connection to the sea.
Share this article:
2023 Maine Boat & Home Show

Join Us for the Maine Boat & Home Show!
Art, Artisans, Food, Fun & Boats, Boats, Boats
August 11 - 13, 2023 | On the waterfront, Rockland, Maine
Click here to pre-order your tickets.
Show is produced by Maine Boats, Homes & Harbors magazine.