Reuel Parker Works New Magic
A classically inspired powerboat for shallow-water cruising
By Art Paine

Coastal Commuter 43 • Rendering courtesy Reuel Parker
Reuel Parker is one of the boat world's more fascinating different drummers. If you are seeking a productive Maine iconoclast, look no further. Parker designs and builds boats, and about half the time lives aboard boats he's built himself. Often these boats include a dedicated designing space so he can live aboard and work on his next project.
His newest design is a 43-foot powerboat currently under construction at Hylan & Brown in Brooklin, Maine. The story of how it evolved is a good one.
About 20 years ago Parker was living aboard his 75-foot LOA schooner Leopard at Key West when a customer came knocking. He was looking for somebody to build him a Phil Bolger Tennessee powerboat.
The Bolger Tennessee is purposely designed to be built by anybody who can hold a nail and hit it with a hammer most of the time. In order to avoid the need to cut notches, the chines and clamps are placed on the outside. It's big enough at 30 feet to camp out in, it floats in a few ripples of water, and is propelled by a modest 10-hp outboard.
Parker, who prefers to build with plywood, knew about Bolger and admired his work. But he told the new client that he "didn't build boats he didn't design himself." To which the man replied, "Well maybe you'd like to design me something similar that I could take into the Everglades." A deal was struck and it was the start of a beautiful friendship as well as a meaningful leap in the evolution of powerboat design.
Parker drew up some plans, making the boat 36 feet long overall. His client, Erik DeBoer, showed those first concept drawings to his father, who had emigrated from Holland and worked as a marine engineer. The elder DeBoer allowed as how he didn't love the Maine lobsterboat look that Parker had shown, and sketched out instead an open cockpit with a curved wood windscreen that gave it the look of a PT boat, a broken sheerline, some swoopy shapes, and a small cabin. DeBoer loved it, Parker accepted it, and Magic was born—a unique combination of several artistic viewpoints bridging the gaps between a Maine lobsterboat, an Oyster Bay commuter, and the Battle for Surigao Strait.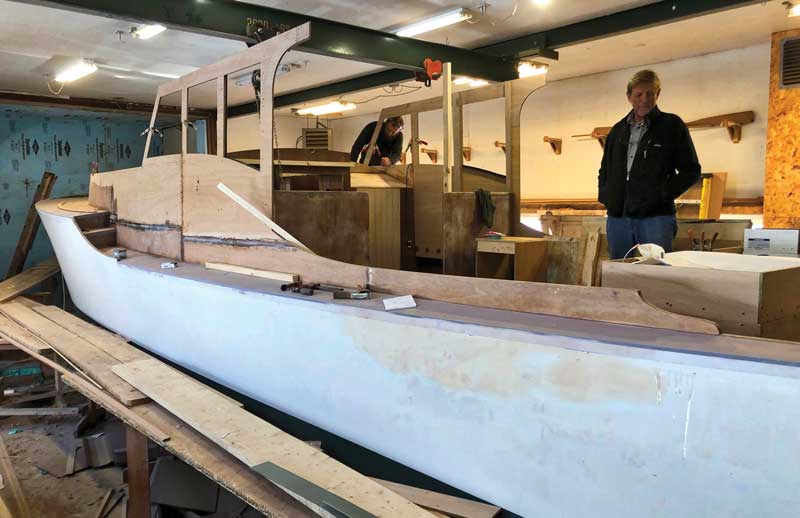 The design of the Coastal Commuter 43 was a collaboration between Reuel Parker and a returning customer, seen here assessing the construction progress. Photo by Jay Perrotta
Magic was Parker's first powerboat design, and it was a huge success. He had designed it with an arc bottom, more hydrodynamic and stronger than Bolger's, which was dead flat. Magic had a forward anchor-handling cockpit. It was nice and rigid, because Parker had specified longitudinal cabinetry panels of thin plywood to give it box strength. This boat looked unique, could go where others couldn't, and was affordable to run. Similar boats designed by Parker followed. They were called commuters and the basic design was improved, or at least expanded upon, with each new model. The bows were lifted and twisted, leading to less pounding—although any boat this flat will have to be babied in big waves. As outboard motors evolved with the four-stroke revolution, boats like Magic and her offspring became even more delightful to cruise in low footprint mode.
Then in September 2017, Hurricane Irma ripped through Key West and totaled Magic. DeBoer came back to Parker looking for another boat. Twenty years after their first meeting, Parker had stock plans for six or seven "commuters" bigger than Magic, but it wasn't long before the two decided to invent something new.
Parker drew a much larger version of Magic, 43 feet long with twin 200-hp outboards. Deep into building his sixth liveaboard sailboat, Parker only had enough spare time to draw up the plans. He sent DeBoer off to friends in Florida, and eventually to Maine, looking for a builder. Doug Hylan and Ellery Brown in Brooklin proved a perfect fit. Hylan likes working with plywood, prizes simplicity, and has been designing similar boats. Importantly, he has lots of experience building "deadrise" bottomed hard-chine models. Another benefit was that DeBoer wanted many custom elements that were far removed from Parker's stripped-down approach. Air conditioning was a major one. While Parker might be fine with escaping into the Everglades in 100-degree heat with fly swatters, DeBoer wanted air conditioning. That meant a generator and batteries, 600-800 new pounds worth, and lots of foam insulation. Hylan and Brown had the capability for engineering and design work, and were willing to fuss with a savvy owner's well-researched demands.
The resulting boat, Scout, (named after an early Nathanael Herreshoff commuter), is quick and efficient, thanks to its narrow beam, and twin outboards. Outboards are becoming quite popular these days especially for extremely shoal water. Able to survive a bottom hit by flipping up, they can also be retracted so their props can be cleared or replaced. If a powerhead goes punk, it's cheaper to fix. But best of all, if one engine quits in the boonies, there's another one to bring you home.
Parker's crisp drawings reveal a very simple cabin built to suit two people. The owner deserves extra credit for his contributions to this custom effort. This boat's potential rests on the intermixing of some components brand new to the market. It was important to the owner to find a system of generator and energy storage that allowed the generator to run mostly while under way so as to preserve his peace at night. Inspired by electric expert Nigel Calder, the boat will have extreme-cycle batteries, carbon-foam-infused AGMs that can be drawn down to nothing and fast-recharged repeatedly. Finally, this boat benefits hugely from a Westerbeke marine generator that draws from the same gas tanks as the outboards. No need for a separate diesel fuel system, and it weighs less than a diesel generator would.
Parker isn't and Bolger wasn't into "yachting." Rather, they aimed to promote boating without frivolity. They designed easy-to-do boatbuilding methods around materials that could be found at a regular lumber yard.
Hylan insists upon the use of genuine marine material. This boat will have marine mahogany plywood, a laminated stem, and marine-grade fastenings, but will adhere to Parker's tried and true reliance on epoxy bonding and coating.
Between the efficiency of hull and propulsion and the comfort provided by a generator and air conditioner, this Florida boat built in Maine will support a lifestyle that seeks quiet isolation in a beautiful environment for extended periods. I picture one outboard retracted and the other going quietly. In this mode, you might be able to go swamping for months, eventually to re-emerge with a long beard, a broad smile, and one heck of a shell collection.  
---
Contributing Author Art Paine is a boat designer, fine artist, freelance writer, aesthete, and photographer who lives in Bernard, Maine.
Coastal Commuter 43
LOA  43'
Beam 10' 6"
Draft 1' 4"
Displ. 13,500 lbs.
Designer:
Reuel Parker
Parker Marine Enterprises
Vero Beach, FL
Builder:
Hylan & Brown Boatbuilders
Brooklin, ME
207-359-9807
Share this article:
2023 Maine Boat & Home Show

Join Us for the Maine Boat & Home Show!
Art, Artisans, Food, Fun & Boats, Boats, Boats
August 11 - 13, 2023 | On the waterfront, Rockland, Maine
Click here to pre-order your tickets.
Show is produced by Maine Boats, Homes & Harbors magazine.