Letter From The Publisher — Issue 158
Spring Colors
By John K. Hanson, Jr.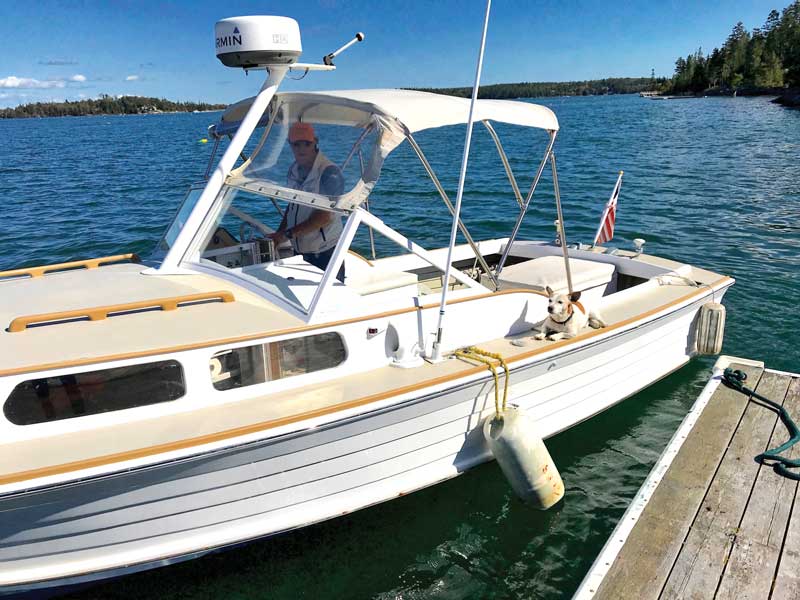 John K. Hanson Jr. at the helm of Buffalo Soldier
Every spring, I paint like Leonardo da Vinci. Flat on my back, I paint with my arms extended over my head, paint dripping in my eyes. The difference is that my creation is not a masterpiece, just another coat of bottom paint on my deep-V, wooden Hunt powerboat, Buffalo Soldier.
For more than 30 years I have applied nasty, thick, poisonous bottom paint to the bottom of this boat. First, I have to mask it off. My aim is not true, and since the boat is of lapstrake construction, the taping is a bit of a project. It must be done, since only this top edge gets seen; the rest is underwater. But that unseen part is the really important part, doing its job to keep the bottom from fouling.
Boat painting is another of the waterfront jobs that I do rather badly. I was once accused by a professional yacht painter of painting my sailboat with a broom. Still I persist. On other parts of the property, my wife Polly is planting the garden. She mulches and plants, I sand and paint. Together we get the spring chores done. I have always relished this image of us as saltwater farmers, although it is more of a mirage than a reality.
Although the aches and pains of spring fitting out increase every year, and the time to do each job gets longer, there still is great satisfaction to be had on a spring day, crawling out from under the boat, pulling off the masking tape along the waterline, and seeing the crisp line between the blue of the anti-fouling and the white of the topsides. One more job done. Now to the launching ramp. Let the summer season begin.  
Share this article:
2023 Maine Boat & Home Show

Join Us for the Maine Boat & Home Show!
Art, Artisans, Food, Fun & Boats, Boats, Boats
August 11 - 13, 2023 | On the waterfront, Rockland, Maine
Click here to pre-order your tickets.
Show is produced by Maine Boats, Homes & Harbors magazine.