Beavers, whales, and boat stuff
By Polly Saltonstall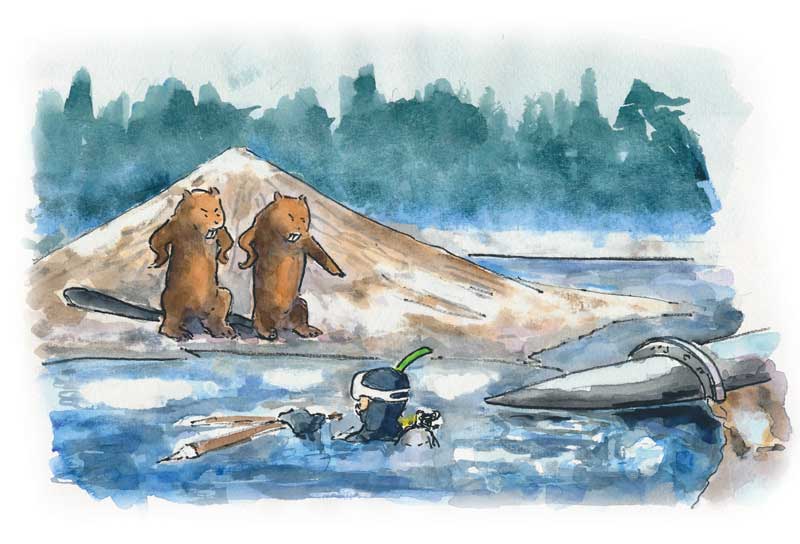 Illustration by Ted Walsh Busy beavers
As if the topsy-turvy temperatures and weather this winter didn't make things difficult enough for small ski mountains, the folks at the Camden Snow Bowl had to deal with a whole new set of problems: furry ones with big tails, i.e. beavers.
The water used for making snow at midcoast Maine's only ski mountain comes from a pond at the base of the mountain. But beavers have been damming the intake pipe that brings water to the ski area's snowmaking guns.
"It didn't allow us to make snow efficiently," Camden Snow Bowl general manager Beth Ward explained.
Ward had to hire a diver to unclog the pipes in the pond every time her crew wanted to start the snow-making system. This continued from early December until late January, she said. There were times the diver even had to chisel through frozen pond ice to get into the water and down to the lines.
"The beavers must feel like it's their water and they have to protect it," she said. "Every day (even in the winter), they put big sticks and all sorts of leaves and debris in front of the pipes."
Ward said she knows of two beaver lodges on the pond. A trapper caught one 70-pound beaver last year, but she thinks the ones that were messing with the Snow Bowl's water lines must have been smaller.
"The beavers have been going through the pipes right into the pump house," she said. "The guys would go in to do regular maintenance and the beavers would be in there slapping their tails to warn them away."
The town had at least two insurance claims related to "rodents of some sort" jamming the snow-making machines, she said.
The good news is that once the beaver situation was under control, this was a profitable and busy winter for the town-owned resort, Ward said.
---
Baby whales, doo doo doo doo
Okay, we are not going to sing the baby shark song, but we do have some good baby news. Out in the ocean, things are looking up a teeny bit for endangered North Atlantic right whales with the news of at least seven new calves this season. In 2017, researchers recorded 17 right whale deaths, and five births. Last year at least three whales were known to have died and there were no new births.
North Atlantic right whales are one of the world's most endangered marine mammals. They are believed to number no more than 411.
The first calf and its mother were photographed in December off Jacksonville Beach, Florida. Researchers were able to match them to the North Atlantic Right Whale Catalog, according to Phil Hamilton, who manages the photo-identification catalog at the Anderson Cabot Center at the New England Aquarium in Boston.
"We have been following the mother, Catalog No. 2791, for 21 years," he wrote in a blog post. "She was first sighted at an unknown age in the Bay of Fundy in 1997. She was seen every year from 1997 to 2012, during which time she had two calves—in 2006 and in 2009. She wasn't seen between 2012 and 2016, but has been a regular visitor to the Gulf of St. Lawrence since 2016."
When in good condition, a right whale can give birth every three years—gestations last from 12 to 14 months. But the population has become increasingly stressed by vessel strikes, entanglement in fishing gear, and poor feeding conditions in a rapidly changing ocean climate. The average time between births in recent years has been as long as a decade. That first calf spotted last winter was born to a whale whose last recorded birth was nine years ago.
Seeking to comply with federal laws protecting the whales as well as a lawsuit from conservation groups, federal and state fisheries officials have been exploring additional steps to protect the large creatures. Regulators told fishermen at the Maine Fishermen's Forum in March to expect an announcement of additional restrictions on lobster fishing gear later this year.
---
Bonanza of boat history
Lovers of classic Hinckleys have a new source to fuel their dreams. Thanks to a partnership between Hinckley Yachts and the Southwest Harbor Library, more than 1,400 photographs from the boatbuilding company have been digitized and are available for online viewing.
The project was made possible by a grant from Hinckley to the library honoring the boatbuilder's 90th anniversary.
The newly digitized images are of sailboats, motoryachts, working boats, and vessels Hinckley built for the military during WWII (in 1942, the company received the Army-Navy "E" Award for excellence in production of war equipment). Many of the photos show boats under construction and under sail off the waters of Mt. Desert Island. The images can be seen online at swhplibrary.net/hinckley.
"We are very pleased to have partnered with the Southwest Harbor Public Library to fund an effort to make more of the library's collection of historical Hinckley photographs available online," said Hinckley Chief Marketing Officer Pete Saladino. "Visitors to the Library's Digital Archive can now see more images of our yachts, the people who built them, and the waters that shaped their design."
---
From Front Street to Cape Charles, Virginia
JB Turner, president and co-owner of Front Street Shipyard in Belfast, Maine, and Nicole Jacques, owner of Rhumbline Communications in Belfast, announced plans in March to take over the Cape Charles Yacht Center in Cape Charles, VA.
Turner said he and Jacques want to expand the Chesapeake Bay shipyard into a premier superyacht refit and service facility. They have signed an 18-month lease on the yard, but, he stressed, neither he nor Jacques plan to move to Virginia.
Cape Charles Yacht Center is located off the mouth of Chesapeake Bay. An 18-foot-deep channel leads into a modern marina with 1,000 feet of face dockage, a 75-ton boat hoist, and 30/50-amp single-phase and 100-amp three-phase power.
Turner and Jacques are developing a multi-year expansion plan with the support of investors, which includes a 30,000-square-foot facility, 600-ton mobile hoist, and additional floating docks. A new service facility is currently under construction.
Turner and Jacques have more than half a century of combined experience growing shipyards. Turner is the president and general manager of midcoast Maine's Front Street Shipyard, a yacht construction and repair yard with a superyacht marina. Along with his partners, he founded Front Street Shipyard in 2011. Jacques is the owner and marketing strategist of Rhumbline Communications, a marine-focused marketing agency. In addition to Front Street, her clients include shipyards, trade shows, manufacturers, suppliers, and trade associations.
Turner said he and Jacques will maintain their existing roles in their respective businesses as they also partner to operate Cape Charles Yacht Center.
"We're not moving," he said. "They have a good guy managing the yard and a good team. We need a few more employees, but the basic set-up is good."
---
Moonbeam fills in for Sunbeam
The Maine Seacoast Mission's iconic vessel, Sunbeam V, is scheduled for a one-million-dollar-plus refit. In the meantime, the organization bought a 34-foot wooden downeast cruiser to use until that refit has been completed. The new boat, which was designed by Thomas Dugas and built at Royal River Boat Yard in 1990, has been renamed Moonbeam, said Sunbeam Capt. Mike Johnson.
Five shipyards expressed an interest in the refit of the metal-hulled Sunbeam, including Billings Diesel and Marine, Stonington; Front Street Shipyard, Belfast; Portland Yacht Services; Rockland Marine Corp.; and Washburn and Doughty, East Boothbay. The project will involve gutting the interior of the 75-foot hull, removing rust and repainting the metal, and then replacing and upgrading interior fittings, Johnson said. Bids were set to be opened in late March.
"We are 100 percent committed to doing this job in Maine, even though our architect told us we could save a lot by doing the work in Connecticut," he said. "Our organization serves the people of Maine and that's important to us."
Sunbeam V was built in 1995 at Washburn & Doughty in East Boothbay.
The vessel's engineer, Storey King, who previously had worked for builder Ralph Stanley and knows a thing or two about wooden boats, located the replacement boat in Portland. Moonbeam has been trucked to Billings Diesel and Marine for routine maintenance and modifications to the interior.
"I am very excited by this addition to our fleet. She is a classic, handsome, and understated vessel with hints of lines from Sunbeam III," Johnson said.
The Mission also has a new president: John Zavodny, PhD. He comes to the job from Unity College in Unity, Maine, where he was chief of staff. During his 18-year career at the college, he also served as professor of philosophy and humanities, academic chair, director of the Center for Environmental Arts and Humanities, and dean of academic services.
Since 1905, the Mission has served the isolated communities of the unbridged islands and coastal villages of Hancock and Washington counties with health, education, food assistance, Christmas, and community-building programs, and pastoral care.
---
Oysters and human health
In addition to tasting good, shellfish like oysters and mussels have the potential to revolutionize human health research, according to a new study.
Bivalves offer numerous promising avenues for medical research—from pharmaceutical development to bone regeneration, said José Fernández Robledo, senior research scientist at Bigelow Laboratory for Ocean Sciences, and lead author on a paper recently published in the scientific journal, Developmental and Comparative Immunology.
Just like humans, oysters are exposed to bacteria and viruses, but oysters fend off these pathogens without the aid of antibodies. And clams sometimes contract a contagious cancer, which they can cure themselves of—also without antibodies. Learning more about these unique defense mechanisms could inspire new treatment options for human pathologies and diseases.
Studying immunity in bivalves could also help researchers find an alternative to antibiotics, drugs to which pathogens are increasingly becoming resistant.
Fernández Robledo's team is working to develop the molecular tools needed to probe bivalve genomes. Researchers recently sequenced the oyster genome and found it to have 28,027 genes, but they don't yet know what most of these genes do.
"Oysters are more than good to eat," Fernández Robledo said. "This research will allow us to unlock their potential as a model system that helps us innovate and improve human health."
---
Augusta and the sea
The next Independence-variant Littoral Combat Ship will be named USS Augusta in honor of the capital city of Maine, Secretary of the Navy Richard V. Spencer announced last winter.
The announcement was released on the same day last winter that Spencer came to Maine to attend a keel laying ceremony for a Navy destroyer under construction at Bath Iron Works. But the future USS Augusta, the sixth Navy vessel to bear the name Augusta, will not be built in Maine. Rather it will be built by Austal USA in Mobile, Alabama. This ship will be 419 feet long with a beam 104 feet, and capable of operating at speeds in excess of 40 knots. The LCS is designed to support focused mine countermeasures, anti-submarine warfare and surface warfare missions.
---
Herring shortage worries fishermen
For the second year in a row, federal regulators have dramatically reduced the amount of Atlantic herring fishermen can haul after scientists counted far fewer juvenile Atlantic herring in East Coast waters.
As a result, NOAA has lowered the allowable catch of Atlantic herring from 50,000 metric tons last year to 21,000 metric tons in 2019.
Herring are primarily used as bait and fishermen worry the new limit will lead to bait shortages, according to a story in the Bangor Daily News. Wyatt Anderson has run the bait business at O'Hara Bait in Rockland since 1985. "I've never seen anything like this," he told the newspaper. "This is catastrophic. I have no idea how this is going to work out. There will be days in September and October when guys won't be doing a haul."
Patrick Keliher, commissioner of the Maine Department of Marine Resources, told the BDN that he has been meeting with bait dealers and hopes to come up with alternatives.
Currently, Mainers use menhaden, rockfish, and redfish in addition to herring, as well as seasonal use of alewives, but Keliher said bait that has not been used in the past is being sourced, both internationally and domestically. One DMR staff member is working with the state of Illinois regarding importing dead, frozen Asian carp as bait, according to the BDN.
---
Ebbs and flows in Boothbay
Residents in Boothbay have been debating waterfront zoning proposals for months. But fears about development pressures were allayed somewhat last winter when two nonprofit groups acquired adjacent properties with the goal of preserving access to the working waterfront. One nonprofit signed a purchase-and-sale agreement to buy Cap'n Fish Motel on the east side of the harbor; another bought the adjacent Sea Pier property.
Cap'n Fish's will be open for the 2019 season, and then after the sale closes in November 2019, the two hotel buildings will be razed to create a park with protected public access to the harbor, according to an article in the Bangor Daily News. The property's south cement pier abuts working waterfront and has frequently been used by boaters to haul their motors out with a crane. That pier will be dedicated to working waterfront uses, and the north pier will be open space, according to the newspaper report.
Meanwhile, Luke's Lobster, a seafood company and restaurant group founded by Luke Holden in 2009, has partnered with the Boothbay Region Maritime Foundation to operate a seafood-buying station at the Sea Pier. The partnership is intended to protect working waterfront access for local fishermen, according to a story in Mainebiz. All of the catch coming into the station will go to Holden's seafood company to be served directly to Luke's Lobster customers.
As part of the lease, an advisory committee will be created to ensure the operational transition is smooth and the foundation's mission is implemented, as well as explore the possible formation of a fishermen's co-op, according to Mainebiz.
---
Property rights and seaweed
Rockweed growing in Maine's intertidal zone is not public property and may not be harvested without the upland property owner's permission, according to a March ruling from Maine's highest court. The case pitted businesses that harvest seaweed for food and other uses against coastal landowners in Washington County who are worried about over-harvesting.
According to state statistics, the value of Maine's annual rockweed harvest has grown rapidly. In 2017, harvesters in Maine landed almost 20 million pounds, worth $771,963.
The 22-page opinion issued by the Maine Supreme Judicial Court upheld a 2017 Washington County Superior Court decision that affirmed property owners' rights to deny cutters permission to harvest the brown algae in the intertidal zone between the high- and low-tide boundaries. The harvesters and Maine's Department of Marine Resources had argued in favor of the harvesting, citing as precedent Maine laws allowing "fishing, fowling, and navigation" in the intertidal zone, regardless of ownership. The property owners, who filed suit over the issue several years ago, had argued rockweed was a plant attached to the ground and was not covered by that precedent. The court agreed. Rockweed in the intertidal zone "belongs to the property owner and therefore is not public property, is not held in trust by the State for public use, and cannot be harvested by members of the public as a matter of right," the decision stated.
A spokesman for DMR said the agency will review the ruling and decide on next steps. In the meantime, rockweed harvesters now must obtain permission from property owners in advance.  ​
Share this article:
Digital Edition Available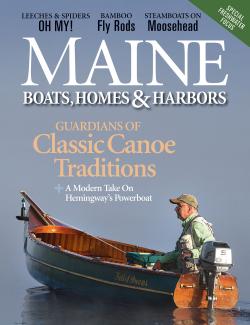 Can't get to the store to buy your magazine? We deliver the stories of Maine's coast right to your inbox. Sign up here for a digital edition.