Built in Maine
North America's first European-style ship
By Laurie Schreiber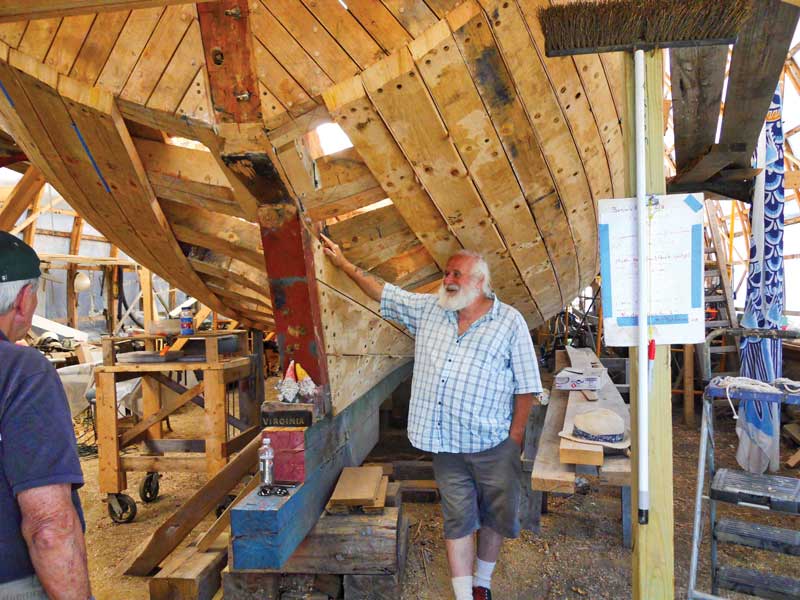 Rob Stevens, a master shipwright, is overseeing construction of the Virginia, "Maine's First Ship." Courtesy Maine's First Ship
Around the same time that English colonists were settling Jamestown in the early 1600s, another group of Englishmen landed at the mouth of the Kennebec River, in Maine, and built a small settlement called Fort Saint George, at what is now Popham Beach.
Jamestown became famous as the first permanent English settlement in North America. The Popham Colony fell apart after little more than a year and its name was lost to history.
But in recent years, dedicated volunteers from Popham Beach and the surrounding area have been working to restore the Popham Colony to public awareness. A major part of that effort has been the reconstruction of a 30-ton pinnace named Virginia, that was built by Popham colonists and was the first ship built in North America by English colonists.
A nonprofit in Bath, Maine, called Maine's First Ship, is behind the effort. Orman Hines, president of the organization's board, said the idea for the project came from conversations around the kitchen table of a Popham resident and local historian named Jane Stevens, whose house was located on the site of the original fort. Back in 2007, on the eve of the colony's 400th anniversary, she and others wanted to do something big to celebrate.
A tremendous amount of research ensued. The biggest challenge was the absence of early 17th century plans for the ship. Working from written references to Virginia in information about the 1607 Popham Colony and historical records about pinnaces, enough detail was gathered for Fred M. Walker and Associates of Tenterdon, Kent, in England, to produce concept drawings. David B. Wyman, a naval architect, worked with the drawings to develop a working design with input from Capt. Steve Cobb, shipwright Rob Stevens, and Maine's First Ship historian, John Bradford.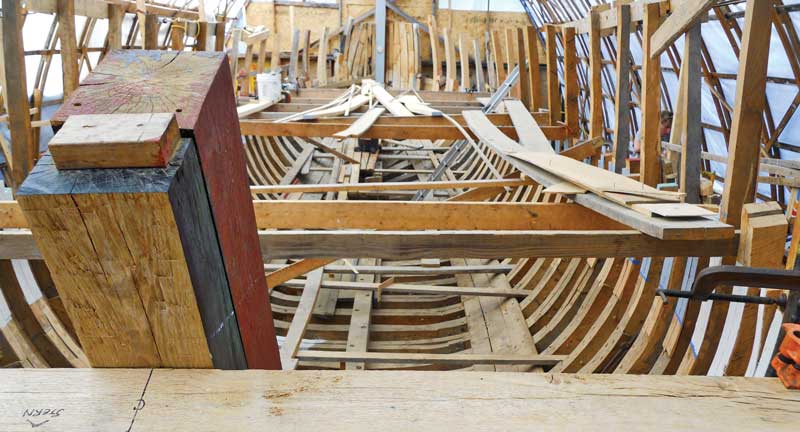 Reconstruction of the Virginia is two-thirds complete. This ship is seen here looking from the viewing platform at the stern toward the bow. Courtesy Orman Hines
The design is a modified "barke" rig that would have been used in the 17th century for ocean voyages. For coastal work, the Virginia would have had a fore and aft rig with a sprit mainsail and one headsail. The new ship is 50' long with a beam of 14'6". It has a flush main deck, draws approximately 6'6" fully loaded, and has a freeboard of less than 2'. The reconstruction is designed to meet the Coast Guard standards for small passenger vessels.
Hines noted that the group prefers not to use the word "replica."
"'Replica' would indicate that you knew exactly what the ship's plans were," he said. "Our plans were drawn up from information about ships that were built in that era."
Hines credited Rob Stevens (no relation to Jane Stevens), who is also volunteering his time, for keeping the project on track. Commissions at Stevens' yard, Robert Stevens Boat Builder, in Phippsburg, included construction of a Viking ship replica.
"People in town thought, 'Hey, someone in town built a Viking ship. There's no reason we can't build the Virginia,'" Stevens said with a laugh. "That's how I got involved."
Figuring out what Virginia might have looked like was difficult, he said. The term "pinnace" was so broad; it could refer to a small boat or a huge square-rigger. Historical references to a 30-ton vessel were more helpful. "That's because a ton isn't a ton," Stevens explained. It's actually a unit of volume called a "tun," which refers to a barrel holding 252 gallons. Estimating the number of tuns that a boat could carry became a means of boat measurement in historical times.
Maine's First Ship's shipbuilding program got started in 2010 with the construction, by students and volunteers, of a shallop—a small utility boat that would have been used by the colonists. The Virginia's keel was laid the following year.
The volunteer group has stuck with traditional materials as much as possible, like using white oak, sourced from Connecticut and Massachusetts, for the hull and frames; white pine for the deck and masts; and hackmatack knees. Fastenings include old-fashioned trunnels and modern silicone bronze fasteners.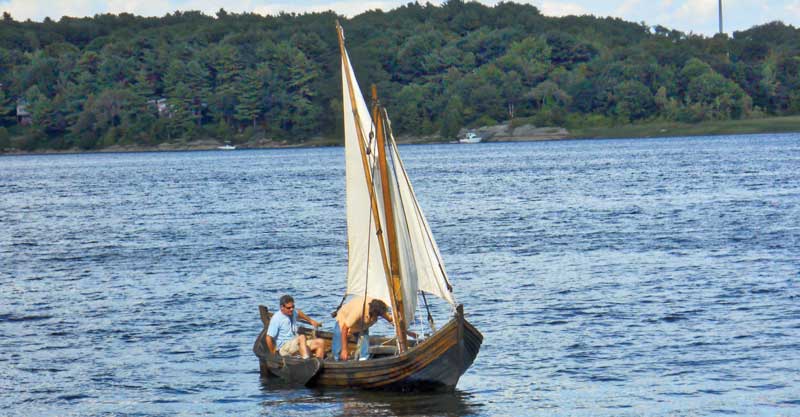 Maine's First Ship's shallop sailing on the Kennebec River. Courtesy Maine's First Ship
Maine's First Ship has leveraged the project into practical shipbuilding and ship operation programs for the education of students of all ages. The organization offers shipbuilding courses teaching traditional skills: Programs include lofting and related math, carpentry, as well as ship preservation, operation and maintenance, all designed to help prepare participants for employment.
Today, Virginia is two-thirds complete, said Hines. As of this past winter, almost all of the planking was on and work was due to start on the deck beams.
"We're hoping to launch in June 2020," Hines said.
A core of 15 to 20 volunteers, working Wednesdays and Saturdays, keeps the project going. "These types of things are always a lot of fun," Stevens said. "All the volunteers who are building the boat and the people who stop by—you can tell they'll always remember getting the chance to do this." 
---
MBH&H Contributing Editor Laurie Schreiber is also a Mainebiz staff writer and has covered topics in Maine for more than 25 years.
---
From failed colony to archeological treasure
Virginia's story started in August 1607, when about 100 men, sailing ships called the Gift of God and the Mary and John, landed on the Maine coast. Led by George Popham and Raleigh Gilbert, his second in command, the colonists built a storehouse and other buildings, explored, got food from the natives, fished, and searched for gold. They also built the 30-ton pinnace they christened Virginia.
By December, food was running low, half of the men sailed the Gift of God back to England, and the rest suffered through a harsh winter. After Popham died, Gilbert decided to head back to England, where he had inherited a family fortune. The remaining colonists followed him on the Mary and John and the Virginia. The Virginia subsequently sailed the Atlantic at least one more time, joining a supply convoy from England to Jamestown.
In the 1990s, Dr. Jeffrey Brain, an archeologist with the Peabody Essex Museum of Salem, Massachusetts, began a dig at the colony in search of artifacts and evidence of buildings. Artifacts dug up included English earthenware, pistol shot, lead, a blue glass coat button, and hand-forged wrought iron nails. Brain and collaborators conducted a field school at the site for over a decade, under the auspices of the Maine State Museum.
"People from all over the United States came to work there," said Hines. "That's how I got involved. It was a lot of fun." 
This article is also available in Boats of the Year 2019.
Share this article:
Digital Edition Available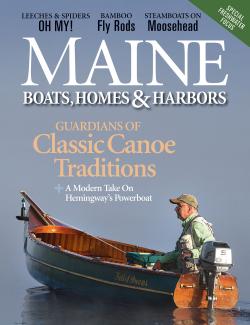 Can't get to the store to buy your magazine? We deliver the stories of Maine's coast right to your inbox. Sign up here for a digital edition.