Polly Sails Again
Restoration of a classic 1945 wooden yacht
By Jeff Bolster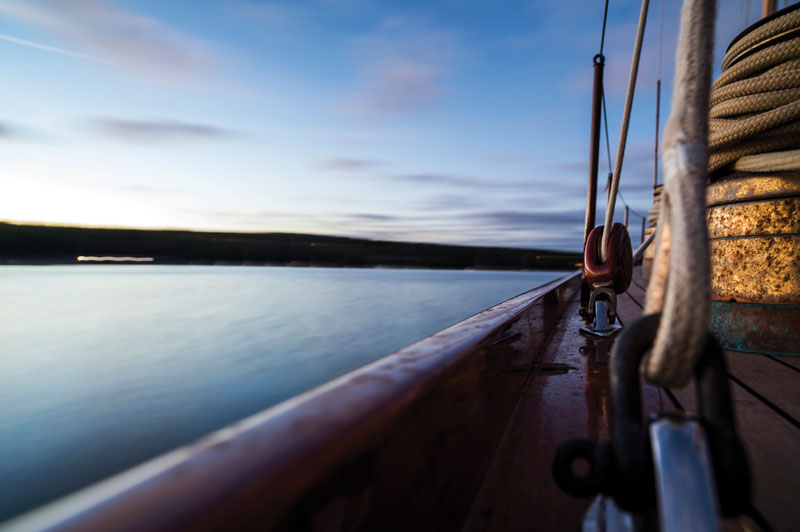 Peter Gallant spent seven years rebuilding the 56' Nevins sloop Polly. Left to die in a field south of Rockland, Polly had been stripped of her deck hardware so Gallant designed and fabricated replacements. Photo by AJ Messier
Peter Gallant says he never intended to be a boatbuilder, but he's been doing it for more than 40 years, mostly in an old dairy barn without a sign in Stratham, New Hampshire, and more recently in the Eliot Industrial Park, in southwestern Maine. For the last seven years Gallant has been working his magic on the 56-foot sloop, Polly, which was originally launched by Henry B. Nevins on City Island, New York, in 1945. Self-financed, and with just a couple of helpers, Gallant has reincarnated a classic.
Elegant wooden yachts are among the most beautiful objects ever fashioned by human hands—pieces of art able to withstand the rigors of the sea. Polly was all that, as well as a relatively rare surviving example of the big wooden racing boats that were built right after World War II. Gallant had to save her.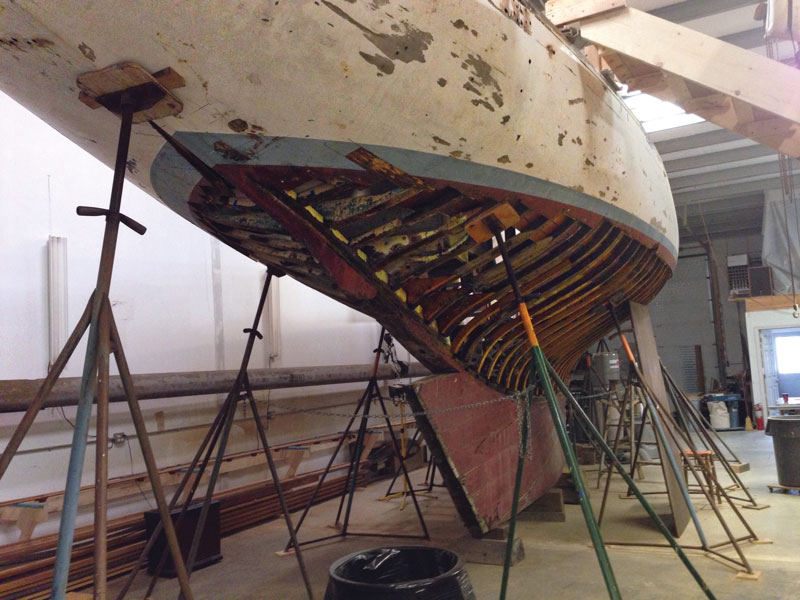 Polly needed a new keel, new frames, new planks below the waterline, and lots more. Photo by David Puchkoff
By the time he found her in a field off Route 1, south of Rockland, Maine, where she had been left to rot, Polly had come a long way from the glory days at the Nevins yard, and a successful racing career in California during the 1960s and 1970s.
"She went through a number of different hands," Gallant said, "people buying the dream but not able to step up to the pain and suffering." Yacht restoration on this scale is not for the faint of heart.
Gallant had a number of reasons for taking on the project. "I wanted to put my two boys to work," he explained. "The older I get, the more I understand the value of work." His sons acquired skills, and the challenge pulled the family together. But Polly was in far worse shape than imagined when he and a partner purchased her in June 2011 with plans for restoration.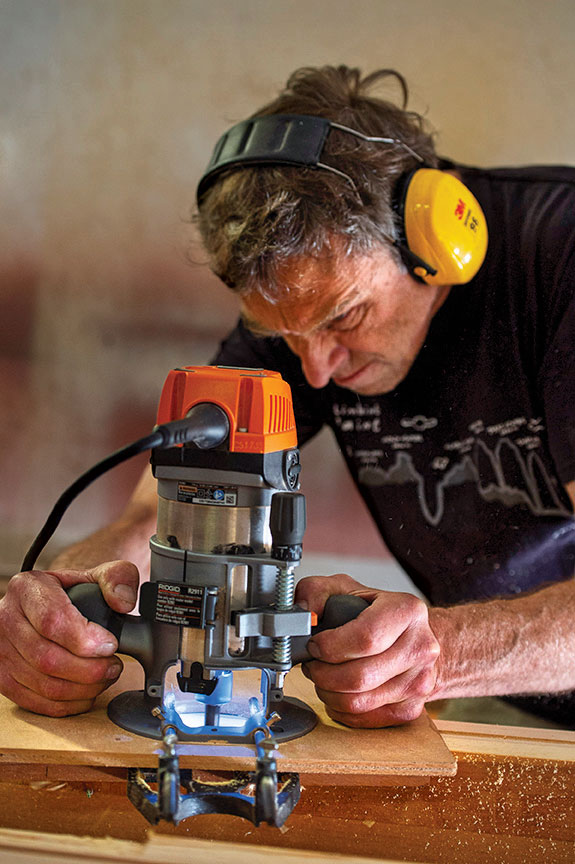 Peter Gallant transformed a nondescript bay in the Eliot Industrial Park into a high-end boatshop. Photo by AJ Messier The partnership did not last. Gallant was soon on his own with a seriously deteriorated boat. Systematically disassembling her, he discovered that Polly had what he calls "induced electrolysis." Her California owners had bonded the bronze floors, rudder port, seacocks, and bronze strapping, and induced a shore-power current into them. That protected the bonded metal, but dissolved all the other metal parts in the boat, while pulling lignin from wood below the waterline. Polly needed a new keel, new bottom planks, new frames, new rig, new engine, new electronics, and…. The list kept growing.
Gallant is too pragmatic to be obsessed with saving every possible bit of original material. And he likes to engineer solutions. He assessed, disassembled, and replaced every part of the boat as needed. While he appreciates historically accurate restorations, he said, Polly already had been changed by previous owners over 66 years. His philosophy was "to honor the original builder's and designer's intentions," while readying the boat to sail long and hard in the 21st century.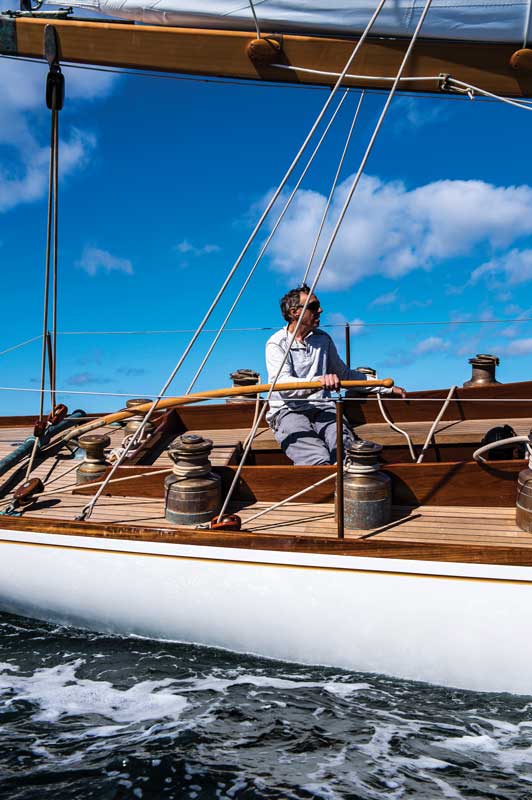 Peter Gallant at the helm of his rebuilt vessel. The new tiller is about 6 feet in length. The running backstays are made of modern Spectra. Photo by AJ Messier For instance, the original interior had quarters for a paid captain and crew in the forepeak. Gallant opened up the forecastle so that Polly now has varnished teak drawers and a double bunk forward. He removed the forward head. The elegant after head boasts brass taps, bronze hardware, and a stunning teak door sourced at Paul E. Luke, Inc., in East Boothbay.
Polly still has some original parts. The cabin sole may be original. Ditto with the salon table. The deck is original, though ¼" thinner. Originally the deck was 1" teak over 5/16" plywood, glued and fastened from below. There were no seams: each teak plank was butted, without caulking, to its adjoining plank. That meant leaks. Gallant removed the planks, refashioning them with caulked seams.
Looking back to the resurgence of pleasure-boat construction after World War II, Gallant pointed out that the Polly was very experimental, a result of new technologies developed during the war, such as resorcinol glue and tropical hardwood plywood. Nevins' yard had churned out vessels for the war. After Japan surrendered, government contracts simply stopped. But Nevins still had a huge crew and vast stockpiles of material. So he went back to building yachts. Named after his wife, Polly was the yard's first post-war pleasure boat.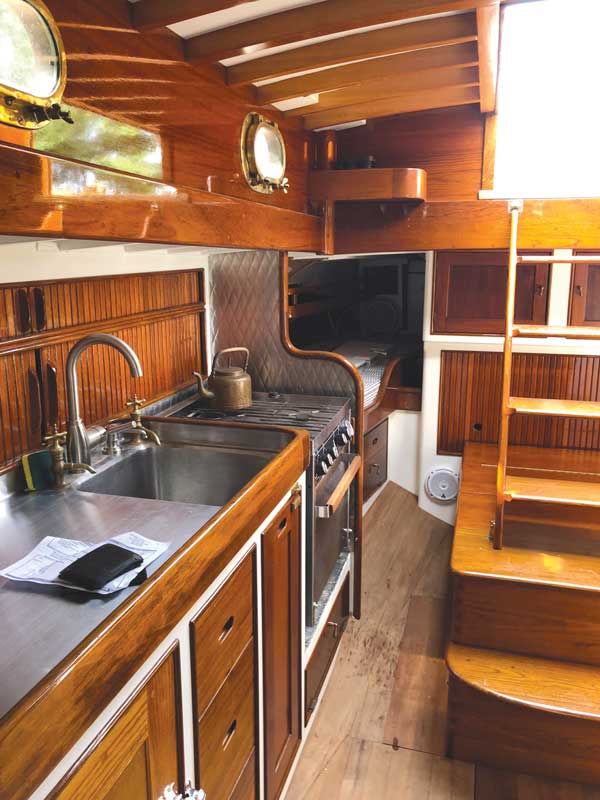 The old-school interior has a galley to starboard. Photo by David Puchkoff Gallant kept up that spirit of experimentation. He relied on glue during the rebuild, scarfing planks full-length with it, and gluing together everything below the waterline. Polly is double-planked: quarter-sawn mahogany over cedar on oak frames, a traditional formula. But the new keel is laminated Iroko, a durable hardwood from West Africa. There are now bronze floor timbers near the rudder post and shaft log, some bronze frames, and a substantial bronze plate tying the chain plates together. Gallant re-engineered the area around the mast, beefed up the floor timbers, and strapped it all together with bronze to spread the loads from the towering rig. The reincarnated Polly is strikingly beautiful, and should be strong for decades to come.
Polly's 2018 season was short, due to her late August launching, and she missed the Eggemoggin Reach Regatta, among others. Gallant's goal for next year is to compete in the classic races, and then head to the Caribbean via Bermuda in the fall. He hopes to get his sons back on the boat, and after that, who knows? Perhaps northward to Maine, or east to the Mediterranean.
For now, Gallant was all smiles when describing how the boat sails. She will be on the hard in Maine this winter, while her restorer takes a break to ski in Colorado. He claims skiing is his real passion, but anyone who has seen Polly won't be convinced.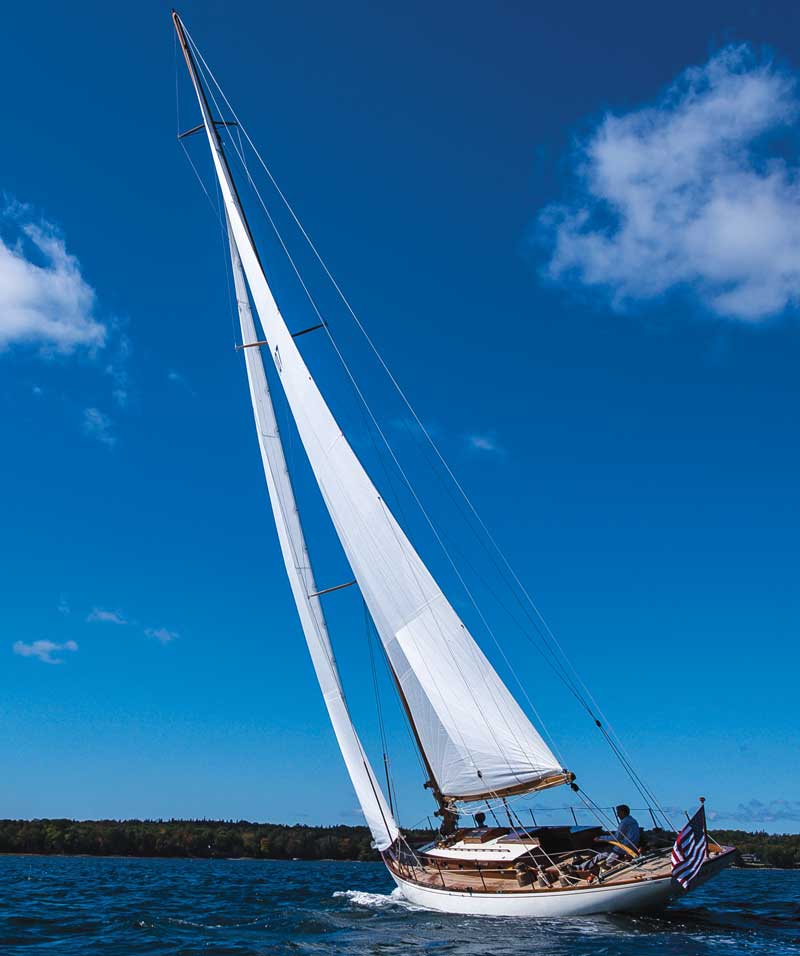 A 56-foot boat with a 37-foot waterline, Polly is long and lean, with dramatic overhangs. Photo by AJ Messier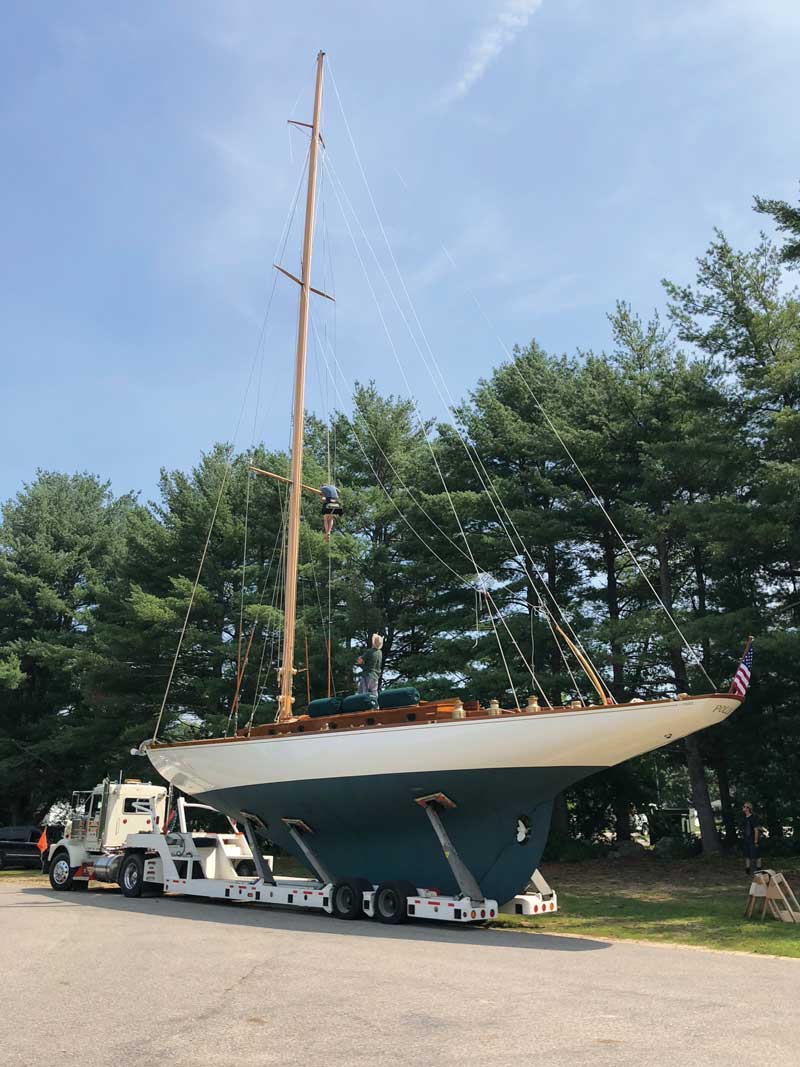 Launch day in Eliot, Maine. Photo by David Puchkoff
---
Author of several books and many articles, Jeff Bolster is a licensed master mariner who ran big schooners as a young man. He and his wife Molly are now retired aboard their Valiant 40, Chanticleer, having traded careers and snow for trade winds and flying fish.
Share this article:
2023 Maine Boat & Home Show

Join Us for the Maine Boat & Home Show!
Art, Artisans, Food, Fun & Boats, Boats, Boats
August 11 - 13, 2023 | On the waterfront, Rockland, Maine
Click here to pre-order your tickets.
Show is produced by Maine Boats, Homes & Harbors magazine.