A Phoenix From the Ashes
One-of-a-kind Holland 35 for a one-of-a-kind fisherman
By Brian Robbins
Photographs by Brian Robbins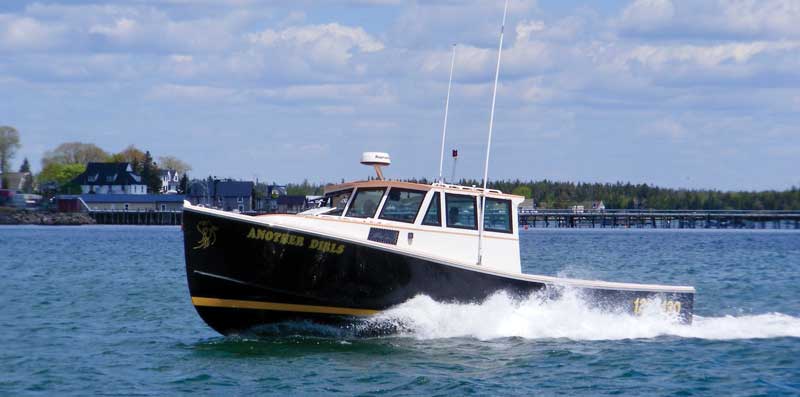 The name "Dirls" is a nod to a Jonesport local whom Carver grew up with and who had a distinctive way of speaking. Dirls was his take on the word "girls." Carver called the wooden 29-footer that he fished for years Little Dirls. In 1999 he launched the Holland 32 Bigger Dirls. And long before his new 35 existed, he knew what the name was going to be: Another Dirls.
You could easily imagine Stevie Carver right up in the front row at the Fillmore Auditorium in the summer of 1967—his headful of shoulder-length curls and ever-present tie-dye T-shirts are reminiscent of San Francisco's Haight-Ashbury.
Until he speaks, that is.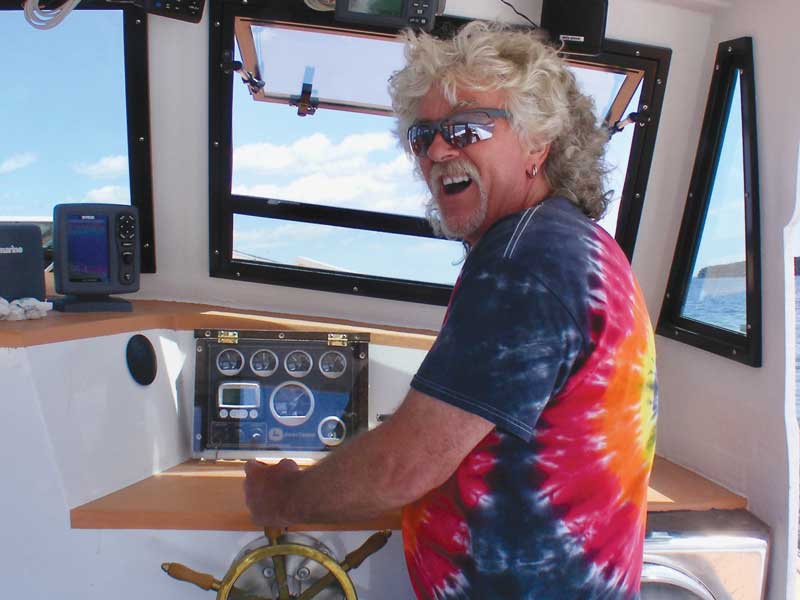 "I can't speak highly enough about where we live and how people look out for each other," said Stevie Carver. "I'm a lucky man."
Get Stevie telling one of his laugh-filled stories, talking about lobstering, or explaining how a particular boat sails when she's right in the bucket, and there's no doubt about it: the 58-year-old is as Maine as it gets.
The loft of his Jonesport, Maine, home is chock full of happy memories and good vibes. The walls and ceilings are adorned with treasures: old oars, buoys, a gaff here, running lights there, and so many photos of boats/folks/smiles—from faded black and whites (soul makes up for the resolution) to oversize color shots.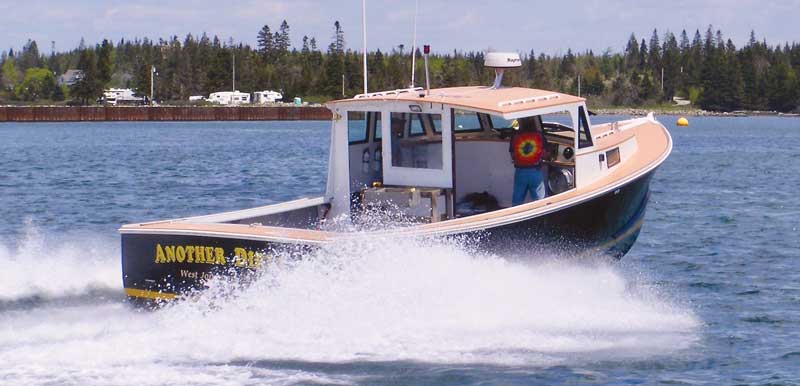 Carver's 35 was birthed from a Holland 38 hull. If you're familiar with the 38's curves, you know that wasn't a quick cut 'n' splice job.
Hanging from the pull string of the ceiling lamp is an old hand-knit bait pocket, packed with sand dollars.
"They've been there for years," said Carver. "They're to remind me that no matter how bad things ever get, I've got a pocket full of dollars."
That downeast Zen approach was well-tested in September of 2016 when Carver's 32' Holland Bigger Dirls was destroyed by an early-morning fire.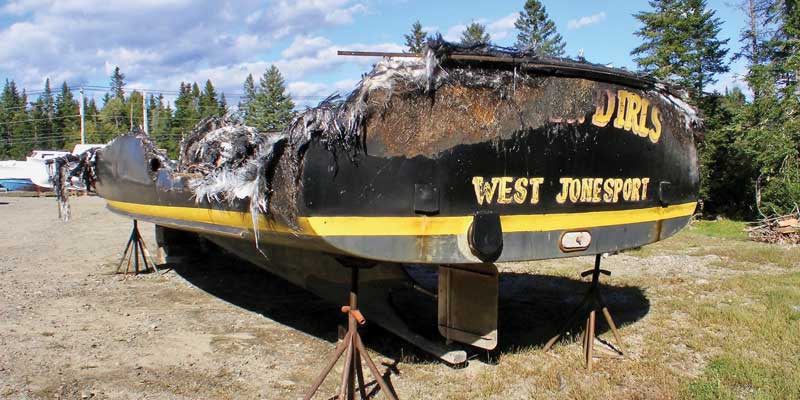 The remains of Carver's 32' Bigger Dirls after the fire. "I've never felt so empty in my life," said Carver.
Saying thank you
It's an unnatural thing when a boat burns—fire versus water—and awful under any circumstances.
But the news of the fire affected folks the length of the coast who had come to know the sleek-sailing black-hulled Holland and her always-smiling skipper from the annual Maine Lobster Boat Races.
There was a common theme to the responses:
"People from everywhere know Stevie and the Bigger Dirls from the races. He's always got a big smile for everybody… and that was one good-looking boat."
"That wasn't just Stevie Carver's boat. She meant a lot to a lot of people."
"It always made me smile to see the Bigger Dirls."
"Even when she had her sleeves rolled up and working, that was the prettiest Holland on the water."
The remains of the 32-footer were still smoldering on the beach when the offers of help and support started coming in for Stevie Carver. It began with a friend handing him a brand-new spoked steering wheel: "For the new boat."
There were cash and gift certificates; promises to lend a hand where needed; a benefit dinner and auction quickly organized at the Jonesport firehouse; a platter of freshly-made cupcakes was left on the seat of Carver's truck.
And there was the man who opened his wallet and tried to hand him his last $6.
"It ripped my heart out," said Carver. "What do you say?"
"You say 'Thank you,'" a friend told him. "You've been doing good things for other people for years. You have to let them give something back."
Carver was offered the use of someone's boat so he could keep on fishing. In the meantime, he sought out a replacement for Bigger Dirls. The first step was a visit to Holland's Boat Shop in Belfast, Maine.
"Glenn Holland told me if I wanted another 32, I'd be next in line," said Carver. "But then he said, 'I know you've always wanted a 35-footer. If you're willing to wait, I'll build you the first one.' The first Holland 35? I told him I'd wait."
A one-of-a-kind boat
Don't bother checking the Holland website for information on their 35' model: It doesn't exist. Carver's 35 was a one-off (although Glenn Holland says they could do another if someone makes the request), birthed from the popular 38' x 12'10" model.
The process of cutting a Holland 38 and splicing it back together was no easy task. Glenn Holland compares it to "chopping the top on a '51 Mercury"—a reference to his fondness for vintage street rods.
"When you go to tie the hull back together, you've got to twist, pull, and tug things a little. Only difference is, on a Mercury, you can tack weld it and go on to the next piece; with this, you 'glass that one spot, then go off and find something else to do while it cures," he said. "The man-hours to do it aren't so bad, but hours get to be days when you have to wait between each step."
Holland credits his 20-year-old grandson Gavin Holland (see sidebar) for having a good eye: "Gav has a knack for that sort of thing," Glenn Holland said. "He could see where the tweaking needed to happen, and, most importantly, how to do it."
Stevie Carver's new hull and top were trailered down to Beals Island last winter where he and a revolving cast of friends tackled the finishing process.
By the end of May, Another Dirls was ready to hit the water.
The 35 definitely shows off her pedigree, from the easy-on-the-eyes Holland flare and sheer back to her tumblehome stern. Her top is a standard 38 molded unit (the steering bulkhead is set 15' back from the stem); her black-framed, mitered-cornered Bomar windows contribute to the classic look.
Of course, performance is also part of the Holland legacy, and Another Dirls' roots definitely show. The 35-footer hit the water with a 550-hp John Deere (fitted with a 2:1 ZF marine gear) in her belly and posted speeds over 30 knots right out of the box.
She's an efficient sailer, as well: according to Carver, a 23-knot cruise burns about 16 gallons an hour; knock her back to 1700 rpm and you're down to 12 gallons an hour. And with tweaking to be done, it should only get better from there.
The bottom line: Stevie Carver is headed down the bay with a boat that has him smiling every time he looks at her.
And the Hollands might want to get ready to build a few more 35s.
Sounds like a happy ending, doesn't it?  
---
A former offshore lobsterman, Brian Robbins is senior contributing editor for Commercial Fisheries News when he's not writing about music or riffing on various things with strings in the Horseshoe Crabs.
---
Holland's Boat Shop
Belfast, ME
207-338-3155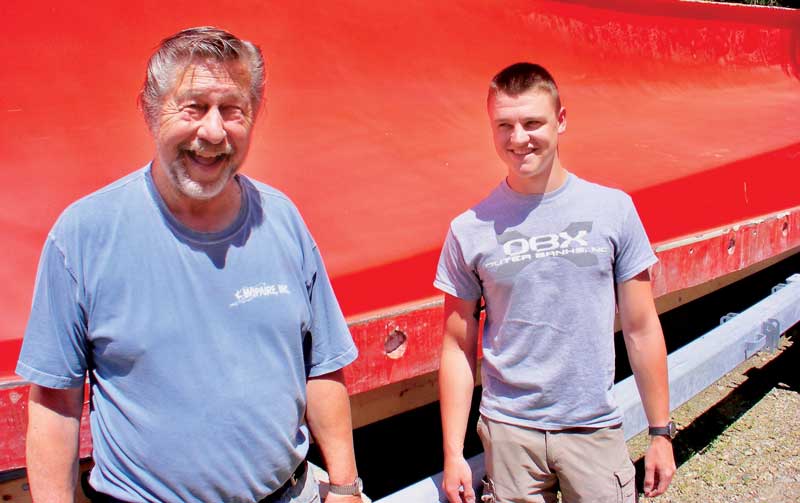 Boatbuilder Glenn Holland and his grandson, Gavin, who is following him into the business.
"He's got a pretty good eye on him."
Glenn Holland will tell you himself: Ever since he was a kid, all he ever wanted to do was build fast, good-looking lobsterboats ("Life's too short to own an ugly boat," he says) and the occasional hot rod.
He was no doubt the only high school student who carried a picture of the Marguerite G in his wallet—for those of you who don't know, she was a four-time winner of Jonesport-Beals "World's Fastest Lobster Boat" title in her day.
One could say Glenn was a lucky man as he parlayed his obsession into a profession by opening his own boatshop in the early 1970s. His son Ed's love of being around the water and all things mechanical inspired him to attend Maine Maritime Academy, leading to a career as an engineer with the McAllister tugboat fleet. And now there's Ed's son Gavin, who has grown up in his grandfather's world of loud engines and slick-sailing boats. Gavin was just shy of his eighth birthday when he entered his first race in a Holland 14 powered by a 30-hp outboard. By age 11 he was working to buy his first car (a 1977 Cordoba with a 400 big block, of course), even though it would still be a few years before he could drive it. These days, at 20 years old, Gavin's an MVP in his grandfather's boatshop, applying his natural talents to projects such as making a 35 out of a Holland 38 and turning a 32-footer into a 34.   —Brian Robbins
---
Behind the Story: Stevie Carver & Another Dirls
By Brian Robbins
Back when I was offshore lobstering with my brother in the 1970s and '80s—trip fishing off in the Gulf of Maine—we weren't around the Maine Lobster Boat Races. During the summer months, we were either on the boat and somewhere between 180 to 240 miles out from Stonington, Maine, or home catching up on (non-boat) life.
It wasn't until I'd come ashore and started writing for Commercial Fisheries News in 1988 that I spent any time around the races. I quickly decided that the boats and engines were secondary; the people involved were the real story… people like Jonesport lobsterman Stevie Carver.
I dubbed Stevie "Iron Man" somewhere along the way. He'd take a rough-weather beating running the coast to race the gas-powered wooden Little Dirls that he owned back then, a 29-footer built by Alvin Beal back in 1965. His ever-present grin was infectious; his trademark tie-dyed tees completed the package.  
You needed to prove to Stevie Carver why there was a reason not to smile on any given day.
The loss of his Holland 32 Bigger Dirls in 2016 tested that basic philosophy just about as much as anything could.  She was more than a boat to Stevie; he was a broken-hearted man when I sat down with him a couple of days after the fire.
It was a pleasure to share in Stevie's joy over the launch of his new 35' Another Dirls this past summer. I hope you feel some of that joy while reading this story.
---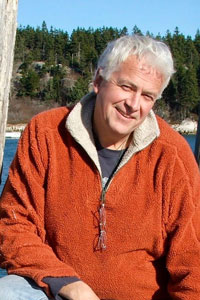 A former offshore lobsterman, Brian Robbins is senior contributing editor for Commercial Fisheries News when he's not writing about music or riffing on various things with strings in the Horseshoe Crabs.
Share this article:
Digital Edition Available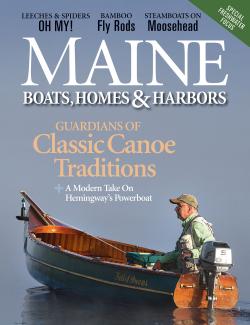 Can't get to the store to buy your magazine? We deliver the stories of Maine's coast right to your inbox. Sign up here for a digital edition.