A Match Made in Boats
They met when he bought her family's company
By Polly Saltonstall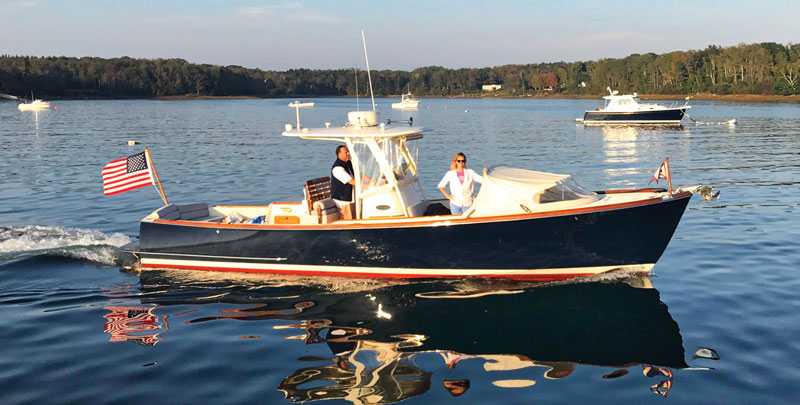 Sandy Spaulding and Jill Hinckley take a spin in their Hinckley 29 runabout named Soul Mate. The couple met when Spaulding was part of a group negotiating to buy the Hinckley Company from Jill's family. Soul Mate, which the pair acquired in 2016, is the third Hinckley boat they have owned. Photo courtesy Jill Hinckley
Jill Hinckley and Sandy Spaulding cruise around Casco Bay on a zippy deep-blue Hinckley 29 runabout named Soul Mate. When you're a Hinckley and you live in Maine, you can only own one brand of boat, but there is a story behind the name on the stern.
Hinckley, 55, and Spaulding, 62, met when Spaulding was part of a consortium negotiating to buy her family's eponymous boatbuilding company in Southwest Harbor. There are three versions of the story of how they ended up as a couple. The first two are myths: "I like to say they (the Hinckley Company) threw her in to get the deal done," said Spaulding. Hinckley's line is that she told her father as he prepared to sell the 69-year-old family business, "Don't worry Dad, I'll get it back."
The third version, both agree, is the real one.
"The truth is we just fell in love," said Spaulding. "I knew right away. It was love at first sight."
Hinckley was running the Hinckley Ship Store when Spaulding arrived to assess the company. Her mother had met him earlier, and quickly reported Spaulding to her single daughter as proof of the existence of nice, single guys.
"I got a warning from a manager that one of the new owners was coming over to the ship store," remembered Hinckley. "I was ready to be grilled on the business, but he walked in and was super friendly. We had a great conversation."
Both were divorced single parents with children (they have since had another child together). Both loved boats and Maine. They liked each other, but were wary of a workplace romance and decided they needed permission to date because, as Spaulding explained, "It's not always a good idea for someone who just bought into a company to be dating the daughter of a former owner." The first partner they asked said no, but the new CEO, Bill Bain, gave them the green light. "He said you cannot legislate love," said Hinckley.
On their fourth date, the couple took a Hinckley Picnic Boat to nearby Islesford for dinner. But when the time came to go home, the fog had rolled in and the boat's electronics failed. Eventually they found a lobsterman with a skiff who agreed to lead them back to Southwest Harbor. It was the first of many adventures in Hinckley yachts. In their almost 20 years of marriage, the couple has owned three: an 18' wooden Kingfisher bass boat built in 1956 and named Happy Clam, a black Picnic Boat named Espresso, and now Soul Mate, which they bought in 2016.
"It's a really fun boat," said Hinckley. "It's just so easy to maneuver around Portland and the islands. It has lots of seating, and it has a head."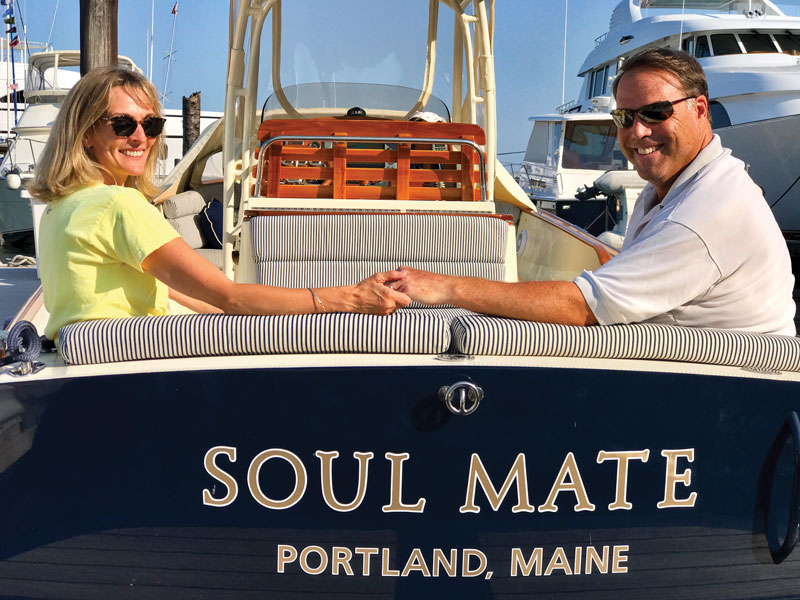 Jill Hinckley, left, and Sandy Spaulding. Photo courtesy Jill Hinckley
These days Soul Mate's homeport is Harpswell, where the couple recently bought some land with a dock and boathouse. Until they decide what sort of house to build, they are using an Airstream trailer as living quarters.
Spaulding spent eight years at Hinckley, including serving as president and CEO. Currently he is managing director of business development at Hodgdon Yachts, and runs an investment group called Seaglass Capital, among a diverse portfolio of other luxury and marine business ventures. Hinckley, meanwhile, has parlayed her people skills into her own company: Hinckley Introductions, a matchmaking service that she started in 2013.
Her first foray into the field of connecting people was helping former Hinckley employees find jobs during the company's transition to new ownership and the inevitable staff turnover. That first business was called Teak and Holly—a nod to the wood-inlayed cabin soles of Hinckleys built back in the days of her grandfather, company founder Henry Hinckley. But she found she was more interested in her clients' personal lives then in placing them in jobs. "I just started thinking, I can take this recruiting thing and turn it into matchmaking," Hinckley said.
Hinckley Introductions takes on about 20 clients a year, typically busy professionals over the age of 40. "Often people recognize the name Hinckley, and if they love the ocean and they love sailing in Maine, they pick me because I like to match people who also love the ocean and sailing," she said.
The mythical versions of how Hinckley and Spaulding met elicit chuckles from people who know them. But when interviewed for this story, each was emphatic that readers know the truth.
"We all have our love stories," said Spaulding. "Jill is mine."  
---
Polly Saltonstall is editor of this magazine.
FMI:  Hinckley Introductions
617-840-2610
Share this article:
2023 Maine Boat & Home Show

Join Us for the Maine Boat & Home Show!
Art, Artisans, Food, Fun & Boats, Boats, Boats
August 11 - 13, 2023 | On the waterfront, Rockland, Maine
Click here to pre-order your tickets.
Show is produced by Maine Boats, Homes & Harbors magazine.