Georgetown Island: Hidden Gem
By Mimi Bigelow Steadman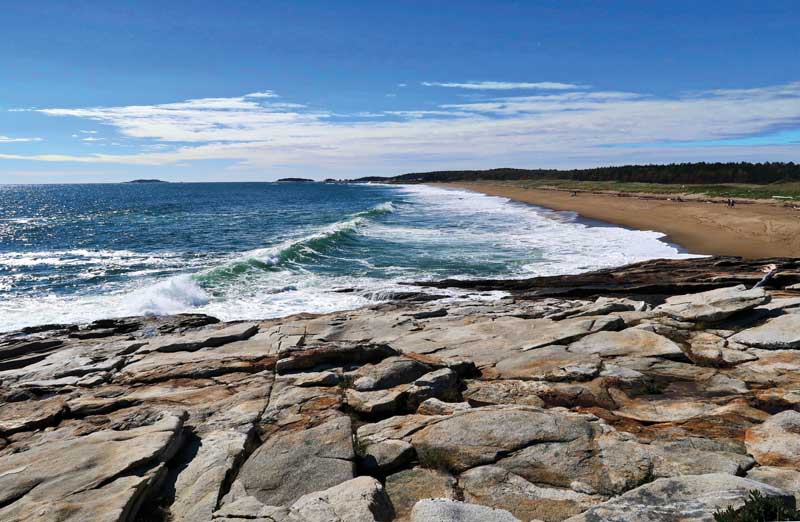 The crown jewel of Reid State Park is a mile-long beach that draws swimmers and sunbathers in summer and walkers year-round. Photo by Mimi Bigelow Steadman
It's said that when the millionaire who donated nearly 800 acres to create Reid State Park was asked about himself, he'd simply reply, "My name is Walter E. Reid, and I'm from Georgetown, Maine."
A native-born sea captain's son, Reid made a fortune on Wall Street in the early 20th century. Yet he remained fiercely proud of his modest roots on Georgetown Island, which dangles by a bridge below Arrowsic Island, which in turn is connected by bridge to Woolwich. Framed to the west by the Kennebec River and to the east by the Sheepscot River, Georgetown is blessed not only with Reid State Park's spectacular beaches and wetlands, but also with a scenic, rock-rimmed shoreline indented by snug harbors and coves. The island's serene beauty has drawn generations of artists, most notably William and Marguerite Zorach and their daughter, Dahlov Ipcar, who painted vivid, complex images of exotic and domestic animals in her Robinhood Cove farmhouse until her death at 99 in 2017.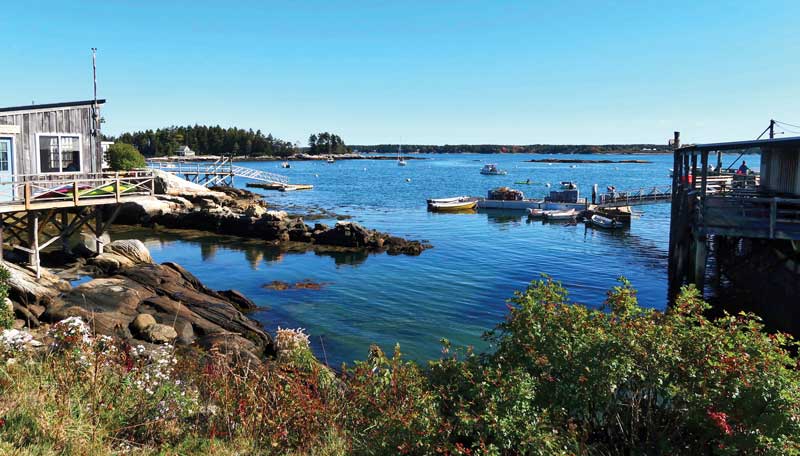 The picturesque harbor at Five Islands is protected by its eponymous islets. Photo by Mimi Bigelow Steadman
On a sparkling early-October morning, my husband and I drove down Route 127 and onto the island, headed for Walter Reid's park. It would be hard to miss the big American flag painted on a rock at the right-hand turnoff to Seguinland Road, which leads past the turreted Grey Havens Inn, built by Reid in 1904, and the Mooring B&B, once Reid's home, en route to the park gates. Open year-round, Reid State Park's long beaches have a special appeal in the off-season, when crowds of sunbathers and swimmers are replaced by a few walkers. A quick and easy climb up Griffiths Head rewarded us with a commanding view of the broad sands, plus an ocean panorama stretching from Damariscove to Seguin Island.
Farther up Georgetown's eastern edge lies Five Islands, where we watched a pod of kayakers paddle across the sun-glittered harbor beside the evergreen islets that give this spot its name. At Five Islands Lobster Company, fishermen slid cars of lobsters across the floats while people perched at picnic tables, savoring the scenery as well as goodies from the lobster shack. I can attest to the deliciousness of the lobster rolls here, but it was early for lunch, so we continued on to Five Islands Farm Market, a short distance away. No bigger than a garden shed, the shop is crammed with gourmet pantry items, local meats and produce, freshly baked pies, wines, and a good selection of Maine cheeses. I never leave empty-handed.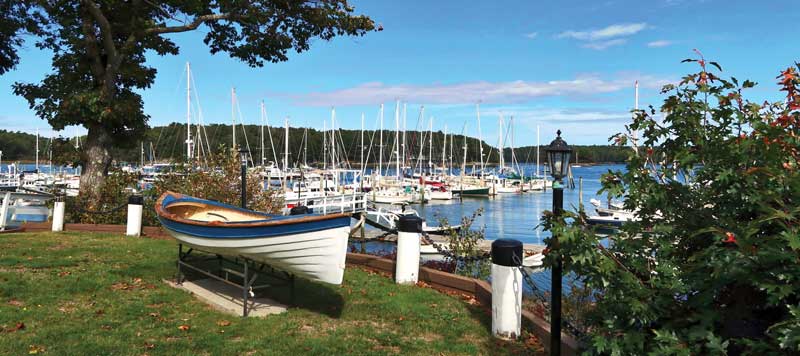 Derecktor Robinhood offers a full range of boat services, food, and history all in one place. Photo by Mimi Bigelow Steadman
North of Five Islands at Riggs Cove, Derecktor Robinhood Marine Center combines a full-service yacht yard with a welcoming marina and a long-popular restaurant recently renamed the Anchor Bar and Grill. It's always a pleasure to visit Robinhood: Dock attendants are quick to catch lines; the grounds include a picturesque cluster of small antique structures housing a library, lounge, and gallery; and the Anchor's food is consistently good—my flavorful fish chowder, not too thick, was enhanced by well-chosen seasonings. Even the boat-less can spend time afloat here by renting one of the yard's moored houseboats, built to resemble tugboats.
A short walk from the marina, the two-story, white-clapboard Robinhood Free Meetinghouse offers coffee and sticky buns on summer mornings, a creative Sunday brunch in season, and special dinners and musical evenings year-round. If this handsome 1860 structure sparks a desire to delve into past times on Georgetown, stop at the historical society, on Bay Point Road. It's the place to uncover the community's rich backstory—and learn more about the impressive career of Walter E. Reid, that taciturn local boy who never stopped loving his beautiful island home.  
---
Contributing Editor Mimi Bigelow Steadman lives on the Damariscotta River in Edgecomb.
---
If You Go:
Reid State Park: Open year-round, 9 a.m. to sunset. There is a small entrance fee. Go to www.maine.gov and use the Search State Parks tool.
Derecktor/Robinhood
Marina with 115 slips, 82 moorings, and full service for yachts up to 110 feet, with hauling capabilities to 50 tons; plus winter storage, repairs, and refits. Three motorless, moored houseboats are available to rent. 207-371-2343; robinhoodmarinecenter.com
The Anchor Bar and Grill
Open early May through late October. 207-271-2530; anchorbargrill.com
Robinhood Free Meetinghouse
Open Tuesday-Saturday from June-August for morning coffee and pastries, Sunday brunch, and Saturday night dinners with live music. Special events throughout the year. 207-613-5682; robinhoodfreemeetinghouse.com
Five Islands by boat
Tie-ups of an hour or two are permitted at the town recreational float, to the south of the commercial float, according to Georgetown harbormaster George Dufour.  Five I Fuel and Harborside General Store, open daily in July and August and on weekends in June and September, has gas and diesel and 10 rental moorings ($40 per night; call 207-751-3977 when closed). Five Islands Yacht Club provides four first-come, first-served courtesy moorings.
Five Islands Lobster Co.
Open June through Columbus Day weekend, serves steamed lobsters, lobster rolls, fried and grilled seafood sandwiches and baskets, steamers, crab cakes, landlubber fare, lots of sides, and ice cream. 207-371-2990; fiveislandslobster.com
Five Islands Farm Market
Local foods plus wine, beer, and specialty products. Open Memorial Day until early October. 207-371-9383; fiveislandsfarm.com
Georgetown Historical Society
Open Wednesdays and Saturdays year-round. Archives and assistance with genealogical research. Special exhibition every summer. 207-371-9200; georgetownhistoricalsociety.org
Share this article:
2023 Maine Boat & Home Show

Join Us for the Maine Boat & Home Show!
Art, Artisans, Food, Fun & Boats, Boats, Boats
August 11 - 13, 2023 | On the waterfront, Rockland, Maine
Click here to pre-order your tickets.
Show is produced by Maine Boats, Homes & Harbors magazine.