Whistler
The story behind America's first all-aluminum yacht
By Roger Moody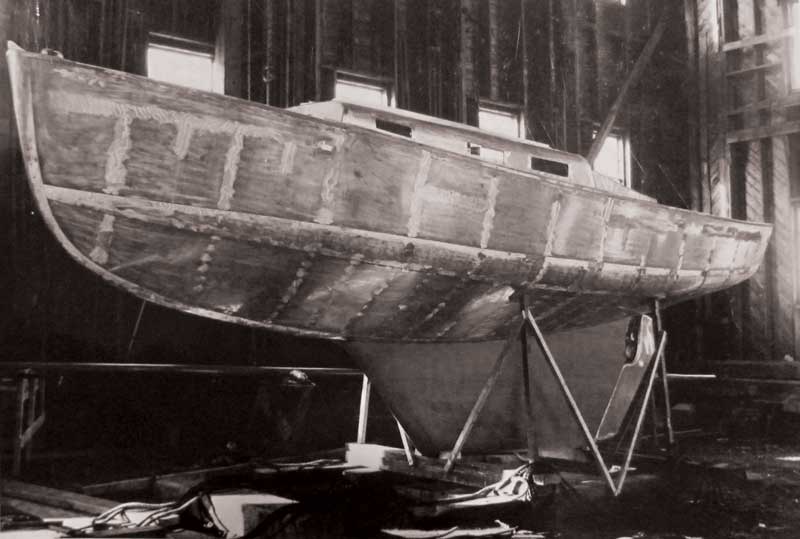 (ABOVE)  Port side of Whistler, ground and ready for painting, November 19, 1939. Geerd Hendel photo from the Robert Rice Collection (BELOW) Whistler under construction at the Rice Brothers yard, East Boothbay. Courtesy the Robert Rice Collection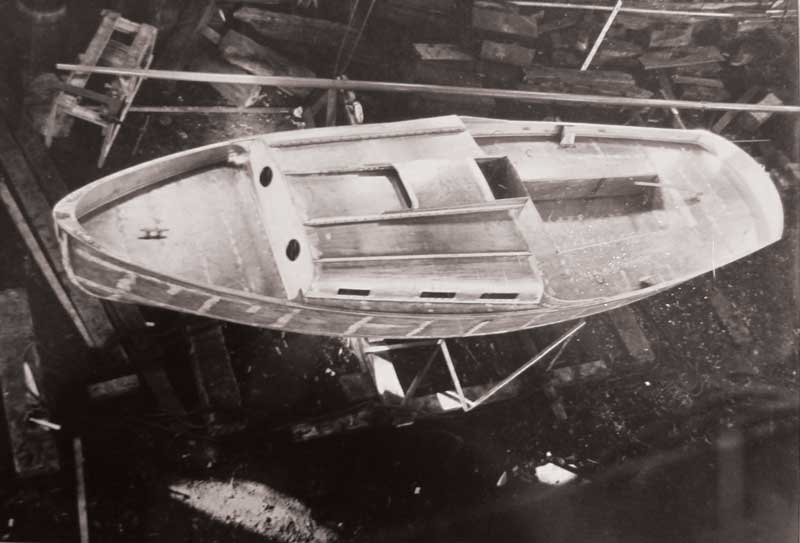 The first all-aluminum pleasure yacht built in the United States for use in salt water was designed by naval architect Geerd Hendel and built in Boothbay. The 26-foot auxiliary sloop is now in a state of some neglect, but her aluminum hull, cockpit, and cabin are sound in a way that only aluminum alloy can exhibit. 
Although the W.H. Mullins Company of Salem, Ohio, constructed some aluminum duck hunting and small recreational boats for freshwater use between 1895-1925, aluminum alloys for saltwater use had not developed by 1939 when Hendel decided to test the concept on a boat for his personal use. 
Hendel (1903–1998) was then living in Boothbay Harbor so it's not surprising that Whistler was fabricated at the Rice Brothers yard in East Boothbay. The Aluminum Corporation of America, which was eager to show the potential of aluminum alloy as a boatbuilding material for seawater environments, provided the materials. 
Born in Hamburg, Germany, Hendel had served a two-year apprenticeship at the Deutsche Werft shipyard in Hamburg and then studied naval architecture at the Higher Technical Institute in Bremen, graduating in 1925. He became a U.S. citizen in 1928, and throughout his career was well regarded for his many boat designs, including the 21-foot racing sloop known as the Boothbay Harbor One Design. 
He also was a recognized pioneer in the use of aluminum alloy for hulls, masts, and rigging, and played a key role as a draftsman for W. Starling Burgess for the America's Cup defender Ranger, which was built at Bath Iron Works. He worked in particular on the design of Ranger's aluminum alloy mast. The Maine-built yacht won the 1937 America's Cup series, easily defeating the British-built challenger Endeavor II with seven straight wins in seven races and proving to be the fastest J-Class yacht ever built.
After Ranger's success, Hendel became involved with another project in which Burgess proposed that BIW build a hull section of aluminum alloy to serve as a test bed for various preservative and anti-fouling treatments. Burgess designed the section and Hendel, in the role of draftsman, prepared the detail drawings. Ralph Leonard Snow provides this detail in Bath Iron Works, the First 100 Years (Maine Maritime Museum, 1987): "The vessel fragment, named Alumette, measuring 13' in length with a 10' beam and a depth of 5', was laid-out and fabricated at the BIW plate shop. It represented the scaled-down cross-section of a hull measuring approximately 100 feet in length. It was fully riveted, decked with teak, painted red below the waterline and grey above, and affectionately called 'The Old Soak' by those who worked on her."
The hull was ceremoniously lowered into the Kennebec for a brief float before being placed on a flat car for the journey to Newport News, Virginia, where it was to be permanently moored, according to Snow. Alumette survived as a test section well into the 1960s, Snow wrote, "vindicating ALCOA's faith in the corrosion-resistant qualities of their aluminum alloy. Only periodic painting and the replacement of bronze shaft bearings necessitated by the failure of insulation designed to separate dissimilar metals have since been required."
Inspired by this, Hendel designed Whistler. Hull welding technology of the time gave unsatisfactory results, so he called for rivets instead. Approximately 7,500 ¼-inch rivets were used in the construction of the hull, which displaces 5,250 pounds, has a beam of 9 feet, and draws 8 feet. All the hull, deck, and cabin trunk parts are aluminum. The framing, stiffeners, and rail are aluminum shapes, cleats, chocks, running lights and portlight frames are cast aluminum, and the tanks are welded aluminum sheet. The 35' 6" aluminum mast, built by ALCOA in Pittsburgh, was a single-piece aluminum alloy extrusion, tapered at the top. The keel, though, included some wood: hard pine with a 2,300-pound lead shoe. Whistler was powered by a 7/18-hp Red Wing "Meteor" engine. 
Hendel sailed the sloop for more than 35 years, selling it in 1974 when he was 71 years old.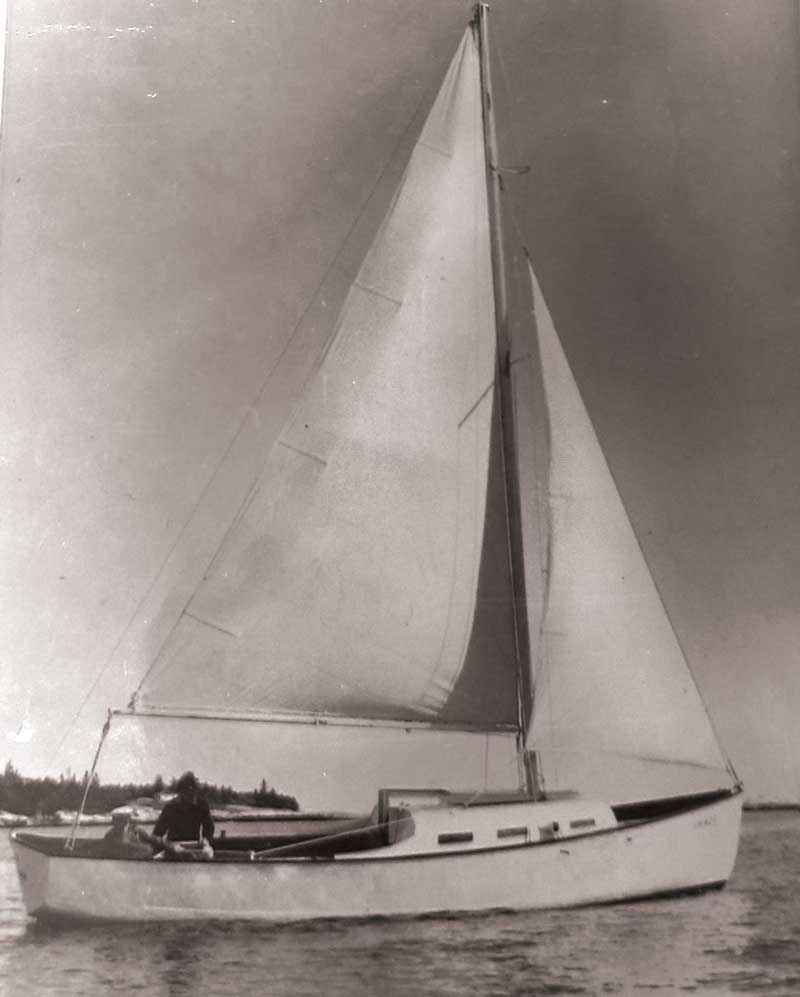 Whistler under sail in Boothbay Harbor. Courtesy Boothbay Region Historical Society He was pleased with the construction, and in 1947, he promoted aluminum alloy as a boatbuilding material in an essay in the September issue of Yachting. The article's subtitle was, "Of the Numerous Boat Building Materials, Aluminum Is One of Great Possibilities." 
In the essay, Hendel observed that while various woods, native and foreign, had served the boating industry well for many years, commercial vessels had grown to sizes where wood was no longer feasible. The average wooden yacht requires constant maintenance over a relatively short life span of 20 to 35 years, he wrote, which justified the search for a longer-serving material that required less care. Wrought aluminum alloys containing magnesium and silicide provided strength and workability with excellent resistance to corrosion, he concluded.
Following Whistler, the next salt-water yacht built in aluminum was Windcall, designed by G. Gilbert Wyland, who had worked on Ranger with Hendel and Henry Menke. An avid sailor, Wyland had graduated from the Webb Institute of Naval Architecture and worked at Sparkman & Stephens. His 35' Windcall was built at the Jakobson yard in Oyster Bay, New York, and was ready for sea trials on New Year's Day, 1946. Windcall was a thorough success, and Wyland enjoyed sailing it for more than 30 years, proving again that an aluminum alloy hull could withstand the corrosive properties of salt water.
Actually, three 35' aluminum sister sloops were built by the Jakobson yard: Windcall for Wyland as prototype, Dousabell for Jakobson himself, and Nimrod II for the Grumman Aircraft Engineering Corporation.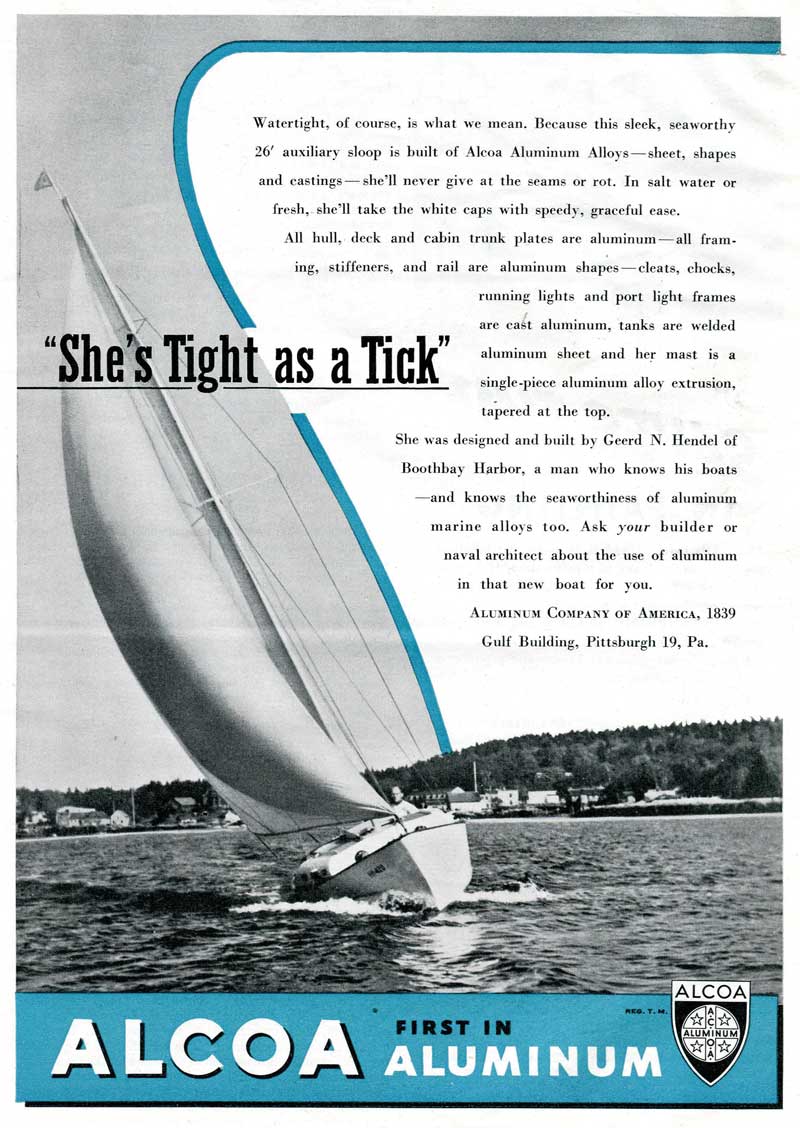 1945 ALCOA ad featuring Whistler. Yachting November 1945 ALCOA used Whister in a 1945 ad entitled, "She's Tight as a Tick." 
"Watertight, of course is what we mean. Because this sleek seaworthy 26' auxiliary sloop is built of Alcoa Aluminum Alloys …sheet, shapes, and railings …she'll never part at the seams or rot. In salt water or fresh, she'll take the whitecaps with speedy, graceful ease," the text reads. "Ask your builder or naval architect about the use of aluminum in that new boat for you."
Some occasional uncertainty arises over whether Whistler was actually the first aluminum yacht built in the U.S. for saltwater environments. The Starling Burgess-designed 16' aluminum alloy centerboard sloop Pirouette sailed in the summer of 1939 and Whistler wasn't launched until the spring of 1940, but Pirouette was of an entirely different scale, weighing 217 lbs. and being trailerable.
Although this historically important vessel hasn't been afloat for a couple of decades, the 78-year old Whistler is perched in a midcoast Maine field, and could be restored. Hendel's original plans for Whistler are contained in the Geerd Hendel Collection at the Maine Maritime Museum archives in Bath. 
---
Roger Moody is a retired Maine town manager, school business manager, and county commissioner who writes about boating history.
Share this article:
Digital Edition Available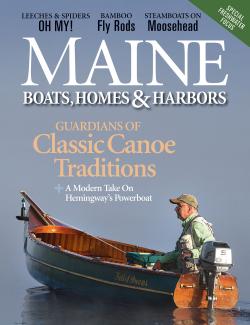 Can't get to the store to buy your magazine? We deliver the stories of Maine's coast right to your inbox. Sign up here for a digital edition.