On the Town Dock — Issue 155
Stoned lobsters, LED lights & more
By Polly Saltonstall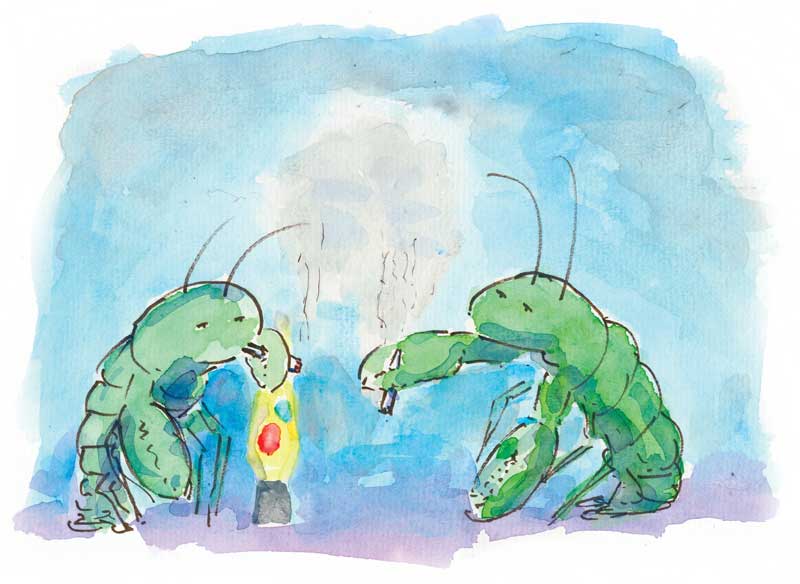 Illustration by Ted Walsh
Pot-smoked lobsters
You've heard of stone crabs? Well here's a new one: stoned lobsters. The owner of a Maine lobster pound says exposing lobsters to pot smoke before killing them improves the taste and is more humane. 
Charlotte Gill, owner of Charlotte's Legendary Lobster Pound in Southwest Harbor, said she has always been uncomfortable with the idea that lobsters might suffer while being cooked alive, so she decided to ease their suffering. She put a lobster in a covered box with some water and blew in marijuana smoke through a straw. The result? The lobster became very mellow, she said.
Gill, who is a licensed medical marijuana caregiver, told reporters for various news outlets that she cooks the stoned lobsters at a high temperature to eliminate residual THC and does not expect they will make patrons high.
"We're not trying to make money on this; we're not charging extra," she said. "But if this is a place to create happiness, then [the lobster] needs to die in that fashion." Plus, Gill said she thinks the meat tastes better—sweet, light, and "positive."
Once word got out about Gill's new menu item, the story went viral as media outlets worldwide picked it up.
Gill, who calls her pound "the official home of the high-end lobster," responded in a Sept. 22 Facebook post that she was not yet selling the "treated" lobster meat to the public, but hoped to be able to do so by late October. Noting that the state had asked her not to move forward with the plan, she said she was implementing procedures that she believed would comply with state regulations. 
---
Crabby crabs
Maybe Gill's approach to lobsters would work to mellow out an exceptionally crabby bunch of crabs that have been migrating into Maine from Canada.
Marine researchers raised the alarm this fall about the especially aggressive population of green crabs from Nova Scotia. They are the same species as their Maine cousins, but they are more ornery, and threaten to accelerate harm to the coastal ecosystem by eating clams and destroying native eelgrass, a researcher told the Associated Press. The two crab populations are genetically distinct.
The docile domestic green crabs are more likely to retreat from threats, while the Canadian ones are apt to charge with pincers waving.
"What we're seeing is this insane level of aggressiveness," Markus Frederich, a professor at the University of New England, told the AP.
The new crab variant originated in northern Europe and is hardier than its gentler cousin, which originally came from southern Europe, according to the AP.
Green crabs, even the docile ones, are considered a scourge. The aggressive newcomers currently comprise only about two to three percent of Maine's green crab population, but those numbers are certain to grow, Frederich said.
---
Radio interference
Could the LED lights on your boat be causing problems with your VHF radio or AIS? The U.S. Coast thinks they could, and has issued an alert on a potential interference problem.
The alert, issued last August, outlined reports concerning radio frequency interference caused by LED lamps that "were found to create potential safety hazards." In some cases, the Coast Guard said, the interference could cause problems if mariners need to call for help. 
The interference can affect VHF voice communications as well as Digital Selective Calling messages, and it may also affect AIS because it also uses VHF radio. In particular, masthead LED navigation lights on sailboats may cause problems due to their close proximity to antennas, according to the alert.
The Coast Guard suggested boaters test for possible interference by doing the following: Turn off LED light(s) and tune your VHF radio to a quiet channel (e.g. Ch. 13). Adjust the radio's squelch control until the radio outputs audio noise, and then re-adjust the squelch control until the audio noise is only slightly above the noise threshold. Finally turn the LED lights back on. If the radio now outputs audio noise, then the LED lights are causing interference and it is likely that both shipboard VHF marine radio and AIS reception are being degraded by LED lighting. 
The Coast Guard also requests those experiencing this problem to report their experiences to the Coast Guard Navigation Center at www.navcen.uscg.gov.
---
New owner at Sparkman & Stephens 
Sailor and W-Class Yacht Company founder Donald Tofias of Newport, Rhode Island, has purchased the iconic yacht design and brokerage firm of Sparkman & Stephens. 
Over the past 30 years Tofias has owned and campaigned a Waldo Howland and Ray Hunt, Jr. Concordia yawl, a W. Starling Burgess cutter, and for the past 20 years, W-Class Racing Yachts, including the W.76 sloops, designed by Joel White, which will now be marketed by Sparkman & Stephens.
"We intend to preserve the history of Sparkman & Stephens, while at the same time building and expanding on its great tradition in yacht design and brokerage," Tofias said. 
The company will be headquartered in Newport, which Tofias often refers to as the "yachting capital of the world."
The naval architecture and brokerage firm was founded by Olin Stephens and Drake Sparkman in 1929. It had most recently been owned by a group of private investors led by Brooke S. Parish and John B. Reuter.
Tofias said he decided to buy the company because "Sparkman & Stephens is the most iconic name in yacht design and brokerage in the 20th century. I was given the opportunity of buying it, and I decided it was a great opportunity."
He said he plans to continue the company's design and brokerage businesses and is considering getting back into the yacht insurance business.
"I'm very excited about growing this business," he said. "We have a very good in-house naval architect, Brendan Abbott. And we have the ability to design sail and powerboats. The crown jewel in the purchase is the intellectual property of 2,600 designs."
---
Help with the heavy lifting
Portland Shipyard has installed a new 330-metric ton Marine Travelift that owner Phineas Sprague has named "Babe" in a nod to the legendary blue ox who was Paul Bunyan's faithful companion.
The U.S. Department of Transportation's Maritime Administration awarded Portland Shipyard $990,500 last fall to support the purchase of the Travelift. 
"This is a great day for Portland Harbor," Sprague said in a news release sent out by the city. "Not only can we service larger commercial and recreational vessels that currently call Portland Harbor their home port, we will attract vessels from all over the North Atlantic," he said. 
"Until now, larger fishing vessels, tugs, ferries, yachts, and schooners needed to bypass or leave Portland Harbor for service and repair because of our limited hauling capacity. Not any more. Portland Harbor is open for business."
Sprague moved the Portland Shipyard to 400 Commercial Street several years ago, and has transformed a vacant rail yard into a state-of-the-art boat-and-ship repair facility with significant expansion capacity. 
Future plans include a new building that can accommodate the Travelift.
---
Three boatbuilders collaborate to build one high-tech yacht
Brooklin Boat Yard of Brooklin, Front Street Shipyard of Belfast,  and Hinckley Yachts of Southwest Harbor, Maine, are partnering to build a Bill Tripp-designed Sou'wester 53. Hinckley will build the composite hull, Front Street will build the epoxy and E-glass deck and pilothouse, and Brooklin Boat Yard will assemble the parts and build the interior, Brooklin owner Steve White said.
Constructed for a cruising-minded owner who hails from New England, the completed yacht will launch in June 2019.
The unusual arrangement came about when the customer placed an order with Hinckley, which had a hull mold for the boat, but no deck mold. Hinckley told the customer the company needed two more orders before they could build the boat, White said. When a second order did not materialize quickly enough, Tripp and the owner reached out to the other yards to help get the boat built.
This is Brooklin Boat Yard's first collaboration with Hinckley, although the yard has worked with Front Street on several previous projects, said White, who is also a founding partner at Front Street. 
"Our carpenters and shipwrights at Brooklin Boat Yard have a real opportunity to show off their craftsmanship with this yacht," said White. "The bespoke interior will be elegantly finished to the owner's high standards and particular specifications."
The hull, which Hinckley began building last summer, will have carbon outer skins, foam core, and carbon inner skin with epoxy resin infusion. The foil is biaxial E-glass and epoxy-wrapped steel with a lead ballast bulb. A carbon rudder complements the modern underbody.
"We are very pleased to be partnering with Brooklin on Hull No. 1 of the Sou'wester 53. We strongly believe in this new yacht, which will enable owners to experience the joy of bluewater sailing with the ease of ownership that is uniquely Hinckley," said Peter O'Connell, president and CEO of Hinckley Yachts.
---
Students launch 26' ketch
Signal flags fluttered from her forestay and a crowd of onlookers cheered and shared boat stories as students at the Apprenticeshop in Rockland, Maine, launched a 26' wooden gaff-rigged ketch that they had spent two years building.
Named Mishi Mikinaak, the ketch is based on a Mackinaw design from the Great Lakes, where the boats were used for fishing and hauling cargo. Apprentices, who launched the boat in July, made just about everything on it, from the wooden hull to the hardware and rig.
The unique qualities of its design will make the new ketch perfect for its new role as the Apprenticeshop's expedition, sail training, and seamanship vessel. It has a shallow draft, yet is seaworthy; it can move in light air and has speed; while modest in size, it can sleep six for overnight expeditions. 
---
New owner for the Victory Chimes
The schooner, Victory Chimes, an American National Historic Landmark that sails in the Maine Windjammer Association Fleet and appears on the Maine State Quarter, has been sold. The new owner is Capt. Sam Sikkema, according to a news release.
Soon after captains Kip Files and Paul DeGaeta purchased the schooner in 1990 and returned her to the Maine windjammer trade, the Maine Legislature designated Victory Chimes as the "Official Windjammer of the State of Maine." Originally launched as the Edwin and Maud in 1900 at Bethel, Delaware, the schooner has carried lumber, sailed as a coastal merchant vessel in both world wars, and was enlisted to check the anti-submarine minefield at the entrance to the Chesapeake Bay during WWII. 
After the war, the boat was converted into a "Dude Cruiser," sailing out of Annapolis until she arrived in Maine in 1954, was renamed Victory Chimes, and started sailing out of Rockland. She remained in Maine until a new owner in 1985 took her the Great Lakes. Two years later, Tom Monaghan, then owner of Domino's Pizza and the Detroit Tigers Baseball Club, purchased the vessel, and put her through an extensive restoration at Sample's Shipyard in Boothbay, Maine.
DeGaeta had been the fleet captain for Monaghan's five-vessel fleet, and had hired Files to captain the schooner, then named Domino Effect. In 1989, when it looked like the schooner was going to be sold and turned into a floating restaurant in Japan, DeGaeta and Files intervened. Eventually the two men bought the vessel themselves to put her back in the windjammer trade and buy time to find an American buyer. Some 28 years later, they finally found that person.
"He is a great sailor who's been around the world twice, and for a vessel this size you need the right person and the right license," said Files of Sikkema. "He is young and energetic, and we feel he and his wife will bring some great ideas to the vessel and the fleet. We look at him as the person we've been waiting for all these years."
---
Causes sought for massive seal die-off
A large number of harbor seals have turned up dead along the Maine coast in recent months, and marine mammal experts think the most likely cause is an outbreak of a distemper virus.
There had been reports of more than 1,000 dead or stranded seals along the coast of Maine, New Hampshire, and Massachusetts by late September, according to an account in the Portland Press Herald.
Some of the dead seals tested positive for avian influenza but the main pathogen found in most of them was phocine distemper virus, the National Oceanic and Atmospheric Administration said. Phocine distemper is similar to canine distemper and measles. It affects the respiratory, gastrointestinal, and nervous systems of mammals, suppressing immune systems and leaving the animals vulnerable. Distemper cannot be transferred to humans, but may affect pets, NOAA said.
While experts have said viruses are a likely cause of the deaths, researchers also have said the seal population is at higher risk of disease because decades of chemical pollution have weakened the animals' immune systems.
NOAA warned people not to touch stranded seals and to keep their dogs away from marine mammals.
Share this article:
2023 Maine Boat & Home Show

Join Us for the Maine Boat & Home Show!
Art, Artisans, Food, Fun & Boats, Boats, Boats
August 11 - 13, 2023 | On the waterfront, Rockland, Maine
Click here to pre-order your tickets.
Show is produced by Maine Boats, Homes & Harbors magazine.