Timber Talk
Boatyards need wood. Where do they get it?
By Laurie Schreiber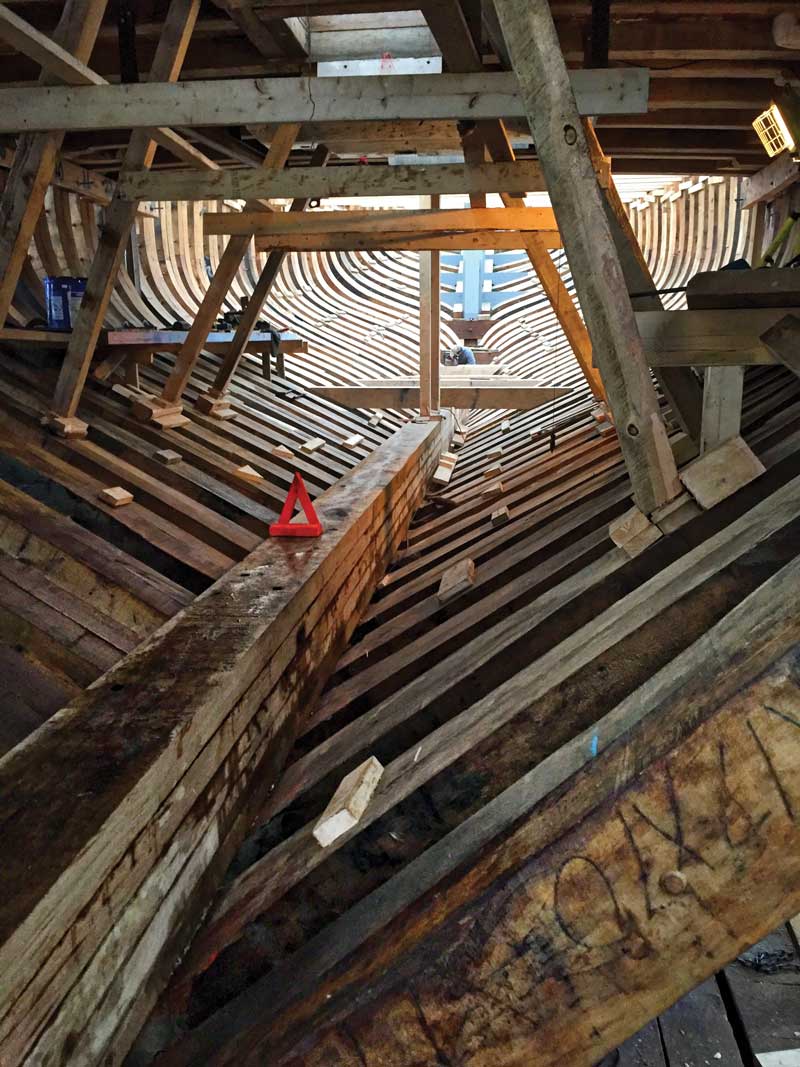 The ongoing restoration of the historic schooner Ernestina-Morrissey at Bristol Marine at the Shipyard in Boothbay Harbor involved the use of thousands of board feet of North American oak and Danish Navy oak. The Danish wood came from a forest planted over 100 years ago to maintain Denmark's naval fleet that today is selectively cut for special projects. Other woods sourced for this project included old-growth Douglas fir from British Columbia (provided by Edensaw Woods in Washington State) and live oak from the Cross Sawmill in Georgia, according to yard manager Eric Graves. Photo by John K. Hanson Jr. Since early settlement days, Maine and New England's boatbuilding industry has been fueled not only by proximity to water but proximity to wood. 
Common woods from Maine included white and red oak, pine for masts, and spruce for spars. Settlers cut their own trees and used whatever they had at hand. Eventually, established boatyards developed relationships with loggers and sawmills, and were even able to obtain wood from distant venues, thanks to schooners that plied the world's oceans, said Richard Jagels, Emeritus Professor of Forest Biology at the University of Maine.
"The fact that we have lots of timber here certainly encouraged boatbuilding on a large scale. And it continues today," Jagels said.
Maine boatbuilders now are known worldwide for their high-end yachts, as well as workboats, using a wide range of materials such as fiberglass and carbon fiber, in addition to wood. And while that new wooden boat might well include Maine timber, it's just as likely that it also includes exotic species from farther afield. The people who supply that wood play a key behind-the-scenes role in the state's boatbuilding success.
Wood for boatbuilding remains readily available in Maine, said Tom Pottle, who owns Pembroke Lumber in Washington County. Builders, like Peter Kass at John's Bay Boat Company in South Bristol, make up 10 to 15 percent of his business.
"It depends on what their customers want," Pottle said. "If you're talking just cedar and oak, they can get it out of Maine. And Washington County is an area that boatbuilders have always sought wood from."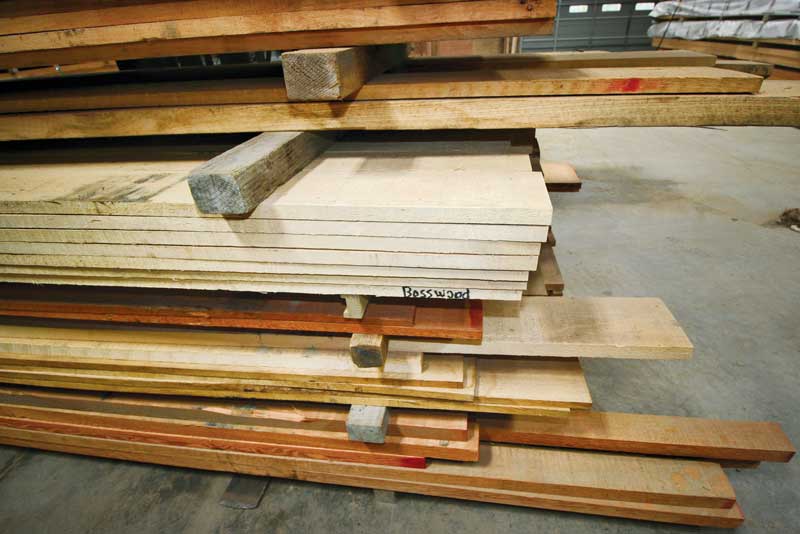 Stacks in one of Americas' Wood Company's warehouses include woods from the western U.S., including basswood, which is used mostly for making half-models. Whether the source is domestic or exotic, owner Richard Simon's criteria for boatbuilding include clarity and straight grain. Photo by Laurie Schreiber
Sourcing from outside of Maine is far more common these days, however. Builders' many options include domestic species, like cypress from the Carolinas or Georgia. From New York State comes black locust, one of the hardest woods in Northern America and valued for its resistance to rot. Old-growth cherry, coming from Pennsylvania, is popular among boatbuilders for interiors. The lightweight and reddish-hued Western red cedar from British Columbia is great for strip planking and cold molding. Towering lengths of Sitka spruce from the Northwest Pacific are perfect for spars.
The options also include exotic international woods like Afrormosia, considered an excellent substitute for banned Myanmar teak. From West Africa comes okoume, which makes a lightweight marine-grade plywood that's easy to work with; and sapele and sipo, reddish-hued mahoganies with lovely grain patterns.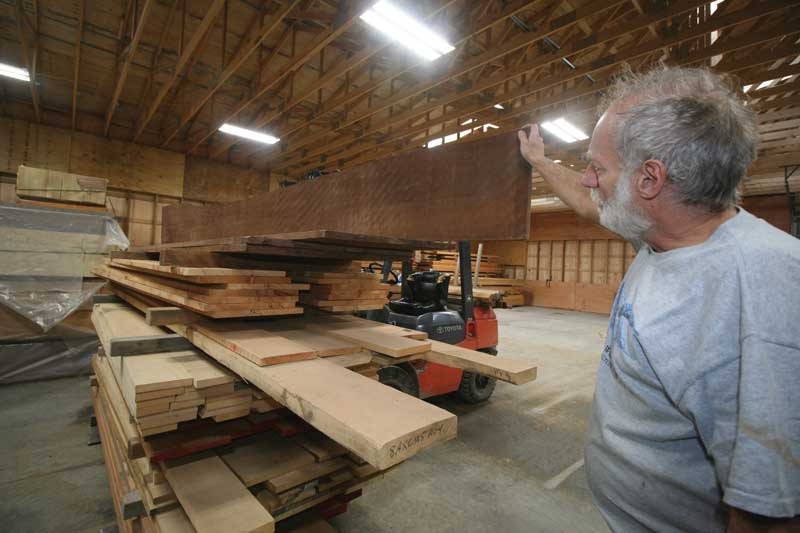 Richard Simon, owner of Americas' Wood Company in Washington, Maine, looks over a stack of massive Peruvian mahogany slabs, which will be ripped to spec for Artisan Boatworks in Rockport. Photo by Laurie Schreiber
Richard Simon, who owns Americas' Wood Company in Washington, Maine, recently unloaded some massive 30-inch-wide, 4-inch-thick Peruvian mahogany, purchased from an importer in California and shipped across the country. He and his team were setting up to rip it to half-inch-thick by 2 ¼-inch-wide lengths for Alec Brainerd, owner of Artisan Boatworks, a Rockport, Maine, builder and restorer of small, finely crafted yachts.
"We've been doing business with him for almost 20 years now," Brainerd said of Simon, who supplies 90 percent of the wood used at Brainerd's yard. "They make it possible for a small shop not to have to sit on a ton of inventory and get what we need when we need it."
Suppliers like Simon, boatbuilders agree, are invaluable for their understanding of the high quality of wood the industry needs. 
"And wood being organic, there's a wide range of quality with any given species," said Brainerd. For example, "Of the teak that comes into the U.S., maybe 10 percent is good enough for applications that builders use it for."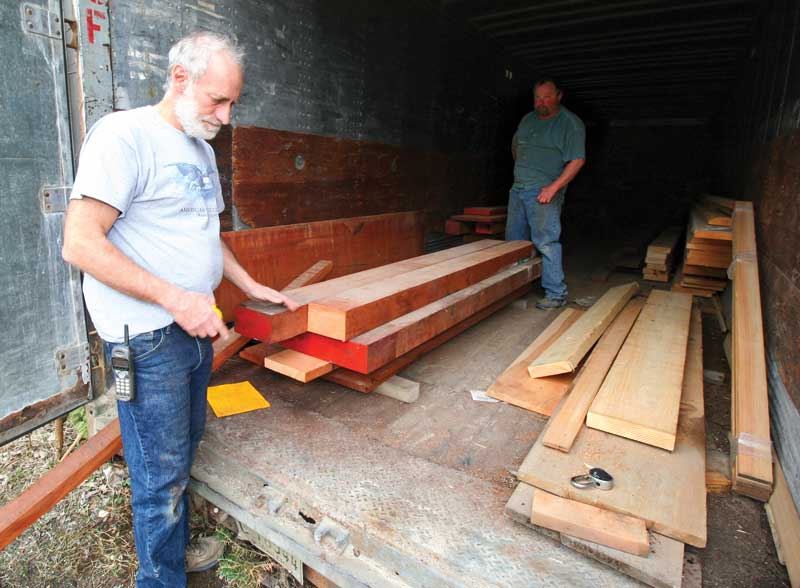 Richard Simon shows a slab of Peruvian walnut, one of several that happened to come in with a shipment. It's the same species and genus as American walnut, but the Peruvian version, he said, is darker, and doesn't have the sapwood American walnut does. Photo by Laurie Schreiber
Simon carries seemingly countless species selected to meet the industry's particular needs. Factors influencing the types of wood purchased for boatbuilding include density of the grain, weight, clarity, and resistance to rot. Much of the stock comes from old-growth trees. Take Douglas fir, valued for its long, clear lengths and ability to take finishes well. Sourced from the Pacific Northwest, the best lumber comes from trees that might be a couple of hundred years old. Even though second-growth fir is more readily available, the grain isn't as dense and the top boatbuilders are likely to reject it.
"We don't sell a lot of second-growth because everyone wants the dense grain," said Simon. "I offered a guy rebuilding a mast at Front Street Shipyard some second-growth, but he said, 'No, I want the dense grain.' That wood is three times more expensive, maybe $6.50 versus $2.25 per board foot."
Simon doesn't have direct contact with loggers. Instead, he goes through wholesalers like Patrick Lumber Company in Portland, Oregon, which handles the conglomeration of logs, transforms them into lumber and plywood, and distributes the manufactured product to customers worldwide. Simon makes a point of asking suppliers to select for the top-quality lumber that Maine boatbuilders expect.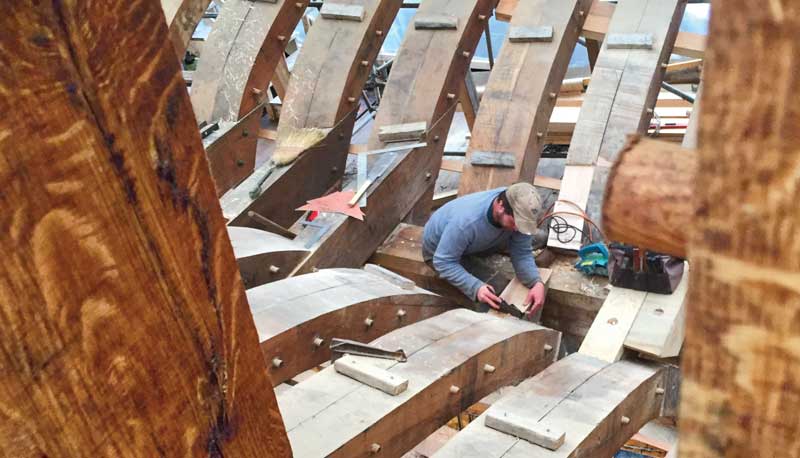 It's fitting that some of the wood for Ernestina came from old forests, as the schooner herself was built in 1894 and is among the oldest surviving Grand Banks fishing schooners. Photo by John K. Hanson Jr.
"A lot of the tropical woods tend to have ribbony grain," he said. "It's really hard to work." Simon looks for boards with straight, even grain. "When they're sorting through some wood, they're only getting maybe 10 percent of that quality."
One of his sheds is full of old-growth cherry from Pennsylvania, sourced through a New Hampshire dealer.
"Cherry has always been a traditional wood for boat interiors," he said. "Our two big customers for cherry are Back Cove and Hinckley. We sell to them almost on a weekly basis."
Sometimes Simon buys small batches of wood, like old-growth Afrormosia, just to see if there are any takers. 
"I brought it in just to see if I can develop a market for it," he said. "It's a beautiful wood. If someone wants to build a deck or something and doesn't want to use teak, it's a good opportunity to use something a little different."
Slabs of half-foot-wide live-edge Peruvian walnut, a dark-hued wood that's easy to work, unexpectedly arrived in one of his shipments.
"It's really unusual to see them so big," he said. "It's an interesting wood because it's actually the same species and genus as American walnut, but the wood is darker."
Darker wood, he said, is attractive to customers like Chesapeake Light Craft, the Annapolis, Maryland, builder of boat kits. CLC mainly uses Western red cedar, "but they like Peruvian walnut because they use the darker woods as highlights," Simon said.
The West African mahoganies make great alternatives, as good South American mahogany becomes more difficult to source due to new regulations designed to stop illegal logging, he said. All of Simon's wood is certified by the Forest Stewardship Council, headquartered in Minneapolis, Minnesota, which ensures chain-of-custody rules are followed from sustainably  harvested forests all over the world.
At Brooklin Boat Yard, Steve White said he most commonly uses Douglas fir, Western red cedar, Port Orford cedar (also known as Oregon cedar), and Alaskan yellow cedar. He uses mahogany as well, mostly West African sipo. 
A predominant wood on Foggy, a unique yacht designed in part by architect Frank Gehry, was larch—that top-quality wood looks like Douglas fir but has a lighter grain. 
For a 70-foot yacht, the yard uses about 3,000 board feet worth of wood, worth perhaps $300,000 at an average price of $9-10 per board foot.
White recalled that in the 1960s and 1970s, his father and yard founder Joel White sourced much of his wood in Maine. That became more difficult as top-quality timber disappeared. 
"Before that, it probably was equally difficult to find good wood, but the expectation of quality was not as high as it is now," Steve White said. Wood once considered acceptable doesn't meet today's standards. "Because of better shipping methods and decreased shipping costs, we can afford to buy wood from anywhere." 
---
MBH&H Contributing Editor Laurie Schreiber is also a Mainebiz staff writer and has covered topics in Maine for more than 25 years.
---
Group seeks uses for hurricane-ravaged timber
The South Berwick, Maine, nonprofit organization GreenWood has been working in Honduras for several decades to help indigenous peoples and local communities manage forests and produce sustainably sourced wood products. In 1999, that included sourcing wood for the schooner Amistad at Mystic Seaport. 
Last November, GreenWood director Scott Landis and boatbuilder Will Aurigemma traveled to Puerto Rico to see if wood from forests that have been ravaged by hurricanes Irma and Maria, might be of interest to U.S. boatbuilders. After searching for two weeks through enormous piles of mainly street timber (the wood debris left behind after the hurricane) that had been amassed by FEMA and the U.S. Army Corps of Engineers, they found little wood worth marketing for boatbuilding.
"But we found a great need for a creative approach for using this enormous volume of wood before it's all wasted," said Landis. "There are small sawmills trying to process this wood and there's some real interest in trying to turn it into higher value products. It could be anything from furniture to turned-wood artisanry. We met with guitar-makers, wood-turners, furniture-makers. There's a lot of capacity and a lot of interest in making something happen." —LS
Share this article:
Digital Edition Available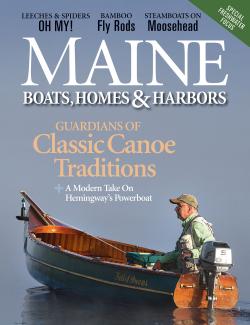 Can't get to the store to buy your magazine? We deliver the stories of Maine's coast right to your inbox. Sign up here for a digital edition.