Proposed New Rambler 38
This Boat Moves the Dial on Aluminum
By Art Paine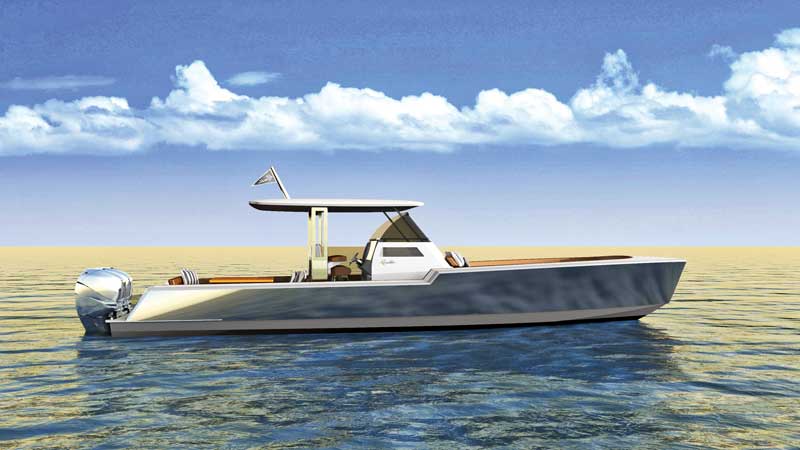 Concept drawings for the Rambler 38 show a classic center-console profile. The key difference from other outboard versions of this popular powerboat option is that the hull is silver and is fashioned from aluminum. Renderings courtesy Sparkman & Stephens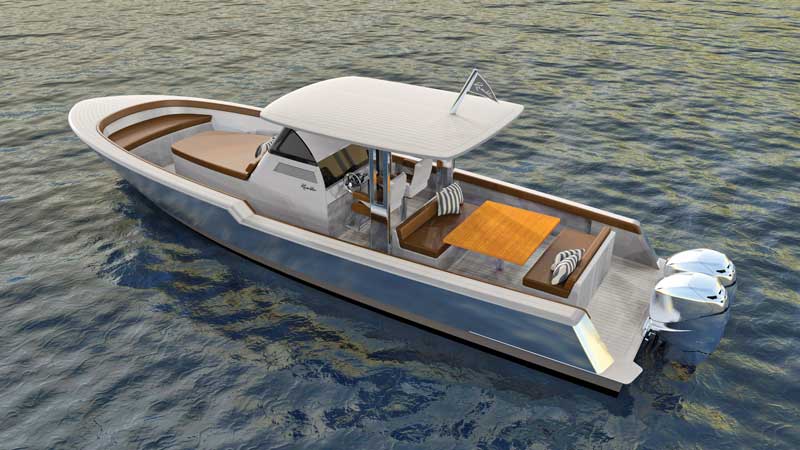 In England sometimes "alumin-ium," as they call it, is alternately called "Duralumin." The "dura" part hints at the fact that, among metals, aluminum is durable, in addition to being light and strong enough to please the pickiest yacht designer.  
The history of aluminum's use for yachts is long, and, to be honest, progress has been glacial. For one factor, it awaited the development of "alloys" of blended metals for the material to stand up to the corrosive attacks of salty water. In early years, the metal was simply riveted together, but that didn't produce the most watertight or the smoothest shell. Eventually welding machines were invented that could produce sufficient heat to seam-weld aluminum. This facilitated a smoother surface, although the high heat so distorted the plate that most aluminum boats, other than utilitarian workboats, had to be laboriously and expensively puttied, faired, and painted. Shipyards as close by as Paul Luke's in Boothbay and as far afield as Royal Huisman in Holland became increasingly expert at building aluminum yachts to the point that aluminum ocean racing yachts, both sail and power, often performed well. 
As a boatbuilding material, aluminum is light, rust free, puncture resistant, long-lasting, and low maintenance. But in today's market for fine yachts, aluminum construction lags behind composites and even laminated wood.  
As a boating journalist, I am constantly on the prowl for interesting topics on and off the drawing board. Sparkman & Stephens' head designer Brendan Abbott has come up with an especially interesting new project involving metal boat construction. As Abbott told me in a recent phone interview, "I just love innovation." He and boatbuilder Jeff Grey have incorporated an exciting new proprietary methodology called ExactForm into a concept design for a line of boats that might represent a new step in the evolution of metal boat construction. This method incorporates the use of "Methacrylate" bonding, which has all the attributes of the epoxy glues that have revolutionized boat construction—and then some.
Abbott's computer-generated illustration of the first proposed Rambler 38 center-console powerboat doesn't look all that different from other versions of this hot model currently dominating the market at boat shows from Palm Beach to Newport. It features a pack of outboard engines, a versatile aft deck, and accommodations down below that include a galley, a head with a shower, and a queen-sized berth. 
This design has not yet hit the water as it awaits a forward-thinking customer or two. Much of the build will use tried-and-true metal yacht construction techniques, but the part that is new, behind the boat's façade, has survived plenty of experiments and tests. Plans call for using 85 percent recycled material—promotional materials for the Rambler 38 call it "the most environmentally conscious center console to ever hit the market."
Switching from expensive and problematic welding to the use of Methacrylate glues can make for easy boatbuilding of any vessel with hard-chine "developable" surfaces, which is architecture-speak for planes that simply twist, without involving hollows or bulges. The advantages here are self-evident. After the designer has used the precision of computer modeling, all parts and pieces can be precisely cut by computer-driven machines. Economy will be one of three big advantages of computer cutting and using practically odorless, Krypton-strong Methacrylate glue. Unlike a welded plate yacht, the glued-on surfaces will be completely smooth and thus the topside appearance, whether clear-coated, painted, or vinyl-wrapped, will be of yacht standards. The third advantage existed all along, in the aluminum itself. As Brendan told me, "This material is one of the most sustainable you can find." 
Whistler, one of the earliest all-aluminum pleasure boats for use in salt water, is now nearly 79 years old, but is so elementally intact that it could easily be restored for use. More importantly, if it weren't, it could be almost entirely recycled. Aluminum is "green" to a remarkable degree. It can be easily chopped up, melted down, and re-used. Taking anything of used aluminum and turning it into new ingots or plate requires only five percent of the energy it would require to mine Bauxite, move it and smelt it, and produce the same thing. Much of the yachting world has lately become appalled at the menace of plastic in all forms—including used-up yachts—as its durability impacts and degrades the sea. Aluminum boats degrade to even a lesser degree than reinforced plastic, and so they maintain utility for a longer lifespan. Then when their time's up, they can be totally recycled. 
---
Contributing Author Art Paine is a boat designer, fine artist, freelance writer, aesthete, and photographer who lives in Bernard, Maine.
Rambler 38 Specifications
LOA: 38' 3"
Beam: 11' 10"
Draft: 2' 1"
Speed: 60+ mph (Quad 350 outboards) • 45+ mph (Twin 350 outboards)
Share this article:
Digital Edition Available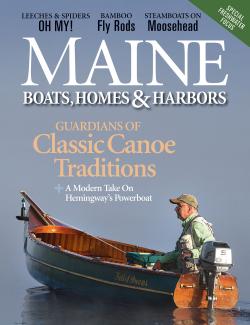 Can't get to the store to buy your magazine? We deliver the stories of Maine's coast right to your inbox. Sign up here for a digital edition.