Johnson's Boatyard
Island life in the fast lane
By Kelli Park
People are drawn to the water for different reasons. Some like to relax, some like to exercise, and some, like serial innovator Steve Johnson, like to push their limits and constantly test new ideas.
Since 1993, he has run Johnson's Boatyard on Long Island off Portland, a small community of 230 year-round residents accessible by ferry. The yard, which includes a marina, maintains close to 40 boats, some pleasure and some working, and builds up to four custom boats each year. But what sets Johnson's apart from many other yards along the coast are his fantastic, one-of-a-kind floating creations: Wild Woman, a sailboat that cruises at 50 mph (Yes, you read that right); Bud-N-Dawn, a supercharged racing lobsterboat; Vette-Boat, which features a 1984 Corvette body on a stock 28' hull; and a party boat inspired by a tiki bar.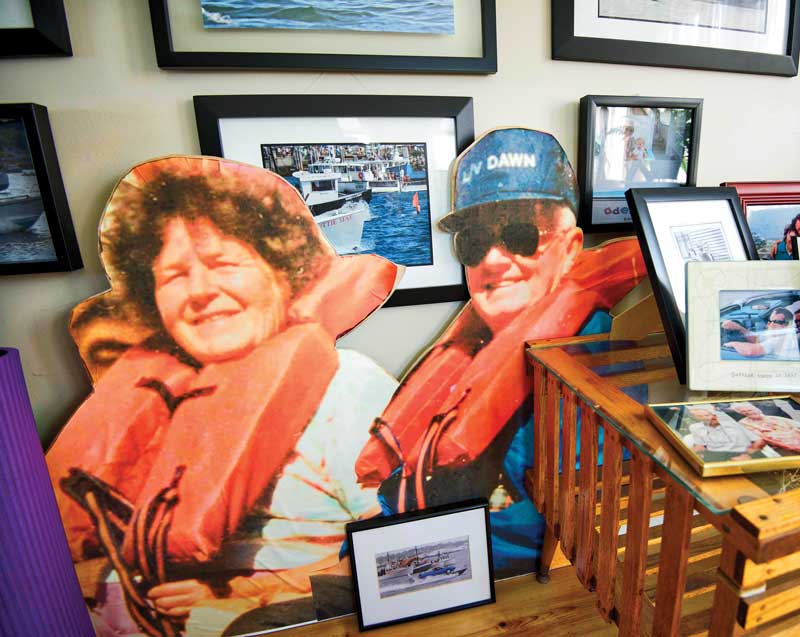 A life-size poster of Johnson's parents, Dawn and Bud, patiently waits for race season to begin, when they accompany Johnson in spirit on the race circuit. Photos by Kelli Park
Generations of Johnsons have fished the waters of Casco Bay, from Bailey Island to Long Island; Johnson got a lobster license when he was just six. He spent many years as a commercial fisherman—lobstering, gillnetting, dragging, and trawling—while also working on boats with Eddie Drew, a local boatbuilder for Lowell Brothers. 
Johnson started the yard in 1993 on the site of the former Casco Bay Naval Auxiliary Air Facility, which housed seaplanes during World War II. The hangar was lost to a fire in 1946 and the base closed shortly thereafter. In the beginning, Johnson fished as well as worked on boats. But increasingly complex fishing regulations plus a growing demand for new-boat construction prompted him to jump into boatbuilding full time.
"After all the federal laws started coming through and everything, I kind of got fed up and thought, 'well, I can do this, I know I can build boats,'" he said. 
Johnson thrives on diversity, building boats for work, pleasure, and sport fishing use. 
"They're all different," he said of his construction projects. "I've only had two that were really close, out of 30 boats. Some of them are kind of alike, but you know they've all got different motors—whatever the owner wants. They're all custom built."
Take Wild Woman. Built in 2014, it's a hybrid "sailboat" with the hull of a 26' Silverton flybridge cruiser hull, and topsides and rig of an O'Day sailboat. It's powered by a Corvette engine, plus two 200-hp Yamaha outboards. The "sail" is made of twine. 
The boat was a compromise between Johnson and his girlfriend, Sandy. "She wanted a sailboat. I'm not one for sailing. I'm into speed, so I built a high-speed sailboat," he explained.
Johnson enjoys competition, and frequently competes in the Maine Lobster Boat Races. His newest racer is named Bud-N-Dawn after his parents; Bud and Dawn accompany Johnson on boat rides in the form of a photo cardboard cutout clamped to the portside rail. The 28' boat has a torpedo stern and a vintage-style wheelhouse modeled after his father's boat, which was built in the 1950s. Johnson bought the fiberglass hull and finished it off. The lightweight boat is powered by a 632-cubic-inch, 1,100-hp Chevy engine and a 500-hp nitrous kit, which provides more oxygen during combustion and, in turn, injects more fuel. This allows the same engine to operate with 1,600 horsepower and achieve speeds of 65-70 mph, Johnson said. During sea trials, he instructed the chase boat driver: "Make sure we don't die. Pick us up if there's a catastrophic disaster, if we blow up or fall apart." Johnson hoped to break the all-time lobsterboat speed record of 72 mph. Although Bud-N-Dawn collected some trophies on the racing circuit last summer, the boat's top speed was a disappointing 58 mph.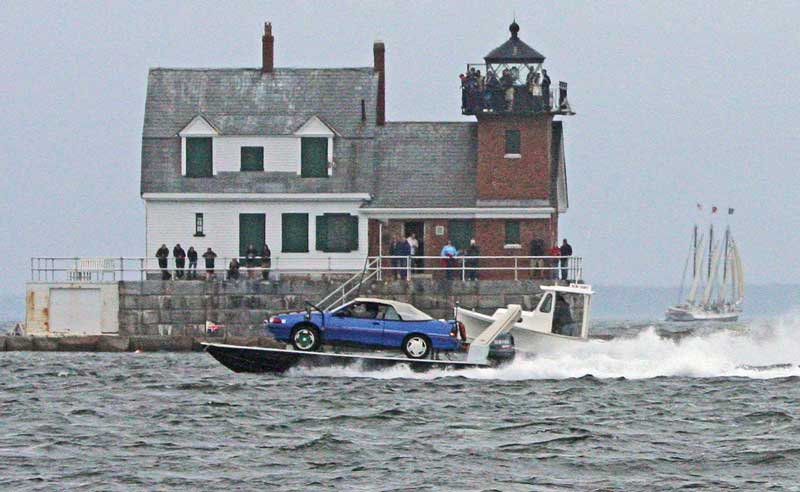 Johnson challenges the notion of a leisurely Sunday drive with the first Ca-Boat, which reached top speeds of 50 mph. Photo by Sam Murfitt
Johnson made waves a few years ago in the races with what he called the Ca-Boat. (As in the 4-wheeled vehicle that Mainer's call a "cah" when the accent really gets going.) The concept first came up during a beer-drinking session with friends at a local hangout. Someone suggested putting a car on a boat hull and things progressed from there.
"Somebody was putting new outboards on his boat," recalled Johnson. "So he gave me the two old 200-hp outboards with the condition that I 'cause a scene with them.'"
The first Ca-Boat, built in 2009, consisted of a 1994 Pontiac Sunbird convertible on the 26' Silverton flybridge cruiser (since then repurposed as Wild Woman). Ca-Boat competed in the 2009 races (with a pot-hauler attached to qualify as a lobsterboat) and, although it only reached 49 mph, a scene was indeed created.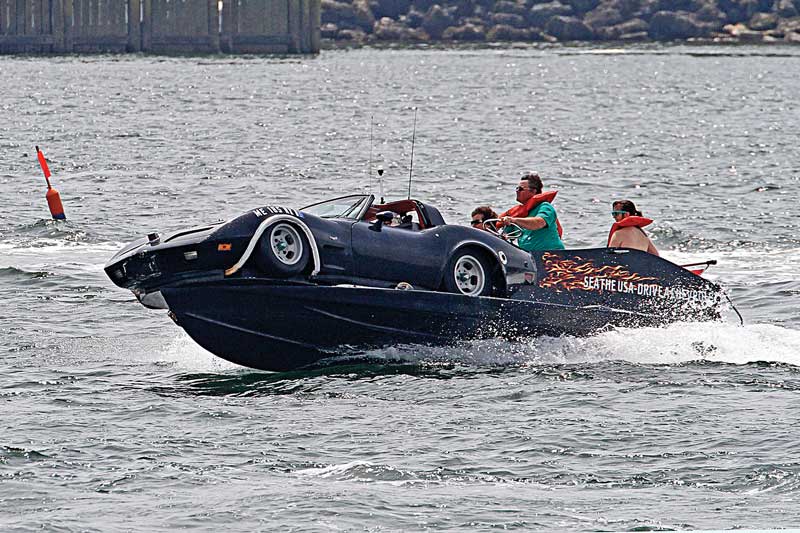 (Above) Vette-Boat has retired from the Maine race circuit and now spends its days in warmer Florida waters, where Johnson spends time in the winter. (Below) If you're lucky, you could be crowned Tiki Queen for the day aboard Tiki Boat. Photos by Sam Murfitt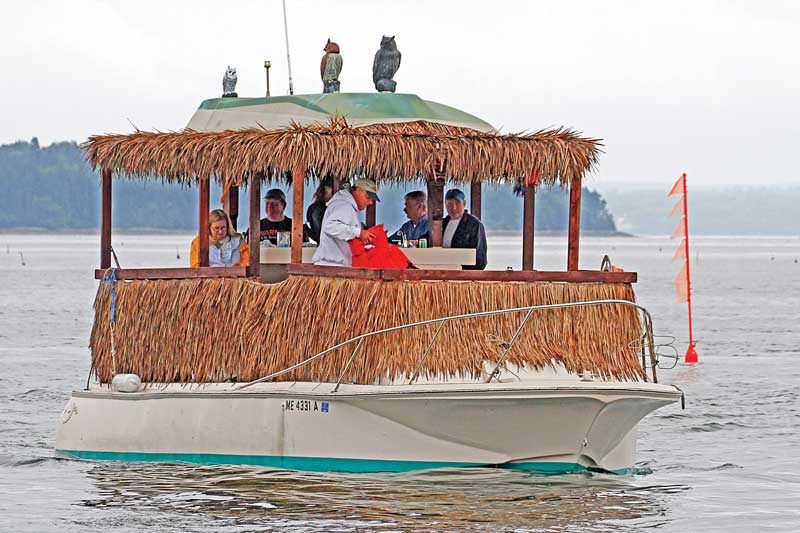 In 2012, Ca-Boat was replaced by Vette-Boat, which started out with a 1978 Corvette up top and recently was upgraded to a 1984 Corvette on a 28' Luhrs hull, powered by a 350-hp Chevy engine. Vette-Boat currently resides in Florida, where Johnson and his girlfriend spend time in the winter. "On the Ca-Boat in Florida, everybody's waving at you! Sandy says, 'can we take the adult boat? I'm tired of waving,'" he joked.
Touring Johnson's Boatyard is like wandering through an alternate reality where the laws of physics don't apply. "This one's fun to drive," Johnson states matter-of-factly about Wild Woman. Photos by Kelli Park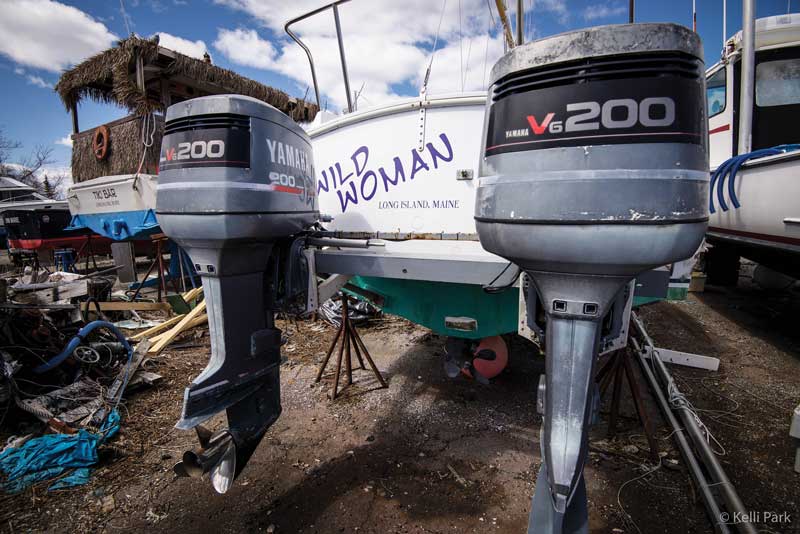 Transformation plays an important role in Johnson's creative process. He reuses hulls and parts in different projects. Take Tiki Boat. It began with the Hate Me Rose, whose name was derived from the jealousy-inducing success of the Hattie Rose year after year in the lobsterboat races. The Hattie Rose was a 36' Crowley Beal that placed 12 times in the Lobster Boat Races from 2004 to 2005, including four first-place wins. The Hate Me Rose—also known as a Jingle Johnson 28 XU (for extra ugly)—consisted of a 28' hull powered by an 892 Detroit Diesel.
"The Hattie Rose kept winning, so we built the Hate Me Rose to show off, but it didn't work. We built this one to be really crazy, but it was too crazy! It was out of control. It was way too much motor for that boat. It was a near-death experience," Johnson said. "When the front windows go in the water, you know it's not good."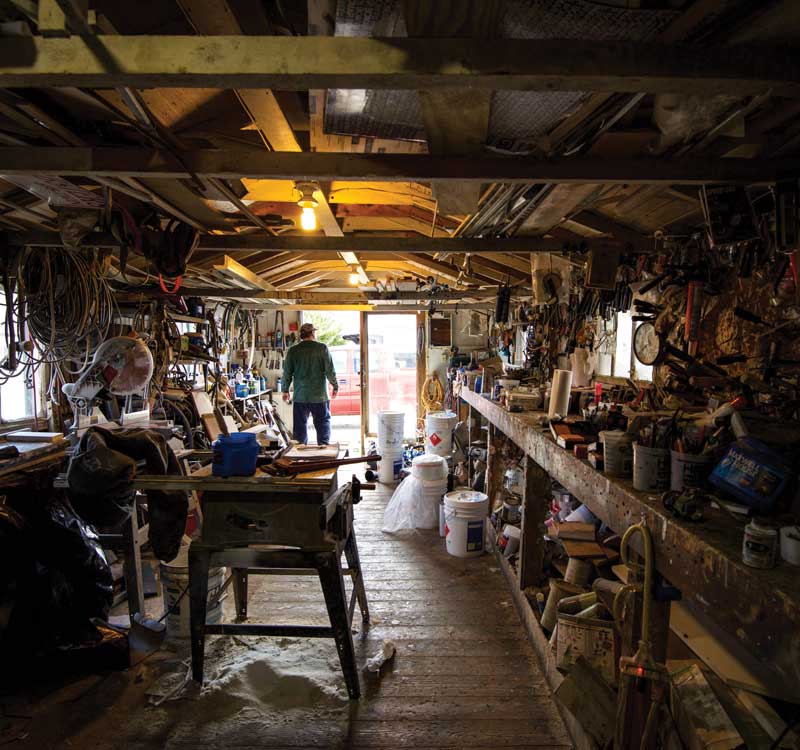 The workshop at Johnson's Boatyard is where all the magic happens. Photo by Kelli Park
After that incident, the Hate Me Rose was widened by 24" on both sides and reborn as the very comfortable Van-Boat. Van-Boat consisted of a 1980 GMC Mark III Luxury Edition Van on the original Luhrs hull, powered by a 250-hp engine. Johnson's mother, Dawn, was particularly fond of the comfortable cruising life on Van-Boat, which offered bona fide amenities: heat and a defroster in the winter, air conditioning in the summer, a surround-sound system, compartments with coolers, and a bed. 
Johnson later gave new life to the original hull by replacing the van with a beach hut and calling it Tiki Boat. The upper half of Tiki Boat includes the van's ceiling and roof, and the surround-sound system. Guests enjoy refreshments from the bar with built-in coolers and Johnson often whips up pina coladas using a blender built from a weed-whacker engine. Beach grass, multi-colored stools, and kitschy signs give the boat the charm of a maritime Margaritaville. Oh, the stories Tiki Boat could tell.
Johnson's fastest race boat so far has been Wild One, a 33' Jim Beal powered by the 892 Detroit Diesel from Hattie Rose. 
A recent project at the yard was a 44' Calvin Beal. Johnson, the boat's owner—a firefighter from Portland, and some friends refinished the deck and transformed the fuel tanks into fish holds for tuna fishing.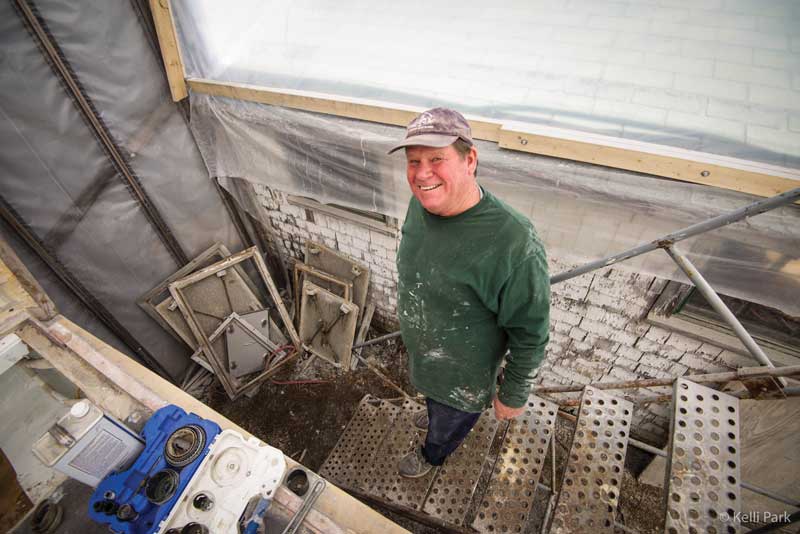 Photos by Kelli Park
With his talent and imagination Johnson could find work off the island, but that would mean giving up the free-wheeling way of life that he loves. As he drove his pickup around the island on a recent tour, Johnson waved to just about everyone he passed and they waved back. "It's a special way of life," he said. "I'm really not much for rules and regulations."
---
Kelli Park is a writer and photographer who lives in Harpswell, Maine. She is especially interested in telling the stories of Maine's working waterfront and exploring our connection to the sea.
Share this article:
Digital Edition Available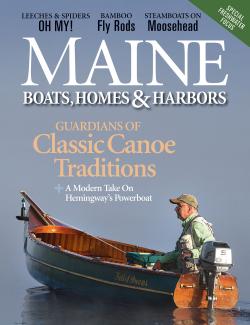 Can't get to the store to buy your magazine? We deliver the stories of Maine's coast right to your inbox. Sign up here for a digital edition.