The Case of the Missing Mussels
Green crabs and fishing are primary suspects
By Aliya Uteuova and Catherine Schmitt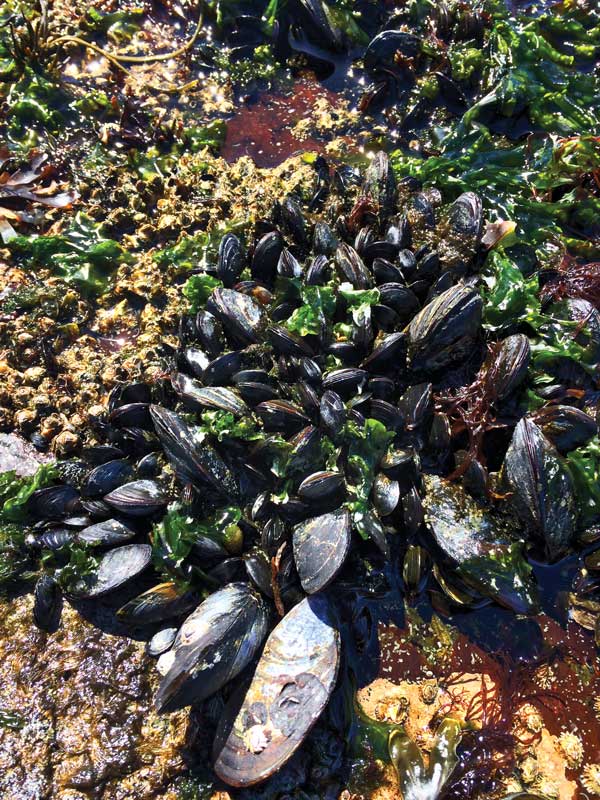 Mussels survive better in the mid-tidal zone when they can grow into a "mat" like this one. Young mussels, which are vulnerable to predation, find protection in the spaces between the larger mussels. Photo by Catherine Schmitt/Maine Sea Grant
On a sunny April morning, finding mussels at Pinkham Point in Harpswell, Maine, proved to be a difficult task. Water lapped against bare gravel and granite. Where once the rocks were covered with thick, black crusts of mussels, only empty shells washed up on the beach. Just a few, tightly closed live blue mussels clung to rocks and each other.
Only one percent of the once-abundant mussels at Pinkham Point remain, according to a 2016 study by ecologists Cascade Sorte of University of California, Irvine, and Jane Lubchenco of Oregon State and others. They found that at sites throughout the Gulf of Maine, blue mussels have declined more than 60 percent over the past 40 years. This decline is reflected in the harvest of wild mussels, which has also declined: from 15 million pounds in 2011 to 6 million pounds in 2017, according to Maine Department of Marine Resources landings records.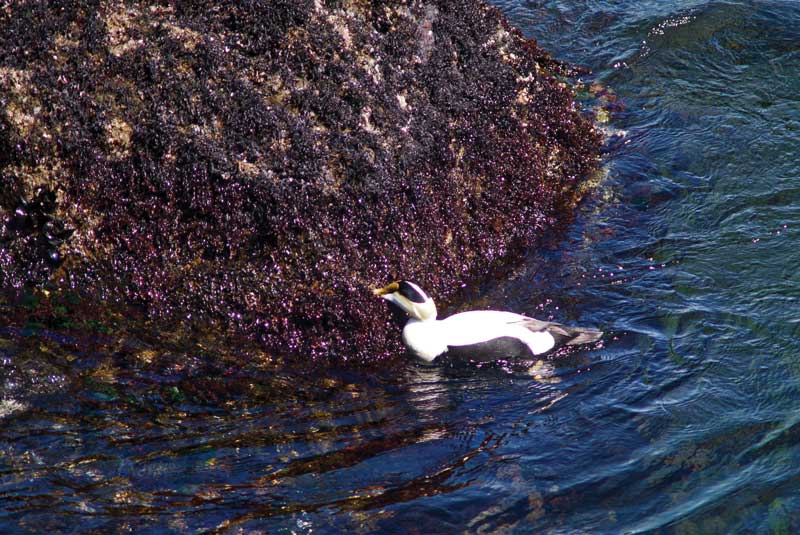 At low tide, eider ducks feed on young mussels in Casco Bay. Photo by Catherine Schmitt/Maine Sea Grant
Why is there such a decline in the blue mussel population? Researchers cite fishing as a contributing factor. Other theories include ocean acidification and the predatory behavior of green crabs.
Phil Gray, from Chester, Maine, started his fishing career digging clams with a crowbar. He attributes the decline in mussels to predatory green crabs.
Gray started mussel fishing in 1975. He and his brother would go out in the water in their skiff at a low tide and harvest mussels by hand, selling a bushel for $3.50 (60 cents per pound). When the Gray brothers realized that mussels were a popular item in city restaurants, they started shipping Maine mussels for $8 a bushel to places like New York and Boston.
"We'd load up 50 to 60 bushels a day," Gray said. "There were so many mussels back then."
As competition increased, Phil Gray focused on quality and sustainability, sorting out the large mussels with a tumbling machine. He moved to Harpswell from South Bristol in 1981, in part due to the extensive mussel beds in the New Meadows River.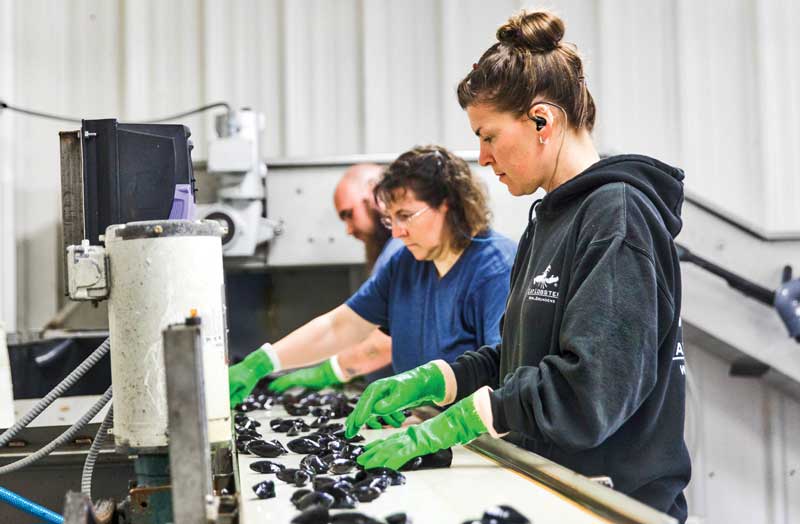 Workers at Hollander and de Koning, which farms mussels in Frenchman Bay, sort cultured mussels for shipment. Photo by Greta Rybus/Courtesy Hollander and de Koning
Mussel aquaculture also started around this time, when Ed Myers founded Abandoned Farm on the Damariscotta River—the country's first commercial mussel farm—and Great Eastern Mussel Farms contracted with fishermen to grow mussels on rafts.
By the 1990s, a lot of mussels in the New Meadows area had been harvested and the ones that remained were of poor quality. Gray was able to harvest only two bushels a week. At the same time, wholesalers in New England discovered subtidal mussels in Massachusetts which retailed cheaper and shipped faster to East Coast markets.
In order to substitute for the loss of the blue mussel market, Gray, who can't envision himself anywhere but on the water, started diving for urchins and scallops, then digging for clams, then lobstering, as well as doing carpentry.
Things picked up again in the early 2000s. When a local seafood dealer expressed an interest in mussels, Gray went back out to the South Harpswell beds. "I was 60 years old and thinking 'you're kind of crazy' but I rigged up my boat and got some beautiful mussels." He managed to get about 40 bushels a week, prying them off the rocks with a pitchfork. He had good sales to Maine restaurants and seafood markets, but then around 2010 the mussels became scarce again.
"The decline has been really dramatic," said Gray, who started an oyster farm in 2013. "When the only market I could supply mussels to was the farmer's market, I had to diversify my income."
While Gray believes that fishing could have contributed to the disappearance of blue mussels, he thinks the main factor is voracious green crabs.
"Anything that sets in the intertidal zone is easily eaten," he said. When he went mussel fishing with his pitchfork, he would find green crabs along with open mussel shells.
Brian Beal of the Downeast Institute for Applied Marine Research and UMaine Machias also attributes the decline of
mussels in the intertidal and subtidal areas to green crabs. Beal has witnessed the decline coast-wide, in Washington County, Deer Isle, St. George, and Freeport. "There are plenty of mussels on the underside of docks, on pilings, any surface where crabs can't get to," he said.
Like Gray and Beal, Carter Newell believes that predation is the leading factor of wild blue mussel decline. Newell began working for Great Eastern Mussel Farms in 1982, and co-founded Pemaquid Mussel Company after Great Eastern closed in 2008.
"You can still hang a rope in the water and get lots of mussels on them, so I think the decline is due to predation during their early life history stages," said Newell.
Green crabs aren't the only predators, as eider ducks, seagulls, jellyfish, and sea stars also feed on mussels. Competition with invasive sea squirts doesn't help, either. Nor does a decline in eelgrass beds, which are important habitat for juvenile mussels.
The natural range for mussels extends from the Arctic to the Carolinas, and they can tolerate a wide range of temperatures. But over the past 50 years, the southern range limit of wild mussels has shifted northward from Cape Hatteras to Lewes, Delaware, while their northern edge also has shifted north. While the increase in green crabs has been attributed to warming waters, temperature does not appear to be directly affecting mussels in Maine because farmed mussels seem to be growing just fine, especially where they are protected from predation. According to Maine Department of Marine Resources, mussel aquaculture has increased over the last decade, with more than one million pounds produced in 2017.
In the farming process, mussels are grown on ropes suspended from the surface, or resting on the bottom. In Maine, most of the 22 state-approved leases for mussel farms are in Hancock County and Casco Bay. Maine accounts for 7 to 10 percent of farmed blue mussels produced in the nation; the overwhelming majority of farmed mussels sold in U.S. markets come from Prince Edward Island, Canada.
Beal is currently working on a research project funded by NOAA Sea Grant to develop methods to produce cultured mussel seed on a large scale. Currently, when mussel farmers set out ropes they have no way to guarantee that wild mussel larvae find them. Beal is trying to find out if he can provide a more consistent supply of "spat" cultured from wild mussels.
No one pays more attention to what the mussels are doing than Fiona and Theo de Koning, who have been growing mussels on 157 acres in Frenchman Bay. Theo de Koning is a fifth-generation mussel farmer who brought his family's technique from the Netherlands to Maine in 2006. Instead of waiting for larvae to settle on ropes, they harvest baby mussels from the wild and move them to their lease site to grow for two to three years. They harvest with a specially-designed drag, taking short tows —"little 20-second scoops"—to minimize impact. They work closely with wild harvesters and clammers and the Department of Marine Resources on water quality protection and assessing mussel bed condition. The mussels are carefully monitored, tended, cultivated, and processed.
Asked about reported declines in mussel populations, Fiona replied, "I don't think it's a larval problem. Most likely it's predation. So far, it's going okay here. The biggest challenge is that the environment is changing faster than we can."
Mussel larvae spend two weeks in the water, and then they fall like rain onto eelgrass meadows, grow a bit larger, and then migrate to permanent habitat on mud, sand, or rocky intertidal areas, cementing together into something like a reef. As mussels have declined, seaweeds and barnacles have become more common, taking over space once occupied by mussels.
Large areas of intertidal habitat in the Gulf of Maine have changed dramatically since Phil Gray and Carter Newell went fishing for mussels in the 1980s. And the shoreline continues to change.
At the Giant's Stairs preserve on Bailey Island, waves crash against the foot of cliffs cut through with seams of volcanic basalt. At low tide, the ocean seethes and foams across the rocks and weeds, and dark clumps of mussels shine black and blue in the sunlight. Eiders paddled busily in the surf, pulling the delicacies from the rocks and swallowing them whole.
There the mussels are gradually returning to a more abundant state. Greg Emerson, a professor at Bates College, has been bringing his students to Giant's Stairs for more than a decade. The mussels have re-established in the mid-tidal area to the point that a persistent mussel "mat" is building up. For many years, a good mussel set would be followed by failure of the young mussels to persist into the next year, most likely due to heavy predation—young mussels are particularly vulnerable to predators. Once a mat forms, the space between the larger mussels provides protection for the younger mussels. Fishermen and aquaculturists, too, including Gray and Newell and the de Konings, have seen mussels return when given a chance. They and others who work with blue mussels have hope for abundance in the future.  
---
A native of the Republic of Kazakhstan, Aliya Uteuova graduated from the University of Maine in May 2018 with a degree in journalism and political science. Catherine Schmitt is Communications Director for the Maine Sea Grant College Program at the University of Maine and is the author of  A Coastal Companion.
---

Mussels=superfood
Today, we think of mussels as a characteristic feature of the Maine coast and a common seafood item on Maine menus. But this wasn't always the case. Prior to the 1970s, the market for these bivalve mollusks was limited to European immigrants, particularly those of Mediterranean origin. Lifelong Mainers considered mussels to be poor man's food, or worse, bait. Marketing efforts sponsored by federal and state agencies such as Sea Grant helped change that.
Chef Barton Seaver wrote in American Seafood that "when harvested at the proper time, mussels are surely one of the most wonderful and abundant delicacies of the sea." Wild mussels are affordable, easy to cook, and pack a punch of protein equivalent to red meat but with less fat. One pound, or about 20 mussels, contains three times more meat than a pound of clams.  —CS & AU
---

Midye Dolma, Stuffed Mussels, or "Paella Bites"
Recipe & photo by Aliya Uteuova
Stuffed mussels, or Midye Dolmasi, is a common street food in Turkey. Midye in Turkish translates to mussels, a mollusk that is common in that country, which is surrounded by the Black Sea, the Sea of Marmara, the Aegean Sea, and the Mediterranean Sea.
I first tried this dish in the coastal town of Izmir back in 2015. Foodstands with hundreds of mussels stuffed with rice can be found within steps of each other in Izmir Sahil (sahil in Turkish means the seaside). To me, a perfect summer night would be getting a bag of midye dolmas, splitting them with a friend, and watching the waves splash on the shores of the Izmir Gulf.
Luckily, this iconic Turkish street dish can be recreated at home. If you are looking to surprise your friends with an impressive yet simple dish, look no further.
INGREDIENTS
2 lbs. Maine mussels
1 medium to large onion, finely chopped
½ cup short grain rice
1 tomato, very finely chopped or grated
Handful of finely chopped flat leaf parsley
Handful of finely chopped fresh dill
1 Tbsp. tomato paste
1 tsp. ground black pepper
½ tsp. red pepper flakes or chili flakes
½ tsp. ground cinnamon
2 Tbsp. olive oil
1 cup hot water
Salt to taste
Lemon wedges to serve (optional)
COOKING INSTRUCTIONS
Place the rice into a sieve and rinse well under cold running water. Drain the rice and set aside. In the meantime, put mussels into warm water (this makes them easier to open).
Make the stuffing first (you can also make the stuffing a day ahead of time). Heat the oil in a medium-sized pan and stir in the onions. Sauté over medium to high heat for 5 minutes.
Add the rice, chopped tomato, tomato paste, spices, and season with salt to your taste. Pour in the hot water and combine all well. Bring to the boil then cover to simmer over low heat for 15 minutes, until all the liquid has been absorbed. Rice will be "al dente" and still have a bite to it. Remove from the heat and leave to cool.
Once cool, add the chopped dill and parsley to the rice and combine well. Check the seasoning and add more salt or ground black pepper if you'd like. You can cook the rice a day ahead of time and keep it in the fridge, covered.
Place the mussels in a large bowl and rinse under cold water. Discard any broken or open mussels. Clean and scrape off any dirt from the mussel shells. Using a blunt knife, carefully force the point of the knife into the gap at the pointy end of each mussel. If the mussels are large, slice through the meat so the shell opens with half the meat attached to each half shell – once you cut through the thick, round connecting muscle at the bottom of the mussel, it will be easy to open (but don't cut all the way through). 
Leave the two halves connected. Put about 2 tsp. of stuffing into the middle of each mussel (try not to overfill) and push the half shells together again.
Place the mussels in a wide heavy pan, with the tips pointing outward toward the edge of the pan. The key is to stack the mussels tightly so they don't open up entirely. There should be one layer of mussels, so if you have mussels left over, use another pan to continue layering. Place a wide plate over the mussels to prevent them from opening too wide while they cook (this is important). Using a pan that's slightly smaller will ensure that mussels are placed tightly next to each other and prevent them from opening up. 
Add a cup of hot water to the pan; the water level should only reach the bottom half of each shell. Cover the pan and bring to the boil, then reduce the heat and simmer for 15 minutes.
Remove the mussels from the heat. You can serve this dish warm or cold. Traditionally, Midiya Dolmas are eaten without utensils. When you break open a mussel, use the empty shell to scoop out the mixture from the bottom shell, adding a squeeze of lemon juice as you eat.
---
Note: This recipe was modified from "Ozlem's Turkish Table" CLICK HERE 
Share this article:
2023 Maine Boat & Home Show

Join Us for the Maine Boat & Home Show!
Art, Artisans, Food, Fun & Boats, Boats, Boats
August 11 - 13, 2023 | On the waterfront, Rockland, Maine
Click here to pre-order your tickets.
Show is produced by Maine Boats, Homes & Harbors magazine.