A Regular School Bus Reimagined
By Ken Textor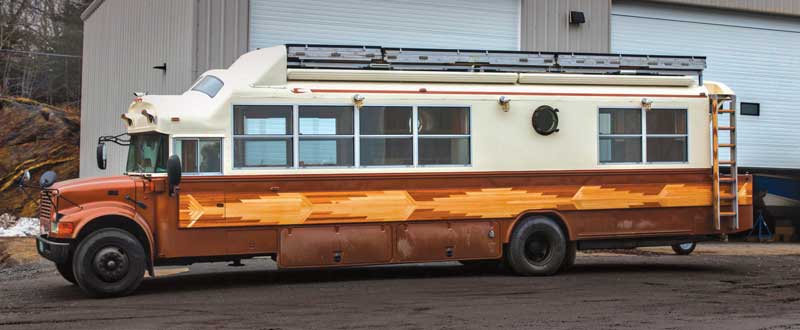 Sliced and diced, this former school bus was re-invented by Gamage Shipyard workers who thought they'd be working on floating yachts, not rolling "yachts." Photo courtesy Gamage Shipyard
The reinvigoration of the 147-year-old Gamage Shipyard took an unexpected turn a year or so ago, when "The Bus" rolled into the South Bristol marina.
The owner wanted the boatyard to turn a standard all-American school bus into a "land yacht," and a decidedly non-marine project commenced.
"We were definitely getting a workout," Gamage general manager Mike Tatro said of the year-long project. "All the systems had to be done from scratch. But we were able to do everything the owner wanted."
Today, what everyone calls The Bus is a yacht-quality sight to behold, without a trace of the yellow paint and mud-dust graffiti one would have found in its earlier life. The 16-year-old school bus now sports multiple wood veneers in a cross-hatching Southwestern motif encircling the 40-foot exterior, along with a stone-lined, wood-burning stove inside, "bat wing" solar panels along the roof, a slide-out "balcony" for deck parties and fashion displays, plus electrical and plumbing systems that Tatro admitted were "a continuous challenge."  And then there is the Lord of The Rings, hobbit-style woodwork throughout the interior, all of which served to keep some of the yard's 17-person crew busy when the everyday boat activities of launching, hauling, and repairing slowed down.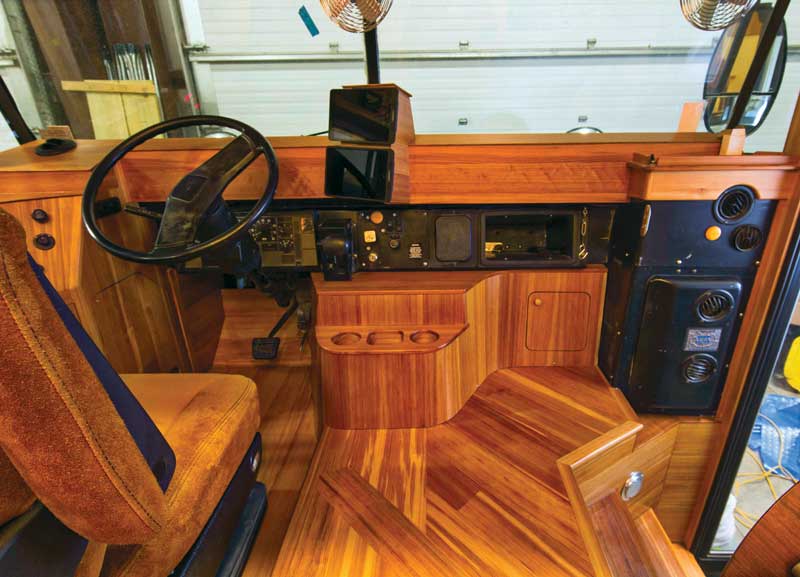 The helm or driver's seat—whatever you care to call it—features four different types of wood for the flooring and paneling, and is within reach of more than 50 switches for operating the various systems. Photo courtesy Gamage Shipyard
Owner Jeff Osborne of Fresno, California, said the project was inspired by a cross-country motorcycle trip "that sparked a deep desire to spend more time exploring North America's incredible natural landscape while allowing the bus to integrate the trip with my wife's and my work." The 28-year-old Osborne is a full-time artist, while his wife designs and makes custom wedding gowns. 
And why come all the way to Maine and the Gamage Shipyard for such a project? "The bottom line is the craftsmanship, and experience with complex and detailed construction that's designed for harsh conditions," Osborne said of the decision to have the work done in Maine. "I don't think there are many places that could have put such a level of creativity and detail into a project (like this). Lots of places build boats, but I really think Maine is a special place, and this bus is a perfect example of that heritage."  
Of course, the idea of a "land yacht" is nothing new, with rock-and-roll bands turning aging transit buses into on-the-road motel rooms as early as the 1960s. Moreover, much of the present-day
$17-billion recreational vehicle industry is based on turning commercial vehicle frames and engines into rolling mini-homes. But Osborne and Tatro's crew have put together a revamped school bus like no other.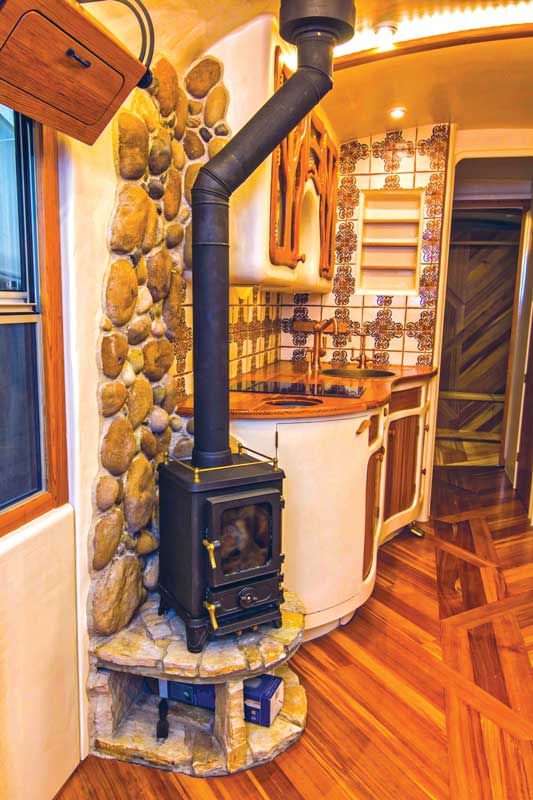 Hobbits and the need for off-road heating inspired this portion of the interior of what became known as simply "The Bus." Photo courtesy Gamage Shipyard From the outset, interior headroom needed to be higher than what would work for the average elementary school student. "We cut off the roof and raised it 18 inches," Tatro explained, noting that the classic logo of the Blue Bird Corporation of Fort Valley, Georgia, had to be preserved during the roof-raising phase, even though it was right in the middle of the cut-and-paste work. And it's still there.
Also, with Osborne intent on driving the bus far from standard RV campgrounds, Tatro and crew came up with a 30-foot bank of solar panels that articulates left and right of the bus to create enough electrical power to run the 12-, 24-, 48-, and 120-volt systems the bus required. Holding tanks were insulated and heated, special in-floor circuitry was installed for the interior's radiant heat, axles and suspension were beefed up for the increased load, and so on.
The million-dollar project went on its first "shakedown cruise" in May, which created another list of changes and adjustments before the formal "launch and christening" this summer. 
"Yes, it will have a name," Osborne promised, "although I haven't settled on one yet. I expect the name to just sort of come up and I will know when I hear it." 
---
Ken Textor has been living on, working on, writing about, and cruising boats along the Maine coast since 1977. He lives in Arrowsic.
---
Gamage Shipyard
South Bristol, ME
Share this article:
2023 Maine Boat & Home Show

Join Us for the Maine Boat & Home Show!
Art, Artisans, Food, Fun & Boats, Boats, Boats
August 11 - 13, 2023 | On the waterfront, Rockland, Maine
Click here to pre-order your tickets.
Show is produced by Maine Boats, Homes & Harbors magazine.