Redfern Boat's Newest Launch Rides the Rails
By Laurie Schreiber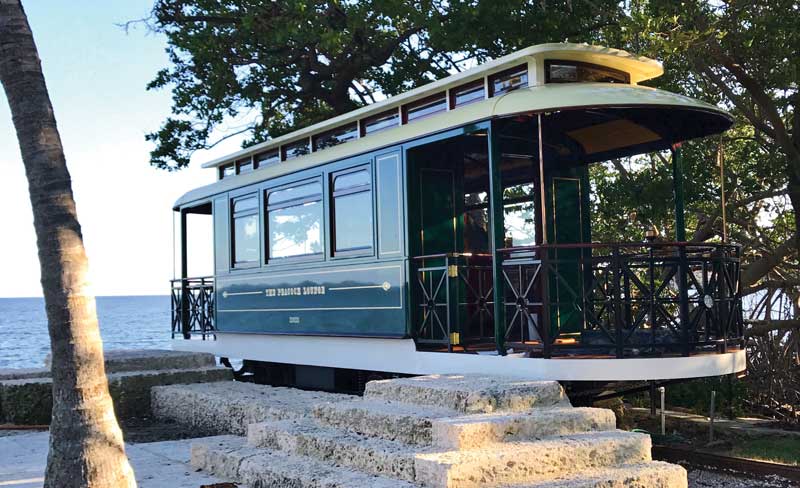 Redfern Boat constructed this replica 19th century trolley, named The Peacock Lounge, for a Florida customer. The train now runs on a track between the customer's home and the shore. Photo courtesy Redfern Boat
More and more boatbuilders are finding that the skills developed while building fine yachts transfer well to other projects. Take Carlton Johnson and his crew at Redfern Boat in West Tremont, Maine. Last winter they finished building a 19th century replica trolley car for a customer in Dade County, Florida.
Although the two-year project was out of the ordinary for the boatbuilder, it employed similar skills while posing interesting new challenges.
"It was so abstract that we had to take it on," said Johnson. The owner "wanted something unusual for his property. One of his children really loves trains, so he said to us, 'I think we should build a trolley.' We were at his home drinking wine, and we said, 'Yeah, I think we should.'"
Named The Peacock Lounge, the trolley is gorgeous, with a gleaming emerald exterior and bright-varnished woodwork throughout. Intricate inlay adorns the yellow birch ceiling and walls. Light enters through beveled windows set into curved frames along the car's clerestory. Mahogany pocket doors open onto both ends of the car, while specially cut mahogany "waterfall" trim pieces create an elegant design flow. Curved porches fore and aft, set with custom-designed steel railings, are shaded with rounded overhead bonnets. 
The customer and his family have a summer home on Vinalhaven and a winter home near Miami, Florida. While in Maine, they visited the Seashore Trolley Museum in Kennebunkport. There they were enchanted by The City of Manchester, which was built in 1898 as a parlor car for the city of Manchester, New Hampshire.
They already knew Johnson because he had built one of his classically styled Redfern powerboats for them in 2003. For Johnson, it was a natural step to go from building boats to building a trolley that combined historic design details with modern-day materials and technologies. That included the composite materials that went into the car's build, and the lithium battery system, which drives two motors—trolleys of yore were powered via overhead lines.
Johnson and his artistic director, Kathryn Walsh, visited the Seashore Trolley Museum numerous times to measure and photograph The City of Manchester and to do research. Through the museum, the owner found an 1896 Danish trolley in a field in Texas. He purchased the undercarriage and had it shipped to the museum for rehabilitation. Johnson and Walsh picked up the completed undercarriage and brought it to their shop in West Tremont.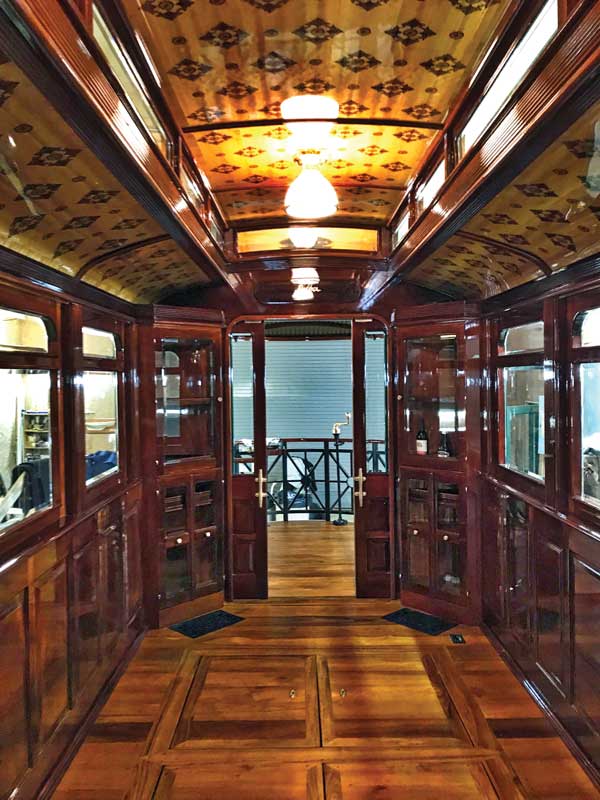 The Peacock Lounge's interior features bright-varnished woodwork and intricate inlay along the yellow birch ceiling and walls. Photo by Laurie Schreiber Johnson assembled a crew of specialized talents for each task, from rough framing to composite work to finish joinery. 
The old trolley had numerous curved pieces of joinery, and no two curvatures had the same dimensions. Redfern replicated the curved pieces but made them uniform, using a computer to create precise dimensions. For this process, measurements were put into a computer-aided design program that controlled a router. This cutting process created identical pieces of window trim, window frames, doorframes, and other trim. 
"There are some things that are very specific to trolleys," said Johnson. That includes the compound curvatures of pieces like the overhead bonnets that shade the fore and aft decks. And along the length of the exterior rubrails, there's an indented curve that was built to allow the wheels of horse-drawn carriages to slip by along narrow streets.
"The streets were so narrow and the carriages had to come so close to the trolley that the wheels would go right into this curve," said Johnson. "We wanted to duplicate that."
Composite materials were selected for the car's exterior because they would best resist Florida's heat and termites. After a paint job with Awlgrip, the crew was ready to tackle the interior joinery. That included an air conditioning system integrated into the framework and cabinetry. The motif of the overhead interior inlay, which was designed by Walsh, is highly intricate. Sprayed with eight coats of epoxy with a gloss varnish on top, "it's one of the first things everybody sees," said Walsh. "It shimmers."
The crew worked on the project right up to delivery time. Then, during a December snowstorm, they loaded the trolley on a flatbed trailer and sent it off to Florida. Today the trolley sits on a track that runs from the family's waterfront home down to the shore.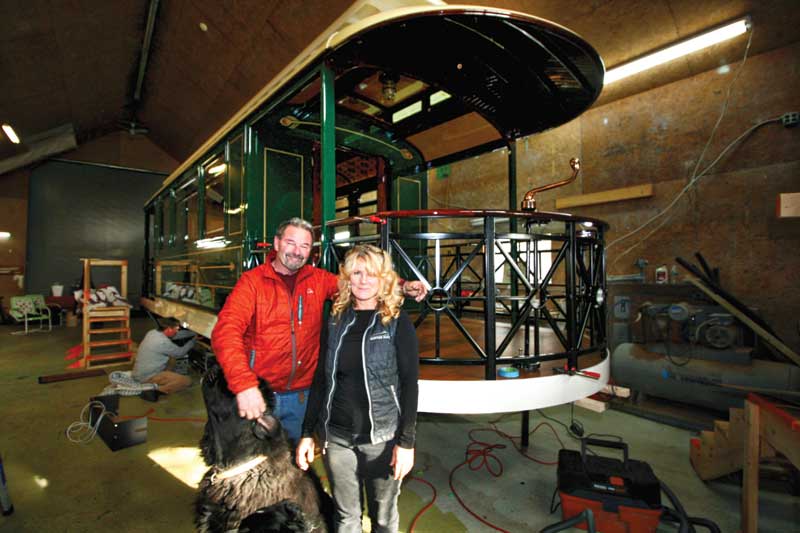 Redfern Boat owner Carlton Johnson and artistic director Kathryn Walsh were meticulous in the detailing of The Peacock Lounge. Photo by Laurie Schreiber
Johnson and Walsh spent some sleepless nights, as they worked out the complex design and the melding of traditional with new.
"Just things like the fact that it was going to be in Miami, and the expansion and contraction of the wood itself—dealing with that problem was a big consideration," said Walsh. 
"We've learned a lot," Johnson said. "There's nothing more fun than going to a cocktail party and someone asks, 'What's new?', and we say, 'We're building a trolley!' And people go, 'Huh?' I really wish the original builders and designers of The City of Manchester were around. I think they'd be gob-smacked." 
---
MBH&H Contributing Editor Laurie Schreiber is also a Mainebiz staff writer and has covered topics in Maine for more than 25 years.
Redfern Boat
Tremont, ME; www.redfernboat.com
In addition to the Redfern Boat crew, Carlton Johnson credits the following companies and independent contractors as being key participants in the trolley project. 
American Lumber Co.
Bristol Bronze Hardware
Gerard Conlin
Bobby Daigle
Hewes & Company 
Ben Hopkins
Maine Coast Lumber
Dave Marks
Kellogg Marin
Nautilus Marine Fabrication
Ocean Options
Bruce Parlee
Portland Glass
Seashore Trolley Museum
Stanley Awlgrip
Tidal Graphics
Kathryn Walsh
Keivard Willar
Share this article:
2023 Maine Boat & Home Show

Join Us for the Maine Boat & Home Show!
Art, Artisans, Food, Fun & Boats, Boats, Boats
August 11 - 13, 2023 | On the waterfront, Rockland, Maine
Click here to pre-order your tickets.
Show is produced by Maine Boats, Homes & Harbors magazine.