From the Publisher — Issue 153
Charting the Future
By John K. Hanson, Jr.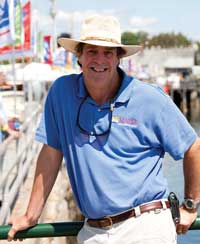 The many traditional industries that work along our waterfront include commercial fishing, boatbuilding, marinas, the schooner trade, boat maintenance and related areas. Equally important are newer areas of innovation such as aquaculture, ocean science labs, companies doing computer-aided design and manufacturing. Here at Maine Boats, Homes & Harbors we find all these trades fascinating. Especially important is understanding and investigating how to strengthen and sustain these businesses so the waterfront will work into the future with our children.
At this year's newly renamed Maine Boat & Home Show we hope to shine a light on some of these industries. The theme of this year's show is "Working the Coast, Charting the Future." On our docks will be two vessels that epitomize the present and our future: Maine Seacoast Mission's Sunbeam, and the Maine Maritime Academy's R/V Friendship. Yes, there will be plenty of yachts, rowboats, lobsterboats, and other watercraft on display—all integral to life on the coast. But these two big working vessels, one from the realm of spiritual and physical enhancement, the other from the world of science, symbolize the underpinnings of our future success on and along the water.
The Sunbeam serves the 10 unbridged, inhabited islands east of Boothbay Harbor: Frenchboro, Swan's Island, Isle au Haut, Great Cranberry, Islesford, Monhegan, Matinicus, Islesboro, Vinalhaven, and North Haven. It brings dental and medical care, education, crisis services, and non-denominational spiritual support during the long winter offshore.
The R/V Friendship has a different role: to educate and inspire the students of Maine Maritime Academy about the wonders and opportunity of science. This floating laboratory is filled with the latest in scientific equipment and tools: side-scan sonar, a ROV (remotely operated vehicle), conductivity-temperature-depth sensors… the list goes on. The graduates from programs such as MMA's Ocean Studies will be our future problem solvers.
We face many challenges along the waterfront, ranging from the effects of climate change to questions about how best to manage our fisheries.
Come to the Maine Boat & Home Show this August 10-12 on the Rockland Waterfront. You will be entertained and educated. And you may even find a new boat to take home! 
Share this article:
2023 Maine Boat & Home Show

Join Us for the Maine Boat & Home Show!
Art, Artisans, Food, Fun & Boats, Boats, Boats
August 11 - 13, 2023 | On the waterfront, Rockland, Maine
Click here to pre-order your tickets.
Show is produced by Maine Boats, Homes & Harbors magazine.