Lady Erin: A Workboat with Yacht Style
By David R. Getchell, Jr.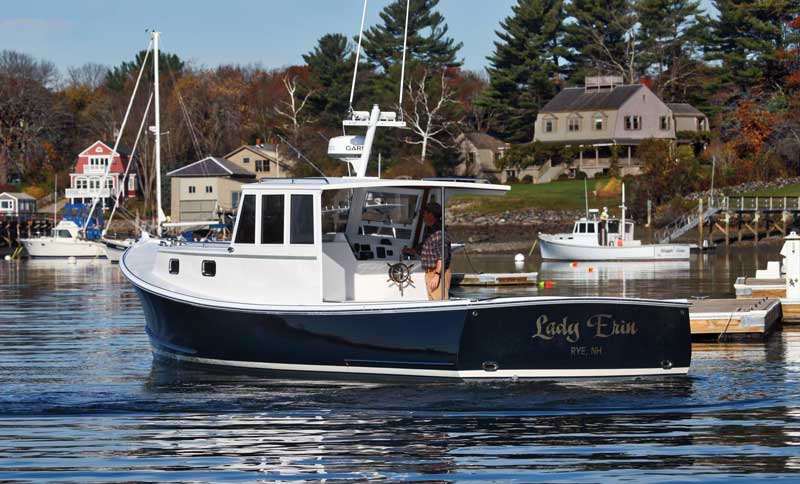 Lady Erin's owner wanted a boat that would be good for day trips, as well as weekend overnights. Photo by Jon Johansen
A motor cruiser, newly restored by Chip Miller and Scott Conrad of Six River Marine in North Yarmouth, has become a new home for a Maine couple.
Katie Mack, a bridgedeck cruiser built in 1932 by John D. and William L. McGregor of Vancouver, British Columbia, features a sumptuous design and style similar to the "Lake Union Dreamboats", production raised-deck cruisers that were built in the early 1900s.
Possibly designed by Seattle naval architect L.E. "Ted" Geary (1885-1960), Katie Mack was used to smuggle Canadian whiskey to the United States during Prohibition, according to a blog by the boat's owners, Hugh and Pam Harwood (katiemackadventure.com.) Retrofitted as a yacht in the 1930s, the boat went through various owners before ending up in Tacoma, Washington.
Enter the Harwoods, from Cumberland, Maine. Hugh, a doctor, and Pam, an alpaca farmer, bought Katie Mack in 2013 after they decided to ditch their home and belongings in favor of the liveaboard life. They had it trucked from Tacoma to Maine and commissioned Six River to begin restoration.
Miller and Conrad—longtime friends who once commercially fished in Alaska and now specialize in restorations, repairs, and new builds—found that Katie Mack needed extensive work. "Some of the planks were rotted away," said Conrad. "You could literally put your hand into the wood and pull out a handful of powder."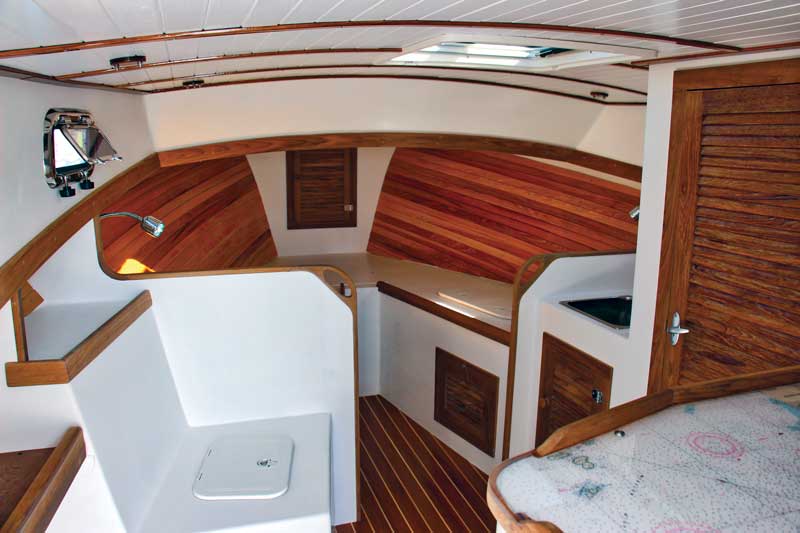 The interior feels like the inside of a wooden yacht. Photo by Tara Silber
The job included installing all new frames, a new skeg, and most of the floor timbers and planks.
To get at the framing, they removed the caprails, cleared the thru-hulls and butt blocks, and steamed up new white oak frames and then inserted them from above, like pegs into holes. Old frames were left in place, acting as a jig. 
"The new frames went in pretty fast," said Conrad. "It was easy to install them and get them secured."
The job of tackling the planks was complicated by the presence of a ton of clinch nails that proved too difficult to remove. Instead, Six River cut the planks away along the seams, taking short chunks of old frames as they went. The old planks served as patterns for new planks. Alaskan yellow cedar was chosen for its clear stock and long lengths. 
Also installed were a new transom, shaft log, horn timber, stem, caprails, and floor timbers everywhere except under the engine, which was left in place throughout the project. They rebuilt the skeg and scarfed it to the keel. Soles are new throughout except in the wheelhouse, which stayed original. Updates below decks include new ceilings, master bed, and galley counters. The saloon bulkhead was replaced and saloon berths rebuilt.
Navigation, electrical, safety, and plumbing systems, and various engine parts, are new, along with galley amenities, including a new wood-fired cookstove from the 1950s to replace the diesel stove. The head features a teak hatch cover from a Canadian minesweeper that serves as the sole, with a copper pan underneath for shower drainage. 
"It was a challenge to figure it all out and put it together," said Miller. "We had a lot of fun doing it." 
---
MBH&H Contributing Editor Laurie Schreiber is also a Mainebiz staff writer and has covered topics in Maine for more than 25 years.
---
Holland 32 Lady Erin
LOA  32' 1"
Beam  10' 6"
Draft  3' 3"
Power  370-hp Yanmar 8GLV diesel V-8 
Builder:
Holland's Boat Shop
Belfast, ME
www.hollandsboatshop.com
Finisher:
Kittery Point Yacht Yard
Kittery, ME
www.kpyy.net
Share this article:
2023 Maine Boat & Home Show

Join Us for the Maine Boat & Home Show!
Art, Artisans, Food, Fun & Boats, Boats, Boats
August 11 - 13, 2023 | On the waterfront, Rockland, Maine
Click here to pre-order your tickets.
Show is produced by Maine Boats, Homes & Harbors magazine.