Hybrid Design Combines the Best of Wood and Plastic
By Stephen Rappaport
Photographs by Lorraine Stanley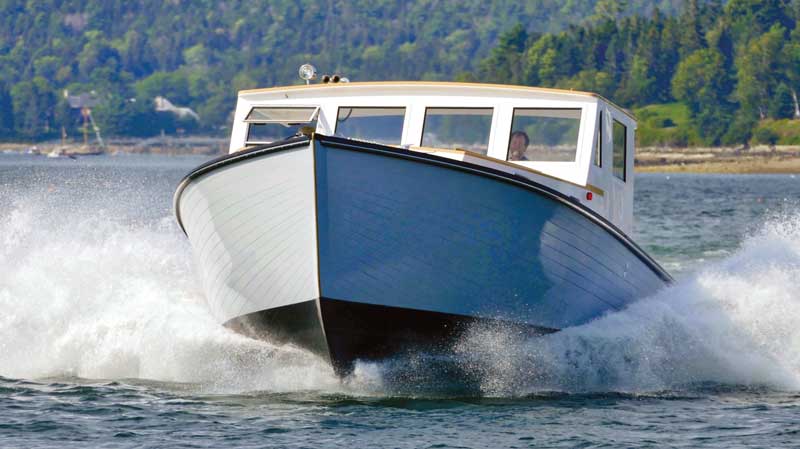 Boatbuilder Richard Stanley calls his recently launched 38' lobsterboat National Pride a "fully evolved solution." It combines a planked wooden hull with a custom-built fiberglass superstructure.
Whether cruising among the islands of Penobscot Bay or lobster fishing offshore, there's nothing quite as comfortable as a well-designed, well-built wooden boat. The drawback for most people, though, is the idea that a wooden boat requires more maintenance than a fiberglass boat of similar size.
Boatbuilder Richard Stanley thinks that idea is wrong, and he's out to prove it with National Pride, a 38-foot lobster- and tuna-fishing boat he launched last summer at his boatshop in Bass Harbor.
What makes the boat unique is that it combines a traditional plank-on-frame wooden hull and cockpit sole with a top that incorporates the foredeck, cabin, pilothouse, and side decks in one custom-built, foam-cored fiberglass structure. Stanley calls the hybrid construction his "fully evolved solution."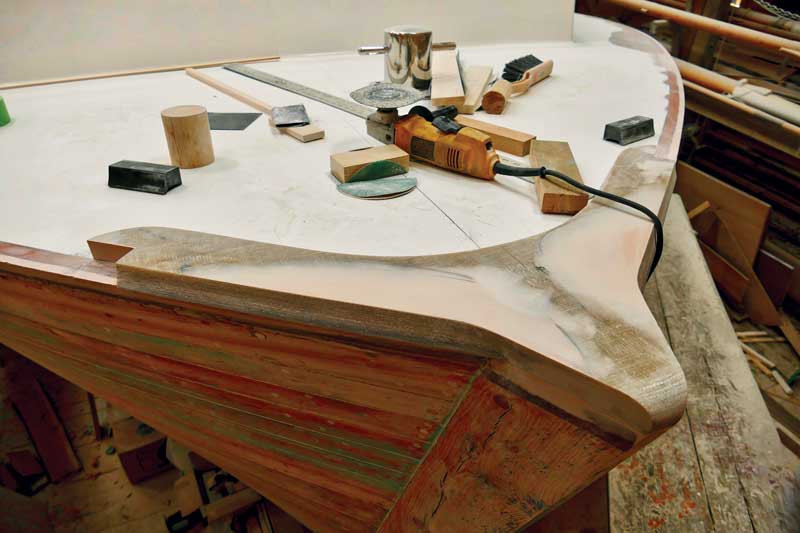 The forward part of the wooden toe rail forms a rugged foundation for fastening port and starboard bow chocks and the upper end of the stem iron.
"A properly put together wooden hull usually doesn't have many problems as long as it's taken care of," Stanley said. And he ought to know. As a child, he began working with his father, Ralph Stanley, in the family's Southwest Harbor boatyard. From the time he was a teenager he built wooden boats—lobsterboats, Friendship sloops. He learned what worked and what didn't.
What doesn't work, he found, is a wood top—the structure that includes the pilothouse or shelter, the cabin, foredeck, and washboards. Wood tops do require a lot of maintenance to prevent, or at least reduce, the freshwater leaks and condensation that lead inevitably to rot, first in the top itself and, if not addressed, in the hull.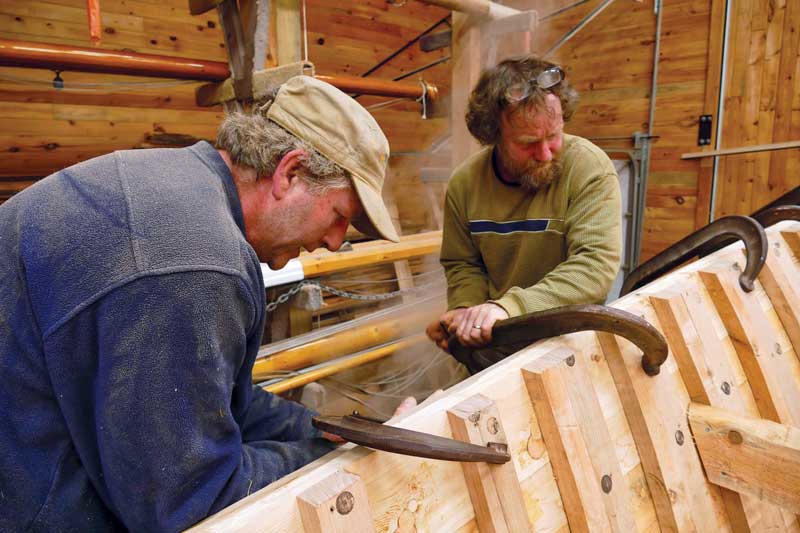 Richard Stanley (left) and Jonathan Minott attach National Pride's oak sheer clamp along the outer face of the sheer plank to "give it the idea" of its final shape.
National Pride is Stanley's solution. The full-bodied "built-down" wooden hull is deep enough to fit a 550-hp John Deere diesel beneath a flush cockpit sole and should provide an easy, comfortable motion under way or lying-to while hauling and setting lobster traps. The fiberglass top is attached to the hull using a solid flange that is bonded to a heavy oak sheer clamp and shelf assembly with 3M 5200 adhesive. The seam between the edges of the side deck and the sheer plank is sealed with fiberglass set in epoxy resin.
Compared with a conventional wooden top, or a top built from fiberglass-covered plywood, National Pride's top weighs about 1,500 pounds less, Stanley said. The total displacement is about 28,000 pounds. The lighter weight reduces the boat's tendency to roll and contributes to its speed.
During initial sea trials, National Pride topped out at 21 knots with a full load of passengers on board for the first run—not bad for a boat that has a relatively small engine for its size. National Pride's owner asked Stanley for a boat he could take fishing for tuna or carry up to six passengers on a daytrip to see how lobster fishing is done, so the boat is simple, but nicely finished.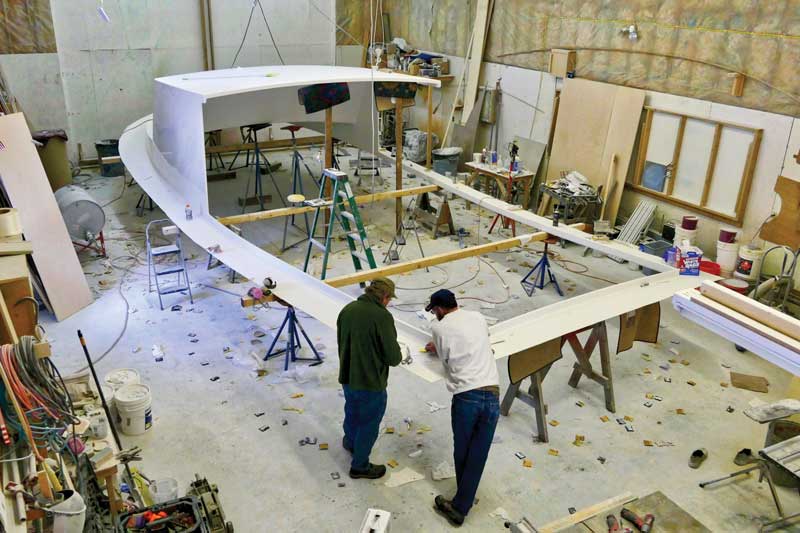 The boat's fiberglass "top" was fabricated off site and delivered to the shop to be installed on the wooden hull.
The cockpit sole is Douglas fir and the cockpit ceilings are white fiberglass. Below, the cabin includes a pair of V-lockers that could serve as berths, an enclosed head, and space for a small galley. Except for the painted cabin sole and locker tops, the cabin is varnished throughout, including the pine ceilings that run forward from the main bulkhead to the forepeak.
As good a working boat as National Pride appears to be, it doesn't take much imagination to picture Richard Stanley's "fully evolved solution," with a couple of comfortable captain's chairs and maybe a big cooler in the cockpit and cushions and a galley in the cabin, as an extremely comfortable weekend lobsteryacht with impeccable downeast lineage. 
---
Stephen Rappaport is the Waterfront Editor at The Ellsworth American, has lived in Maine for 30 years, and is a lifelong sailor.
---
National Pride
LOA  38'
Beam  15'
Draft  4' 9"
Displ.  28,000 lb.
Richard Stanley Custom Boats
Bass Harbor, ME
www.richardstanleyboats.com
Share this article:
2023 Maine Boat & Home Show

Join Us for the Maine Boat & Home Show!
Art, Artisans, Food, Fun & Boats, Boats, Boats
August 11 - 13, 2023 | On the waterfront, Rockland, Maine
Click here to pre-order your tickets.
Show is produced by Maine Boats, Homes & Harbors magazine.