Downeast Outboard Express Cruiser
By Polly Saltonstall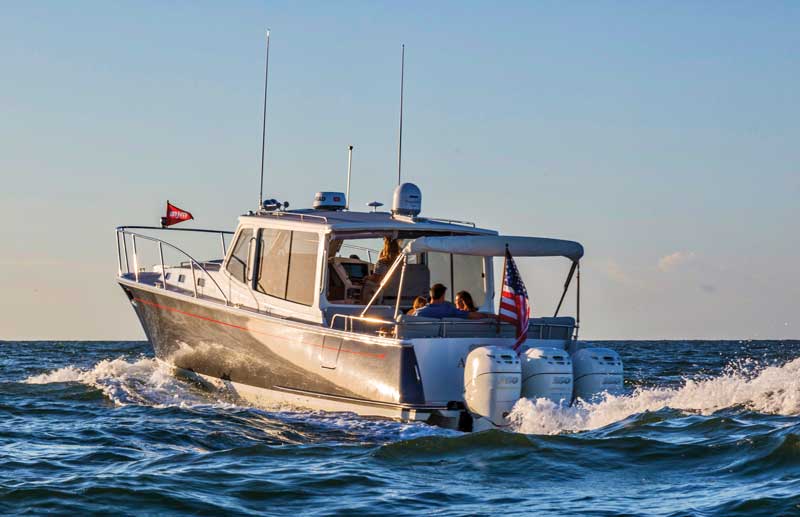 Triple 350-hp outboards give the new MJM 43z a considerable amount of speed: up to 53 mph. Photo by Jim Raycroft
There's been a trend in the boat world the last few years toward ever-faster, outboard-driven center-console powerboats. Companies that build comfortable cruisers have taken note, starting with MJM, which has introduced what founder Bob Johnstone calls the first-ever outboard express cruisers with downeast styling.
The newest, the 43z, features the same downeast style hull and styling as the more sedate MJM 40z, but can go as much as 10 mph faster, up to 53 mph with the throttle down.
"This boat is designed for people who now own an outboard-powered center console, but want more comfort under way and the ability to do overnights," Johnstone said. "This boat will appeal to the entire family. It is fast and fun to drive as well as comfortable in all weather. In a center console, the only person comfortable is the guy driving."
The company introduced its first outboard powered cruiser, the 35z, last July, followed quickly by the MJM 43z in September. The 43z has triple Mercury Verado outboards on its sculpted transom—the 35z has twin outboards— and both are selling very well, Johnstone said. A 53z with quad outboards is in the works, with a planned 2019 launching date.
With the outboards up, the 43z draws just 2 feet—and a mere 3 feet with the engines down—which allows it to cruise through shallow water, or drift just off the beach during a picnic. Two side doors and a door in the transom allow easy boarding. The spacious cockpit area, with windows and windshields that can be opened, is all one level until you step down below into the cabin, which is decorated Herreshoff style, white with cherry trim. Accommodations include a working galley, an island berth for two, a head to port with separate shower, and seating to starboard that can convert into a bed. The seating in the cockpit also can be converted for sleeping.
The MJM 43z is the outboard version of the IPS-powered MJM 40z. To create the 43z, the 40z's hull was extended to 42 feet 7 inches with a robust outboard propulsion platform. The LOA with engines and anchor roller is more than 46 feet. Designed by Doug Zurn, like all the MJMs, the 43z features joystick piloting, Skyhook, autopilot, easy pre-flight checks, and quiet running. The Zurn-designed hull provides a smooth 3.5:1 length-to-beam running surface.
The longevity and quality of an inboard boat is often defined by engine life, while that of an outboard boat isn't, because it's no big deal to clamp on a new outboard. Johnstone noted that outboards these days have achieved an "automotive level of reliability."
The epoxy composite 43z, built lighter and "Boston Strong" by Boston BoatWorks, can travel over 330 miles at a cruising speed of 40 mph. Not bad for a big boat! 
---
Polly Saltonstall is editor of this magazine.
---
MJM 43z 
LOA  46' 3 1/2"
LWL  42' 7"
Beam  12'
Draft  3' 1"
Displ. ½ load  18,960 lb.
Power  Triple 350-hp outboards
Top speed  53 mph
MJM Yachts
www.mjmyachts.com
Builder:
Boston BoatWorks
Designer:
Zurn Yacht Design
Marblehead, MA
www.zurnyachts.com
Share this article:
Digital Edition Available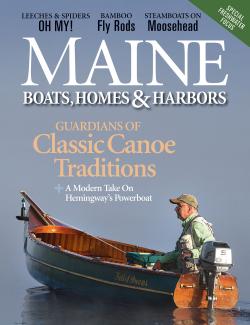 Can't get to the store to buy your magazine? We deliver the stories of Maine's coast right to your inbox. Sign up here for a digital edition.