Chips: New Life for a Classic Racer
By Martha Coolidge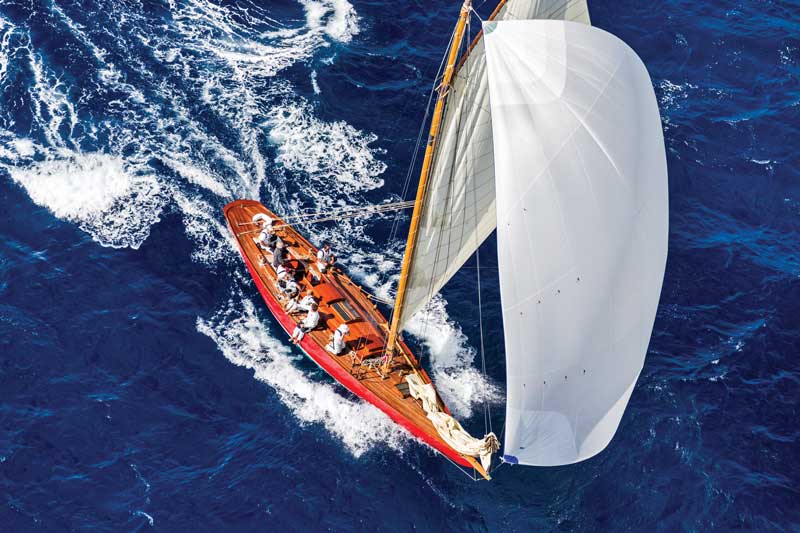 After a complete restoration by John Anderson and his crew in Maine, Chips is now causing a stir on the Mediterranean race circuit. Photo by Carlo Borlenghi
No sign marks the driveway that leads to John Anderson's boat shop in the small inland town of Warren, Maine. You might notice a dilapidated hull on the side of the road displaying the long overhangs and full keel of racing yachts from the early 20th century, but the turn into the driveway is unmarked. A dirt lane lined with handsome stone walls leads to a farmhouse, a big barn, and sheep grazing in fields that gently slope down to a big pond.
A large new shed, tucked away on the south end of the property could be anyone's barn or work building. Several cars parked outside are the only clue that something more is happening here. Inside this unassuming structure is a high-class boatbuilding shop. A handful of vintage racing yachts now sailing in the Mediterranean were given new life here.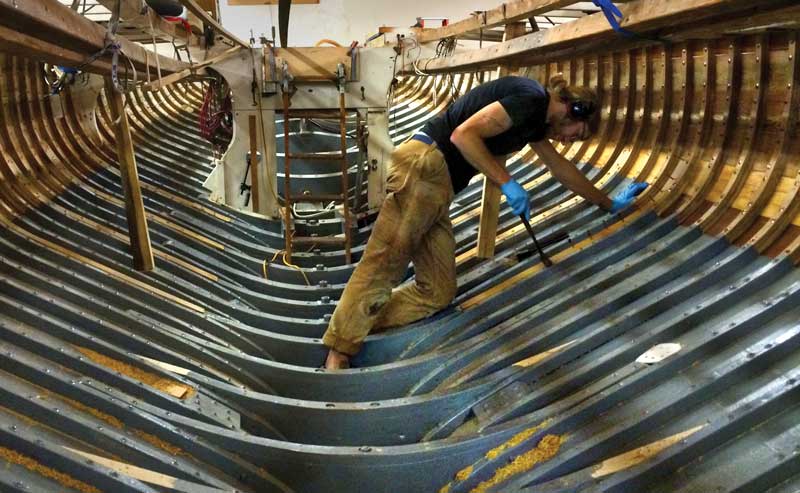 Simon Jack rivets floor timbers in the hull. Photo by Matt Floge
When I walked into the building in the fall of 2016, the hull of a classic P Class sloop loomed overhead, held up by jack stands and surrounded by skinny scaffolding.
Originally launched in 1913 with the name Onda III, and now called Chips, this boat was designed by Starling Burgess and built by the Burgess Company in Marblehead, Massachusetts. Although the company and designer were primarily focused on airplanes that year, Onda III (Chips) proved not only to be one of the longest lived of all the boats designed and built by Burgess, but also among the loveliest and most successful entrants in the Universal Rule class of racing sailboats, according to Llewelyn Howland's biography of Burgess, No Ordinary Being (David R. Godine, 2014).
The Universal Rule was a ratings formula developed by N.G. Herreshoff in the early 1900s that took into account a boat's length, sail area, and displacement. Yachts were divided into development classes ranging from the very large J Class boats on down, getting smaller as the class letter got closer to Z.
Anderson has worked on a series of Universal rule yachts for two French brothers, starting with the 1931 Frank Paine Q Class yacht, Falcon II, which was rechristened Jour de Fête. The brother of Jour de Fete's owner, working with French Olympian and America's Cup sailor Bruno Troublé, then asked Anderson to restore the P class boat named Olympian. Designed by William Gardner and built in 1913, Olympian was relaunched in 2013 and was chosen as 2014 Classic Boat of the Year in France. At this point one brother had a P and the other a Q. Then, another two men, friends with the brothers and avid sailors consulted with Troublé about acquiring another P Class boat and he recommended Chips and once again returned to Anderson with the project. Chips, based in Newport, Rhode Island, had been sailing and racing since the 1980s, but was in need of some love.
Anderson's approach to restoration is to keep as much of the original boat as possible. With Chips, he was able to save the deadwood, the stem, the ballast, and most of the planking (the sheer was rotten) from the 1913 build. The rig dated to the 1980s and was good, although Anderson added more sail area.
These Universal Rule boats were built quickly and light, and the frames, which are built on 8-inch centers, are the first to fail. Anderson was able to save maybe 10 of the originals.
The interior is simple. Anderson took some of the best long leaf yellow pine planks from the hull and used them for the sole, making a nice visual statement of the boat's history.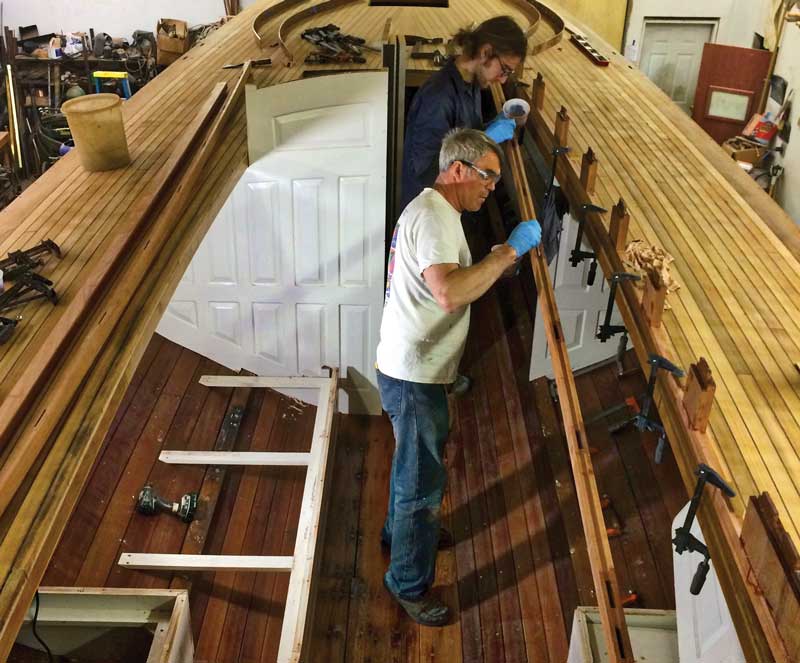 Simon Jack and John Anderson glue up the house sides of Chips, using the deck as a mold. Photo by Matt Floge
His small crew of talented boatbuilders—head shipwright Matt Floge, Abe Stimson, Daniel Creisher, and Simon Jack—does everything: carpentry, mechanics, hardware fabrication, and painting. Anderson particularly enjoys making molds for the bronze castings, using clay and even real rope—the result is perfectly imperfect.
Chips, now painted red, is berthed in Marseille, next to Olympian, whose topsides are green. The boats are very different; such are the results of the Universal Rule. Chips, a much lighter boat than Olympian, was overpowered on many of the racing days in the Med last summer.
When I caught up with Anderson in April, he had just returned from France where he had done some work to Chips, moving the mast aft a foot or so, modifying the bowsprit, and repairing some damage. The yard's current project is restoring N.G Herreshoff's P Class yacht Corinthian.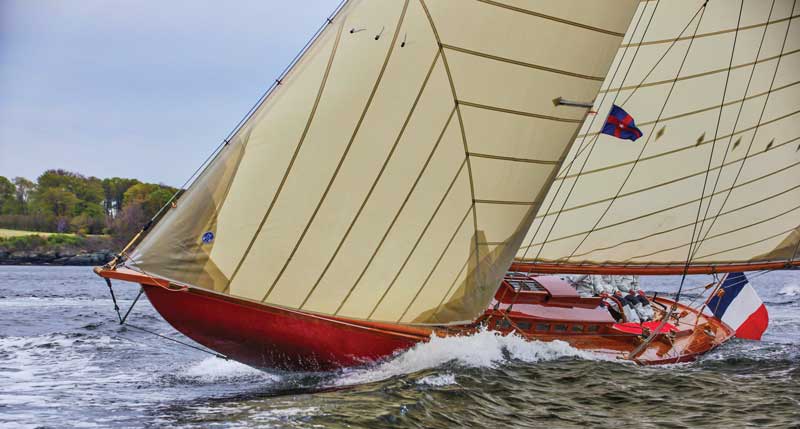 Photo courtesy John Anderson
After visiting the shop, my son and I walked with Anderson down to his house so he could start dinner for his family. My son wanted to show me the newborn twin lambs, just hours old.
He's a boatbuilder, but Anderson does not think of himself as the owner of a "boatyard." He told me about the time an Italian client came to visit and commented, "This isn't a boatyard, it is a sheepyard!" which is the way Anderson thinks of his operation. If that is the case, then this incredible boatbuilding spot is certainly a mighty fine sheepyard. 
---
Martha Coolidge is a sailor and interior designer specializing in boat and home projects. Martha Coolidge Design, is based in Rockland.
---
P Class Sloop Chips
LOA  53' 1"
LWL  35' 1"
Beam  7' 7"
Draft   10' 4"
Displ.  23,000 lb.
Sail area  ~1,300 sq. ft.
Designer:
William Starling Burgess, 1913
Restoration:
John Anderson
Warren, ME
johnanderson348@hotmail.com
Share this article:
2023 Maine Boat & Home Show

Join Us for the Maine Boat & Home Show!
Art, Artisans, Food, Fun & Boats, Boats, Boats
August 11 - 13, 2023 | On the waterfront, Rockland, Maine
Click here to pre-order your tickets.
Show is produced by Maine Boats, Homes & Harbors magazine.