Anna: A 65' Cold-Molded Sloop
By Lynda Clancy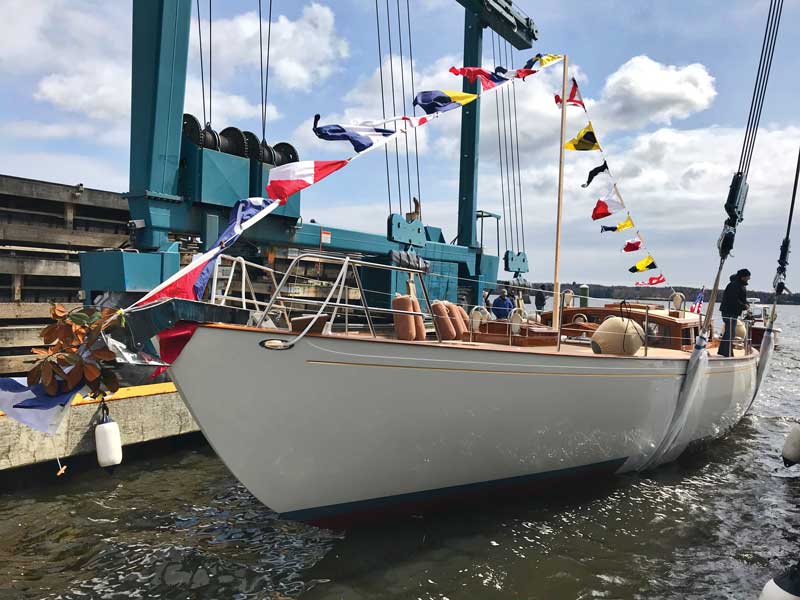 On an early April afternoon, the launch ramp at Lyman-Morse in Thomaston echoed with jubilant cheers as the 65-foot cold-molded sloop Anna was gently lowered via a large Travelift into the St. George River.
After a long, dreary winter, a festive launching of a beautiful boat was just what this crowd wanted. Anna's creamy white hull gleamed and colorful signal flags snapped back and forth in the brisk wind off the river as the owner's wife smashed the traditional bottle of bubbly on the bow and a small cannon fired.
The sloop, built for an owner who plans to sail in New England, was a creative collaboration among Belfast yacht designers Robert Stephens and Paul Waring, Rockland interior designer Martha Coolidge, and Drew Lyman, owner of Lyman-Morse, who pulled together a team of artisans to complete the two-year project. 
"The owner came to us for our expertise in systems engineering and installation, our attention to detail and responsiveness to owners' requests," said Lyman. "In addition, our strength lies in quality and cost-management, both of which are crucial in a project this complex."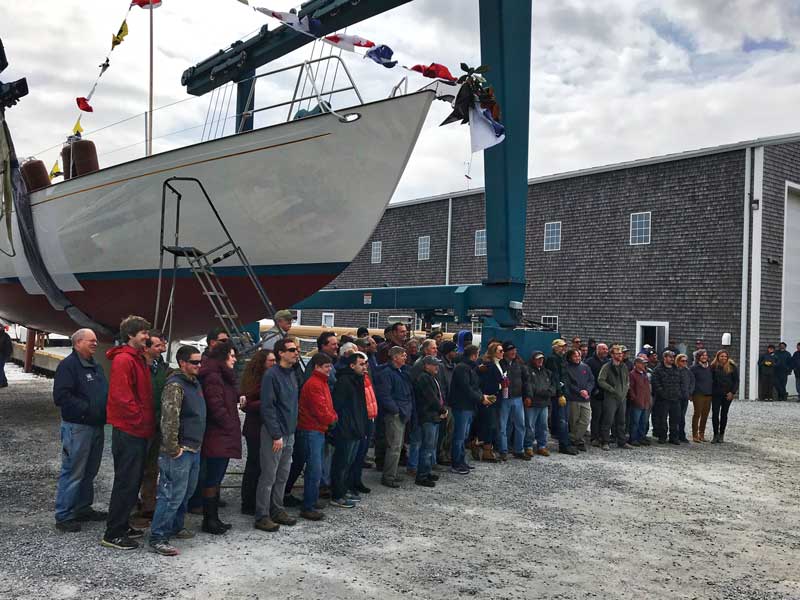 It takes a village to build a gorgeous new boat. The crew of builders, designers, and Lyman-Morse employees line up with Anna's owners before the launching.
Carpenters, metal fabricators, electricians, draftsmen, and riggers helped take the design from concept to fully-built vessel, first carefully crafting a full-scale mockup, then various alternative walk-through layouts. Next came the structural components, the finished hull and cockpit, and then the custom-designed deck hardware, rail systems, butterfly hatch hardware, and amidships boarding step.
This was the biggest cold-molded boat the yard has built to date. Lyman-Morse has been known previously for its custom fiberglass projects. Key to the process was the use of the mockups, computer modeling, and actual 3D models, Lyman said.
"This fine-tuning step sets the process at Lyman-Morse apart from the typical boatyard approach," he said. "Several designers can work on the same component in real time ironing out details on the desktop rather than on the shop floor. This is the name of the game."
Anna boasts a classic look, with a graceful sheer and a tall salon with big windows on the same level as the cockpit. But while she looks traditional, she has all the modern conveniences, such as a fin keel with a bulb, carbon spars and push-button hydraulic systems, including that amidships boarding platform and an anchor launching system.
Anna was designed to be an easy daysailer for taking friends and family on the water, but can also sleep six for longer cruises. 
The 95-foot carbon mast will carry a large main, and the jib can be rigged for self-tacking or manual. The hull consists of two layers of red cedar veneer sandwiched between inner and outer layers of fir planking, covered with a thin layer of fiberglass. The frames are laminated douglas fir. 
The interior was constructed on the shop floor in two primary modules. The port side module included the aft crew cabin, guest cabin, and guest head. The starboard module included the galley, master shower, and head. The master cabin bed and cabinets were constructed as several smaller modules. This approach allowed work to progress on several fronts at once, which speeded up the construction process.
Anna's owner said he interviewed five different yards, including one in Nova Scotia, before settling on Lyman-Morse. He was impressed by the yard's competency with modern systems.
"Carbon spars and rigging, hydraulics and electric winches, a lot of people make those, but someone has to put it all together. The integration was key," he said.
Looking back on the process, he said, "Building a boat is an incredible experience. You can get so wrapped up in details in a pleasant way. The next step is, will you enjoy using the boat as much as the build process?"
Anna's classy looks and modern systems are sure to make her an absolute joy to sail. But no one in Maine would argue with this owner if he decided he wanted to build another boat.  
---
Lynda Clancy, a founding director of Penobscot Bay Pilot, has been reporting in Maine since 1984.
---

Anna 
LOA  65' 5"
LWL  47' 10"
Beam  16' 10"
Draft  7' 6"
Displ.  57,000 lb.
Sail Area  2,040 sq. ft.
Mast Height from DWL  91'
Engine  Steyr 160-hp
Yacht Design:
Stephens Waring Yacht Design
Belfast, ME
www.stephenswaring.com
Interior Design:
Martha Coolidge Design
Rockland, ME     
www.marthacoolidgedesign.com
Builder:
Lyman-Morse
Thomaston, ME
www.lymanmorse.com
Share this article:
2023 Maine Boat & Home Show

Join Us for the Maine Boat & Home Show!
Art, Artisans, Food, Fun & Boats, Boats, Boats
August 11 - 13, 2023 | On the waterfront, Rockland, Maine
Click here to pre-order your tickets.
Show is produced by Maine Boats, Homes & Harbors magazine.