Way Back When — Issue 152
Rangeley Lake Hotel
By The Editors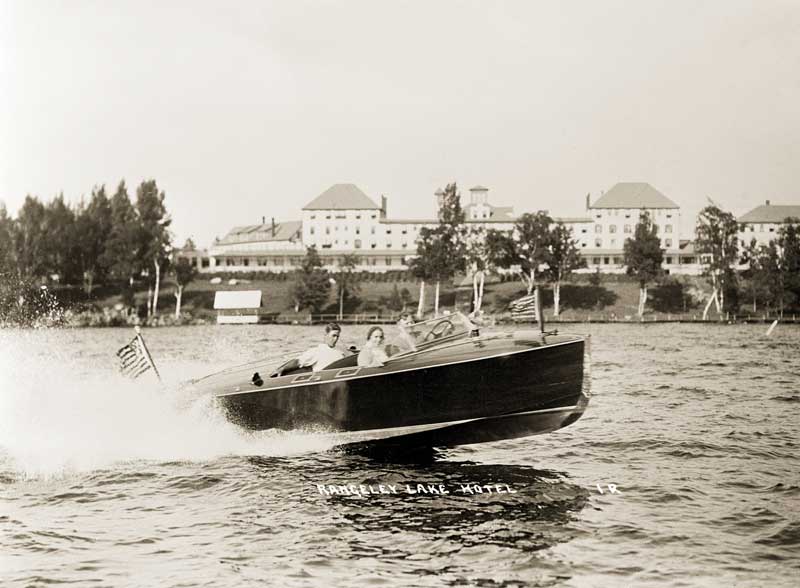 The roaring speedboat with its bored-looking passengers, viewed against the backdrop of the luxurious Rangeley Lake Hotel, creates a Gatsby-esque scene. The speedboat was as far removed from the classic Rangeley Lakes rowboat as was the sprawling hotel from an old-time Rangeley sporting camp.
The Rangeley Lake Hotel originated in 1877 with the construction of the 14-room Rangeley Lake House. Around 1895 the hotel was moved, in two sections, closer to the lake's shore and a 20-room annex added. By 1908 another 25 rooms, guest cottages, a 350-seat dining room, a golf course, a gas plant for lighting, and a steam plant for late-season heating had been added. New ownership in 1928 changed the name to Rangeley Lakes Hotel. Closed during World War II, the hotel was purchased in 1946 by the Sheraton Corporation, which, after 1953, attempted to get clear of what had become an outdated facility. In 1958 a buyer sold the furnishings, razed the buildings, and subdivided the property. 
From about 1891 until 1935, the Rangeley Lake House/Hotel enjoyed a symbiotic relationship with the Sandy River and Rangeley Lakes Railroad, a narrow-gauge (two-foot-wide) operation that connected with the standard-gauge Maine Central at Farmington. In 1902 a standard-gauge line (leased by Maine Central in 1908) connected the MCRR at Rumford to Oquossoc, on the western end of the lake. (This line was extended to Kennebago in 1908.) All rail service ended in 1936.
Photograph courtesy Penobscot Marine Museum
---
Excerpted and reprinted with permission from Maine on Glass: The Early Twentieth Century in Glass Plate Photography, by W.H. Bunting, Kevin Johnson, and Earle Shettleworth, Jr.,Tilbury House Publishers, with the Penobscot Marine Museum, 2016.
Share this article:
2023 Maine Boat & Home Show

Join Us for the Maine Boat & Home Show!
Art, Artisans, Food, Fun & Boats, Boats, Boats
August 11 - 13, 2023 | On the waterfront, Rockland, Maine
Click here to pre-order your tickets.
Show is produced by Maine Boats, Homes & Harbors magazine.