First Boats
The glorious Century Palomino
By Bruce Lewis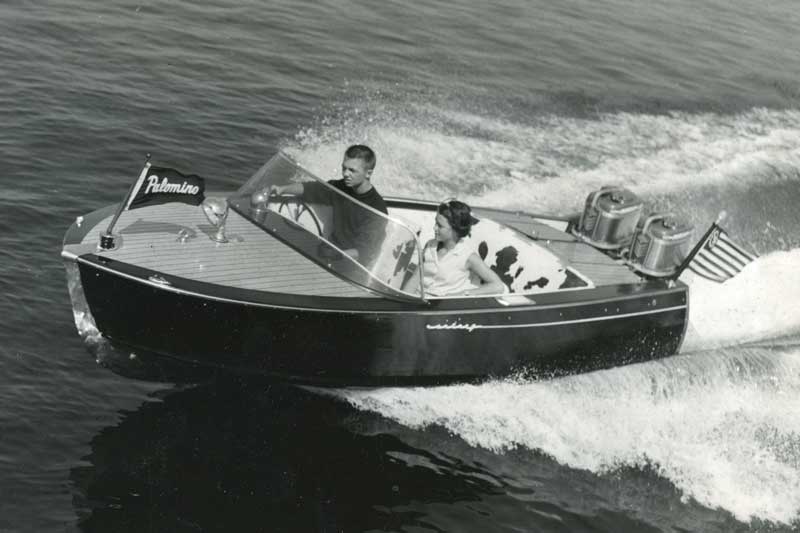 Founded by two brothers in Milwaukee, Wisconsin, in 1926, the Century Boat Co. built some of the most innovative and stylish boat lines of the mid-1900s. Some of the company's more popular models—including Sea Maids, Ravens, and the Palomino—featured innovative paint schemes, moveable hard tops, and fiberglass design panels incorporated into the mahogany structure. By 1969, the company had switched over to fiberglass. This photo shows the author driving his Palomino back in the day. Photo courtesy Bruce Lewis
During the warm-weather months, a bunch of us gather and have lunch on Fridays at noon on the outer deck at DiMillo's Restaurant & Lounge, overlooking the harbor (we usually share the classic DiMillo's Lobster Club). The conversation often turns to the waterfront and boating. One day the subject was first boats—not little boats like rowboats, but first "real" boats, motor or sail.
I jumped in first. "Oh boy, I sure do remember my first boat and the day I got it will stay with me forever." 
My dad loved surprises. He said he wanted to take me for a ride to see "something."
We drove to Waterville, Maine, arrived at the railroad station, and stopped at the siding behind the terminal. There, on a parked railcar, wrapped in canvas, was the big surprise. As the crew unwrapped it, I got my first glimpse of my first boat and it took my breath away. It was a Century Palomino. A glistening black hull, blonde decking, flashy pinto seats, and a dashboard that looked like it belonged on a sports car. 
From the railcar, it was loaded onto a truck and delivered to Leadbetter's Machine Shop on Bayview Street in Camden. They were to install all the extras. The most exciting part was the twin, 40-hp outboard engines. Leadbetter's said their work would take three days.
My father and I returned to our summer home on Ocean Point in Boothbay with photos and brochures of my first boat. Everybody had to hear all about "Bruce's first boat."
Finally, after the longest three days ever, Leadbetter's called and said the boat was ready. When we arrived at the yard there it sat, waiting for me and ready to go. Mr. Leadbetter gave us the complete rundown of all the parts: tachometers, compass, fuel gauges, outboard controls, steering wheel, and those twin 40-hp Mercury outboards.
Then it was launched for my first sea trial. What a ride. It took my breath away. And then we took it back to our cottage at Ocean Point. Oh, how that boat changed my life that summer. Everybody wanted a ride in my "special boat." No problem getting a date that summer—my Palomino was a real girl magnet. I was the hit of the area, zipping around Linekin Bay and Boothbay Harbor. I was "that kid" in "that boat."
I still think of that as my Palomino summer. There have been other boats since, but I shall never forget this one.
That was my first boat. Do you remember yours?      
---
Bruce Lewis lives in Portland, Maine. He and his wife, Hona, are Realtors at Keller Williams Realty and specialize in waterfront properties.
Share this article:
Digital Edition Available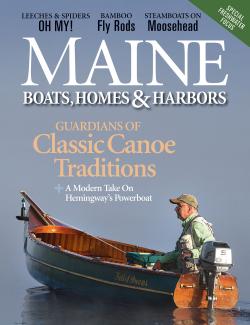 Can't get to the store to buy your magazine? We deliver the stories of Maine's coast right to your inbox. Sign up here for a digital edition.