The Art of the Commission
You end up with a special artwork and a good story
By Silvio Calabi
Photographs by Sarah Szwajkos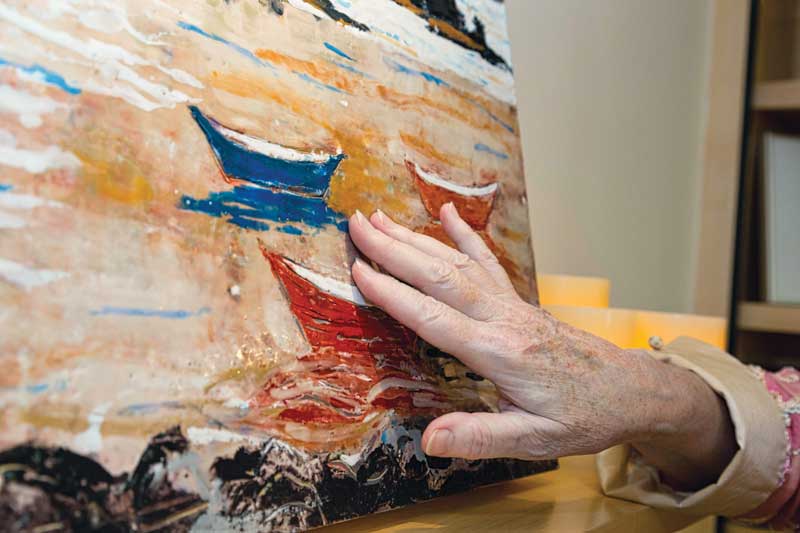 Bramhall commissioned the encaustic work in part because she can experience the painting by touching its textured surface. Encaustic's mix of pigment and beeswax, heated and layered on, enhances an image's reflectivity and colors and even provides a faint, sweet scent. Vennema's encaustics become even more interesting when viewed close-up. The splatters and lozenges, bumps and hollows order themselves into layers; the hues that read one way at a distance begin to separate into distinct colors. The wax has a warm, living sheen. "Every now and then," Vennema says, "you can wipe it with a soft rag, to bring back the luster."
A woman, a man, and a dog walk into an art gallery… No, it's not a joke. But there is a punch line, and it has to do with commissioning a piece of art, as opposed to pointing to something on the wall and saying, "Right, we'll have that one!" 
A commission is the creation of a special work (sculpture, mobile, weaving, photograph, ceramic, totem pole, etc.) to fill a special need. The need might be a location that calls for a certain size or shape, or colors; or a client with special needs. In our case, it was all of the above. We'd left a horizontal space above a new fireplace and, in anticipation, angled a fisheye light down at the vacant wall from the ceiling. My wife Sue is well along in the downward arc of RP, Retinitis Pigmentosa, a mysterious condition that eats away one's peripheral vision until all that's left is a pinhole—which may eventually blink out. Colors fade too. Sue can no longer see most paintings well enough to appreciate them—and she still thinks my hair is dark. This meant we needed a work with sensory appeal.
Main Street, Rockland, might be called Gallery Avenue. Caldbeck, Dowling Walsh, Gallery One, and many more artistic establishments are clustered there, as well as the Farnsworth Art Museum and the Center for Maine Contemporary Art, now in its remarkable new building. Just as Maine, with its brooding sea, bony granite, woolen fogs, and lambent light, has gathered artists since the days of Winslow Homer and George Bellows, Rockland has become a magnet for patrons of those artists.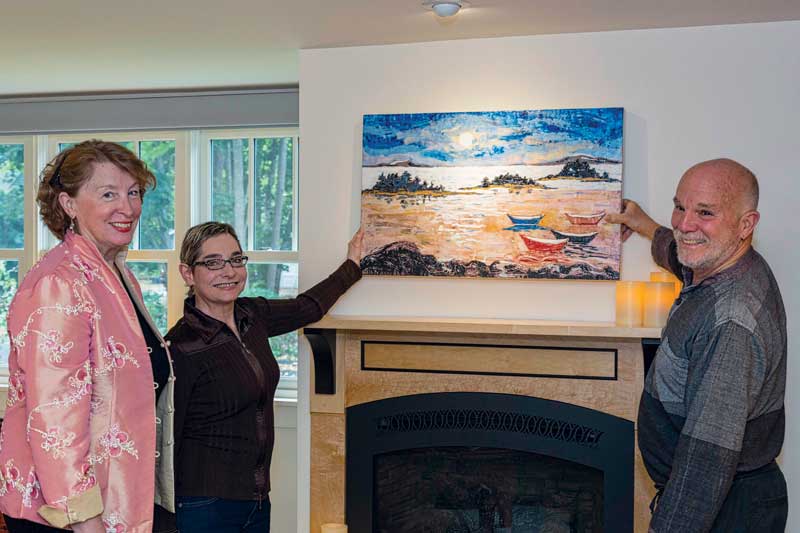 Gallery owner Tom O'Donovan (right) helped hang the painting Safe Harbor (20" x 32") by artist Willa Vennema (middle) over a mantel in Sue Bramhall's (left) home.
Our favorite Rockland gallery is Harbor Square, located between Museum Street and Archipelago, the retail shop of the Island Institute. One day last July, on the bottom-most of Harbor Square's five floors, Sue came to a dead stop before two midsize seascapes—dories, rocks, firs, distant coastlines. She saw pleasing shapes and gleams of light. Almost involuntarily, she reached out and brushed her fingers over them. (Don't do this in a gallery—at least not when the staff is watching.) The surfaces were alternately smooth as glass, where the light reflected, and interestingly bumpy. 
The wall card identified the painter as Willa Vennema and her technique as "encaustic." We now know this is an ancient medium that uses layers of beeswax tinted with pigments and applied hot—usually to wood, not canvas or paper—with metal tools or special brushes. The waxy surface reflects light. Put your nose up to it, and there's a warm, sweet tang. This is art in four dimensions. 
But the two Vennema works on display were vertical and we needed horizontal. Harbor Square's owner, Tom O'Donovan, put us in touch with Vennema, who has a summer studio on Swan's Island and retreats to Portland for the winter. She emailed, "I am so pleased to have received a commission from you! As Tom mentioned, I will not be able to start it until September when I am back in Portland. Meanwhile, I will be soaking up inspiration from this gorgeous part of Maine." 
Eventually, Vennema visited us in Camden to eyeball our wall space and our living room. She took measurements. She became enthusiastic. O'Donovan gave us a price we could live with. We became enthusiastic. The emails resumed: "It would be helpful if you would look at my website and tell me what color palette you like, how many boats you would like, whether you like the contrast of the sun sparkling on the water or a more blended effect," she wrote. "And let me know which paintings you like most." 
Not wishing to squelch her creativity, we kept our replies vague: More than one boat, fewer than 10.
"Boats can be whatever colors you want," she wrote. "I'm thinking maybe one in red, so Sue might be able to see it better?"
Vennema also explained encaustic: "Each time you add paint, whether you are covering the whole surface or just adding detail, you have to go back and fuse that layer with a heat gun. In the beginning, I combine the fusing with scraping with a pallet knife. After I've added drips of paint, I brush on some top colors, then heat and melt and scrape to smooth them and fill in. I don't scrape the later layers, and I fuse them more lightly, so the brushwork shows up. It is actually a very physical process, and I'm pretty exhausted after a day in the studio!" 
We'd half-expected a pencil sketch as an opener, but to Vennema this smacks of "filling in the lines." Instead, she sent snapshots and even videos of her progress: "After a couple more layers, this is the 'rough draft.' It is a little nerve-wracking to send photos of such an unfinished state, but I trust you will enjoy seeing the process and not worry about the 'product' at this point. I'm happy to answer any questions you have, so keep them coming." 
We drove to Portland to see Vennema in her natural habitat and to review our work-in-progress. More deep blue in the sky, we all agreed. And then, finally, it was time for the "installation." Vennema delivered the painting herself, and naturally we invited Tom O'Donovan from the gallery—he was kind enough to hang the piece as I hate punching holes in new walls. The space, the lighting, the image and its colors, the story behind it—just so. A bottle of bubbly appeared, and lunch, followed by a tour of Camden. Vennema wound up spending the night in our guest room. Next summer we'll visit her on the island.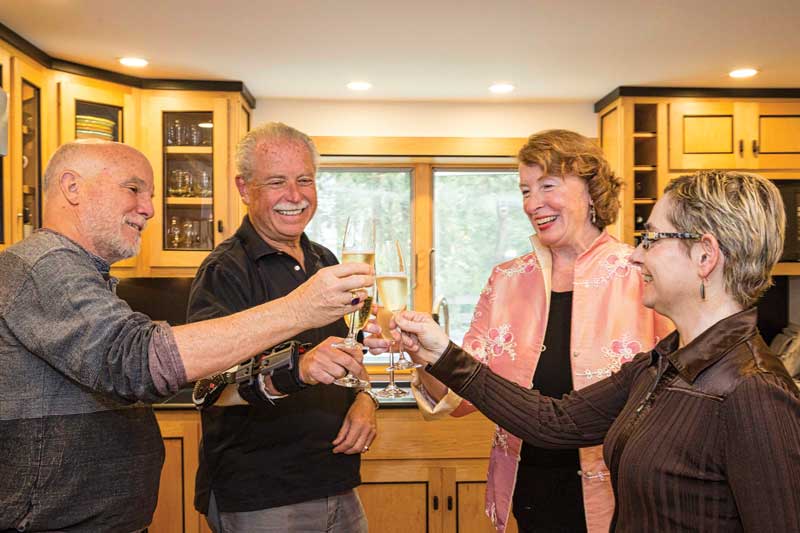 Gallerist, author, client, and artist toast the success of their project, a painting designed to fit a particular space and color palette, and particular needs.
The punch line, then, of my opening teaser is, yes, you can do it. You can order up a special work of art—and contribute significantly to its creation. 
Now Richard Allen, who sculpts fantastic Maine animals out of driftwood, has made a larger-than-life swooping seabird for our garden. This calls for a seven-foot-tall plinth, so he and I are hunting for just the right chunk of granite, designing the setting for it and figuring out how to maneuver it into place. What fun!     
---
Silvio Calabi is a former magazine editor and publisher who divides his retirement between midcoast Maine and Colorado's mountains. 
Share this article:
2023 Maine Boat & Home Show

Join Us for the Maine Boat & Home Show!
Art, Artisans, Food, Fun & Boats, Boats, Boats
August 11 - 13, 2023 | On the waterfront, Rockland, Maine
Click here to pre-order your tickets.
Show is produced by Maine Boats, Homes & Harbors magazine.