The Rower
They called him an "old fart." He proved them wrong.
By Bruce Lewis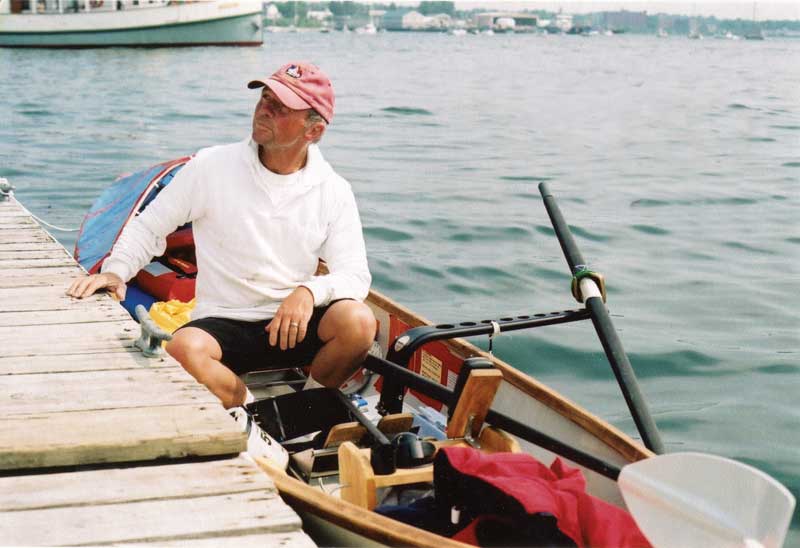 Bruce Lewis does his long-distance rowing in an Alden Appledore model. He keeps track of his route using the compass mounted in front of his seat. Photo courtesy Bruce Lewis
Before I begin this story, I want you to know, I'm a rower—all my life a rower. 
My first boat came in the form of an 8' skiff when I was five years old. Growing up summers at Ocean Point, Maine, I almost lived in that boat and rowed it everywhere. The saying in my family was "if he can see it, he will row to it." 
My first long-distance row was to Damariscove Island, a couple of miles from the point. As I grew older the boats grew, too. Small rowing dories and so on. In my adult years I graduated to the Alden Ocean Shells and much longer rows, including from Boothbay to Portland, Portsmouth to Portland, and so on. 
Then came the bigger rows: Marion, Massachusetts to Portland, Maine (towed through the canal); Boston Harbor to Boothbay. Some of the rows were to raise money for charities. And most went fine with the exception of two that landed me in hospitals; nothing serious, just a worn-out body.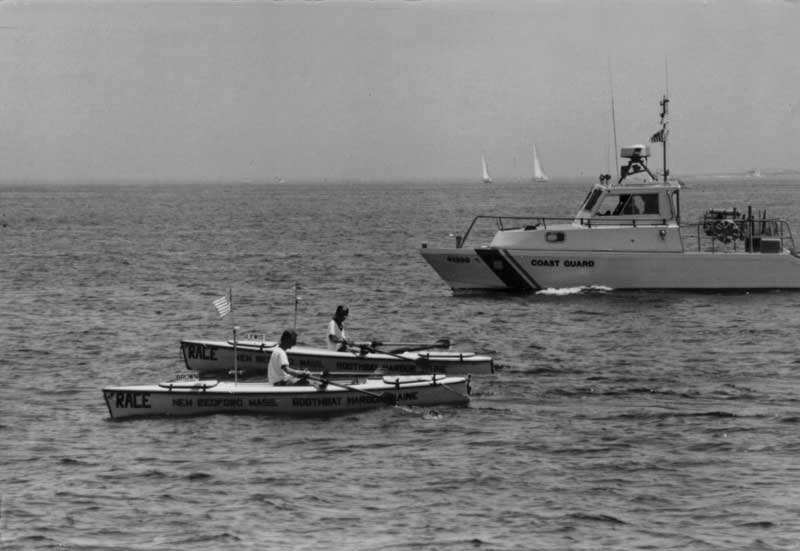 When Lewis and a colleague raced from Cape Cod to Boothbay Harbor, they agreed to finish at the same time for safety reasons. The Coast Guard monitored that race. Photo courtesy Bruce Lewis
One of my most memorable trips was when I raced another rower from Cape Cod to Boothbay Harbor. The ocean threw its worst at us. But we made it in five days, finishing in a dead heat (we arranged it that way for survival reasons). 
That's my rowing past. And now to my story.
One morning at my local gym several seasons ago, a young "kid" approached me. "Aren't you that old fart that did all that rowing all over the place?" he asked. I don't think he meant it in a mean way, but it still stung a bit. "Are you still rowing or are you too old?" he added. I answered right away. "Of course I'm still doing it and I like challenges." 
The next day he approached me with just that: a challenge. 
"My buddies and I bet you can't row 125 miles from the Cape Cod Canal to Portland in 72 hours. In fact we'll bet $1,000 that you can't do it."
I thought about it for about two minutes and accepted the challenge. 
I told my wife—about the challenge, not the bet—and began to train. A few parts in my 64-year-old body objected, but we worked it out. I got my boat ready. It's an Alden Appledore. On a nice July day, a friend trucked me and the boat to Sandwich Harbor on the top side of the Cape Cod Canal. 
Launching was at four the following morning. It was a cool, overcast day and a stiff breeze was blowing. I remember standing on the beach, looking at the white caps and wishing I were somewhere else, anywhere else. But I launched my boat, slid the 10' oars into the oarlocks, and lowered myself onto the sliding seat. 
I always have the same thoughts when I begin a row. Where will it end, how will it end, and will I be brave or will I give in to fear? Will my body stay together? Worry worry worry. Then I remember advice my dad gave me: "If you dare to say it, dare to do it." 
So the challenge began.
The waters were dark in the early morning. Boats at rest, both motor and sail, appeared as dull black shapes. I began with short paddle strokes, and then long rhythmic pulls as I headed out of the harbor and out to sea.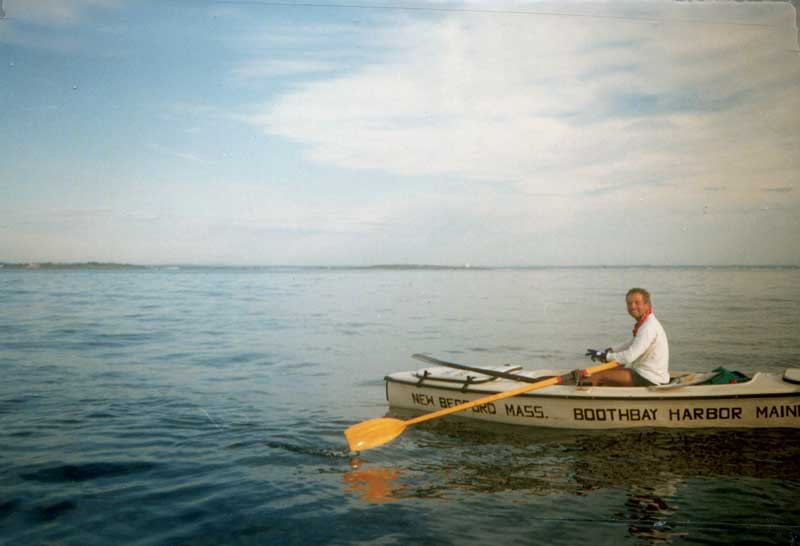 One of Lewis's earliest long-distance rows was from New Bedford, Massachusetts, to Boothbay. Photo courtesy Bruce Lewis
I went through all the usual adjustments, mostly in my head. I had gone through it all before—weeks, days, hours before. Did I remember all the compass settings? At what time should I be where? When should I stop to drink? What would my stroke count be? How might fog alter my course? If the wind became too strong, should I alter my course? Did I have everything I needed? Was it too late to go back?
What I tried not to do was to think about what lay ahead: 100-plus miles of open ocean. Because of the time challenge, I had chosen the most direct route, which meant crossing open ocean, far from shore. This choice made my other decision simple: never leave the boat during the trip. The first point of land en route—and I would be far out offshore at that point—was Cape Ann. Then the route ran straight to Cape Elizabeth and Portland. On the way, I'd pass the Isles of Shoals, Boone Island, and Cape Porpoise.
I'm making this sound simple here, but at the time, it involved lots of pain and guesswork. And as it turned out, I was rowing through fog, high wind, and rain much of the time.
I reminded myself of advice from an old Boothbay friend: "The ocean is not to be fought or tamed or made a friend of. You must go gently and accept what comes and work with that."
My rate of travel was about three miles per hour when conditions permitted. I tried to keep up with that pace. Late at night off the Isles of Shoals, a fisherman approached me. "What the hell are you doing out here?" he asked. I told him and, shaking his head, he asked if I needed anything. Then he was gone. Despite my fears, I felt strangely at peace. 
Seventy-two hours. Could I do it? Just as I was rounding Cape Elizabeth on the home stretch, a guy pulling traps in a yellow dory approached me. "Hey kid," he yelled. "I saw the thing in the paper about you and your row. Keep it up. You're going to make it." He was right. An hour and a half later, I pulled into Dimillo's Marina in Portland. My total time was 66 hours. The old fart had done it.
And yes I'm still rowing. And yes, the kids paid up. 
I'm 78 years old now. And yes, I'm still at it.     
---
Bruce Lewis lives in Portland, Maine. He and his wife, Hona, are Realtors at Keller Williams Realty and specialize in waterfront properties.
Share this article:
2023 Maine Boat & Home Show

Join Us for the Maine Boat & Home Show!
Art, Artisans, Food, Fun & Boats, Boats, Boats
August 11 - 13, 2023 | On the waterfront, Rockland, Maine
Click here to pre-order your tickets.
Show is produced by Maine Boats, Homes & Harbors magazine.