Shada
A capable boat for both work and play
By Terry Sortwell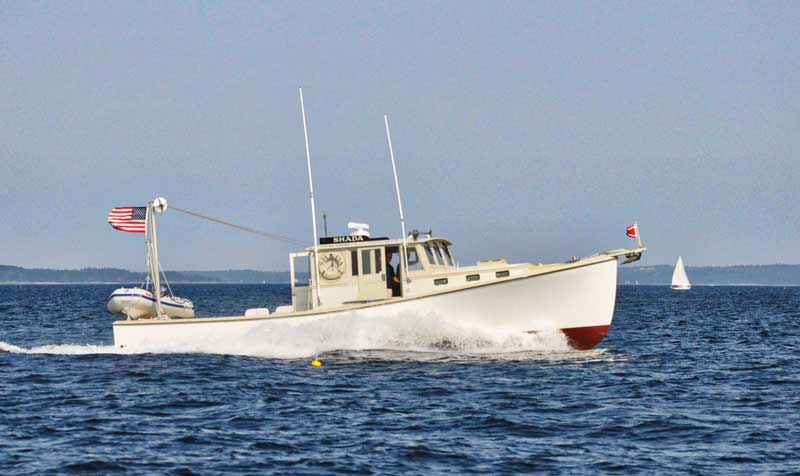 Shada, a Holland 38 built by Holland's Boat Shop in Belfast and finished by D.N. Hylan in Brooklin, can handle rough weather and still look elegant. Photo courtesy Terry Sortwell
Glenn Holland's long-time advertising slogan for his Holland boats is: "Likes to work. Likes to play. You make the call." In my case, the call is for both, and the ratio is about 80/20 work to play. 
The work is problem solving with a side of psychology known as real estate brokerage. I've been a broker in midcoast Maine since the early 1980s, specializing in waterfront property and islands. Shada is my third and (I think) last "work" boat; rugged enough to get me home in a blow and set up to singlehand when necessary. All three boats have complemented my brokerage business and in fact enabled the business to develop in a way that allows me to be out on the water from May through October.
Shada is a Holland 38 built by Holland's Boat Shop in Belfast, Maine, in 2007 and finished by D.N. Hylan & Associates in Brooklin, Maine. She was built for Jonesport summer resident Ted Okie. He christened her Red Head after an imposing bluff on the eastern end of Great Wass Island that reflects the sun rising over the Atlantic. Apparently, Ted was bitten early in life by the boat bug and has collaborated with Doug Hylan on a number of other projects including the restoration and conversion of the sardine carrier, Grayling, and the building of the 43-foot  Deliverance, a modern interpretation of a coastal cargo vessel. 
In the 1990s, I owned a rugged 1972 Boston Whaler Outrage, Half Moon, that I restored and repowered with a Yamaha 115-hp 4-stroke engine. We cruised from Swans Island to Muscongus Bay and she proved the efficiency of being able to move quickly, and land on homeowners' docks or on the beach as needed. (Many thanks to Dave Getchell Sr.'s The Outboard Boater's Handbook for shoreside mooring techniques and more.)
Half Moon enabled me to sell Fog Island, east of Isle au Haut, my first sale of an entire island, and in the process get to know the Reed family, which owned the island as well as Northeast Point, the northern entrance to Camden Harbor. Half Moon could handle a lot of weather but she was a wet ride and normally I'd wear a full set of foul-weather gear and duck the spray flying over the bow. 
When I started thinking about a bigger boat, Ken Weed, caretaker for the Reeds, suggested I look at their island boat, the Sophie, a Holland 32 that had been in laid up in storage at Bud Chater's Camden yard for a few years. She was one of Glenn's earlier 32s with a big Chrysler V-8 gas engine. I couldn't resist, struck a deal, and into the water we went. At the end of the season, Sophie went to Mac Pettegrow's yard in Southwest Harbor for a major restoration and new diesel engine. What a great boat, clean and simple, with accommodations for two and a compact galley and head. 
Sophie widened my range and enabled my wife, Melinda, to join me more often as we cruised the coast as far downeast as Grand Manan and Passamaquoddy Bay. We had a lovely 10 years working and cruising with Sophie, but as we got older we started to think that some headroom below and a full galley would be nice. I'll also admit to having a few long hard runs back across the bay from North Haven and Islesboro into stiff fall northwest blows with the prop ventilating as we pounded home. So, I began to look for a bigger boat.
Meanwhile, Red Head had been launched in the fall of 2007 and Ted cruised her from Maine to the Bahamas for two seasons before embarking on his next boat project. I'd heard through the grapevine that he was considering selling when, out of the blue, I saw an ad saying that Red Head was for sale in Norfork, Virginia. Okay, no time like the present. Melinda and I, along with Bill Morong of Yachting Solutions, flew down for a look and test drive. She ran great and looked better, so with a deal and a survey in hand we arranged for her transport back to Camden. 
I christened her Shada, the name used by both my grandfather and great grandfather for their boats. The word "shada" appears in The Song of Hiawatha by Henry Wadsworth Longfellow in reference to the pelican.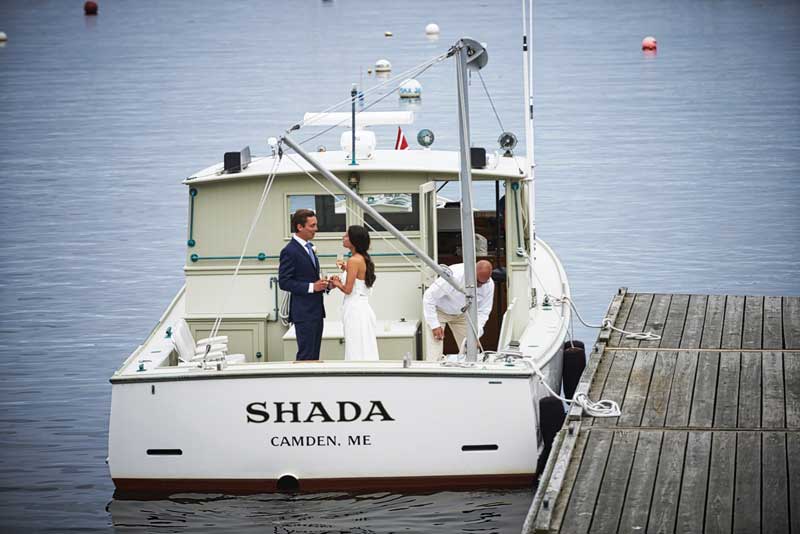 The best boats become part of the family. The author's daughter, Julia, and her husband, Vittorio, included Shada in their wedding celebration. Photo courtesy Terry Sortwell
Shada's utility and functionality are hard to beat. The enclosed pilothouse is heated and comfortable, the inflatable skiff hoists up on the rear deck with a boom and electric winch, the QSC8.3 500-hp Cummins moves her along at an easy 16 knots (the top end is 24 knots), and the roomy cockpit is perfect for sightseeing. After all, if you're looking at real estate and getting a sense of the area, how much can you see from the roads? From landing surveyors on beaches, working with photographers, and getting customers from Camden to North Haven and Islesboro and back, Shada is the perfect vehicle. She keeps everyone safe and comfortable.
The coast of Maine attracts independent-minded, self-sufficient, and creative souls from all over the world. Meeting both those coming and going, and seeing the fascinating properties that they have created or dream of creating continues to be a delight.
Melinda and I have lived in the same house where we raised our two children in the heart of Camden Village since 1980. On any given summer day, I find myself in the joyful position of being able to walk around the corner and look out over the library lawn and Harbor Park to the harbor and bay beyond. From there I can check in at the office on Main Street, and then continue to the yacht club for a ride to Shada on her inner harbor float. About 15 minutes after leaving my house, I'll be idling out of the harbor—it's hard to beat that commute or the workspace.  
Melinda and I owe many thanks to Glenn Holland for building such a beautiful rugged hull, to Doug Hylan for his exquisite sense of design and top-notch fit and finish, and to Ted Okie who inspired and commissioned her. They all know far more than I'll ever know about boats and boating. I am grateful for the opportunity to use and care for Shada (with help from the great crew at Yachting Solutions).  
As my son Joe grows into the real estate business with his own boat, my goal for the future is gradually to flip the 80/20 work/play ratio to 80/20 play/work. Longer quiet times at anchor with some cruises east to Nova Scotia and the Bras d'Or lakes are calling.     
---
Terry Sortwell is a Realtor and devoted boater who lives in Camden, Maine.
Share this article:
2023 Maine Boat & Home Show

Join Us for the Maine Boat & Home Show!
Art, Artisans, Food, Fun & Boats, Boats, Boats
August 11 - 13, 2023 | On the waterfront, Rockland, Maine
Click here to pre-order your tickets.
Show is produced by Maine Boats, Homes & Harbors magazine.