Future Skippers
Innovative program keeps young fishermen in school
By Melissa Waterman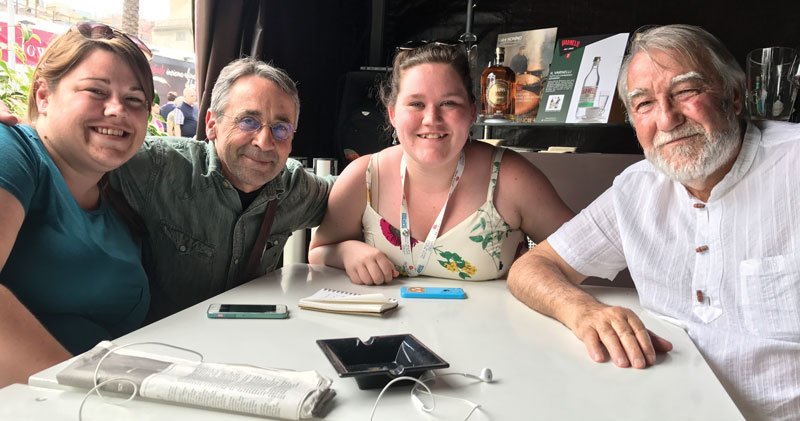 Narraguagus High School student Betsey Brown was invited to the Slow Food Conference in Italy last May to talk about the Eastern Maine Skippers Program. She is shown here (middle) with Christina Fifield and Paul Molyneaux (left), staff at the Maine Center for Coastal Fisheries in Stonington, and French plankton expert Pierre Mollo (far right). All photos courtesy Maine Center for Coastal Fisheries​
Successfully navigating high school takes perseverance. Not only do you have to thread the shoals of complex social relationships but you also have to round the mark in subjects like English and social studies. And what's the point of all that effort if all you want to do is fish for a living?
That was the question troubling teachers at Deer Isle-Stonington High School four years ago. Most of the students at the high school came from local fishing communities. Their fathers fished, their uncles fished, and in many cases they themselves already had lobsterboats and fished after school and on the weekends. Attending high school classes when there was money to be made at sea didn't make sense to many. 
"We had a meeting with local fishermen on a January evening four and half years ago," recalled Deer Isle-Stonington Principal Todd West. "We asked them how well school prepared them to work in the fishing industry, what else they would have wanted to learn, and what the kids should be learning today." 
What he heard surprised him. The fishermen wanted their children to learn the skills necessary to speak and argue at the many regulatory meetings that govern how fishermen make a living. "They said 'Our industry is run at meetings. We need people who can speak effectively, not yell, and can represent us.' That was the number one thing they mentioned," West recalled.
As a result, West, marine trades teacher Tom Duym, and staff from the Maine Center for Coastal Fisheries (formerly the Penobscot East Resource Center) sat down to think of a different way to teach. And so the Eastern Maine Skippers Program was born. "Our goal is for students who intend to pursue a fishing career to gain skills that will allow them to successfully participate in the industry," West said.
In May this year, Skippers Program students from eight downeast high schools gathered at The Grand theater in Ellsworth to make their final presentations on the theme of sustainable ocean systems. In the audience were dozens of teachers, family members, and friends. The students clustered at the edge of the stage, laughing nervously and adjusting clothes. One young man from Deer Isle, now a junior, who had been in the program since his freshman year, got ready to speak as West watched from his seat in the darkened theater. 
The student gave a 10-minute presentation on his innovative redesign of a shrimp trawl. Traditional shrimp trawls drag across the bottom, tearing up the seafloor as they move. Using principles of hydrodynamics, this student had come up with a way to make the trawl fly just above the bottom in order to keep impacts to a minimum. 
"It was amazing to hear him," West said. "When he began the program he was terrified to speak, incredibly nervous. This year he spoke without a script, just notes, and he was so engaging, so confident."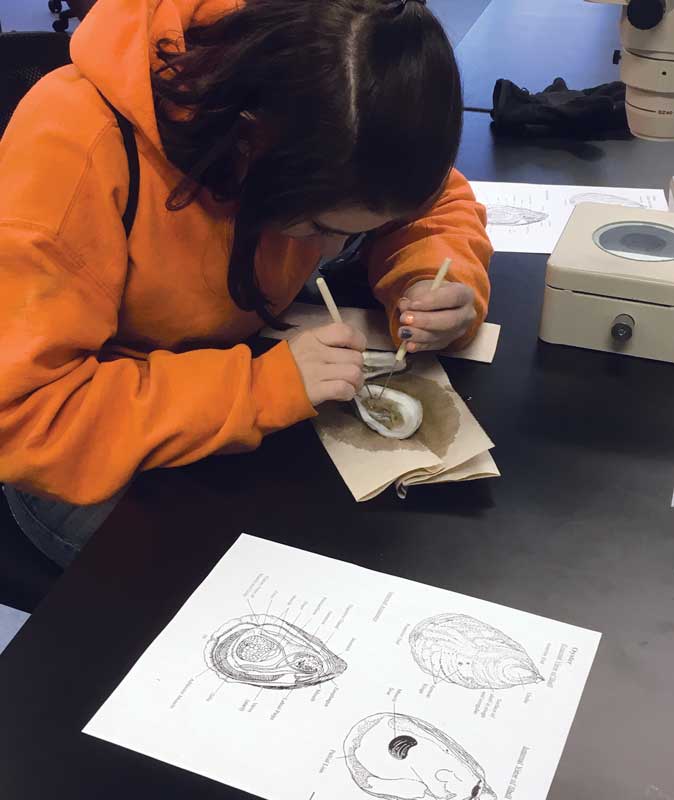 A Skippers Program student from Mt. Desert Island dissects an oyster during a workshop at the Darling Marine Center in Walpole. At the beginning of each school year, the schools participating in the Skippers Program (Deer Isle-Stonington, George Stevens Academy, Ellsworth, Jonesport-Beals, Mount Desert Island, Narraguagus, North Haven, and Vinalhaven High Schools) are given a topic related to the ocean. Students in the program decide how to tackle that topic. During the program's first year in 2013-2014, the topic was the viability of an inshore winter flounder fishery. Currently lobster is the dominant fishery along the coast of Maine, an uncomfortable economic position to be in for the small fishing communities in downeast Maine. Could local fishermen develop a winter flounder fishery in order to diversify their income? 
To answer that question the students studied the life history and biology of winter flounder. They researched how to apply for a special fishing license from the Department of Marine Resources, designed a trap specifically for winter flounder, and collected relevant data on the trap and its bycatch. The students spoke about their project at the annual Maine Fishermen's Forum and then made a final presentation to DMR Commissioner Pat Keliher in June.
Since that first year, other topics have included methods of controlling the state's expanding green crab population, and innovations in the lobster fishery. This year's topic was the complex question of how to maintain sustainable ocean food systems. 
The teachers involved in the program receive training on project-based learning during the summer months, explained Val Peacock, an education specialist with Rural Aspirations, an educational consulting non-profit organization. Peacock got involved in the program while working with Tom Duym in the Marine Pathways program at Deer Isle-Stonington. "I helped draft the curriculum [that first year] and got it out to the teachers," she explained. Now she is working with Skippers Program teachers in all eight schools to develop curricula particular to each year's topic. 
Teachers in the program meet for a three-day project-based learning training session during the summer. Professional development days are also held throughout the school year. All the students meet as a group off campus several times each year.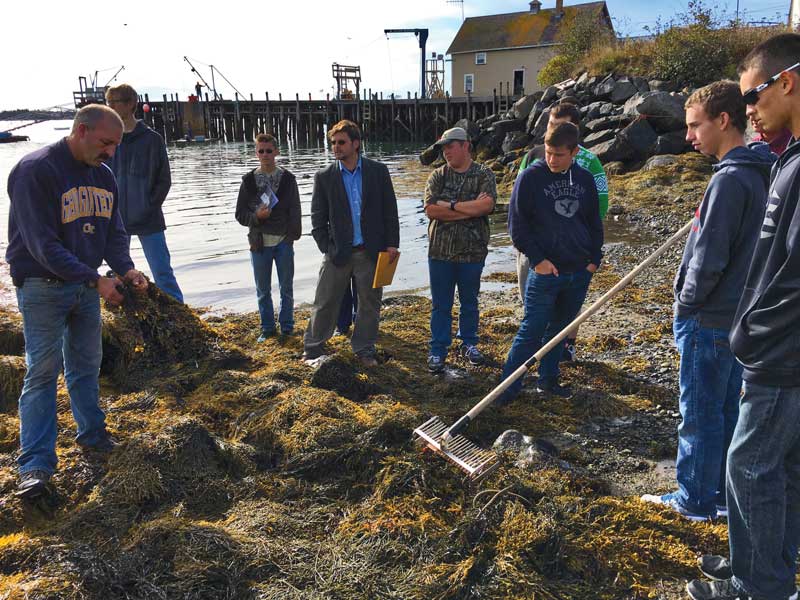 Seaweed harvesting is a sustainable industry in Maine and provides year-round employment on the coast. Shown here, Skippers Program students from Jonesport-Beals Island High School learn about rockweed botany.
Project-based learning removes the teacher from the center of the classroom. "The premise is that students come up with a big question that they must answer themselves. It is not a question that can be answered through Google. Students have to talk to people. The teacher acts as a facilitator, not an expert," Peacock explained. Students must draft a specific question related to the year's topic, decide what information they need to answer it, what resources they have already and what more they need to know. 
"The teachers in this program are super passionate about it. They see these kids doing amazing work and standing up in front of others. They see their lights turn on," Peacock said. 
West acknowledges that project-based learning does pose some difficulties in this age of constant standards-based testing. But he believes that teachers can accurately assess how well students are learning subjects like math and English as they progress through the year. "We work history, social studies, and science standards [into the program]," he explained. 
In four years, the Skippers Program has grown from 40 to nearly 100 students from the eight schools. West remains enthused about this innovative way to keep students in school while strengthening the skills they bring to their fishing communities. What delights him is the enthusiasm for the program from students themselves. "We spoke to the eighth grade class this year and there's a buzz and sort of expectation about the going in to the program when they reach ninth grade. It's great."     
---
Melissa Waterman is a freelance environmental writer based in Rockland whose work has appeared in many New England publications. Her articles focus on the interconnections among people and the marine environment.  
Share this article:
2023 Maine Boat & Home Show

Join Us for the Maine Boat & Home Show!
Art, Artisans, Food, Fun & Boats, Boats, Boats
August 11 - 13, 2023 | On the waterfront, Rockland, Maine
Click here to pre-order your tickets.
Show is produced by Maine Boats, Homes & Harbors magazine.