Fishing's Future?
Shoreside research center sets the stage for aquaculture advances
By Laurie Schreiber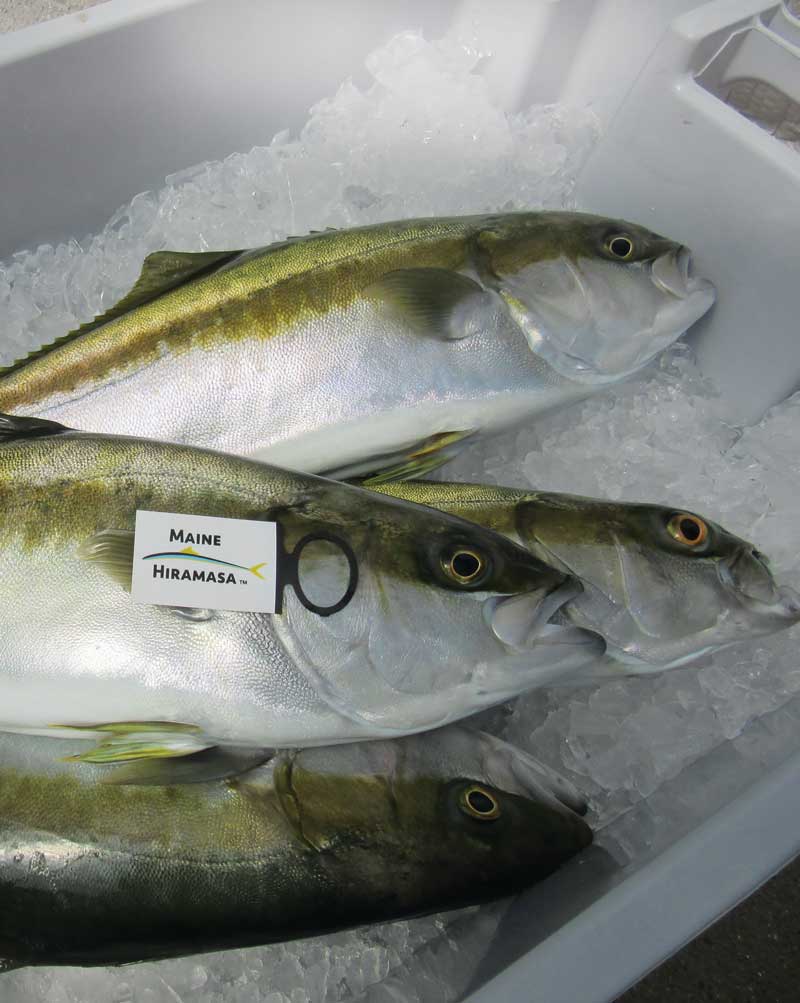 California yellowtail, raised at the Center for Cooperative Aquaculture Research, are packed for shipping as Maine Hiramasa. Photo courtesy Acadia Harvest It might seem ironic that a state known for its wild-caught marine species is also home to a world-class facility for raising fish on land. Not only is one of the world's foremost aquaculture research and business incubator facilities located in coastal Maine, but in order to get there you have to drive down a dirt lane (appropriately named Salmon Farm Road), through spruce woods, in a rural town of scarcely 1,500 residents.
The University of Maine's Center for Cooperative Aquaculture Research, known as CCAR ("sea-car"), has become a center of cutting-edge experimentation for cultivating a myriad of sea creatures on land.
UMaine bought the 25-acre property in Franklin at auction in 1999 from what was at the time a state-of-the-art salmon farming company. Since then CCAR has installed the latest technologies in water circulation and wastewater treatment and now has 100,000 square feet of lab, tank room, and business incubator space. Two more tanks, at 300,000 gallons each, which are expected to support up to 121,000 pounds of fish, are slated for completion in coming years.
Aquaculture has been a growing focus for research in Maine. In 1999, the state legislature made it one of seven economic sectors slated for state R&D money through the Maine Economic Innovation Fund, which provides substantial funding for CCAR. Another boost came in 2016 when UMaine received a $20 million National Science Foundation grant to establish a research and education entity called the Sustainable Ecological Aquaculture Network (SEANET).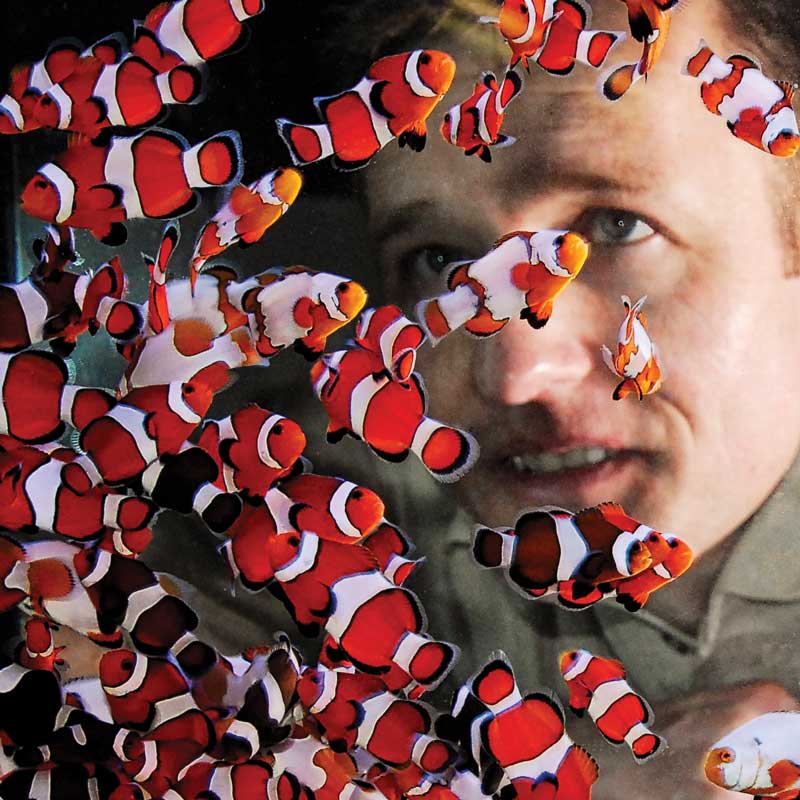 Søren Hansen, founder of Sea & Reef Aquaculture, views a crop of designer clownfish cultivated at CCAR. Photo courtesy of Sea & Reef Aquaculture
At CCAR's end, the focus is on hatching and rearing of fish, invertebrates, and algae in support of start-up companies. Over the years, CCAR researchers and commercial interests have looked into culturing food species such as Atlantic cod and halibut, California yellowtail, sea urchins, and edible seaweeds, as well as polychaete worms for the bait market, and ornamental tropical fish for hobbyists. Some of the research has made the leap to commercial production. Other projects are still in development or have fallen by the wayside, due either to technical or financial challenges. The goal is intellectual advances to support the industry.
On a recent visit, Director of Facilities Steve Eddy led the way into one of the rearing units. Each of the 18 massive tanks (12 feet wide and 5 feet deep) holds 3,800 gallons of recirculating seawater. When stocked at full capacity, the combined hold of the tanks is nearly 29,000 pounds of fish. They're rented by a company called Acadia Harvest, which for five years has experimented with techniques for growing a couple of fish species, including California yellowtail—its buttery smooth texture and mild flavor are perfect for sushi—to marketable size. 
Eddy climbed the stairs to the top of one tank and peered in at the yellowtail serenely swimming below. At two years old, they're ready for harvest.
"One of the things we think will make this fish successful on a land-based farm is their fast growth rate," Eddy said.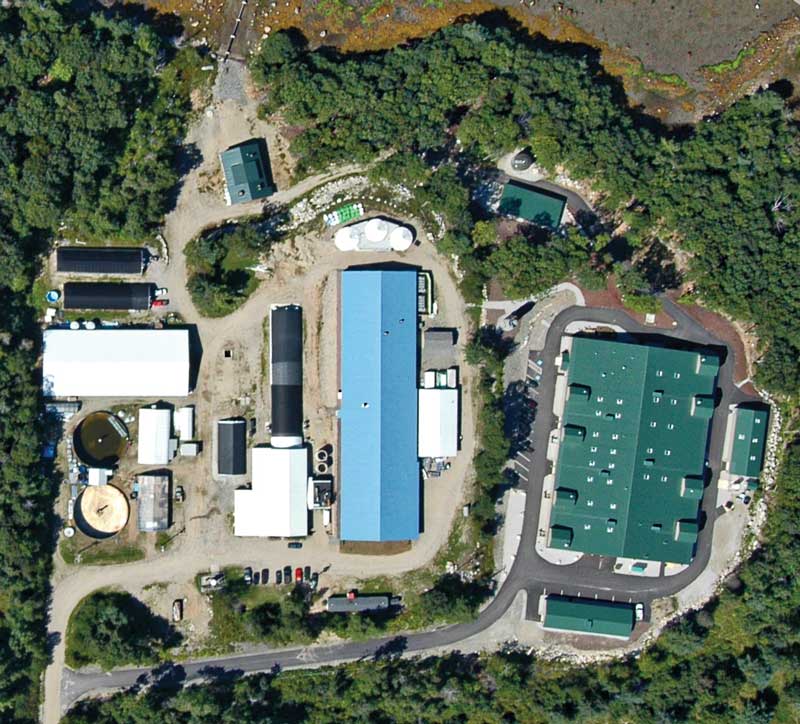 An aerial view of CCAR, which leverages proximity to the pristine water of Taunton Bay. Photo courtesy Center for Cooperative Aquaculture Research Acadia Harvest was founded in 2011 by marine biologists Chris Heinig and Tap Pryor. They focused on yellowtail because it's a proven product in the global market.
"There's already substantial market demand," said the company's third partner, Ed Robinson. "Yellowtail ranks number two in global sales, behind salmon, for saltwater fish."
In Maine's salmon farming industry, fish are hatched in a land-based system, then placed in ocean pens for grow-out. By contrast, Acadia Harvest grows fish to marketable size entirely in land-based tanks. This allows Acadia's researchers to grow a warm-water fish, like California yellowtail, in a cold-water state like Maine. They get the benefit of Maine's pristine seawater, which they can warm to the temperature needed by the fish. They also control all other aspects of the closed system, such as optimal stocking density and feed for robust fish production. 
One idea now under study is integrated multi-trophic aquaculture: Rather than dispose of fish waste in the traditional manner—processing it through biofilters and sending solid waste to a sewage treatment facility—waste becomes a nutrient source for growing other species such as oysters and kelp. Kelp cleans the water going back into the fish tanks and the oysters become an additional marketable product.
Growing fish at CCAR has allowed Acadia Harvest to refine its production system while doing more than three years of market testing before investing in a purpose-built commercial farm—a project it has planned for a nearby industrial park in Corea.
"There's no way a start-up could run the range of experiments, let alone begin small-scale production and sales without access to an incubator facility like CCAR—not just the tanks, but the experienced people as well," said Robinson.
Another thriving enterprise at CCAR is Sea & Reef Aquaculture. The start-up arrived in 2010, built specialty infrastructure, and now raises more than 50 different species and color morphs of marine ornamental fish. The company ships thousands of fish every month to pet stores across the country.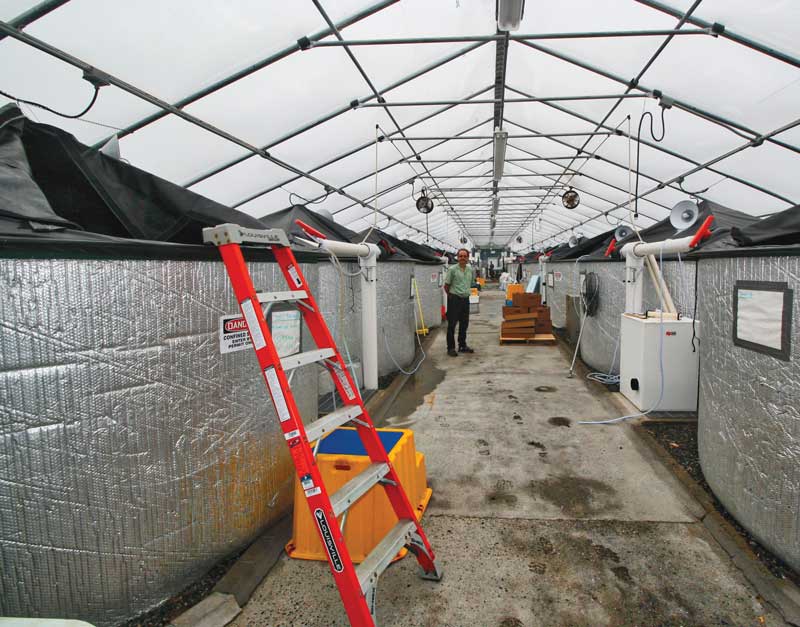 Yellowtail are raised in these 3,800-gallon tanks at the Center for Cooperative Aquaculture Research. Photo by Laurie Schreiber
"We have our own breeding program and we do the whole life cycle in-house," said Søren Hansen, who started the enterprise as a University of Maine student, aided by a Maine Technology Institute small-business grant. Now the company has signature lines of designer clownfish that take advantage of the fish's distinctive color and pattern mutations.
Like Acadia Harvest, Hansen deals with warm-water fish. 
"Because of this efficient production system, we can produce a lot of fish in a fairly modest footprint," Hansen said. 
CCAR's core is not really those huge tanks, though; it's the seawater. Pumped from nearby Taunton Bay, the salt water travels through sand filters, then a UV sterilizer, to three insulated storage reservoirs (onsite wells also provide fresh and brackish water). The water is then distributed by gravity feed to rearing facilities. There, additional systems include degassers (assemblages of metal plates and accordion-like structures that break water into fine droplets and allow the release of excess CO2), cleaning drum filters, UV disinfectors, circulating pumps, climate-control systems, generator back-ups, and oxygenators. A biological filtration system features countless plastic bits that look like tiny Lego gears, each finely layered with beneficial bacteria that consume toxic compounds carried by fish excretion.
Seawater continuously recirculates through these systems—only a small portion at a time comes in from the bay. The system reduces dependence on external water supplies, minimizes CCAR's environmental footprint, and can be optimized for water chemistry, temperature, photoperiod, and other rearing requirements, Eddy explained. 
That infrastructure was a crucial springboard for a start-up like Sea & Reef. 
"We couldn't have grown as fast as we have without CCAR," Hansen said. "We built the production system ourselves, but we didn't have to build the physical location. Also, CCAR has great expertise, which we've used heavily, especially in the beginning, in building and designing our production system. CCAR's former director, Nick Brown, helped us design those systems early on. And with the other companies, there's shared resources, expertise, and knowledge."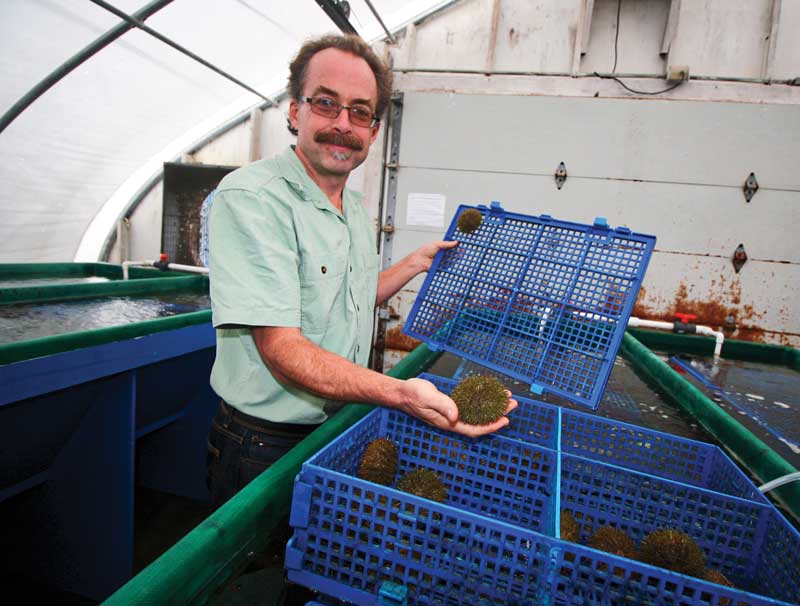 CCAR's Steve Eddy holds an adult urchin, bred and grown for projects like reseeding the wild. Photo by Laurie Schreiber
Eddy continues the tour into a light- and temperature-controlled fish hatchery that's home to broodstocks for Acadia Harvest's yellowtail, and for Atlantic halibut. Offspring from the latter is sold to Canadian aquaculture companies. Elsewhere, tanks are being modified for a start-up that will grow eels, escape artists that can climb walls and slither through drains. Several tanks hold sediment containing thousands of marine worms. Left behind from a failed venture to develop indoor worm farming for bait and aquafeeds, the worms are excellent candidates for a future venture. Sea urchins grow in long, shallow tanks, for projects such as seeding wild areas that have been fished out. And specially built infrastructure is expected to boost production of sea vegetables, such as kelps, dulse, and nori, and put Maine on the map in the $6 billion global seaweed market. 
CCAR has plenty of potential for other projects, said Eddy citing bluefin tuna egg production and Atlantic cod growout as examples. Every new development could be a tremendous economic opportunity for the state and beyond.
"The state has the marine resources that make it viable," said Eddy. "We've got the workforce that's accustomed to working on the water and could readily adapt to aquaculture. We have access to markets like Boston and New York. There's a lot of potential for growth in Maine."      
---
MBH&H Contributing Editor Laurie Schreiber is also a Mainebiz staff writer and has covered topics in Maine for more than 25 years.
---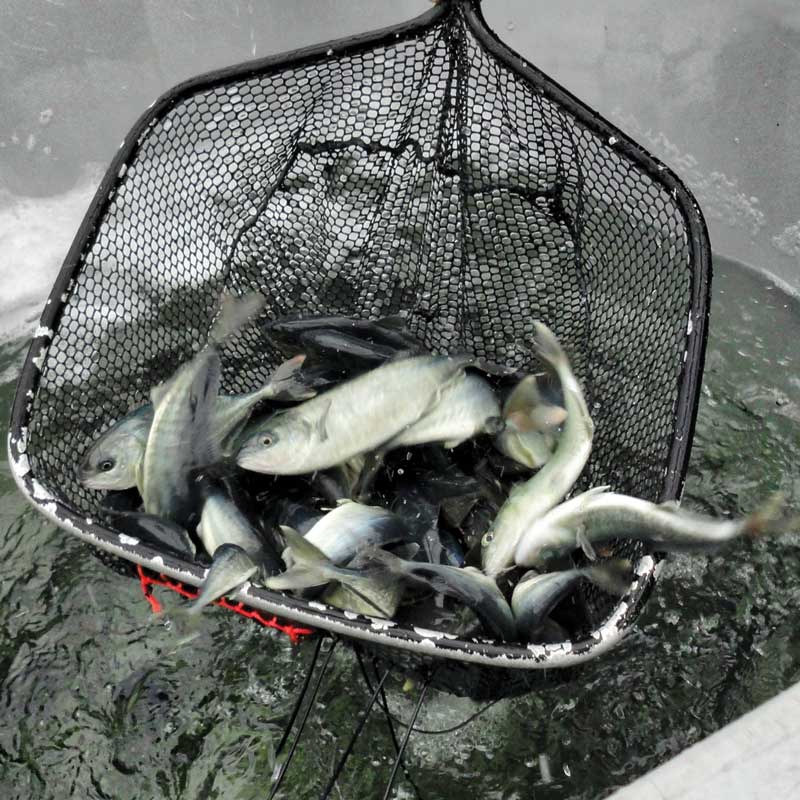 Yellowtail juveniles are transferred to larger tanks with more room to grow. Photo courtesy Acadia Harvest
Maine's Aquaculture Boom
Aquaculture, identified by the private business group FocusMaine as one of Maine's three signature industries, has grown 10 percent per year for the past 10 years, said Maine Aquaculture Innovation Center's executive director, Chris Davis.
Salmon makes up the bulk of the approximately $120 million industry, followed by shellfish, notably oysters and mussels. The industry leases about 1,300 acres of ocean bottom. That's pretty small, Davis said.
"We could grow by 50 percent and still fit the entire aquaculture industry in Rockland harbor," he said. "That's an amazing amount of economic activity in a relatively small area."
Maine has tremendous potential, he said. And there's interest, as illustrated by the scores of  small sites permitted under the state's limited-purpose access program.
"There's a lot of interest both in shellfish and sea vegetables," said Davis. "Sea vegetables can be a winter crop with minimal work. And there's tremendous demand for white-cloth half-shell oysters. Maine has a great reputation and there's a strong market. That's been drawing a lot of people into the industry."
Among its programs, MAIC, with partners, offers aquaculture training for commercial fishermen, funds research, and hosts the annual Northeast Aquaculture Conference & Exposition.     
Share this article:
Digital Edition Available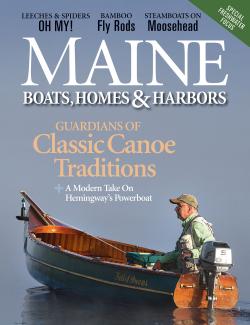 Can't get to the store to buy your magazine? We deliver the stories of Maine's coast right to your inbox. Sign up here for a digital edition.