Our Grand Experiment
By John K. Hanson, Jr.
Fifteen years ago Harry Potter and Money Ball still ruled the bookstores, people were on the South Beach Diet, and John Baldacci had just become Maine's newest governor. My boys were still babies; I was able to carry them like a football, and I have photos to prove it. And the staff of this magazine launched the Maine Boats, Homes & Harbors Show.
Years before, when I went to the World's Fair in New York, I loved the opportunities businesses had there to tell a story. That left a mark. Then in the mid-1970s, the Maine Festival at Bowdoin College celebrated the creativeness of Maine. It was a loose gathering of poets and pig farmers, builders and artists. The magic was terrific, but commercial it wasn't.
With the Maine Boats, Homes & Harbors Show, we wanted to marry the best of these two shows, to merge the magic of creativity with the power of the marketplace, all through the prism of our giant passion, boats. We wanted to celebrate Maine's diverse creative business communities and let these independent businesses tell their stories so that together, we would promote Maine. 
Fifteen years later, I am very proud to say, we are still at it. At Maine Boats, Homes & Harbors we look at life with a boater's perspective; we see grace in utility, beauty in a job well done, and don't mind a little carving on the trailboards. The show was designed to bring together, in one harborfront location, the craftspeople, boatbuilders, artisans, and artists who make our coast such a vibrant place to live. 
Come join the fun. 
On the show docks, vessels will range from coastal schooners, waterborne classrooms, and Friendship sloops to the most modern up-to-date powerboats available today. On the land, there will be even more boats at the Small Boat Love-In, an eclectic collection of boats that give joy to their owners. Meanwhile in the tents, the range of services and products on display is truly vast. The food served at the show is worth the visit all by itself. This is a food truck rodeo of the first order. I can be most likely found at the ice cream booth. Join me.    
Share this article:
Digital Edition Available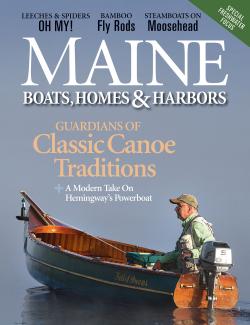 Can't get to the store to buy your magazine? We deliver the stories of Maine's coast right to your inbox. Sign up here for a digital edition.