Shanty Cat
A tiny and efficient floating home
By Laurie Schreiber
Two builders of unconventional boats have come up with a new design they call the Shanty Cat, which features a simple house and deck atop a motorized catamaran hull. The craft combines roomy comfort with a stable, dry ride—not to mention it's a conversation piece on the water.
Rick Keith and Steve King, who call their company Ecocats.us, launched hull no. 1 as a prototype this past summer in Falmouth. Cruising the area, the unusual boat received loads of favorable attention.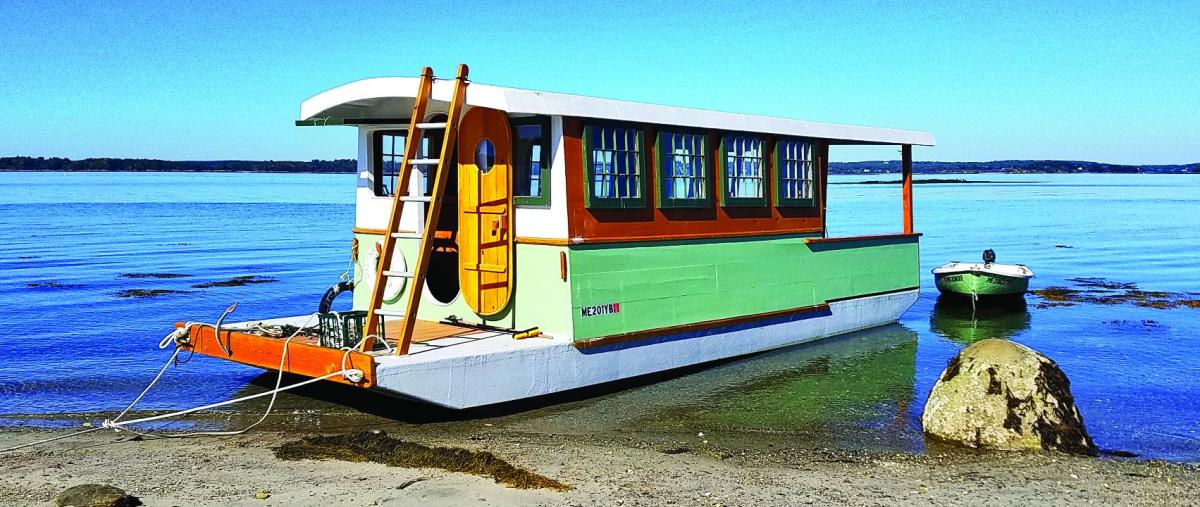 The Shanty Cat's big windows provide 360 degree views. Photo courtesy Ecocats.us
"The first day we took it out—a beautiful day, a lot of boats out there—they all started coming right at us, taking pictures," said Keith. "Even lobstermen were putting down their traps to come and take pictures."
Keith is a Mainer, raised in Cape Elizabeth. King, originally from Bristol, England, arrived in the United States in the late 1980s. Both build and design boats and custom home interiors, and both work as artists. Keith makes recycled wood furniture components, paints nautical miniatures, and is currently building a 56' fold-up schooner that incorporates Viking and Polynesian design principles. King is a wood sculptor whose works include timepieces set in tall, whimsical carvings. 
The two men met in Key West, Florida, when Keith trailered a boat he had built to a yard where King was working. Soon afterward, they founded a small-scale shop called Key West Boatworks to offer repairs, restorations, and design and construction in wood, fiberglass, and composites. The shop produced power and sailing catamarans and houseboats. 
As they began splitting time between Florida and Maine, they rebranded as Ecocats.us, first to market one of their specialties, the EcoCat 32. The EcoCat 32 is a fuel-efficient, shallow-draft, 32-foot long catamaran with a houseboat top. It's stable and comfortable for near-shore cruising. 
"It's more of an 'eco yacht,' with very fine finishes," said Keith. 
The Shanty Cat is an earthier version. "It's less yachty, more shanty, more affordable," said King. The cost for the builders of hull no. 1 was $40,000.
The 28-foot by 10-foot catamaran was built from cold-molded marine plywood skinned with fiberglass. It incorporates recycled material such as reclaimed wood and multi-paned windows. The cabin is 14 feet long, and a roof over the stern deck extends the indoor/outdoor feel. The cambered house roofline adds headroom.
"One of the good things about the Shanty Cat's interior is that it's a big area," said Keith. "Everyone who comes on the boat says, 'Whoa, it's so open!'"
The broad, shallow hulls, each with squared bow and stern, provide stability that won't add up to great speed but will handle well in all kinds of weather and keep the deck dry. The significant overhang at the bow is designed to prevent pitching.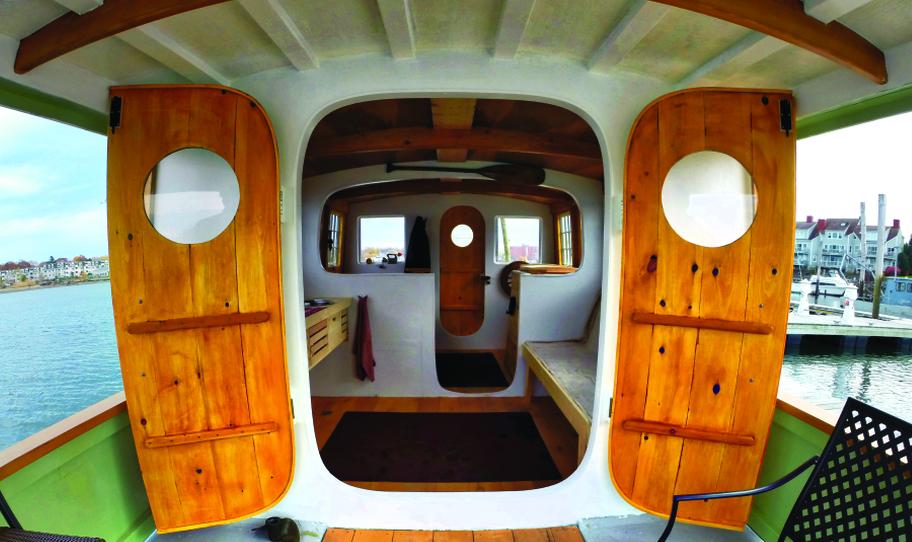 A covered porch in the stern extends the living space. Photo courtesy Ecocats.us
Amenities include a small galley with a propane stove, a gravity-fed freshwater tank, a saltwater pump, and two custom-built futon frames for fold-up seating and pull-out beds. The head and holding tank are cleverly fitted into one of the hulls, hidden by a cabinet-type structure with its own companionway. Plans are in the works to install a gravity-fed solar-heated shower. A 10-hp outboard engine provides up to 6 knots of speed. Scow catamaran hulls push easily because the boat displaces only 10 inches. The Yamaha high thrust 9.9 with a larger prop pushes it easily at 5 knots, and 6 knots with more gas. The helm is inside the front of the cabin; windows all around provide a 360-degree view.
But neither the house style nor the hull dimensions are cast in stone: They're customizable to client preferences (and their website offers "study plans" of 24' and 32' versions). Also, Keith and King can build the parts at their shop, stack them on a trailer, and take them anywhere for assembly.
The craft is like being in a cabin on the water, said King. "You can drive it easily anywhere and, when you get to your destination, you pretty much have your whole home with you. You can
sit on the back deck and take in the view. It's just a very comfortable and seaworthy boat." 
---
Laurie Schreiber writes for newspapers and magazines on the coast of Maine.
Shanty Cat
LOA  28'
Beam  10'
Power  Yamaha high-thrust 9.9 with larger prop pushes it at 5 knots and 6 knots with more gas
Builders/Designers: 
Ecocats.us
Falmouth, ME 04105
Rick Keith
rickeithdesigns@gmail.com;  207-370-7465
Steve King
stevebking2@gmail.com;  305-923-7172
Share this article:
2023 Maine Boat & Home Show

Join Us for the Maine Boat & Home Show!
Art, Artisans, Food, Fun & Boats, Boats, Boats
August 11 - 13, 2023 | On the waterfront, Rockland, Maine
Click here to pre-order your tickets.
Show is produced by Maine Boats, Homes & Harbors magazine.