Letters to the Editor - Issue 144
By The Editors
Dreamboat inspiration
I read John Hanson's "Fiddling around on boats" (From the Publisher, MBH&H Sept/Oct 2016) and found further encouragement toward my latest project—the restoration and assembly of my dreamboat, a 23 ½' Tremolino Trimaran designed by Dick Newick. 
That encouragement is nothing new, as I can recall many instances of John's direct involvement in the advancement of my career as a marine illustrator going back several decades, for which I am ever grateful. That career carried me to the doorsteps of some of Maine's finest boatbuilders and designers. Due to the distinctiveness of character that denotes rugged individuality, sincerity, and the perpetuation of traditions of craftsmanship, Mainers will always remain my favorite clients. 
I have recently retired, and have made the very carefully considered decision to go sailing rather than powerboating in my retirement years. The Tremolino project will allow me to fulfill a promise to Dick Newick to one day sail my own Newick-designed boat. The string of circumstances that have aligned to make this possible are as unlikely as they are amazing. Without the help of Pat Newick, Phil Weld's (yes, that Phil Weld) next-door neighbor, "Project Aemaeth" (the name suggested by Pat Newick) would likely have never been more than an unattainable wish.
When completed, I plan to sail Aemaeth from Buzzard's Bay to Gloucester, Massachusetts, and eventually on to Kittery Point, Maine, and farther downeast. 
Oh, by the way, sometime in the meanwhile I'll need to learn to sail.
Bruce A. Alderson
Rehoboth, MA
---
Lessons for safer sailing
I just read Ben Emory's article, "A Sailing Misadventure" (MBH&H July/August 2016). What an experience he had, and how fortunate that he was found by Katrinka's crew! I really appreciate the important lessons for boaters that he shared with this story. It is often too easy to become complacent in familiar waters and on your own boat.
Keith C. Dolin
Florham Park, NJ 
---
Kudos to Carl Little
I just read Carl Little's article on Ashley Bryan. I also printed it for Ashley to read on his way to speak in Nikki Giovanni's classes at Virginia Tech this week—at 93! Carl really captured the work and, more importantly, the man.
Wonderful issue.
Cynthia Lief
Islesford, ME
---
Dams come down and fish rebound
I thoroughly enjoyed reading the article by Catherine Schmitt on the Penobscot River Restoration (MBH&H Nov/Dec). I have read about other, similar success stories, and find it encouraging that fish stocks once in decline tend to rebound after dam breaching or removal, and that estuary habitats tend to rebound as well.
I live in the Snake River drainage of the Pacific Northwest where the US Army Corps of Engineers operates four dams in the lower Snake. As a result of dam construction and other factors, four/five stocks of salmon and steelhead of the lower Snake River have been
listed under the federal Endangered Species Act:
Snake River Sockeye, November 1991
Snake River fall Chinook and combined spring/summer  Chinook, April 1992
Snake River Basin steelhead, August 1997
Add to that list the imperiled Pacific lamprey.
Many biologists (I'm one) have gone on record that the only viable solution to species and river-system recovery is dam breaching and/or removal. Much else has been tried, but nothing has worked to date.
So I find these success stories (we have a few out here as well) that describe rebounding fish populations after dam breaching and/or removal give hope that we in the Pacific Northwest may learn from others.
Thank you for publishing that article, and others, concerning environmental issues.
Roy Heberger
Still Land-Locked in Boise, Idaho
---
A note from the grammar police
In your most recent issue, shouldn't the caption on page 3 read "farther" up the Kennebec past Doubling Point Light, not "further"?
Sorry, blame my English teacher Virginia Parsons down in York in 1959 for making me a grammar stickler.
I really love MBH&H for its style and content. It beats my other boating mags and Maine mags hands down!
Lew Flagg
Harpswell, ME
From the editors: 
Yes, you are correct. Furthermore, Miss Parsons did a fine job. Thanks for the rap on the knuckles!
---
The little boats that could, and do 
Educational Passages is making good progress. After organizing two international panel presentations at the National Marine Educators show last June, we were asked to address the European Marine Science Educators annual conference in Ireland.
After that, I'll be helping launch mini-boats from Ireland, Portugal, Azores, Canary Islands, and Madiera.
We owe a lot of our success to Maine Boats, Homes & Harbors ("Educational Passages: Using the 'Sailing Bug' to Teach," Winter 2012). I think I would have given up on this program without encouragement from people like you.
I wanted to make sure you knew what a great (and much needed) boost you gave us. I'm not saying we've made it but we are getting closer to our goal of providing a unique and very effective marine science program to students around the world.
Dick Baldwin
Educational Passages
Belfast, ME            
Share this article:
Digital Edition Available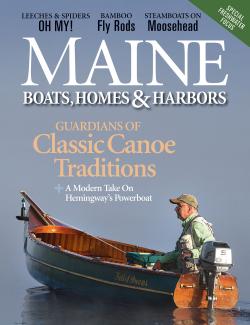 Can't get to the store to buy your magazine? We deliver the stories of Maine's coast right to your inbox. Sign up here for a digital edition.