Hamlin's Marine: Edendriver 17
Launch blends traditional Maine lines with South Carolina DNA
By Laurie Schreiber
Production is gearing up at Puffin Boats, LLC, the boatbuilding subsidiary of Hamlin's Marine, for a new powerboat: the Edendriver 17, which combines practical downeast character with South Carolina elegance.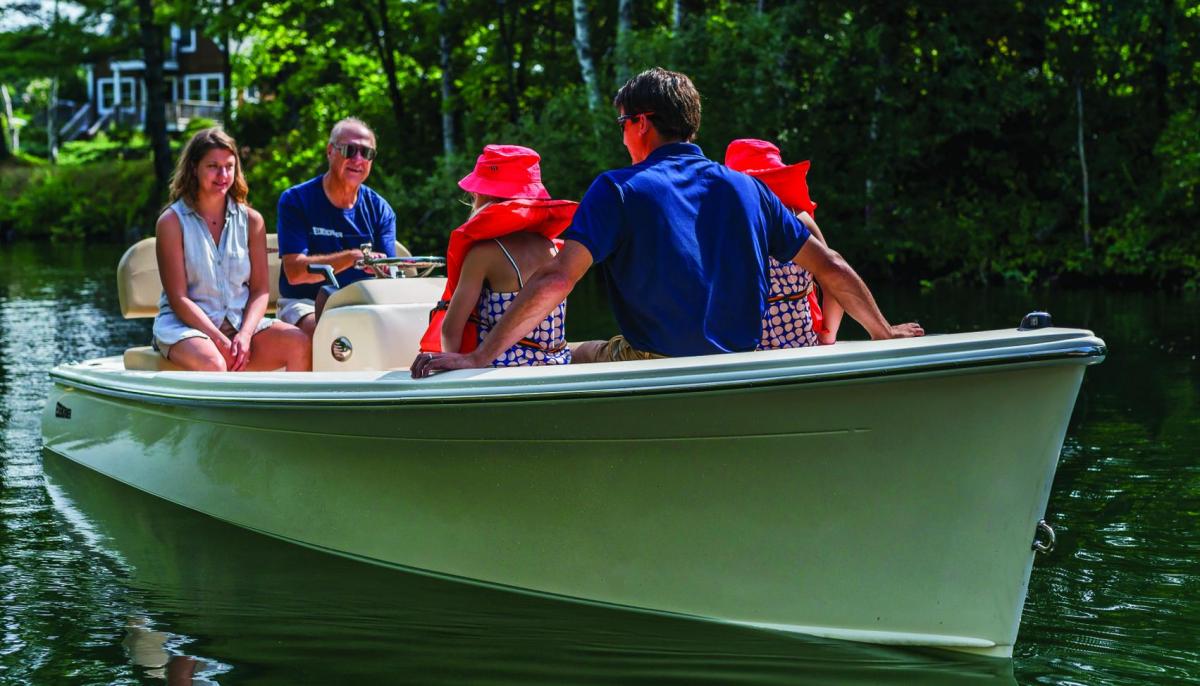 Hamlin Marine's new Edendriver 17 blends downeast lines with South Carolina elegance. Seen here is one of the three Edendrivers built in South Carolina before her designer passed away. Photo courtesy Hamlin's Marine
This powerboat represents the latest area of expansion for a family-owned company that began in the 1980s. Hamlin's Marine, a Waterville, Maine-based boat dealership, was founded in 1984 by Dave and Christine Hamlin. They went on to co-found Hamlin's Marina in 2006 in Hampden with their son-in-law and daughter, Dan and Katie Higgins, who now own and operate both businesses. Dan and Katie then started Puffin Boats in 2013 when they bought the rights and molds for Puffin dinghies from Frankfort Boat Works, and took over production of the small, sturdy fiberglass tenders. They then quickly expanded Puffin Boats even further, by licensing the right to build the Scout 151, a 15-foot-long affordable and fun family boat. 
Hamlin's is also a Scout dealer, and Dan Higgins was on one of his trips to the Scout plant in South Carolina when he spotted a beautiful 17-foot powerboat with downeast flair, called Edendriver. He was hooked by its looks.
"It stopped me in my tracks," he said during an interview at the Puffin Boats manufacturing plant in Hampden, where the crew was preparing to wrap up production on a couple of Scout boats in order to focus on the Edendriver. 
The Edendriver design has a poignant backstory. It was the brainchild of Seph Limehouse, a chief designer at Scout Boats. Limehouse was diagnosed with cancer, but before he died in 2014, he built three Edendrivers for family members. His wife, Leigh, promised him that she would find a production builder for his legacy boat. It was around that time that Dan Higgins saw the boat.
"This is a unique design," Higgins said. "Downeast-style boats are designed for utilitarian purposes. In South Carolina, you get the really beautiful sportfishing boats with the Carolina flare. So this boat was built from the ground up to be elegant and beautiful, but it still has characteristics that make a downeast boat practical."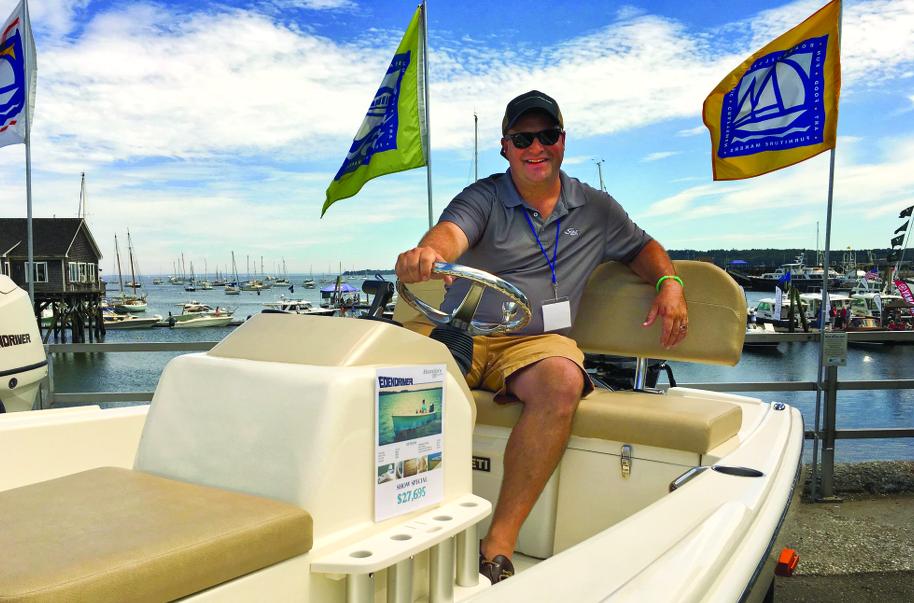 Dan Higgins debuted the new Edendriver at the 2016 Maine Boats, Homes & Harbors Show. Photo by Polly Saltonstall
Unlike many boats its size, the Edendriver does not have a tall center console. Rather, the helm features a bench that allows the driver to remain seated while under way. That layout encourages conversation, and is comfortable for picnicking or fishing. The boat can be fitted as a practical fishing boat, or as a sport tender for exploring harbors. At the same time, it's rugged, and with its flared bow, tumblehome stern, and molded spray rail it offers a comfortable, stable, and dry ride. 
Higgins recalled running one of the originals in South Carolina. It was a pretty nasty day with wind and chop. "Usually in an open boat, on a day like that, you don't stay out very long," he said. "But it was true to its downeast DNA: It cut through chop and there was no pound. It has excellent lateral stability. At one point, I ran it like a jet ski and topped out at 47 miles per hour—way faster than a downeast boat."
With Leigh Limehouse's blessing, Scout Boats owner Stevie Potts worked with Higgins to get the tooling and plans ready for production in Maine. Leigh will continue to be involved with the boat's styling and promotion.
One of the original Edendrivers was shown at the August 2016 Maine Boats, Homes & Harbors Show. 
Edendriver is the next chapter of the Puffin Boat mission of "Building Boats with a Purpose," Higgins said. A portion of Edendriver sales will go to support Seph's family in South Carolina as well as to 15-40 Connection (www.15-40.org), a national organization that raises awareness for the early detection of cancer.  
---
Laurie Schreiber has written for newspapers and magazines on the coast of Maine for more than 25 years.
Edendriver
LOA  17'2"
Beam  71"
Draft  10" approx
Displ.  1100
Power/Engine  70 hp max
Fuel capacity   15 gals.
Builder: 
Puffin Boats, LLC
Hampden, ME
207-907-4385
Dealer: 
Hamlin's Marine
Hampden, ME  207-907-4385
Waterville, ME 207-872-5660
Share this article:
2023 Maine Boat & Home Show

Join Us for the Maine Boat & Home Show!
Art, Artisans, Food, Fun & Boats, Boats, Boats
August 11 - 13, 2023 | On the waterfront, Rockland, Maine
Click here to pre-order your tickets.
Show is produced by Maine Boats, Homes & Harbors magazine.