Front Street Shipyard: Berilda
A classic Feadship gets a modern makeover
By Laurie Schreiber
A Travelift with a 485-ton capacity has allowed Front Street Shipyard in Belfast, Maine, to take on some very big projects, including the major refit of a 126-foot Feadship this past year. Originally launched in 1978 as Claybeth, the motoryacht is now named Berilda. 
Feadship, which is based in the Netherlands, and stands for First Export Association of Dutch Shipbuilders, is a world-class builder of luxury super­yachts for movers and shakers.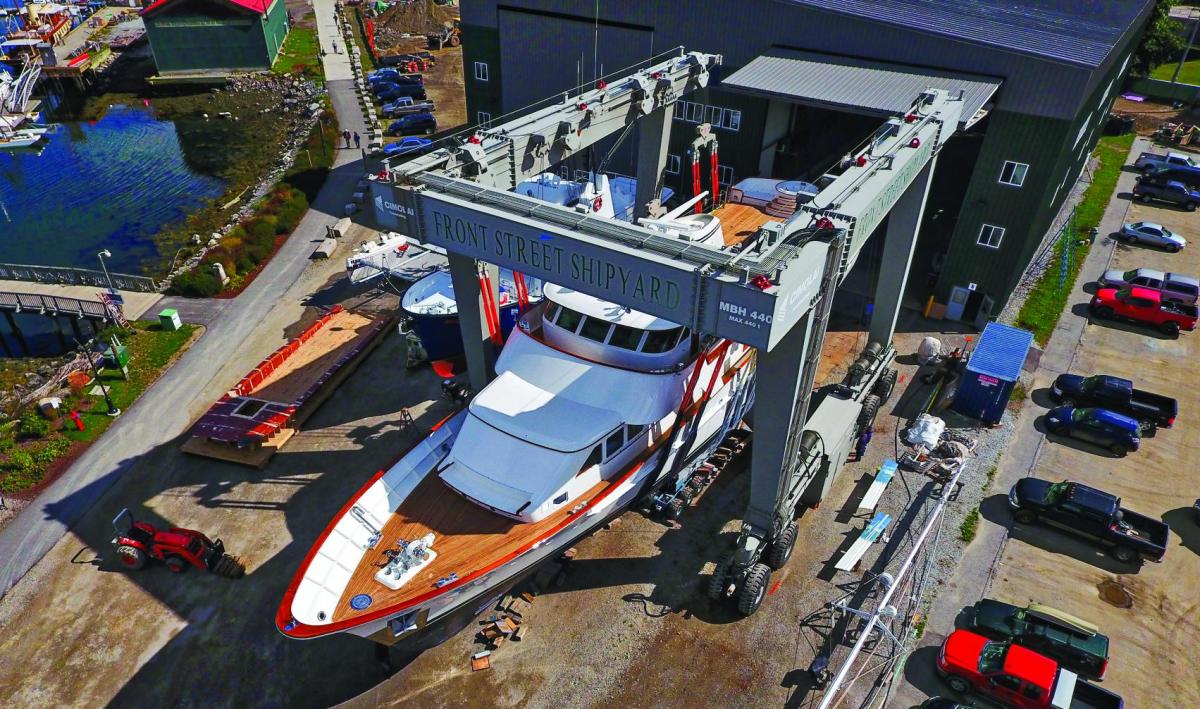 The revamped 126-foot Feadship Berilda is readied for her launching at Front Street Shipyard, where a huge new lift has allowed the yard to take on large projects such as this one. Photo by Billy Black
Berilda features a steel hull with aluminum superstructure. The yacht was familiar to the Front Street crew, which had performed routine maintenance for a previous owner, who called the yacht Sirenuse. The new owners, who are from Houston, Texas, decided to move beyond maintenance and have the yard tackle a refit that involved major repairs and modifications inside and out. That included replacement of large sections of the hull's steel plates fore and aft, nearly 1,000 square feet in all.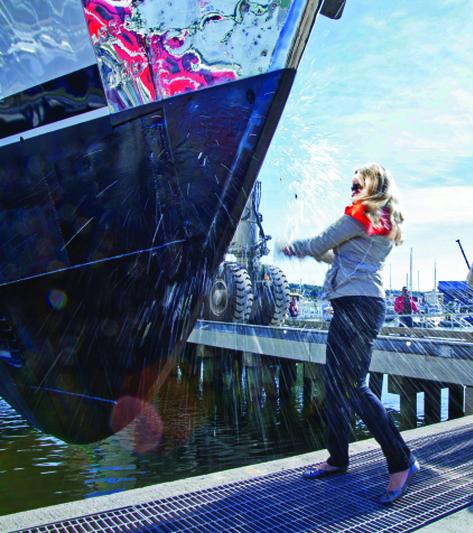 Berilda was christened with a crack of the bubbly. Photo by Billy Black "The plates had corroded," said JB Turner, president and general manager of the yard. "There weren't any leaks at the time, but there would have been leaks had anything happened to the doubler plates."
A major cause of the corrosion was water seeping under tar that had been poured into the aft bilge, probably to keep down propeller noise, he said.
Many of Berilda's systems were outdated. The Front Street crew installed a new 100-kilowatt generator, air conditioning compressors and air handlers, watermaker, sewage system, and engine mounts. The majority of the ship was rewired and the latest entertainment accoutrements installed. Overheads were reinsulated and refinished with Whisper Wall for noise control. The substantial interior woodwork, as well as stainless steel rails and fittings, were removed, restored, and reinstalled. New paint and varnish were applied throughout.
The heart of the job, though, was modification of the interior to modernize the layout. The owners were closely involved in the process. Often, said Turner, the yard recommends a yacht designer or stylist to customers when they plan to undertake a major refit. But in this case, the owners had a vision and were able to bring it to life through rich descriptions and succinct direction. That vision can be seen starting on the main deck with new built-in teak-and-glass furnishings in the spacious main salon, designed with entertainment in mind. A rebuilt head forward was fitted with new tile and accessories (six of the boat's ten heads received new tile). Farther along, a redesigned hall leads to a new pantry and service area.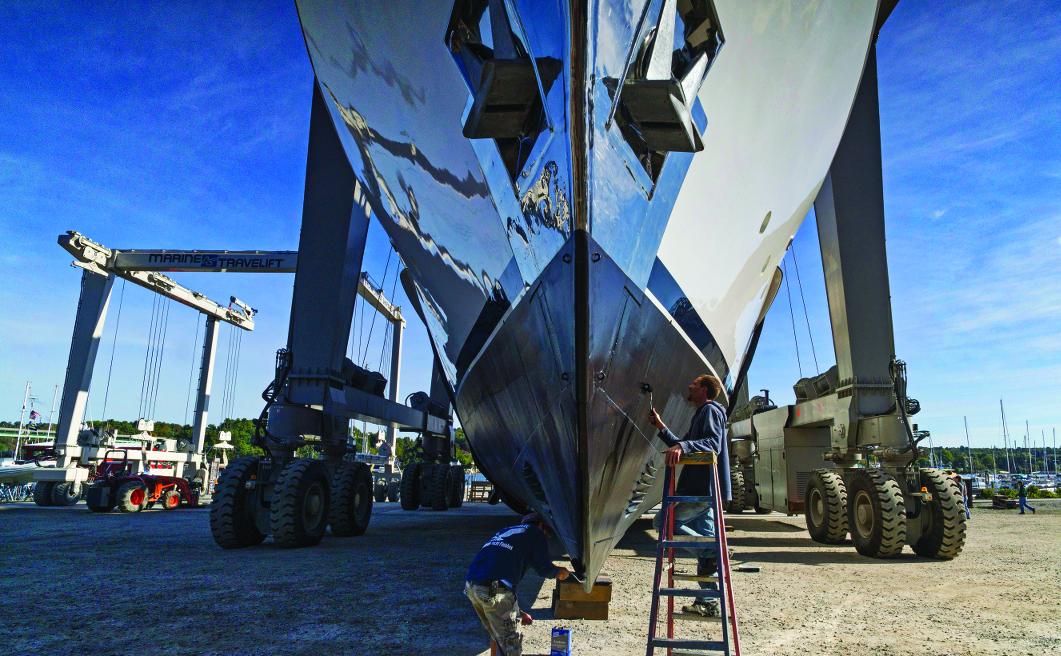 Berilda's steel hull receives last-minute attention before going in the water. Photo by Billy Black
The original dining salon had been located up forward until previous owners turned it into a classroom for their children for use during extended cruises. The new owners wanted the space converted into their stateroom. Its modernized interior includes new carpeting, custom cabinetry, and new furniture. The former pantry, adjacent to this space, was converted into the master bathroom. And the original owner's cabin, located aft on the lower deck, was converted into two guest cabins with a queen bed and head in each, thereby increasing guest capacity.
On the sun deck, several areas were redesigned for lounging and for entertaining, with construction of a new hot tub, barbecue, and bar. The lower deck, comprising the engine room and crew and utility areas, received new soles and wallpaper. 
Plans call for the owners to head south on Berilda this winter, then bring the boat back to Front Street in coming years to implement an already-evolving list of new ideas.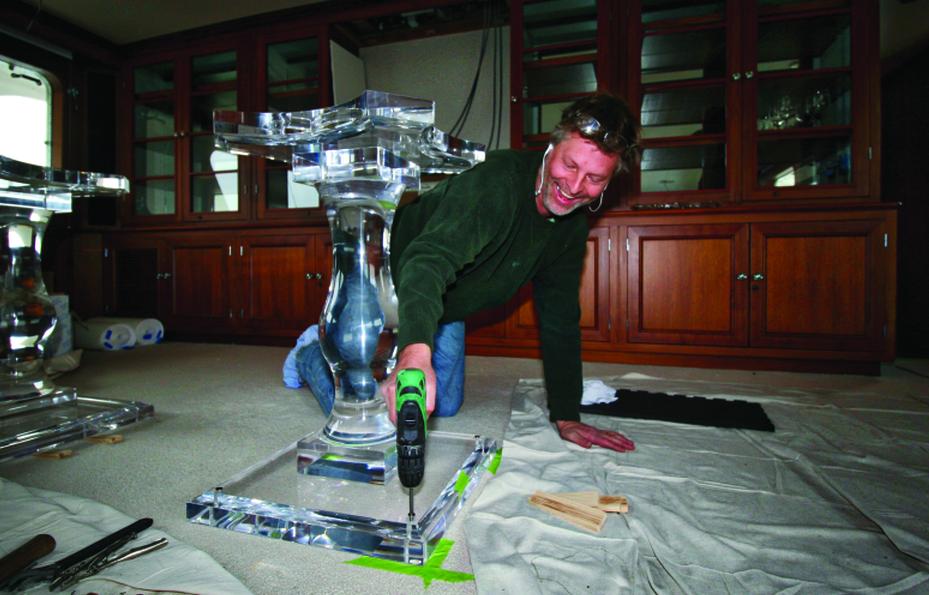 Boat carpenter John Ganz puts together tables for the salon. Photo by Laurie Schreiber
Surprisingly, this is a first boat for the new owners, who have chartered boats for years and love being on the water, said Turner. The couple plans to cruise the East Coast for starters.
So how did they arrive at the Feadship purchase?
"They wanted something classic," said Turner. "This is one of the older Feadships and it has very classic lines. When they finally decided it was time to have their own boat, they began the search and sort of fell in love with this look and layout. They felt it would work well with their family and what they wanted to do."
Front Street has had other Feadship projects, but nothing this extensive. 
"As you take them apart, you can see how much care was taken to build them," Turner said. "It's been a fantastic project—a high-quality yacht that we've taken to a level that's now state-of-the-art again. And our people have risen to the occasion. They've put out an awesome product."     
---
Laurie Schreiber has written for newspapers and magazines on the coast of Maine for more than 25 years.
126' Feadship
LOA  125'11"
Beam  25'5"
Draft  8'
Power  2 x Caterpillar 379 TA, 565 Bhp at 1225
Cruise speed  12 knots
Displ.  280 metric tons
REFIT: 
Front Street Shipyard
Belfast, ME
207-930-3740
Share this article:
2023 Maine Boat & Home Show

Join Us for the Maine Boat & Home Show!
Art, Artisans, Food, Fun & Boats, Boats, Boats
August 11 - 13, 2023 | On the waterfront, Rockland, Maine
Click here to pre-order your tickets.
Show is produced by Maine Boats, Homes & Harbors magazine.