Back Cove Yachts: Back Cove 32
Practical elegance
By Ted Hugger
When it comes to boat length, I've always thought that 32 feet is the sweet spot: small enough to be easily handled by a crew of one or two, reasonable in terms of fuel economy and range, and relatively easy and affordable to maintain. A 32-foot boat is large enough for family or friends to stretch out and relax, and substantial enough to behave nicely in a variety of sea conditions.
So it didn't surprise me to hear from Bentley Collins, vice president of sales & marketing for Back Cove Yachts and its corporate cousin, Sabre Yachts, that the Back Cove 32 had been added to the company's all-star line up to fill a void between their larger and smaller boats.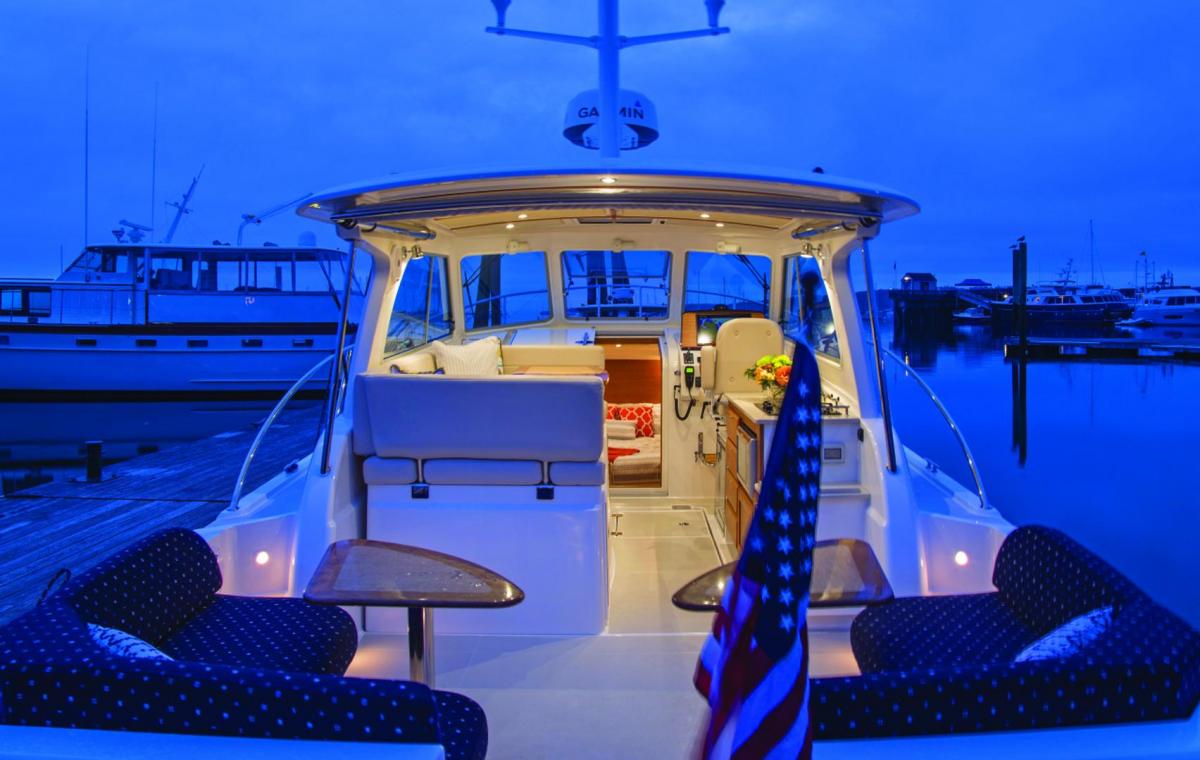 The Back Cove 32's spacious aft and bridge decks offer tons of socializing space for family and friends. Photo courtesy Back Cove Yachts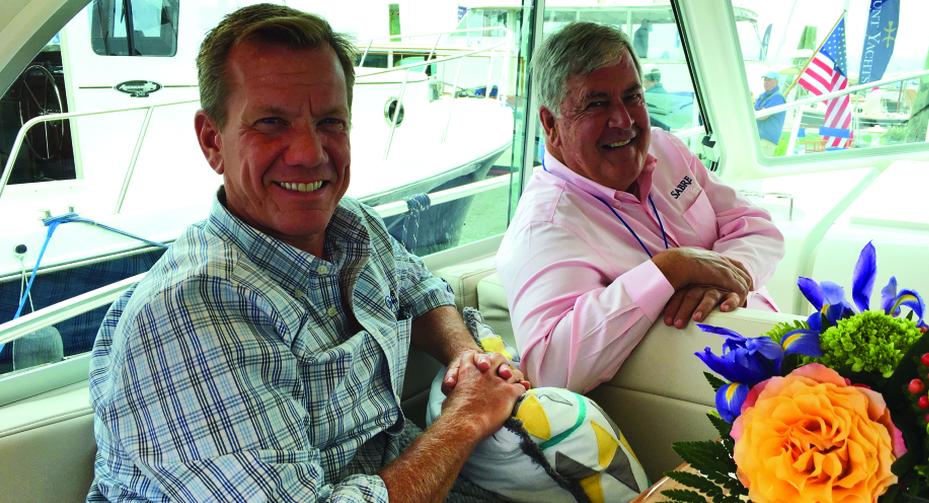 Chris DiMillo of DiMillo's Yacht Sales and Bentley Collins, Back Cove VP of sales and marketing, debuted the new Back Cove 32 at the 2016 Maine Boats, Homes & Harbors Show in Rockland. Photo by Polly Saltonstall Sabre Yachts is renowned for building exquisite, high-end motoryachts that range from 38 to 66 feet. Fifteen years ago, the company's dealer network was clamoring for more inventory. "They were asking for a line of boats they could get more of than Sabre motoryachts' limited supply afforded," Collins explained. "In response, we created the Back Cove line." Simple, serviceable, affordable—the Back Coves are what Collins refers to as yachts with "practical elegance." Back Cove started with a 29-footer; a year later, the company introduced the 26. Today, Back Cove models run from 30 to 41 feet.
"Along the way we introduced the Downeast 37 to the fleet. The Downeast 37 was unique, with a limited interior (very comfy for two people) and plenty of social space in the bridge deck and cockpit," Collins recalled. "Our customers said they loved the concept but asked, 'Don't you have this in a smaller, more affordable size?' We heard them loud and clear. We took all of this consumer feedback into consideration and voila, the Back Cove 32 was born."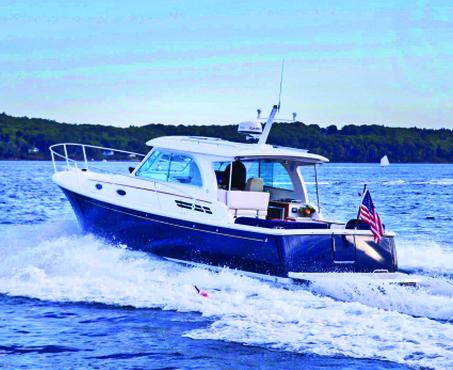 At a 25-knot cruising speed, the Back Cove 32 offers a generous cruising range of 528 miles. Photo courtesy Back Cove Yachts True to its mission, the 32's spacious cockpit offers large, comfortable corner seats and tons of socializing space. Forward on the bridge deck under the hardtop, a galley-up design with a port-side dinette keeps the chef in the party. A starboard helm station affords unbeatable 360-degree visibility. Down below, an island double berth takes center stage. Separate head and shower compartments, plenty of storage space, and stunning varnished cherry woodwork make for a warm and comfy hideaway for the cruising couple.
With a long sweeping sheer, understated cabin, and slightly extended hardtop, the 32's lines speak to her motor-yacht lineage. The standard power package is an economical Volvo D6 370-hp electronically controlled engine, driving a four-bladed NiBrAl prop. Idling along at 1,000 rpm and six knots, the Volvo sips 0.8 GPH. At cruising speed, 3,200 rpm, she makes 25 knots, burning 17 GPH and cranking out 1.47 nautical miles per gallon—a cruising range of 528 nautical miles.
The Back Cove 32 has proven to be a hit right out of the gate since its debut in August at the Maine Boats, Homes & Harbors Show in Rockland. Four 32s have been delivered, and customer and dealer demand has the boat's production schedule reaching out beyond 2017.
---
Thirty-two feet is the author's sweet spot, too. Ted Hugger and his wife keep their 1969 Grand Banks 32 in Southport, Maine.
Back Cove 32
LOA  37'
Hull Length  32'9"
Beam  11'10"
Draft (Hull)  26.5"
Draft (Prop)  36"
Displ. (est. light load)  15,000 lbs.
Fuel  185 gals.
Water  80 gals.
Waste  40 gals.
Builder: 
Back Cove Yachts
Rockland, ME
207-594-8821
Share this article:
Digital Edition Available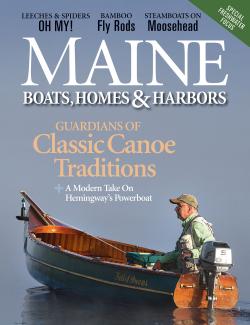 Can't get to the store to buy your magazine? We deliver the stories of Maine's coast right to your inbox. Sign up here for a digital edition.