Paddling Into New Adventures
By Dianna Emory
As my stand-up paddleboard scoots along, a whiskery snout pokes from the dark waters off Chatto Island, followed by a horsehead seal's bulbous eyes. A rarity in Brooklin's Center Harbor, she follows me across Eggemoggin Reach, diving and splashing as we each take in the grandeur of her island-studded home, passing several of her harbor seal cousins along the way. The smooth, undulating surface of the Reach reflects the rosy dawn. Three mackerel-feeding porpoises rise and fall in unison—likely the same playful gang I see regularly. One morning brought them streaming along across my wake and diving under my board; on another occasion I joined them to swim as they dove and splashed around. Such wildlife encounters enhance these paddleboarding adventures, making them more than purely health-benefitting, athletic expeditions.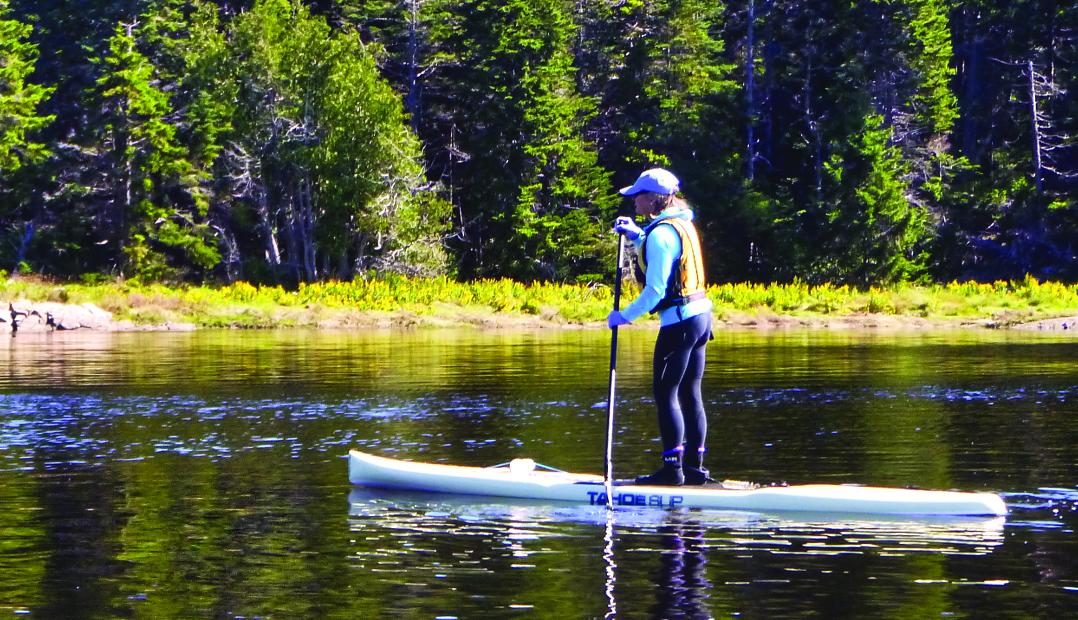 The author on a smooth-water paddling excursion. Photo by Ben Emory
A loon calls out and terns flit by as I approach the Eastern Torrey Island shore; my seal friend snorts, humps her back, and plummets under the water and away. As I paddle along, my vantage point allows close examination of the bottom below, with occasional glimpses of tiny silvery fish. I don my snorkel and mask, stick my head over the bow, and paw my way through deep-rooted clumps of rockweed, then over eelgrass. The slippery eelgrass looks healthier and more expansive than it did a year ago. Tiny hermit crabs inhabiting periwinkle shells skitter along and beckon me to stay, but I stand and propel rapidly along the shore, through the gap, and on toward Babson Island as the breeze begins to build. 
The scent of the sea and bait is strong as lobsterboats churn the water while traps are hauled. Big wakes from several directions combine with the building sea to create a confusing surface chop across the Reach. It requires attention to paddle hard upwind while navigating the chop and wakes. In the distance, Acadia's Isle au Haut district beckons, as does Maine Coast Heritage Trust's magnificent Marshall Island. Stand-up paddleboarding (SUPing) has given my husband, Ben, and me a more intimate knowledge of these and many other wilder spots. We carry our boards on each Maine cruising adventure aboard our 39-foot sloop, as we travel from the Muscongus Bay area to the Roque Island archipelago and points east.
Paddleboarding is an age-friendly, positive addiction that transports you across inviting waters and provides intimate views of marine life and other creatures. And every new SUP adventure will harden your core, bulk up your arm muscles, and build strength from the top of your thighs to the end of your toes. If ever there were a sport to recommend for all ages, this is it. Our grandsons have plied their way around the harbor since the age of four. Our son Thor, whom we thank for getting us into this sport, has raced downwind from Molokai to Oahu. Our 86-year-old brother-in-law paddled along the shore of Center Harbor not so long ago. And, at around seven decades, my husband, Ben, and I have passionately SUPed year round for five years. In our dry suits, surrounded by eider ducks, we have cut through the skim ice and around the ice cakes of Frenchman Bay. We have explored the best of Maine's cruising destinations, discovering shallow water jewels we had not previously accessed, adding another dimension to an intimate connection with this magnificent coast. Thrilled to paddle above all else, I have restricted my long-distance running to days when there is a gale or a blizzard. 
Taking the plunge into the sport is not hard. And for those who fear literally plunging into the water, be reassured that it rarely happens. Even when it does, the chance to enrich your outdoor life experience is well worth getting a little damp.
Cutting across the Reach my bow takes frequent waves as I paddle harder, contemplate what lies below the surface, and absorb the multitude of island nooks and crannies ripe for exploration. Magic comes in the fact that so many of these islands are protected, thanks to the generosity of their owners and the effectiveness of Maine Coast Heritage Trust (MCHT), Acadia National Park, and other conservation-related entities. What a gift this is to paddleboarders, kayakers, island explorers, and boaters of all sorts. Spanning the Reach, I see MCHT's Hog and Bear, and seven islands on which Acadia holds conservation easements. Privately owned, this group of islands includes our family's forever-wild Chatto Island, which protects Center Harbor and is home to residents like the three river otters we encountered one day while paddling.
Chatto Island also hosts a wide range of visiting community members and expeditioners, many of whom likely do not know its conservation history. Increasingly, these folks skirt along Chatto's cranberry-covered ledges and the boulders in the shallows on their paddleboards.
With the island in my sight, I turn and fly downwind across the Reach, past WoodenBoat's property, over the Chatto bar, up and around the shallow head of Center Harbor, through the fleet near Brooklin Boat Yard, and back to our dock. Time on my board provides another way to connect with the natural world, and keeps body and soul fit and happy.      
---
Dr. Dianna Emory, an MDI resident, volunteers for conservation-related organizations when she is not engaging directly with the environment. 
Proper SUP Protocol
Have an expert fit you with a proper board and a carbon-fiber paddle. Boards range from those that are as stable as a dock to spritely things that require more expertise. Be prepared to trade up as you gain confidence.
 Tell someone where you are going and when you plan to return.
Wear a life jacket and attach your leash, as your board can shoot 20' away if you fall and are not attached.
Wear fluorescent yellow or orange to increase your visibility to boaters.
Paddle upwind first, bearing in mind that a downwind run is easy compared to heading into the wind.
Approach large wakes on your bow. Get down on your knees or put the tips of your fingers on your board if you are nervous. Remember that the worst that will happen is that you can get wet!
Share this article:
Digital Edition Available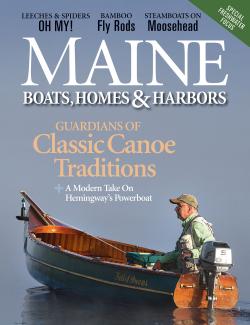 Can't get to the store to buy your magazine? We deliver the stories of Maine's coast right to your inbox. Sign up here for a digital edition.