Math Man
Behind every great designer stands an engineer
By Ken Textor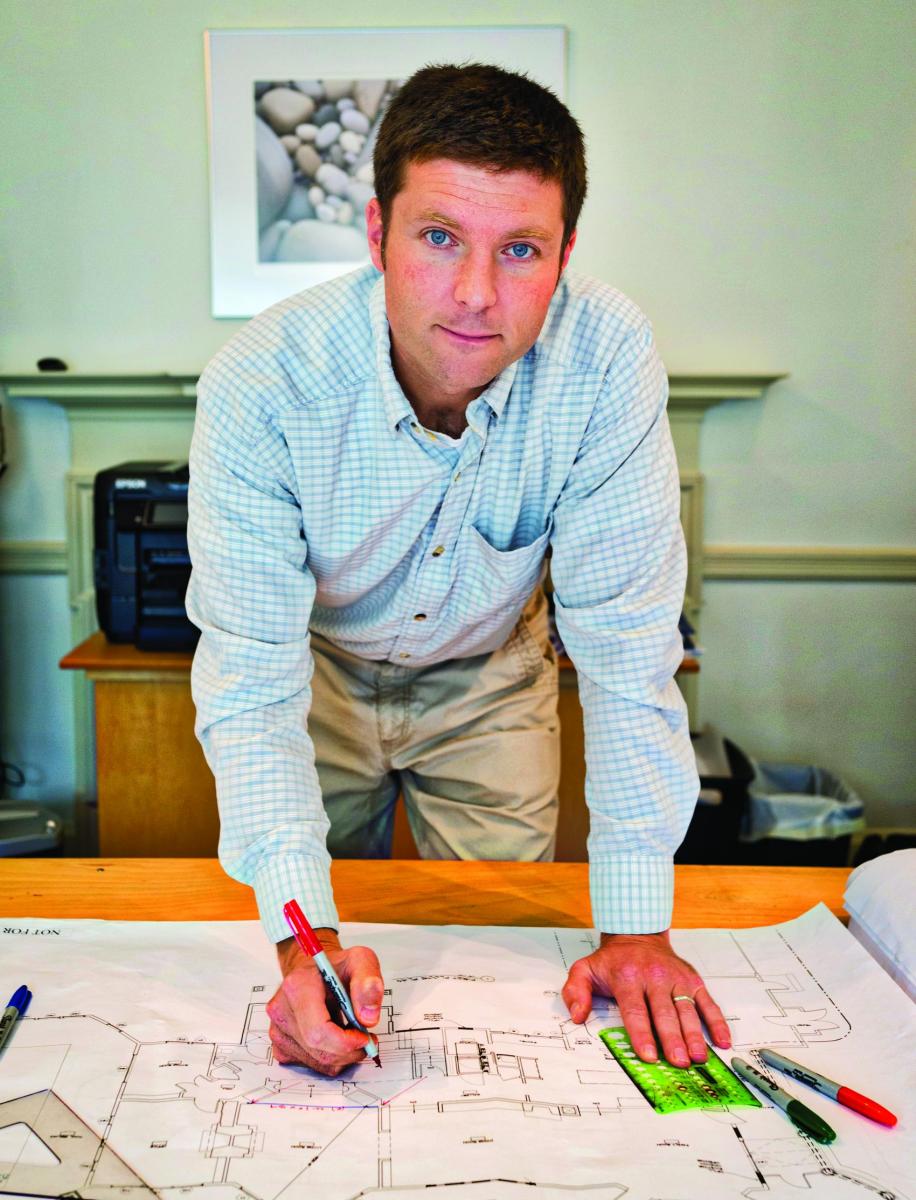 Albert Putnam has spent a lifetime fascinated by structures—from barns to homes to bridges and even trees. Growing up in Aroostook County, he swung a hammer from the time he was a young lad until he discovered the Pythagorean theorem. He hasn't looked back since. Photographs by Heather Perry
He's energetic, bright, and engaging, and yet Albert Putnam hopes you never see or hear about him before, during, or after your new house has been built. 
Without the expertise of a structural engineer like Putnam, though, all the architects, interior designers, lighting consultants, general contractors, and building inspectors in the world can't help you build a house that will withstand a Maine blizzard or a deck that can hold a weighty hoard of family reunion guests. Nor can they explain why floor tiles loosen unexpectedly, windows spring mysterious leaks, the fireplace hearth cracks, or other structurally-
related problems crop up.
"If we've done our job well," said Putnam, "everything will be safe and serviceable for a long time to come. We make sure everything works as it was intended to, that the math works out. You shouldn't notice our work."
In short, what architects imagine, structural engineers make happen.
In his nearly 20 years of structural engineering, Putnam has solved problems as varied as creating a four-season boathouse dock system on a freshwater lake, to temporarily supporting 100-foot trees that have been moved from one building site to another. Mostly, though, he and his fellow structural engineers are concerned with floors, walls, ceilings, and roofs, ensuring that they can withstand stress, while also staying in harmony with the architect's and owner's vision.
"The specs we work out also can change during a project, and change quite a bit," explained Putnam. For instance, after the foundation was poured for a 6,000-square-foot home in a Midwest state recently, Putnam and the lead architect were informed that the owner planned to install a five-ton art object in one of the rooms just above the basement. The owner didn't want the architect's plans to change, so Putnam had to re-engineer many of the house's first floor supports on short notice to accommodate the newly anticipated weight.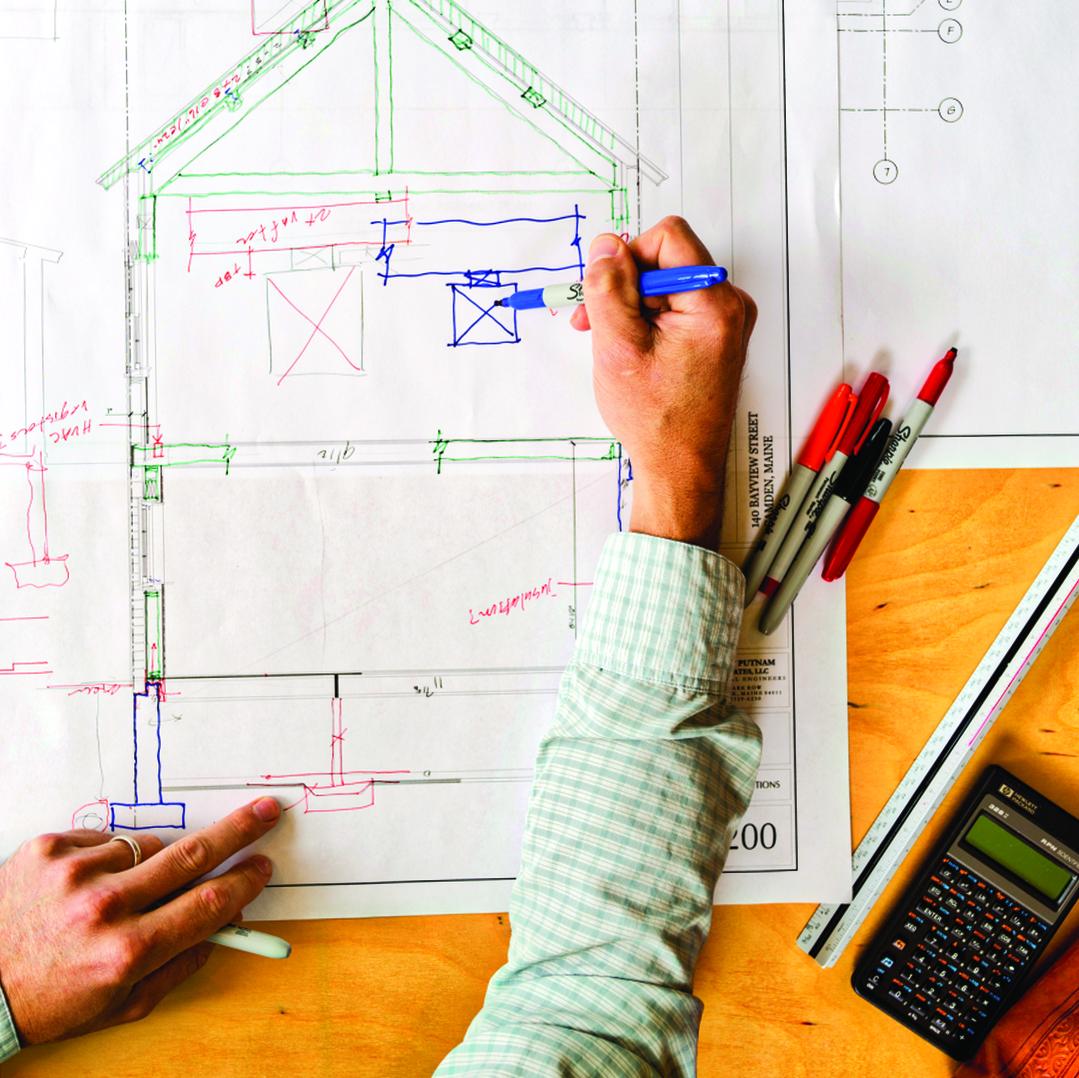 Colored pens, squiggly lines, symbols and endless formulae have special meanings for a structural engineer like Putnam. He speaks of them with the same energy an ordinary father might enthuse about his youngest child's first solo bike ride. "It happens all the time," he said. "It's what we do."
In an official sense, structural engineers have been trying to figure out how to hold up floors, walls, and roofs reliably for the last 250 years or so. Unofficially, structural engineering can be traced back nearly 5,000 years to the first pyramids in Egypt. Then in 250 B.C., the Greek mathematician Archimedes wrote down equations and geometry to be applied to structures. Still, until the 18th century, most large complex buildings, homes, bridges, aqueducts, and such were designed and built by a "master builder," who was the de facto structural engineer and, often, the architect, all rolled into one. 
Today, the work of two Swiss mathematicians, Daniel Bernoulli and Leonhard Euler, underpins modern construction theory. They developed a set of structural engineering equations around 1750. Structural engineering guidelines, codes, associations, and minimum academic standards then developed slowly until the late 19th century, when truly amazing buildings like the Eiffel Tower, the Brooklyn Bridge, and many of the mansions of the super-rich pushed architects and their theoretical structures to the limits. 
Putnam, 40, inherited his passion for building from his father, who was a general contractor in Houlton, Maine. Summers were frequently spent working on construction projects.
As a child, Putnam and his family used to spend part of their summer vacation camping on Warren Island off Islesboro in Penobscot Bay. They would get there by boat, going down the Penobscot River from Bangor on an old 17-foot wooden Chetek with a big Mercury outboard engine. Since then he has worked on many of the big Islesboro summer homes that he used to cruise by on his boat. Seeing those houses as a youngster got him interested in working on higher-end residences, he said.
When Putnam graduated from Houlton High School, there was little doubt what he was going to pursue at the University of Maine at Orono. He graduated in 1998 with a degree in civil engineering. During college Putnam had worked for UMaine's composite guru Habib Dagher, doing research in the Advanced Structures and Composites Center. That led to a job after graduation designing engineered wood products for a company in Oregon. He moved back to Maine to get married and eventually hung out his own shingle as a structural engineer in Searsport before moving to Brunswick several years ago. 
"He's definitely our go-to guy," said Rob Whitten, a longtime Maine architect based in Portland. "Albert adapts well to whatever we need, and over the years, you develop a real confidence in each other. So yes, the relationship is something like a marriage."
People who deal with structural engineers on a regular basis might consider the marriage analogy a stretch. Many professionals in the building trades say building engineers in general, and structural engineers in particular, can be a pretty stiff-necked bunch. 
But Putnam likes the marriage analogy. "You learn pretty quickly that there's a lot of give and take," he said of the architect/engineer partnership. His portfolio includes working with some 20 different architects from all over the Northeast and Midwest.
He's happy to advise on any size project, such as a recent partnership with G-O Logic of Belfast, Maine, which specializes in small (1,500 square feet or so), hyper-insulated, passive solar homes. 
Putnam concedes that not all projects require an engineer—plenty of solid homes are designed and built with input solely from a general contractor. Still, when you plan something out of the ordinary, a couple of hours of a structural engineer's time could be well worth it. For instance, that cantilevered deck underneath a family reunion may need Putnam's math, geometry, and science skills to hold everything up without incident. And those permanent, "slip-jointed" docks on a freshwater lake in Maine are something only an engineer like Putnam could dream up.
These days, Putnam, his wife Abby, and their three children, live in a modest Sears-Roebuck kit house. These houses were quite popular in the early decades of the 20th century—a portion of this house was built in a central plant and shipped via Boston & Maine Railroad freight cars, to be assembled on site.
"It's good looking and very well built," Putnam said with his trademark enthusiasm. And, as he would wish for himself, the structural engineer for his modest home has disappeared in the mists of history. Standing the test of time is all most structural engineers care about anyway.      
---
Ken Textor is a sailor and woodworker who has written for Fine Homebuilding, Fine Woodworking, WoodenBoat, Lowes for Pros and others. He and photographer Joe Devenney are the authors of  The Hidden Coast of Maine. 
Share this article:
2023 Maine Boat & Home Show

Join Us for the Maine Boat & Home Show!
Art, Artisans, Food, Fun & Boats, Boats, Boats
August 11 - 13, 2023 | On the waterfront, Rockland, Maine
Click here to pre-order your tickets.
Show is produced by Maine Boats, Homes & Harbors magazine.