Good Reads — Issue 143
Books on our Coffee Table
By The Editors
Herreshoff, American Masterpieces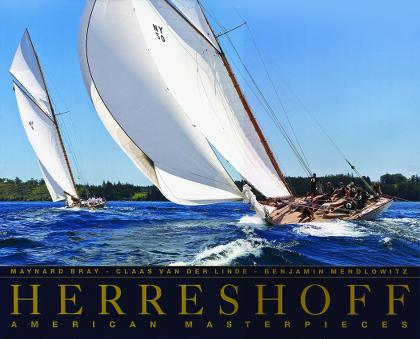 by Maynard Bray and Claas van der Linde, with photography by Benjamin Mendlowitz; W.W. Norton & Co., published in cooperation with the Hart Nautical Collection, MIT Museum; 2016.
If this heavy coffee-table sized tome included just Mendlowitz's gorgeous full-page color photos of classic wooden yachts designed by one of America's best-known naval architects it would be worth rushing out to buy. But, wait… it gets better. In addition to glorious images of 36 classes or custom Nathanael G. Herreshoff yachts (both power and sail), each chapter includes original plans along with informative accounts of the design, the construction process and the story behind the boats still sailing today. The book is not cheap, but at $100 it's much less than a yard bill for one of these boats; the visual enjoyment is well worth that relatively small investment. 
---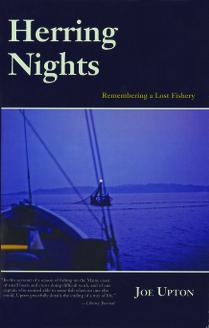 Herring Nights, Remembering a Lost Fishery
by Joe Upton; Tilbury House Publishers; 2015.
Back in the 1970s when Upton bought an old wooden sardine carrier, he became part of a thriving sardine fishery in Maine. He and his fellow carriers hauled herring from weirs and purse seiners to six canneries then in operation around Penobscot Bay. This is a lyrical first-hand look at a way of life and a fishery that no longer exists; the last Maine cannery in Prospect Harbor closed in 2012. Upton's stories are entertaining and colorful—voices from a lost world. This new edition includes an epilogue covering Upton's take on events between the 1970s and now.
---
Shadows in the Stream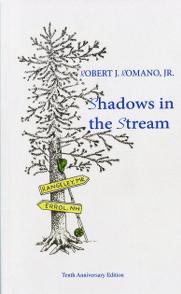 by Robert J. Romano Jr., illustrations by Trish Romano; 10th Anniversary Edition, Birch Brook Press; 2016.
Bob and Trish Romano own a camp on the east shore of Aziscohos Lakes in the Rangeley Lake region. This slim volume of essays weaves stories of the place, its history, and its characters with the angler's ever-present quest for the perfect prize-winning brook trout or salmon. It's a perfect gift for people who love fishing stories in general, and in particular for people who love western Maine and know the lure of its streams and lakes.
---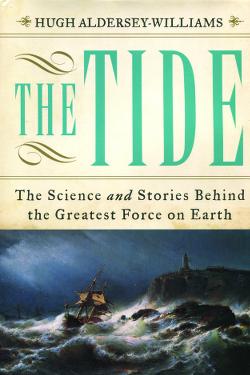 The Tide: The Science and Stories Behind the Greatest Force on Earth
by Hugh Aldersey-Williams;W.W. Norton & Co.; 2016.
This is a fascinating look at one of nature's most mysterious and powerful phenomena. It includes the history of man's understanding of tides, starting with the Greek philosopher Aristotle, who was said by some to have drowned after jumping into churning waters in frustration at not being able to explain the tide. A science writer who lives in England, Aldersey-Williams' quest to explain the tides takes the reader to places like Nova Scotia, where the tides are the world's strongest, and a famous maelstrom off Norway. Along the way he makes connections between historical events and legends such as King Canute, Moses parting the Red Sea, and the tidal truths behind them. It's an informative and entertaining read.
---
Ships, Swindlers, and Scalded Hogs: The Rise and Fall of the Crooker Shipyard in Bath, Maine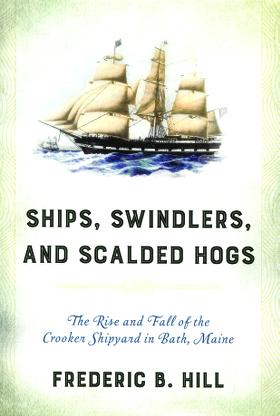 by Frederic B. Hill; Down East Books, an imprint of Globe Pequot; 2016.
A former newspaper reporter who also worked for the U.S. State Department, Frederic Hill knew his family had been in the ship-building business, but not much more. When he retired and moved to Maine he started digging through old family papers. One thing led to another as he learned about the history of shipbuilding in Bath, and beyond, his family's role in it. This meticulously researched book is the result. The story takes quite a few twists and turns—the family's personal travails and many legal battles can get confusing—but overall this is a compelling look at an industry that defined the Maine coast in the 19th century.       
Share this article:
Digital Edition Available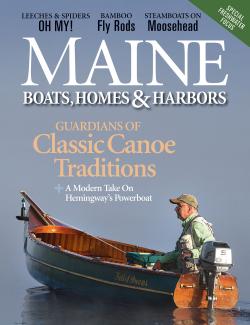 Can't get to the store to buy your magazine? We deliver the stories of Maine's coast right to your inbox. Sign up here for a digital edition.