Ashley Bryan at 93
Children's book author-illustrator builds a legacy of art and humanism
By Carl Little
Photographs by Kate McMullin
On an early mid-July morning, a week or so after his 93rd birthday, Ashley Bryan greeted my family at the door of his house on Little Cranberry Island. My granddaughters Maria, 3, and Serita, 2, were wide-eyed as they entered to find rooms full of toys—puppets and dolls from around the world, every kind of crèche, wind-up gadgets, and more. Bryan showed them a room near the front door where he has assembled a collection of playthings specifically for visiting children. "I'm going upstairs with Papa Carl now," he said. "See you in a while."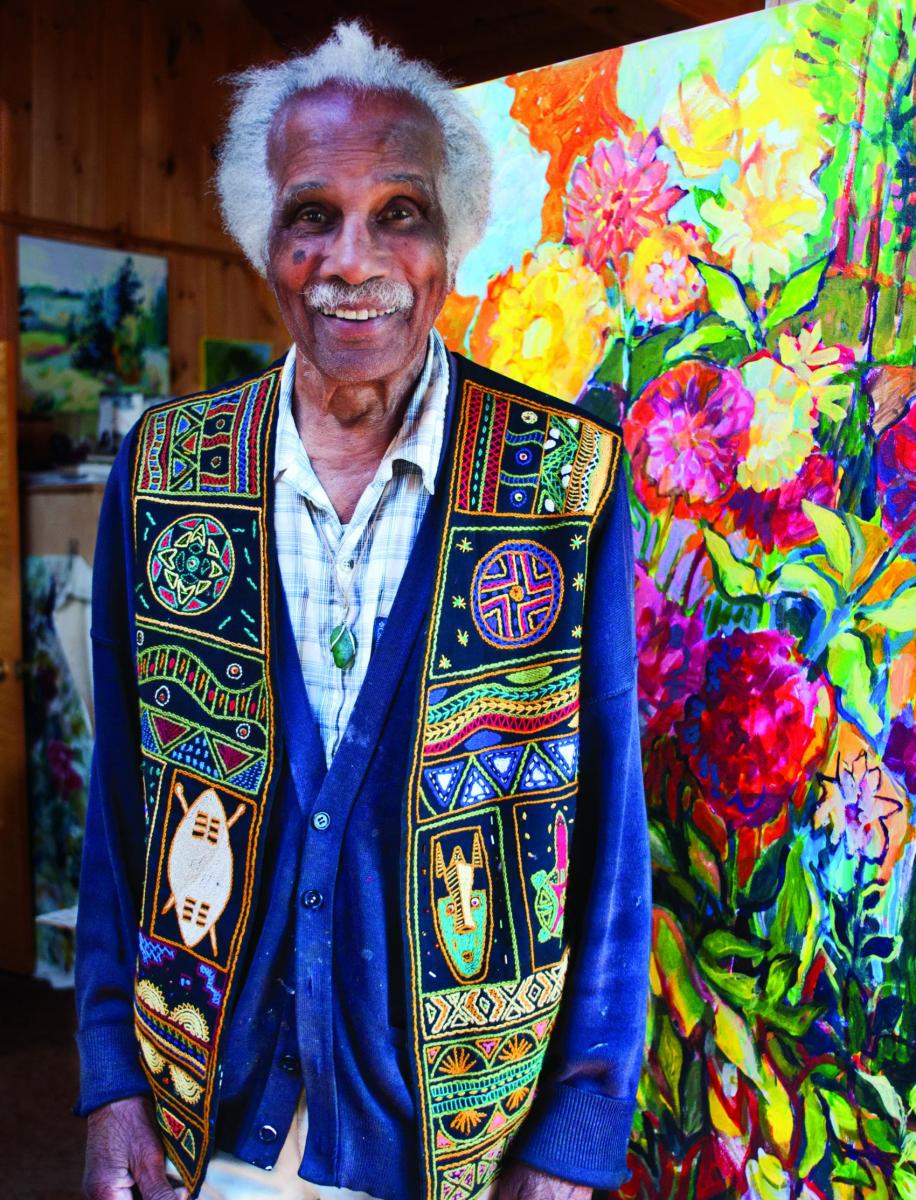 Ashley Bryan stands in front of one of his vibrant flower paintings in his studio on Little Cranberry Island.
On the way to his studio, I remarked on a lovely charcoal drawing of Great Cranberry Island by Emily Nelligan. "She hasn't been able to get to Maine these past four to five years," Bryan reported, a sense of sadness in his voice. Nelligan and her late husband, printmaker Marvin "Buddy" Bileck, are among Bryan's oldest friends. Last year, after many years of effort, Bryan found a publisher for Bileck's manuscript By Trolley Past Thimbledon Bridge, an extraordinary book to which Bryan contributed poems. Bryan has been on a publishing roll: Can't Scare Me, which came out in 2013, offers a trickster tale from the French Antilles that he has retold and illustrated, while Ashley Bryan's Puppets, 2014, showcases the hand-puppets he has created over the years from found objects, including shells and bones that washed up on the shores of Little Cranberry.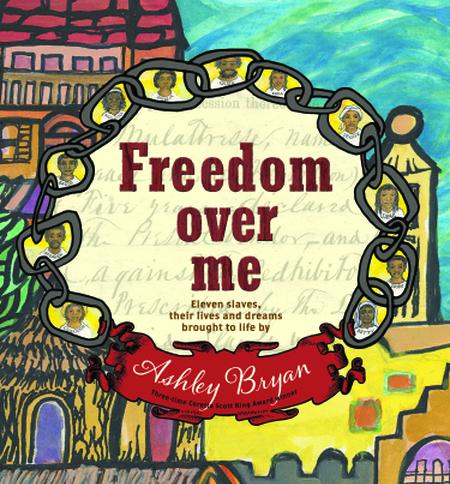 In his new book, Freedom Over Me, Bryan imagines the lives of 11 slaves. The book was named as a finalist for the 2016 Kirkus Prize, in the Picture Books category for Young Readers' Literature. Winners were to be announced in November. Courtesy Simon & Schuster Children's Publishing Bryan was most excited, though, to talk about his newest project, Freedom Over Me, which was due to be published this fall. About a decade ago, Bryan bought 20 slavery-related documents at an auction on Mount Desert Island. He stored them away at his home on Little Cranberry, thinking one day he would do something with them. Many years later, while cataloguing his collections for the Ashley Bryan Center, an organization established in 2013 to promote his life and art, he came across the documents and decided to act on his original impulse. He chose a bill of sale dated 1828 for 11 slaves "along with the hogs and cotton and cows." The slaves, he explained, were listed by just a name and a price: "Betty, $15; John, $200." No age, no place of birth, nothing more was given. 
Bryan set out to paint portraits of each slave, using his own family and friends as models, "so I could hear them talk to me." They told him who they were: an iron-monger, a seamstress, a basketmaker. After imagining their lives, he asked them what they would have done had they not been enslaved. He then created their dreams. "When people are reading the book, if they don't become each person and feel that person as him or herself, it hasn't made its point," he said, adding, "We need to disentangle the racism, to put it aside and act differently."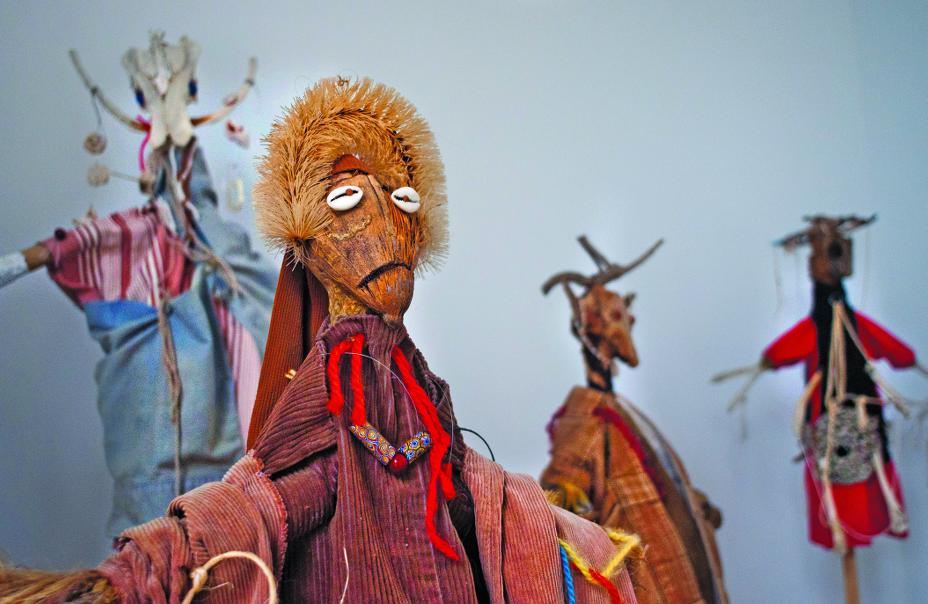 Bryan's puppets are made from found objects, including shells, bones and other odds and ends washed up on the shores of his home island.
Bryan's editor at Simon and Schuster, Caitlyn Dlouhy, worked closely with him as he developed the concept. The book, which has won critical acclaim even before hitting bookstores, was one of the most difficult of his life—an act of resurrection that came out of one the darkest periods of American history. "I had to think of myself as a slave and imagine that if anyone saw me drawing, I'd be brutally beaten or have my hands cut off," Bryan said. 
This has been quite a year for the artist. In February, New York City's Metropolitan Transit Authority unveiled Bryan's graphic arts poster, "New York Voices," which was installed in hundreds of subway stations and cars across the city. "The spirit of the voice harmonizes the city," Bryan said of the image. "It is this character of raising the voice in song which adds color to the lives of all New Yorkers."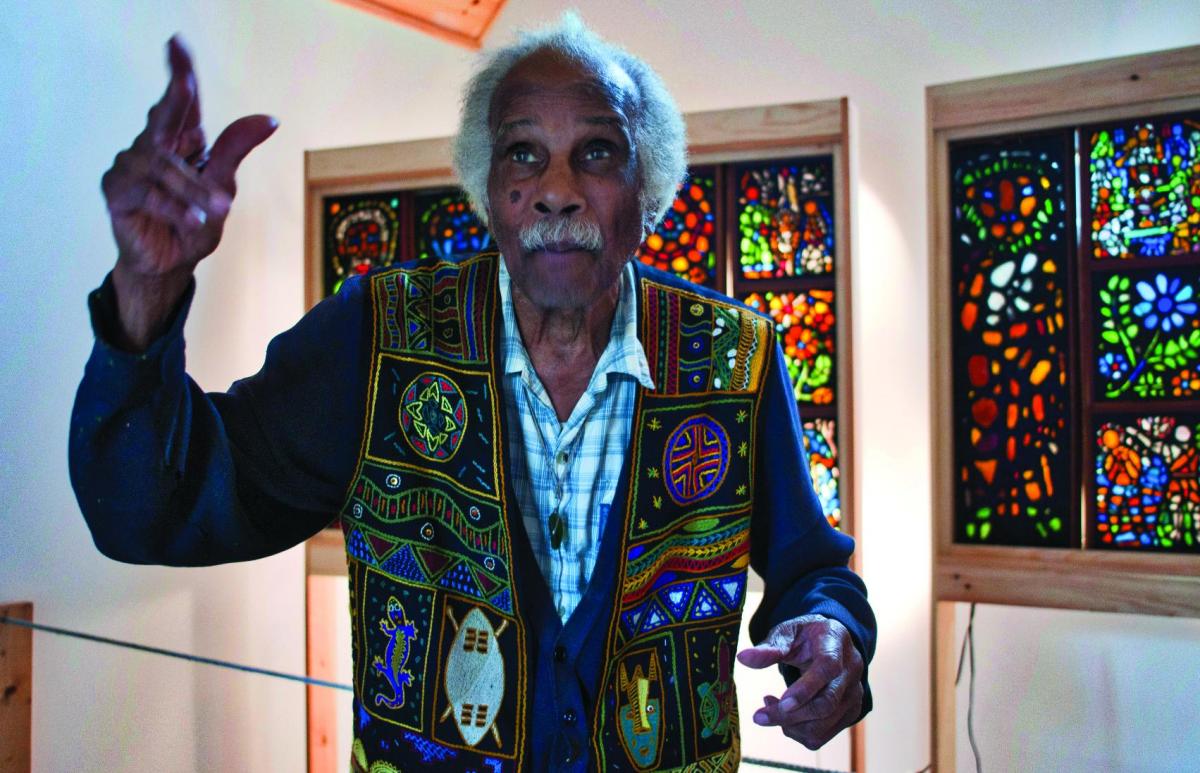 Some of the artist's sea glass panels are on display in the new Storyteller Pavilion, which is part of the Ashley Bryan Center on Islesford.
A video profile, I Know a Man: Ashley Bryan, came out in the summer, with its local premiere at the Criterion Theater in Bar Harbor. Produced by Richard Kane, who is known for the Maine Masters series, the hour-long film traces Bryan's life from a childhood in the Bronx through serving in an all-black unit in World War II to teaching at Dartmouth College and settling on Little Cranberry Island. 
How did this city kid end up on a small island in Maine? As Bryan told those gathered at the annual "One Morning in Maine" breakfast organized by the Island Readers and Writers group this past August, his journey to the coast began at the Skowhegan School of Painting and Sculpture. As a member of the very first class at the prestigious summer school, in 1946, he explored other parts of the state, including the Mount Desert Island region, finally settling on the Cranberries.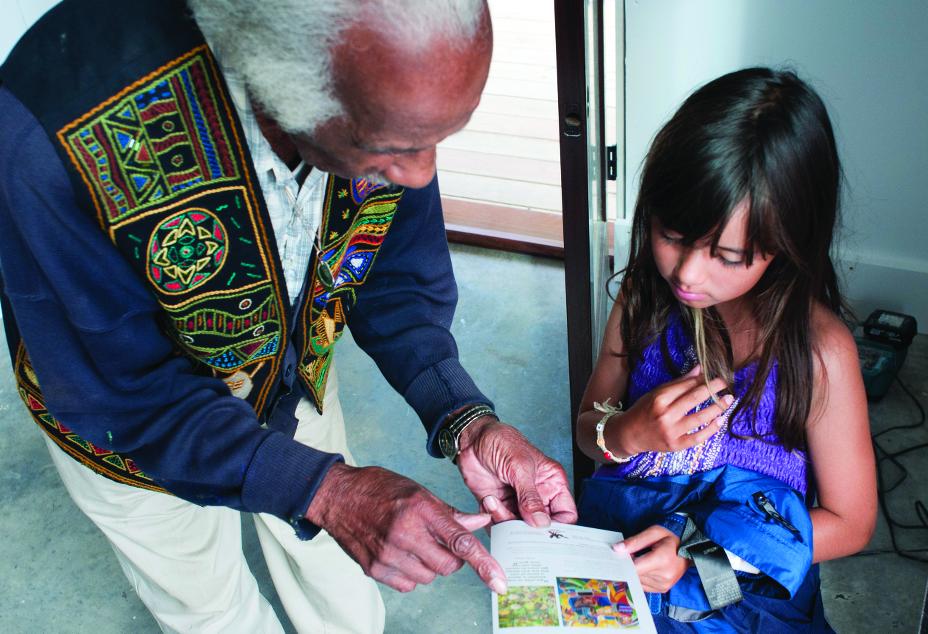 Bryan shares a moment with a young visitor.
In the film, Bryan pulls no punches when speaking about the racism he has faced in his life. He recalls, for example, taking his portfolio to colleges and being told it was the best they had ever seen but that "it would be a waste to give a scholarship to a colored person."
Bryan also reflects on institutional racism, noting how a black spiritual, when printed in a hymnal, is often identified as "traditional" or "American folk tune"—"another way," he said, "of not recognizing the cultural contribution of black people." Those spirituals, which Bryan has brought back to life in several collections illustrated with his woodblock prints, are a "centering source" for him. "I've always said, if black people under tremendous oppression are forbidden to either read or write and they bring forth such richness—such language—that is a wonder and an inspiration."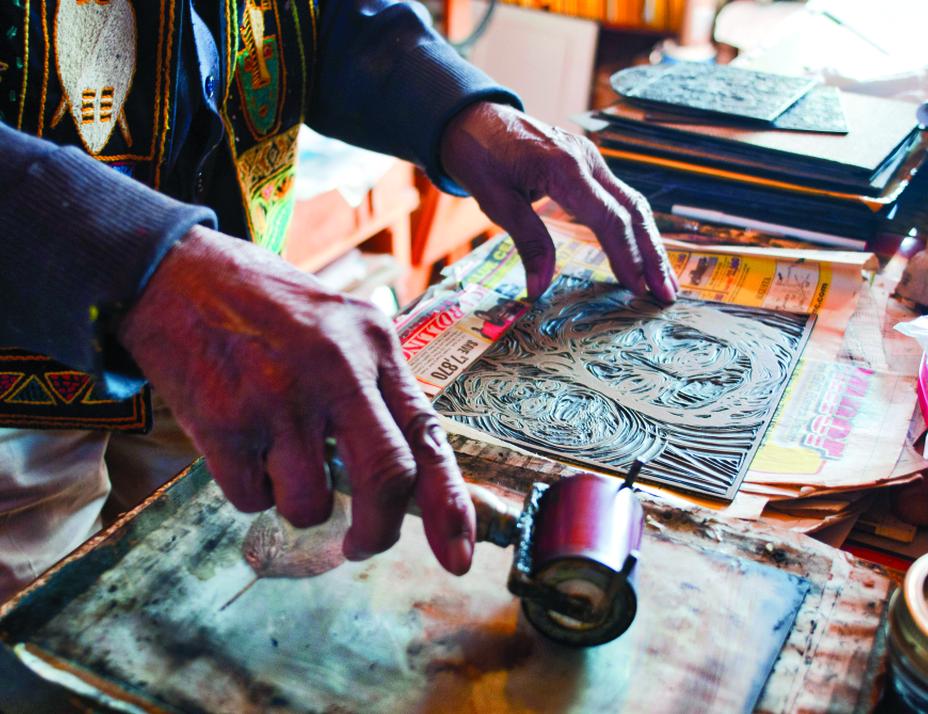 Bryan applies ink for a linocut illustration. The artist believes in the rhythms of the hand. At one point in the film, Bryan walks among student artists during the annual Labor Day plein air workshop on Islesford that he co-teaches with painter Henry Isaacs. On several occasions, he says "Couragio!" an expression he learned during a visit to Italy in the 1950s. "In the marketplaces there would be food stands with enticing things on both sides. And I'm walking in the middle, you know, not getting too near because they'll snatch me and I'll have to buy something. So they're calling out, 'Couragio, couragio,' 'be brave, come closer, take a chance.' So I use that with my students." 
Bryan also employs two expressions he learned from the painter Morris Kantor when he was a student of Kantor's at Cooper Union in the 1940s. "[Kantor] would be walking around as we were painting in his class and he'd look at something and he'd say, 'You got it, keep it!' Then he'd walk around and he'd look at you and say, 'You hit it, but you lost it.'"
Dan and Cynthia Lief, owners of the Island Dock Restaurant in Islesford, Little Cranberry Island, launched the plein air workshop in 2011. This year will be the last as they plan to close the restaurant, one of the most popular dining destinations in the region. "I don't know how they've done it," Bryan said with wonder, describing the couple's summer-long commitment to playing host to visitors from everywhere.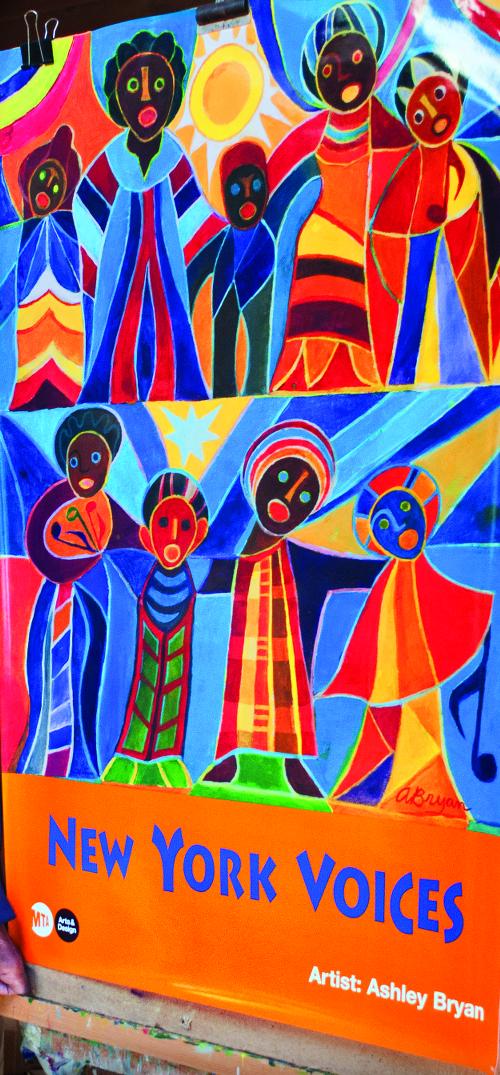 The poster that Bryan designed for the Metropolitan Transit Authority appears in subway cars and stations across New York City. These days Bryan travels less, which allows him to produce more books—and more paintings. Last summer, needing a break from working on Freedom Over Me, he painted 30 of his vibrant flower canvases—nearly three times his annual output. He set up his easel near the garden of his neighbors, Hugh and Karen Smallwood, whose annuals bloom through October. In November, he arranged to have the paintings shown in the island's community center, the Neighborhood House. 
Bryan's life work will be carried on through the Ashley Bryan Center, which is dedicated to preserving, celebrating, and broadly sharing his work as well as his joy of "discovery, invention, learning, and community." On August 15, the center hosted a celebration of the opening of the new Storyteller Pavilion, a "modest, free-standing meditative space" built on Bryan's property that will become the permanent home for his sea glass window panels and also serve as a display space for rotating shows of his work. Two of his sea glass panels already grace the island's Congregational Church.
Since he drew the master cellist Pablo Casals performing in Prades, France, in 1950, Bryan has believed in the rhythms of the hand. "I'll never ask 'what should I do?'—my hands will know." And if he feels stuck in some project, he simply goes outside "to see the gifts of nature." Being in Maine, Bryan said, "has meant everything." 
Every creative endeavor is interrelated. "Whether I'm working with puppets, sea glass, a painting, or a book," he said, "it's all the same challenge: how can I live that moment because it's all I have and I've only one life." Bryan believes that universally people want to transform what they have at hand. "The person who is making the dress—they're transforming the cloth. We're talking, we're transforming words that we've learned." 
Bryan's own acts of transformation are breathtaking.      
---
Carl Little is one of 20 Maine poets featured in a series of videos produced during Wesley McNair's tenure as poet laureate of Maine. The videos are available for viewing HERE 
---
Share this article:
2023 Maine Boat & Home Show

Join Us for the Maine Boat & Home Show!
Art, Artisans, Food, Fun & Boats, Boats, Boats
August 11 - 13, 2023 | On the waterfront, Rockland, Maine
Click here to pre-order your tickets.
Show is produced by Maine Boats, Homes & Harbors magazine.