The 2016 World Champion Boatyard Dog is......Travis!
By The Editors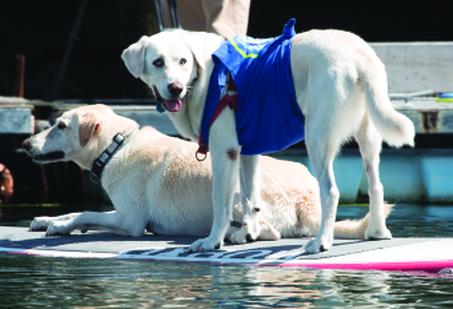 Photo by Debra Bell/Bell's Furry Friends Photography He wowed the crowd at the Maine Boats, Homes & Harbors Show in Rockland with his Frisbee and paddleboarding skills, bribed the judges and spectators with T-shirts, and even let his brother, Charlie, join the fun for the finale. He also raised $1,255 to benefit his favorite rescue, K-9 Lifesavers Dog Rescue! 
Travis gets to keep the cherished revolving "Canine Crown" trophy for one year, and have a private photo shoot with Bell's Furry Friends Photography. All the competitors at the annual event received a doggy-bag full of goodies provided by Loyal Biscuit, which joined Bell's Furry Friends as a sponsor. The judges' boat was from Maritime Boats, courtesy Bamforth Marine Brunswick, and the photo/safety boat was provided by North Atlantic Inflatables.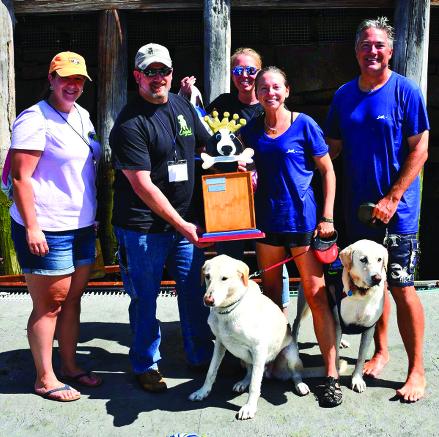 Photo by Debra Bell/Bell's Furry Friends Photography Five years ago Travis's mom saw the earnest face of a lab-like mutt gazing out at her from her favorite website, PetFinder. He had been rescued from a high-kill shelter in the south. Soon, under the name Travolta, he became a member of the household. Almost immediately, he asked that his name be changed—"Travolta is so 1970s!" he growled.
First, he went from a dog that thrashed around like a drowning man to one who is a fierce, fast swimmer. Then, he taught himself the art of Frisbee. A year ago his family bought a boat and embarked on a cruise around the world. Over the last nine months, Travis helped pilot Toccata more than 6,000 nautical miles, visited seven countries and 70 amazing places, and transited the Panama Canal.
Along the way, Travis practiced "Frisbee Diplomacy." He taught people of all ages, races, and nationalities the thrill of playing disc…with him.       
Share this article:
Digital Edition Available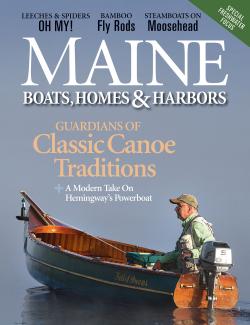 Can't get to the store to buy your magazine? We deliver the stories of Maine's coast right to your inbox. Sign up here for a digital edition.