Belmont Boatworks
The joys of a do-it-yourself boatyard
By Bill Mayher
Photographs by Benjamin Mendlowitz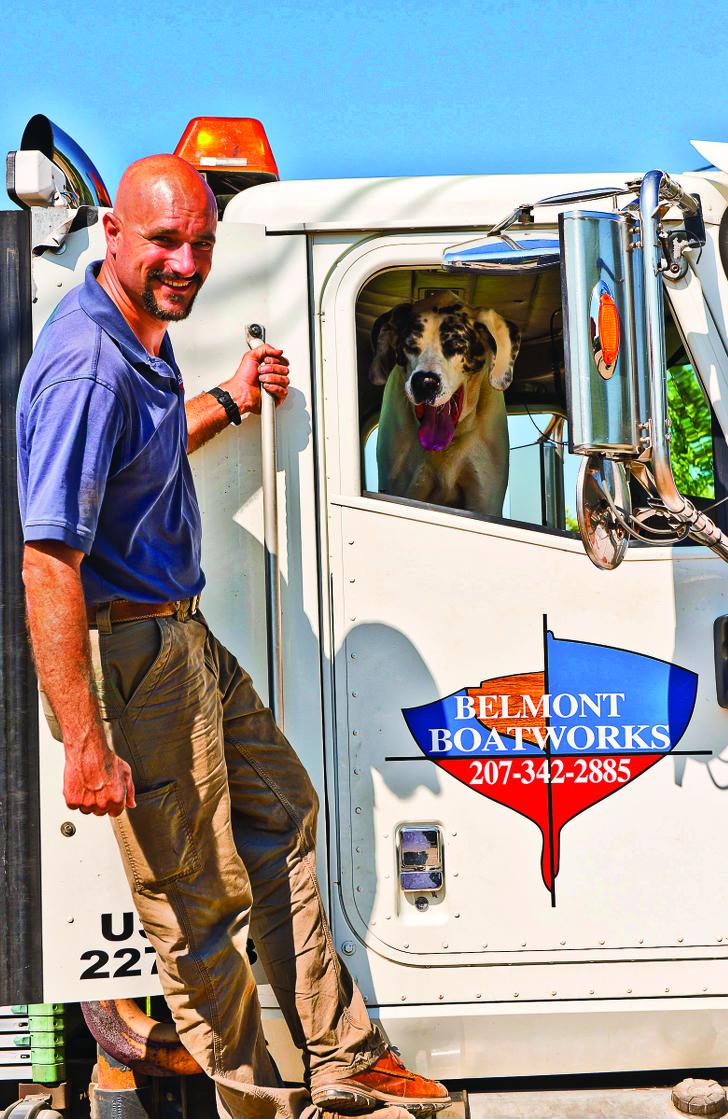 Belmont Boatworks owner Dan Miller poses with his dog Steve after arriving back at the yard from a road trip. When you have a big truck, you need a big dog. The problem with owning a boat of any size these days isn't the initial cost—at least if you're willing to buy something on the used market. There are an amazing number of boats of all descriptions out there for sale at remarkably low prices, as those of us who cruise the Internet in our Lazy Boy recliners know all too well.
No, the problem is not product price, it's maintenance price. 
These days, most full-service boatyards on the Maine coast charge something upward of $65 per hour, making a paint job a multi-thousand-dollar proposition. And we're not even talking Awlgrip here.
What many people need is a place to do the work themselves, and, if they get stuck due to a lack of experience or time or expertise, a place that will pitch in to help them out. Such a place is Belmont Boatworks, a new yard up the road from Belfast on Route 3.
In the old days, "do it yourself" yards were common along the coast, but they seem to have largely disappeared in recent years. Maybe they're not profitable enough in relation to the high cost of waterfront property. Maybe it's insurance problems. Maybe people don't think they have the time or the skills to work on their boats themselves. Perhaps as a culture we are so habituated to receiving stuff from Amazon (in a box with little or no assembly required) that we have misplaced the age-old satisfactions of getting something up and going by ourselves.
But suddenly and surprisingly there was a DIY boatyard springing up in plain sight. It just took me a while to notice because it was in Belmont, north of Belfast, and miles from the water.
First there were a few boats scattered along the highway, then a building or two, and finally a large and interesting structure. When a sign went up that announced the business as the Belmont Boatworks, I pulled in for a look around.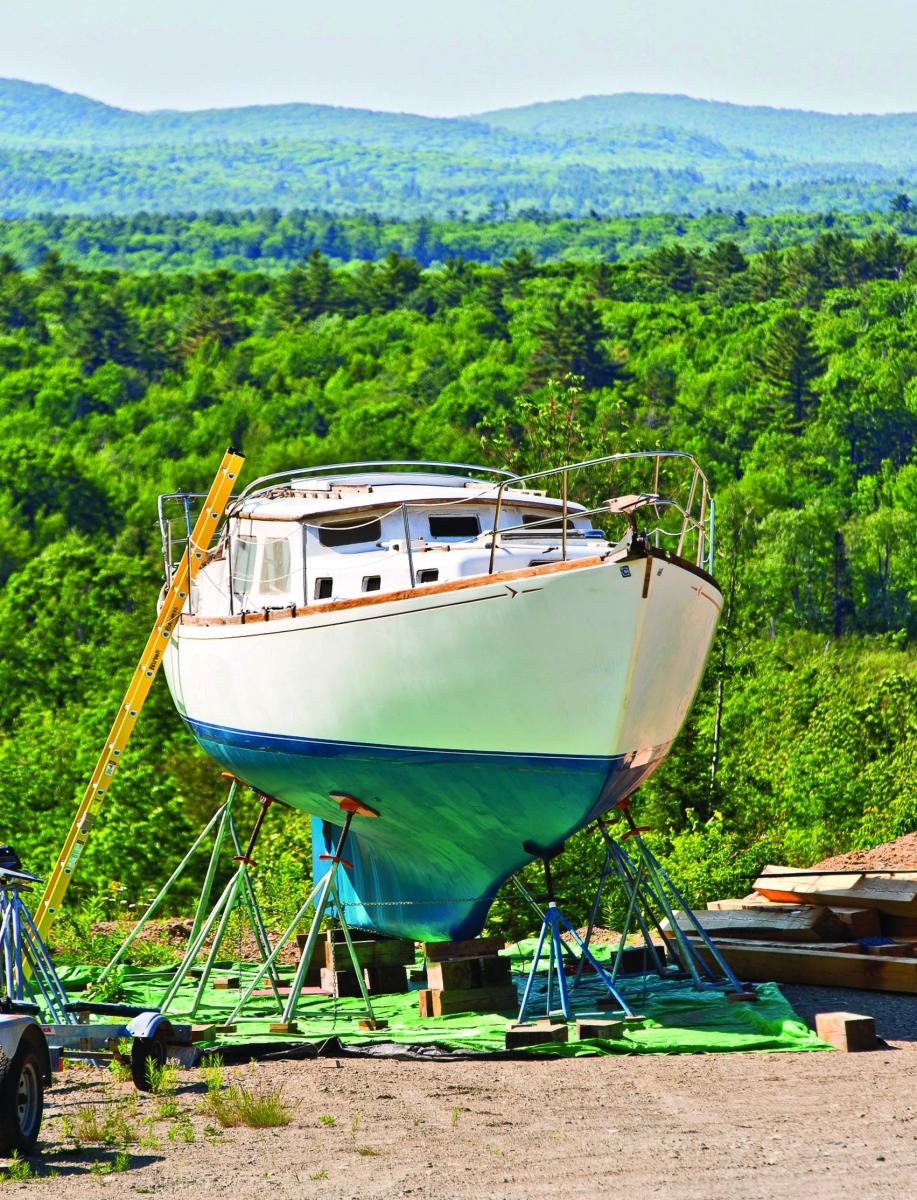 When a do-it-yourselfer looks up from sanding, the view is gorgeous. That expansive vista reveals inland Waldo County and reminds the viewer that this yard is located quite a distance from the water. A woman named Joanne Moesswilde who had tools loaded into the hatchback of her Saab, told me she was working on a newly purchased 24' Pacific Seacraft. Her goal was to make it look more like a wooden boat. She has sailed on a friend's wooden boat for several years and thinks that wooden boats are the way boats should look. Sensing my enthusiasm for her point of view, she invited me aboard.
Down below, Joanne had torn out the synthetic overhead liner and was ready to replace it with tongue-and-groove pine, which she will paint white. She is new to a woodworking project of this scope (she works as a nurse practitioner at the hospital in Belfast) but is confident in its outcome because anytime she gets stuck on a detail or needs to learn a particular technique, she knows that the professionals at the yard will help her out.
That is the deal at Belmont Boatworks. It is a new and improved do-it-yourself yard with a wide range of skills on hand among the crew to help people who want (or need for reasons of economy) to work on their own boats. The yard also provides a full range of services that includes structural refits and new construction for those who choose not to do their own work. 
Started by owner Dan Miller four years ago, the yard has attracted a particularly upbeat crew, all of whom love boats and really do seem to want to help out boat owners at the yard. Dan and his wife, Amy, have delivered yachts professionally, operated a bed and breakfast, and owned and operated a 51' charter vessel. All these businesses, as he puts it, are "based on making people happy." The other asset that Belmont Boatworks had going for it was a timely inheritance from Amy's grandmother, Margaret Steele, which provided sufficient capital to build good facilities right off.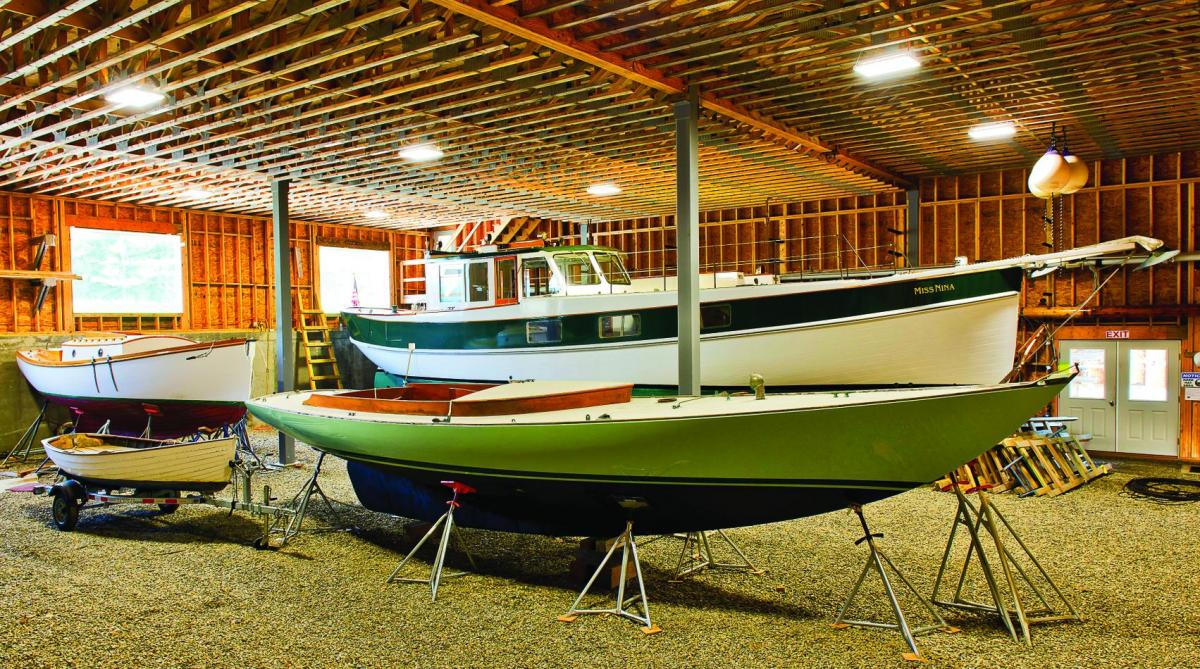 A variety of boats and jobs keeps everyone around the yard engaged.
When he launched the yard, among the first pieces of equipment Miller acquired were a couple of over-the-road hydraulic trailers to move boats of all sizes. When I visited the yard recently, I found Dan chatting with a deeply weathered ancient-mariner type who introduced himself simply as Road Kill Bill. Bill was arranging to locate his ketch-rigged wooden Friendship sloop at the yard for a major refit. When I asked him what had drawn him to that yard in particular, he said it was Dan's "uncanny ability to make hard jobs look easy." By this he meant Dan's quick and smooth loading of the sloop along with the 54' mast from another boat by himself in difficult conditions.
When Dan was out at Bill's place in Cornville to load up the Friendship, they had lunched on a couple of large, cheese-baked hen clams and Dan had enjoyed them. Now Bill had brought a five-gallon pail of the big clams for Dan's family.
The fast friendship that developed out in Cornville seems to sum up Dan's attitude about running a do-it-yourself yard. You welcome pretty much who- ever shows up, you make sure that both sides of the boat-repair equation understand the principles in play, and then you hope for the best.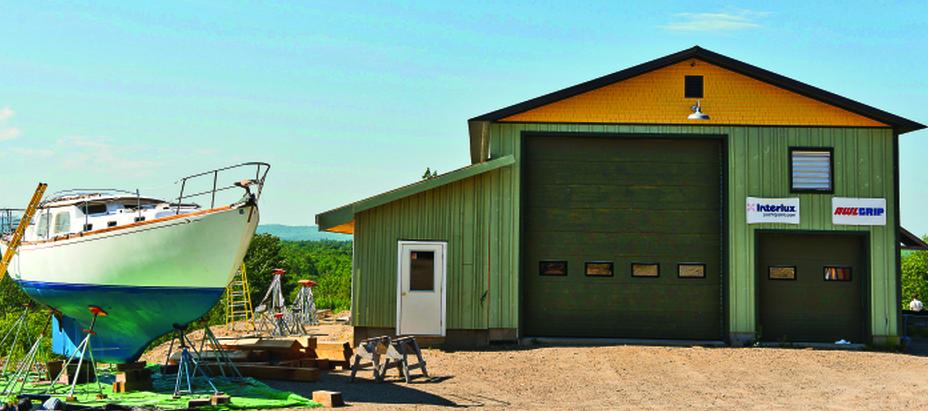 A big new building provides ample storage and work space.
Another customer materialized last January, when a family of four, who had attempted to live aboard their Seafarer 38 sailboat for the winter, found that the rigors of living at a mooring in a harbor open to winds from every direction was not a viable, let alone appealing, proposition, especially with a non-functioning engine. So they called Dan and he hauled them out with his big hydraulic trailer and brought the boat to the yard. The family has been working on and off ever since in an attempt to get things straight before re-launching this summer.
Another job at the yard is more typical. Dreamer is a 42' Bristol trawler in need of a few repairs. But as the yard and the owner dug deeper, the list of problems grew. Now the yard crew works during the day to fix issues with the core laminate of Dreamer's cabin sides, and the owner comes in after her day job to paint and do other finish work. It's an ideal situation for both parties and has kept a bad piece of luck from turning into a disaster.
Ultimately, the reason that things work as well as they do at Belmont is that both owner and yard try to be on the same page. Dan insists that any boat project must be grounded in reality. To underline this cardinal principle, the customer is required to provide a written description of what will be undertaken at the yard. Then the customer is required to put down a deposit. In other words, the owner has to start "thinking with his checkbook." This means a guy can't drop off an old boat, take a few whacks at it, and then hit the road and leave the yard with the corpse.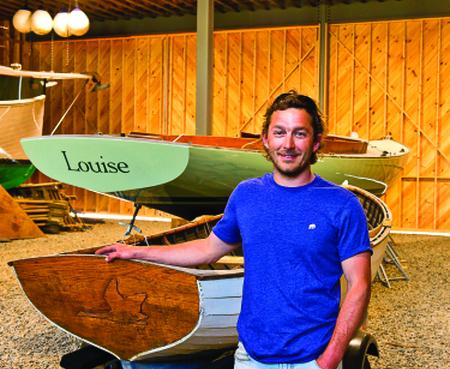 Justin Ward runs the day-to-day activies at the yard, leaving Miller free to do the stuff he loves—woodworking and boat hauling. Finally, the customer must agree in writing to the four pages of "Customer DIY Policy and Guidelines" that regulate the use of "ladders, staging and working on deck," "tools and electricity use," "waste disposal," and so on, all of it aimed toward making DIYers good citizens of the yard. And if they do not abide by the rules, and leave a mess, they know the yard will charge them one-and-a-half times the standard labor rate to clean up after them.
For Dan, communication is crucial. "When the relationship fails it's because owners don't do what they said they would do. When everyone is communicating, it always works." In fact, to this point, he says with pride, "There has only been one failure."
For all the forethought and the paperwork required, however, it is clear that none of this would work out if Dan weren't such a generous-spirited guy with an equally compelling desire to make things right for his customers. Before he started the yard he had worked locally and earned a strong reputation as a shipwright and all-around boat guy. He has served for years on the Belfast Harbor Committee, most recently as its chairman. This reputation meant that when it came to hiring, he was able to attract the cream of the crop—can-do types and craftsmen who seem to enjoy working with customers, an essential buy-in. In return, they get a variety of projects and the chance to work with a variety of people.
"All of us are kind of finicky artists," is the way Dan describes his crew of men and women. "We need something to keep us interested."
Besides attracting good people, he decided to hire Justin Ward as yard manager to attend to day-to-day matters, leaving Dan free to haul boats and do boat carpentry, the things he loves most. Justin's enthusiasm for his job, his knack for problem solving, and his affection for do-it-yourselfers dovetails nicely with Dan's overall attitude and energy.
Dan is a hardworking, talented, likeable, down-to-earth guy who has thrown his heart into the endeavor, and has established himself as a citizen of the wider community. He employs 16 people who love working at the yard, and provides a safe, well-lit space for boat owners to fulfill their seagoing dreams economically and effectively.      
---
Bill Mayher lives in Brooklin, Maine, and is one of the founders of the maritime web site offcenterharbor.com.
Share this article:
2023 Maine Boat & Home Show

Join Us for the Maine Boat & Home Show!
Art, Artisans, Food, Fun & Boats, Boats, Boats
August 11 - 13, 2023 | On the waterfront, Rockland, Maine
Click here to pre-order your tickets.
Show is produced by Maine Boats, Homes & Harbors magazine.